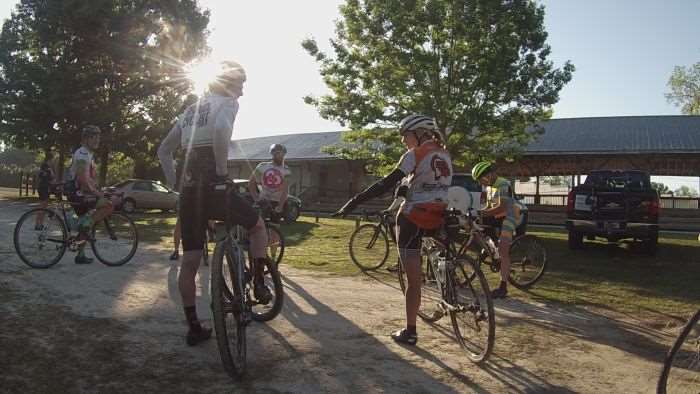 Tour of the Quilt Country III cemented the tradition of holding this two stage ride on a Saturday – the day before Mother's Day. 2016 saw record turnout and also continued the trend of attracting a broad spectrum of riders: from those who stopped for photos and visited the Levy County Quilt Museum, to a mid-paced group who had no qualms about diverting from the route to refuel, to a fast A-level group looking to drop as many people as possible.
Mid-week rains after a long dry period had some hopeful for favorable road conditions over the two stages; but nobody was certain what we might find once on course. A certainty however, was that the weather would be spectacular as predicted temperatures were well below the normal for May in Florida. Other topics of interest – pre-ride online banter included a local Cat 1 rider asking about using a road bike and a local luddite frantically looking for route files the night before.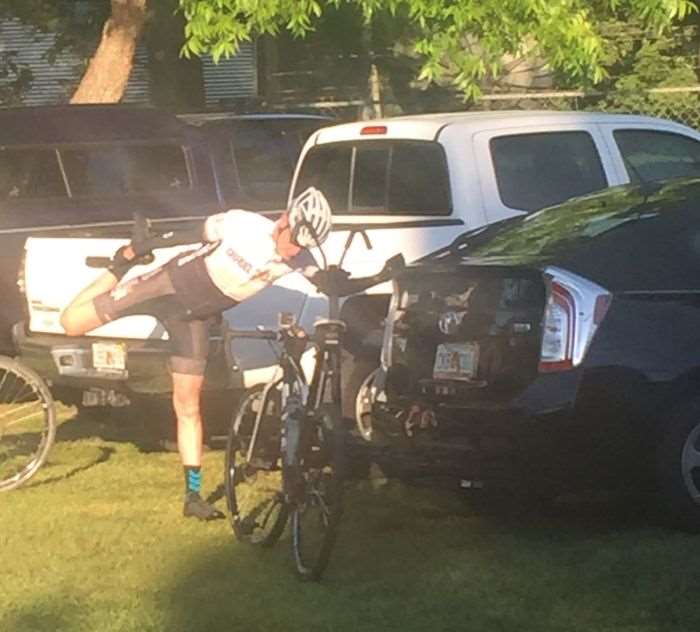 Arriving on site, we found that once again our favorite Belgian had departed early, ala Strada Bellamy, this time with the noble excuse of guiding a friend through his first dirt road ride. Would we catch him this time around?
Stage One
The pace from the start remained civilized and even the mid-paced group hung on the back without being put in difficulty. Sector one didn't change that as rain had fallen here just a few days before, and even the usual sandy bits held up beneath our tires.
As we moved further north onto sector two, evidence of dry sugar sand began to creep in and would portend a selection on the horizon. We would not wait long, as a hard right turn at speed sent the leaders fishtailing and some even into the weeds, struggling to remain upright (see the evidence in the pending event video).
Hard tempo resumed immediately, but word came forward of several falls and riders blocked behind. Everyone was unhurt in the soft sand and Dr. Pain rejoined quickly, others not so much, as the pace went down to "tranquilo", to avoid dropping folks early due to a crash.
Exiting sector two, there was a bit of waiting around for a few riders to rejoin. But sector three would come quickly, and would prove a real test. Beginning on typical dry limerock roads, the lack of rain that was evident gave ominous signals to anyone who knew the route (i.e. only BHT), since the latter half of sector three contained sand that could slow a powerful rider even in the best of conditions.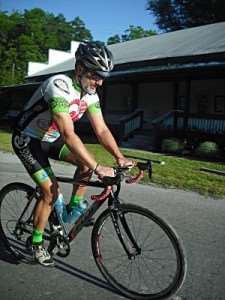 And these were not ideal conditions. The worst portion consists of a hard right turn followed by some 200 meters of straightaway, before hitting a hard left turn. Word went out at the front that the coming two corners would be loose. They were loose and more, instantly sending riders backward at a rapid speed.
Later it emerged that several riders were off their bikes, with reports of a broken chain somewhere among the melee. So, carnage reigned even among the front runners, as "pedal, pedal, pedal!" became the cheer of the morning.
And then there were seven.
Rolling easy out of sector three the survivors kept looking back for the dropped rider(s), but after several minutes we decided to press on. All four Gravel Cyclist attendees (Pfaff Daddy, Jimbo, Dr. Pain, and Kanza-Dogg), plus two travelers from JC's Bicycles of Deland, Florida (Curtis & BJ) and a lone 352 Racing representative (Big Head Todd).
With gap of several minutes and no signs of a motivated chase, the hammer had to go down and we rode hard tempo for many miles. Sectors four to six passed without event and the group was content to work together sans attacks over some very washboarded surfaces.
Sector seven blew the lead group apart last year under heavy pressure from three riders absent from this year's edition – what would happen in 2016? Following a long paved interlude, it begins with a truly horrible section that mixes lots of loose sugar sand with worn outcroppings and craters that remain from when the road was actually limerock. Substantial fishtailing produced more fishtailing but all parties made it through upright and together. The group rolled onto 4 Mile Road and everyone seemed fresh enough to deal with the rolling hills along Bell Ridge.
In the distance, a few specks appeared, then grew into two Belgians, working on a bike at the roadside. They waved us on in true Belgian fashion, insisting nothing was wrong. We later learned one of the Belgian Duo completed the last 20 miles singlespeed style, after breaking his rear derailleur cable.
The great roads around Waters Lake (named by the same bloke who named 4 Mile Road?) took us past the Call Your Mum! Memorial and eventually onto a very cratered-out SE 60th Avenue. The road surface was so poor that we overtook a car gingerly making its way through the moonscape that BJ refereed to as a "bombing range." Yet that would be easy going compared to what awaited immediately thereafter on SE 65th Avenue – a straight mile of sugar sand that resembled riding through a sand volleyball court… but without the bikinis. Only Dr. Pain on his
Monster cross rig
with its 2.0″ tires managed to make it though without a forced dismount.
Jimbo went down into the apron and emerged covered in sand spurs. We have no idea how the groups behind us fared.
After a re-grouping, the seven rode hard tempo all the way into
Trenton
on the Tyler Grade, completing stage one in 3:05. It would be over 20 minutes before the next riders arrived. Everyone sat down for a long lunch break. Some changed into new kits, others re-applied sunscreen and some re-applied chamois cream. Others did all three. BHT rehydrated with his "Trenton Radler" – a combination of Hoegaarden Witbier and pineapple Fanta. The Belgian Diesel was sending messages using various methods of communication, asking about departure time for Stage Two. He was still on course, nursing his countryman with the disabled rear derailleur. He did arrive in time to grab a sandwich before we set off once again.
Stage Two
After a long break which saw numerous abandonments – "I'm going home, that was brutal" – a group of ten set out on the south route just after high noon. Nursery Todd (also known as Fake Todd) had joined us after missing the morning stage – he was strong. The Belgian Diesel looked very fresh as well following his easy tempo on Stage One – "my heart rate never got above 100 this morning." We'd need both them later.
The southern roads had certainly seen rain in the prior days and so conditions were conducive to fast rolling. The first sectors went by quickly as we headed in a general southeasterly direction.
Jimbo pulled off early to head back for an epic trail ride with his sweetie. And then there were nine.
Alarm bells began to ring however, as everyone slowly realized that a fairly heavy wind was blowing out of the northwest.
Therefore, the five mile portion of sector three that runs due west past the Levy County Quilt Museum saw the group in echelon across the entire roadway, struggling to find a draft somewhere. This was very hard going and had us looking forward to a bit more direct headwind as we turned north.
But it would take another 18 miles of north and west traverses before we finally rounded the corner at Otter Springs Road and picked up a tail cross wind.
With only two sectors left, the pace remained hard but steady – either manners or fatigue (or fatigue disguised as manners) kept anyone from attempting to go off the front. And, there is no "Trenton World Champion" jersey to encourage misbehaving. Several riders were clearly on their limit – as in, "I got nothing" – but our group remained intact to the finish.
Tour of the Quilt Country III will go down as the hardest one yet: the combination of terrible sand on Stage One and brutal winds on Stage Two made for a very tough day. We hope all enjoyed themselves. See you next year on the day before Mothers Day for one mother of a ride!
Big Head Todd.