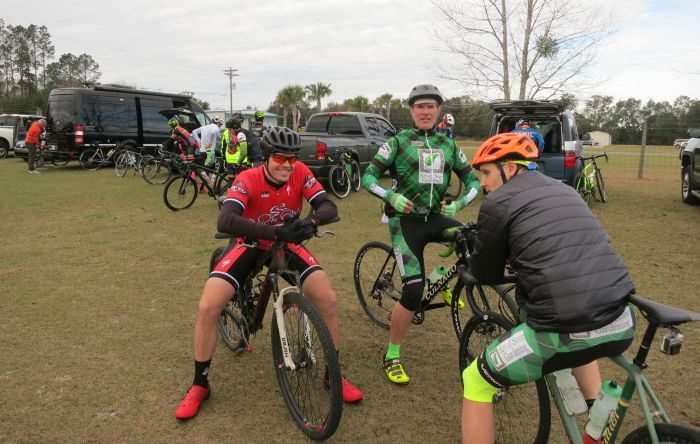 The Mudcrutch Gravel Team Time Trial ride, a ride for the Ladies and Gentlemen of gravel cycling. For those unaware of this concept, a Ladies / Gentlemen's ride is a loosely formed team time trial among friends. Teams of riders numbering four to seven (there are no fixed rules on this) join together to ride a pre-arranged course and finish with all riders present, in the fastest and safest time possible. Some of these events include stops along the way to indicate the team has passed through, or some other challenge to indicate they have ridden the course. There is the possibility of mechanical problems. It would be unladylike or ungentlemanly to leave behind a team member, thus all riders have to finish together. Remember, a team is only as strong as its weakest rider.
The Mudcrutch GTTT follows the format of a Ladies / Gentleman's team time trial, except that more than 90% of the course is on dirt and gravel roads. There are optional stops along the way for food and drinks, but there is no requirement for teams to stop at all. The clock is always running, and finishing quickly while having fun is the number one goal. 2017 marked the second running of the Mudcrutch GTTT, and for this year, 11 teams of five riders signed up to challenge the course.
Presenting the teams in their start order: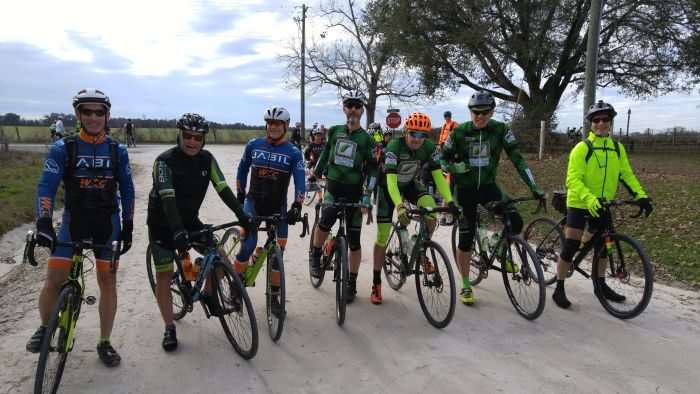 The rules of the event were very lax with this last minute combination team. The Gravel Guild had five members signed up to ride, but two of the lads couldn't make it, because their Porsche Cayenne transport vehicle with a crap ton of miles blew up and called it quits near Gainesville, Florida. The Art of Stone Gardening team participated in Saturday's Ididaride in White Springs, Florida, and were out for a cruise. They were joined by another fellow, pictured in the fluro jacket. Thus, they were no threat to anyone's time, but more likely themselves as they aimed to stay on course – a course which is quite complex and best ridden with a Garmin navigation gadget.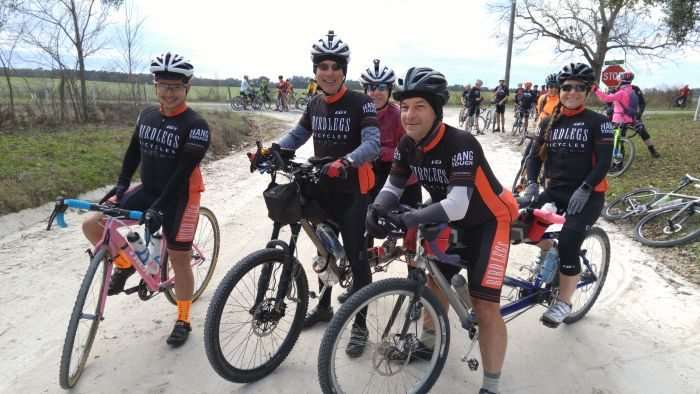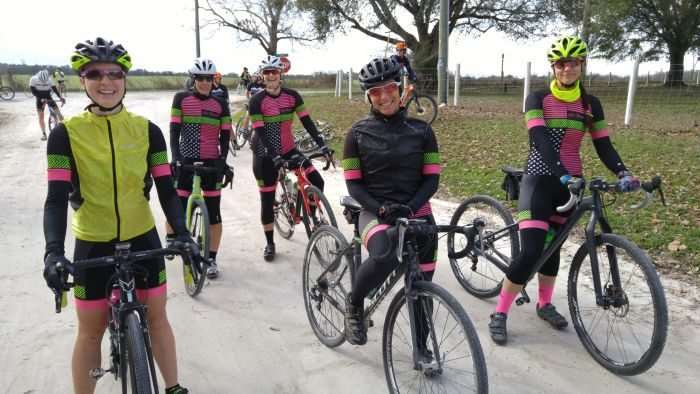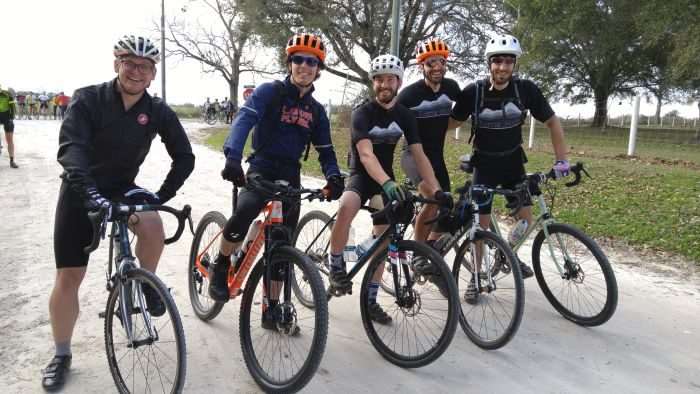 These dudes organize the Standard Deluxe Dirt Road Century, an uber fun, must-do ride.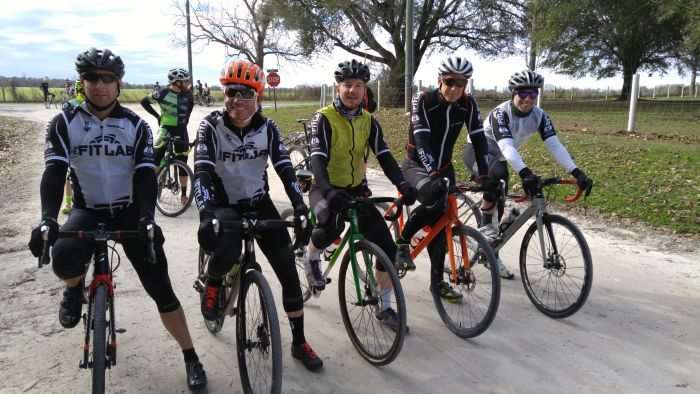 These guys were also representing the Clay Pride gravel group which isn't too far from Orlando. Check out the sort of stuff that happens in that neck of the woods, HERE.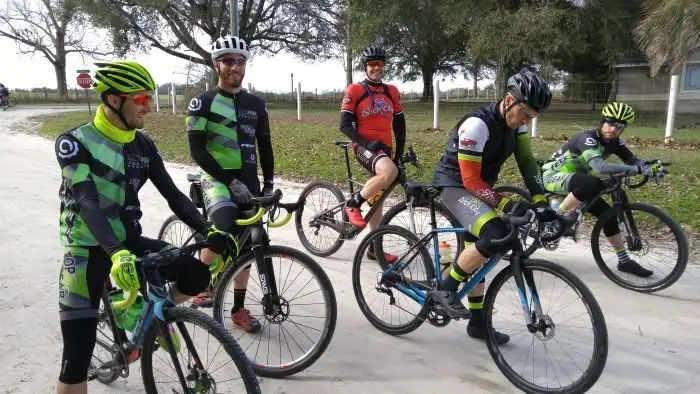 Notable riders on this team included Ryan Woodall, a former 35+ National Cyclocross champion, NOT the Chris King and Charles – the poor dude r̶i̶d̶i̶n̶g̶ suffering with this group on a mountain bike. Yikes.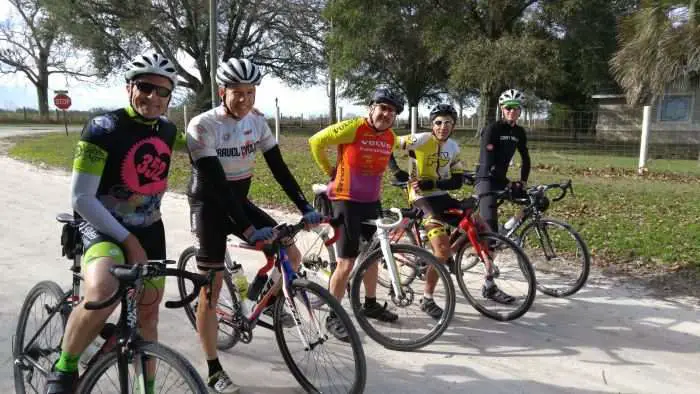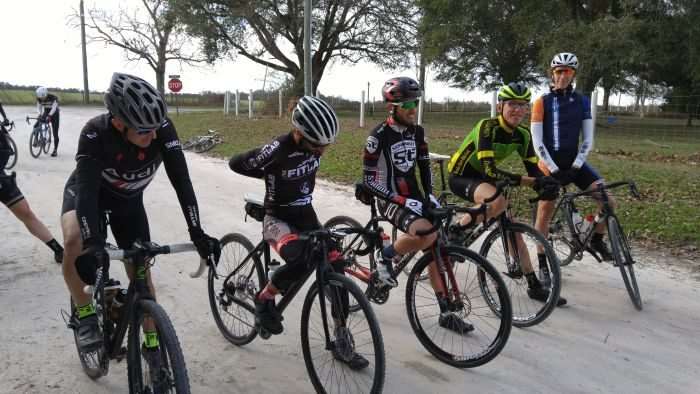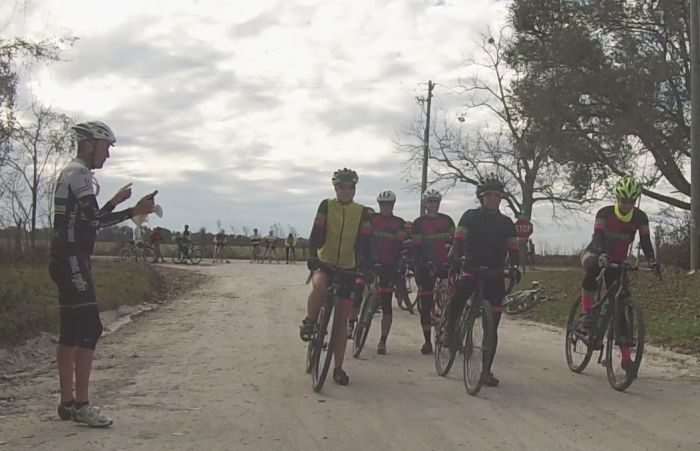 Unfortunately, nobody photographed the final team to start, "Taiwan KOM JOM and the Gravel Cyclist Hip Squad", but that's the price you pay for running the event and the starter's stopwatch. The team consisted of JOM, K-Dogg (winner of Dirty Kanza 200 for 60+ in 2016), Dr. Pain, Pfaff Daddy and Pfaff Junior.
It's Go Time!
Herding over 50 riders is akin to herding cats, and admittedly there may have been a little confusion with the meet time, start time, parking location and ride start – such is the joy of event organization. But, admission was free, so nobody could complain too much

JOM would also like to thank the Florida Welcome Center for allowing us to use their open field parking facility – with absolutely no notice. Ball dropped by JOM on that one… remember to phone / email ahead a few weeks earlier next time. D'oh!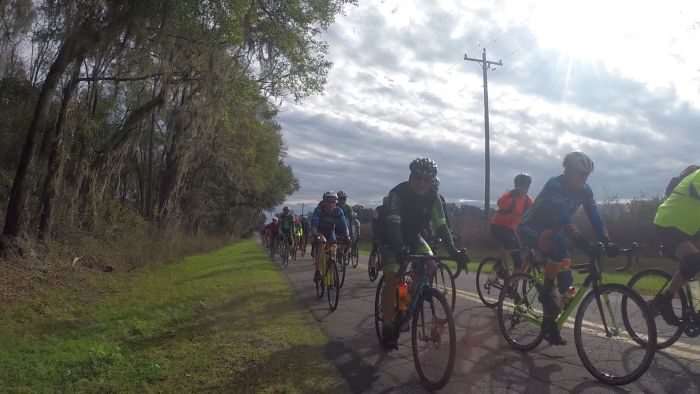 Once all teams were accounted for and herding had taken place, the group of 50+ riders rolled gently to the time trial start.
Teams were lined up and sent off at three minute intervals, versus the five as originally advertised – else, riders may have been out there all day. Because the Mudcrutch is grass roots, free and fun, there are no timing chips… JOM digs technology, but that would have cost some $. However, thanks to Strava, timing was provided courtesy of a massive Strava course segment.
JOM's Recollection of the 2017 Mudcrutch Gravel TTT Ride (may differ from reality)
The Gravel Cyclist team for the day – aka Taiwan KOM JOM and the Gravel Cyclist Hip Squad got off to a flying start. We'd discussed our rider start order, but even so, the start was a little too fast for my liking. I have been "slumming it" in my Aussie homeland for part of December 2016 and much of January 2017. Slumming it is eating too much, drinking too many Coopers Pale Ales, riding around easy taking photos and video, visiting family and friends and doing a bit of freelance work for my friends at BikeRumor.com for the 2017 Tour Down Under. Absolutely no hard riding was involved… definitely great training for a team time trial ride, right!
As the team exited the very loose second corner of the course, I had a four metre gap to close. Teammate K-Dogg, the lad assigned to sitting behind me in our five-man rotation, was feeling it too, but more worried I about the gap I had let open. Thankfully, it was a temporary blip, and I quickly got into the rhythm of the team.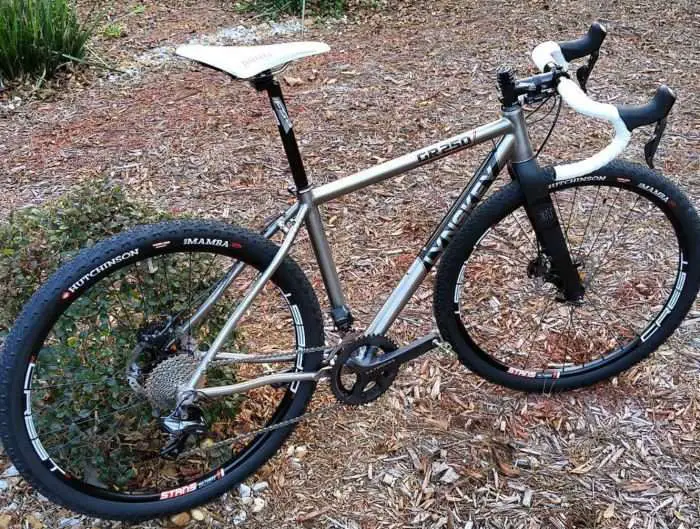 It should be said I was riding a brand new review bike – the Lynskey GR250 with 650B wheels and 2″ Hutchinson Mamba tyres. Granted, I had ridden two abbreviated "shake-down" rides on the machine, but an event like this probably wasn't the best time to knock out the bike's first real ride.
Our man Pfaff Junior was setting a very strong tempo. Pfaff Junior is 20 years of age and a Category 1 road cyclist. He's also a very handy time trialist, and has won the Florida State Time Trial in his age category with some insane average speed of over 29mph / 46km/hr. I can average that speed descending a mountain! After a shaky start, I was feeling pretty good and rolled through the paceline to contribute to the team's effort.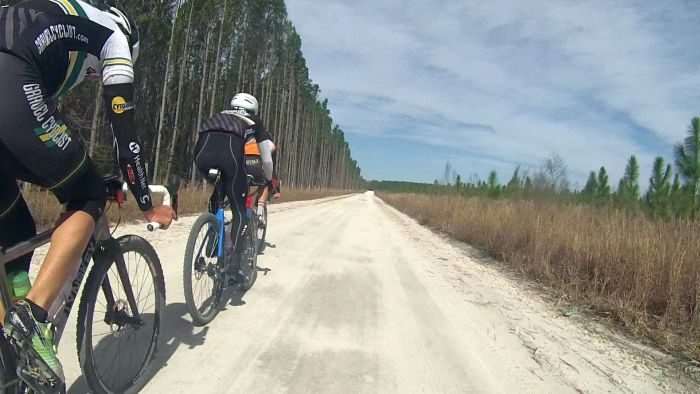 We may not be the fastest team on paper, but I like to think we're the most experienced. We ride together a lot, and we've covered some serious miles on gravel roads of all kinds. Nobody was counting, but each rider's turn on the front amounted to 30 seconds to a minute. For Pfaff Junior, his early turns were probably about three minutes long. Such are the virtues of youth, recovery and talent.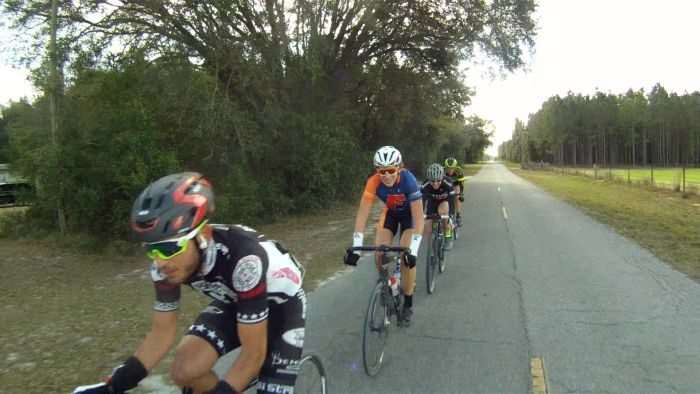 The key to a team time trial on pavement or gravel is communication and riding smoothly. When your turn on the front is done, you pull off and slip to the back of the line.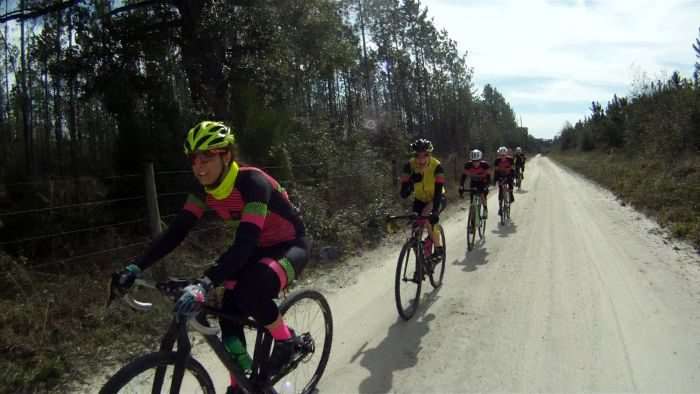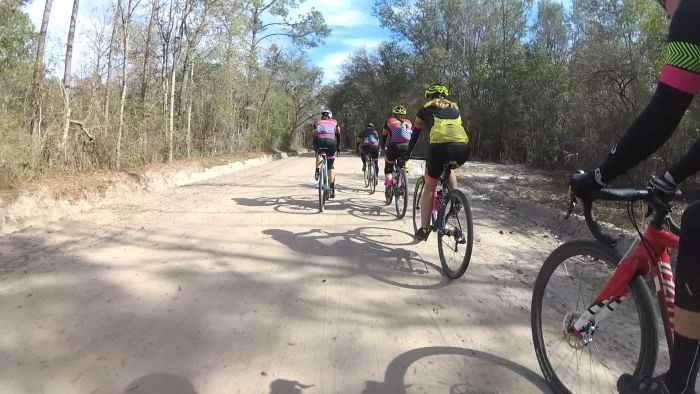 When you come through for a turn for a turn on the front, you never increase the speed, as the rider finishing their turn is trying to recover from his / her effort. A mini-paceline is the best way to think of it. Thus, we ticked along, rotating through smoothly and echeloning when needed to deal with the wind, which was less than supportive and all over the place, especially as we road North or West.
Approximately nine miles into the effort, we caught sight of the Inglorious Bastards 18 team. One of their riders, Scott, had flatted a tyre, causing the team to easily lose over five minutes as he sorted it out. Considering we started approximately six minutes behind them, it wasn't a good day for those lads. Nobody wants that sort of bad luck and their rhythm was clearly interrupted by this turn of events.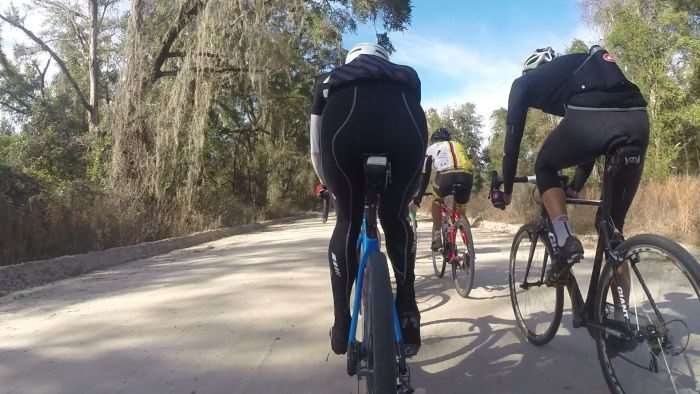 However, they kept pressing on and it wasn't until 26 miles / 41.5kms in that we caught them. Somewhere between making this catch, we rolled past the Zee Squad, who had stopped by the side of the road for a break. No such luck for my team!
The Inglorious Bastards 18 are a strong bunch of guys. The dilemma our team faced now was to pass and safely put a gap between them and us. Because both teams are quite equal, we yo-yo'd back and forth at times. The Bastards would overtake us, then we'd overtake them. This went on for at least two miles before they allowed a gap to open on us, and we continued on.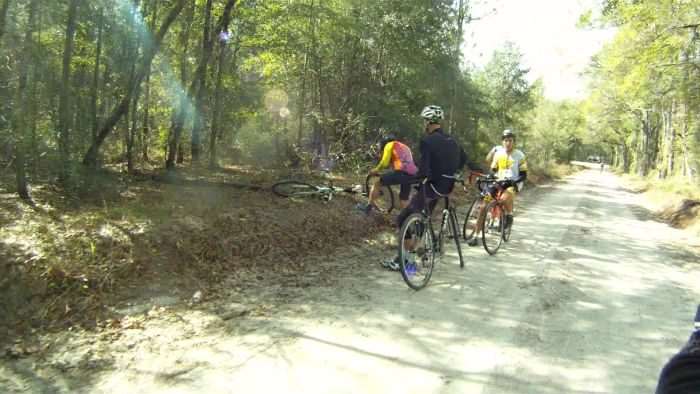 It turned out the Bastards experienced further bad luck later in the day. Shannon, riding his Boardman gravel bike, experienced a massive tyre fail that would see him need a ride back to the start. Sometimes it just isn't your day 🙁 After waiting around a while, the rest of the team did complete the course, and in the interests of good sportsmanship, the team's time was recorded – the Mudcrutch GTTT is for fun, and nobody was taking it too seriously.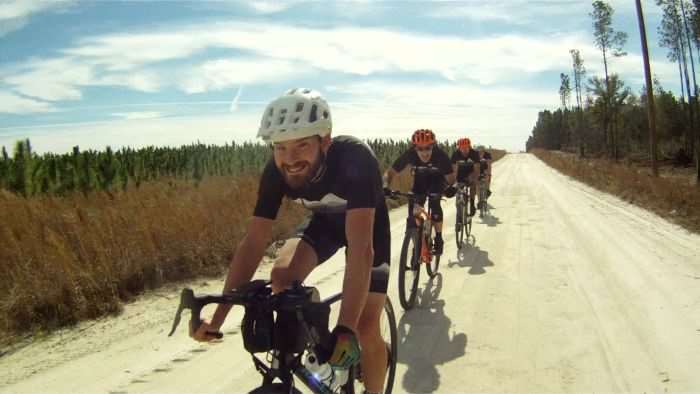 By the time mile 40 / kilometre 64 rolled around, some cracks began to appear within the Gravel Cyclist squad. Pfaff Junior was on fire. I understand he'd been smack talking a few members of Les Incompétents 2.0 (please ignore him in future), and was on a mission to lessen the deficit our team likely had. However, his pace-setting was putting anyone directly on his wheel into difficulty (mostly Dr. Pain) – or anyone over the age of 60 (K-Dogg), anyone who co-habitates with the lad (Pfaff Daddy) or anyone who was stooging around in Australia recently (me).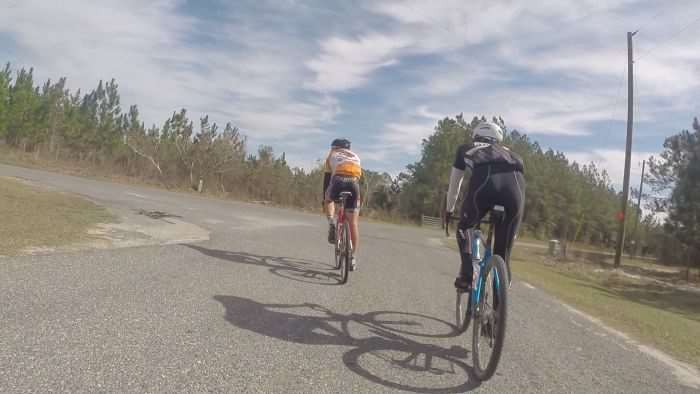 In the scene above, also the site of Dr. Pain's crash in the prior edition Mudcrutch, a gap opened between Pfaff Junior (left) and Dr. Pain (right). Hoping to maintain our team's aerodynamic profile and efficient riding practices, I jumped to fill the gap. It should be noted that Pfaff Junior was in the middle of a 20 mile turn on the front around this time – seriously.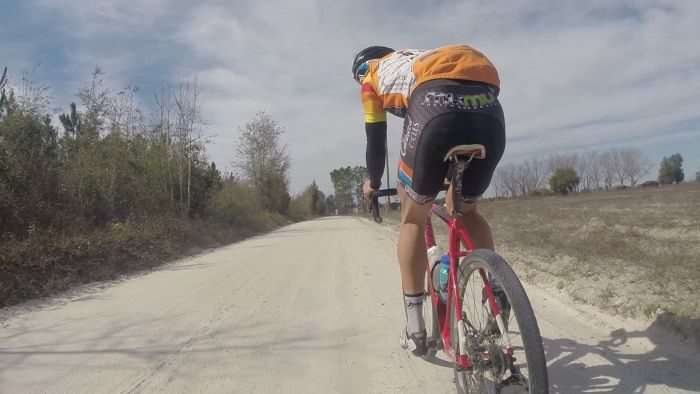 Then the signs of uber fatigue began setting in. My head dropped, my shoulders drooped and the lactic acid began piling up in my legs. Dr. Pain was on my wheel and he knows a lot about pain. He saw all of the signs and knew it wouldn't be long before I cracked. About three miles later, it happened. The weather was cool so hydration wasn't the problem, but I hadn't eaten a whole lot. However, I hadn't ridden any serious effort(s) on the bike for some time, so it was only a matter of time before an inevitable cracking took place. Ironically, we had ridden a good bit faster during the previous edition of the Mudrcrutch, but it was a different time of year, the wind was less and my higher end fitness was better.
"That's it!" I yelled, and headed swiftly to the rear of the formation. Ridden off the wheel by Pfaff Junior, my aim now was to finish with the team and not drop. In regular road-going cycling time trails and pursuit events on a velodrome, teams have the option of dropping one rider, aka the sacrificial lamb. In the Ladies / Gentleman's format, there is no such luxury. The time is taken on the last rider to finish, so dropping isn't an option. Bollocks!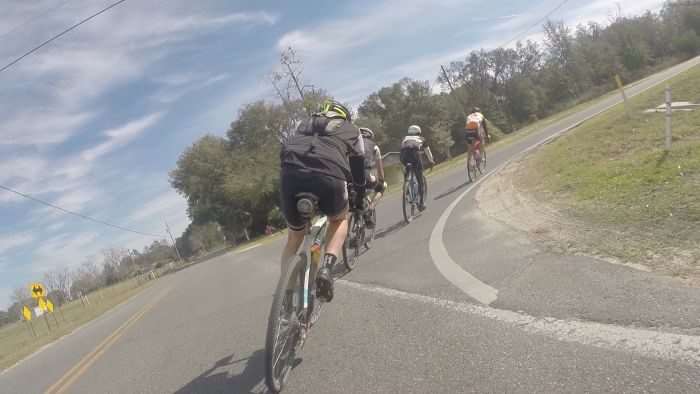 And so I suffered. I really wanted to quit glancing down at my Garmin navigation device, but I was the team's navigator. I wasn't alone in my suffering. Pfaff Daddy yelled out a few times, telling Pfaff Junior to slow down. This mostly happened when Daddy-o noticed me drifting off the back ever so slightly, anytime we rode over a small lump or shallow grade during the final 10 miles.
With five miles to go, cramps began setting in. I've experienced a cramp twinge once in a while, but nothing like this. I was pushing myself to hang on, but I didn't want to be the guy who slowed the team down. Our pace may have dropped a little, but the team was still ticking along quite well.
Dr. Pain began counting down the miles to the finish, verbally informing the team. That was helpful. K-Dogg was suffering, and would yell out his familiar cry of "wee-doggie" once in a while, just to distract himself from the pain. Everyone has their methods of dealing with the madness. As for Pfaff Junior, he kept plowing along, somewhere in a Zone 2 heart rate.
The final mile / kilometre couldn't come fast enough. Our team caught sight of the Sons of Umjowa team a few miles earlier, with CX superstar Ryan Woodall among their ranks. Like us, they were suffering. I made the stupid decision to do one last turn for the team, and *attempted* to ride a turn on the front with about 500 metres remaining. "No way bloke", said my legs, "we're 'effin done!" They locked up and chucked the key away. Cheeky buggers.
Bloody hell, so this is what a full-on leg cramp feels like!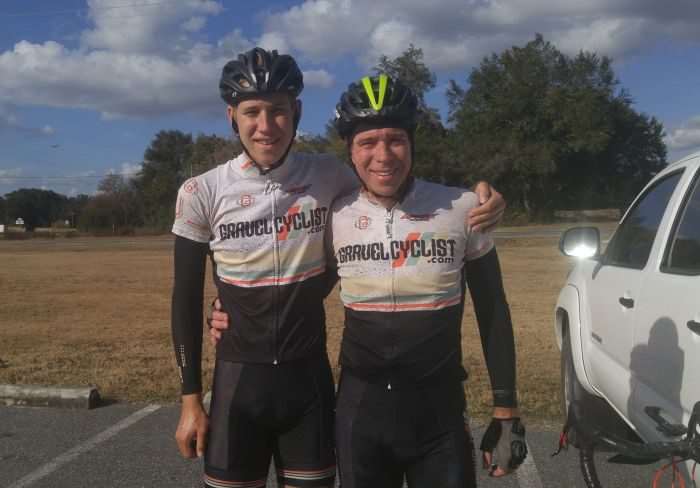 Lurching out of the saddle, I freewheeled for a split second and kicked the leg lockup to the curb. Pfaff Junior, despite causing me much pain is a classy young man. He pushed me along as I pedaled feebly towards the finish line with about 250 metres remaining. Humbling but flattering all at the same time.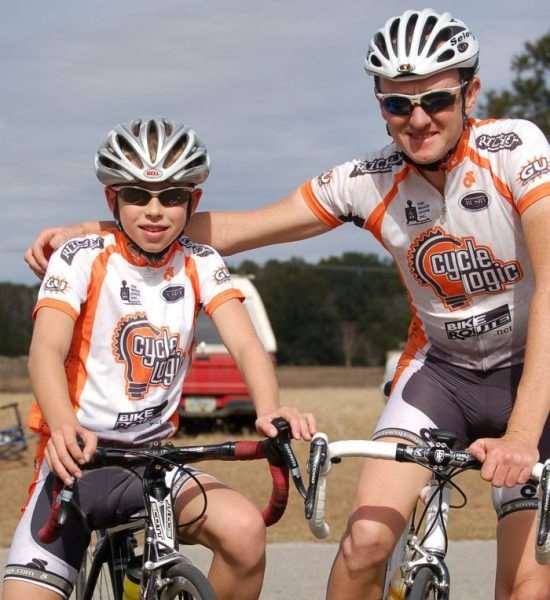 I remember when Junior aka Justin was a spritely 10 year old lad. How things have changed. Thanks so much Justin, you really looked out for me in those final miles of the 2017 Mudcrutch Gravel Team Time Trial! And thank you to my amazing teammates. I know the Mudcrutch wasn't a serious affair, but suffering and bonding with some of my best friends on a bicycle is a great way to spend part of the weekend… I just didn't think it at the time.
2017 Mudcrutch Gravel Team Time Trial Results:
1st
Les Incompétents 2.0 – 2:49:42 (21.56mph / 34.5km/hr avg).
CONGRATULATIONS and a new course record! This was a major accomplishment, considering the never-ending and never-favorable wind.
2nd
Taiwan KOM JOM and the Gravel Cyclist Hip Squad – 2:56:12 (20.75mph / 33.2km/hr avg).
After today, the team should be renamed "Pfaff Junior and the Wheelsuckers". Pfaff Junior's 20 mile turn on the front is still on my mind.
3rd
Sons of Umjowa – 3:05:37 (19.68mph / 31.5km/hr avg).
All we know is Charles was on an MTB and suffered greatly at the hands of his teammates. Well done.
4th
Cog-N-Balls p/b Winter Park Cycles – 3:06:54 (19.56mph / 31.3km/hr avg).
Nice time from the crew representing the Clay Pride group.
5th
* The Gravel Guild… they sort of started with Art of Stone Gardening – 3:13:02 (18.93mph / 30.3km/hr avg).
If you saw it earlier, two teammates were missing when their Porsche Cayenne with a crapload of miles blew up somewhere near Gainesville. We understand they got the vehicle sorted out.
6th
Inglorious Bastards 18 – 3:27:54 (17.56mph 28.1km/hr avg).
Horrendous luck for this team. Better luck next year!
7th
Terra Firma Cycling – 3:35:04 (17mph / 27.2km/hr avg). These lads drove from Auburn, Alabama. They consumed the most beer during the ride (not kidding) and had the most fun. Awesome bunch of lads.
8th
* Art of Stone Gardening – 3:44:43 (16.25 / 26km/hr avg).
They were an incomplete team, but considering they rode Ididaride in White Springs the day before, no worries. Sore legs.
9th
The Random Tandems of Bird Legs – 3:58:19 (15.31mph / 24.5km/hr avg).
Representing JAX and Tally, Jack and his tandem crews did a sweet ride in some very tough conditions.
10th
Beast Infection – 4:01:09 (15.18mph / 24.3km/hr avg).
This all-ladies team gets the vote for the best name  We understand one of the ladies wasn't feeling so great, but the team looked after her and finished well.
11th
Zee Squad – 4:25:01 (13.81mph / 22.1km/hr avg).
Zee and the gang from JAX represented well. This was Zee's first time on any sort of gravel ride, and the rest of the team doesn't have much experience either. Nicely done, we hope you enjoyed the experience!
Thank you to everyone who made the effort to attend this event! It was a pleasure to organize, especially with so many positive people in attendance intent on having a fun time – that makes it all worthwhile.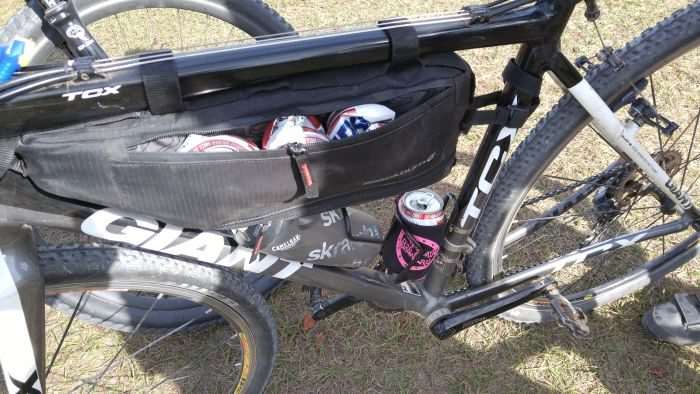 Strava Data
For those so inclined, you can check out JOM's data from the ride, HERE.
Thanks for reading!
Event video coming soon!