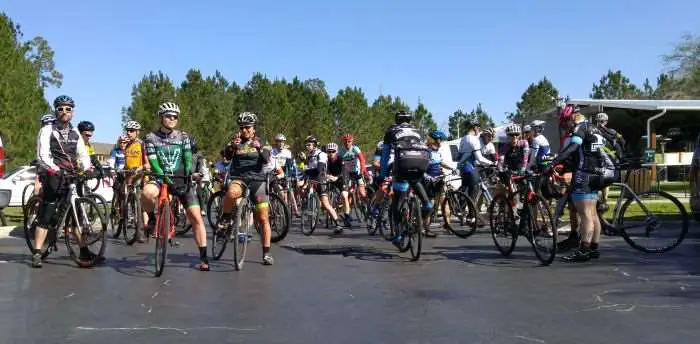 Saturday Feb. 27, 2016 saw 86 gravel cycling enthusiasts line up for the 5th Annual Heartbreaker Invitational Charity "ride". We call it a gravel ride, but there is very little actual gravel on our roads here in Florida. They are referred to as "limerock". I don't really know what this is, but it can at times be packed pretty hard for smooth fast rolling, or it can be full of washboard, or it can be axle deep "sugar sand". Flat to rolling terrain, except for the so-called "Flappalachian" mountain chain on Old Bellamy Road (oldest road in the USA). We had perfect weather starting in the mid-50's Fahrenheit and ending in the mid-60's F, with brilliant sunshine. This is why we live in Florida. Don't ask in August.
I will preface this report with a disclaimer about knowing what went on in the race peloton as a whole by saying my experience the week before (Doc Hollywood Invitational) meant I was determined, NOT to see the back of the group.  See last week's video for details. I had a few goals for the Heartbreaker event:
No flying over the handlebars or anything resembling that.
Ride big tires to help with number 1.
Finish.
Don't finish last.
Have fun.
Anything else was just a bonus.  So, to accomplish all those goals, I was determined to stay at the front of the group, thinking it was better to crack and get dropped than fly over the handlebars as someone lost it in front of me.
The group met at the "One Love Café" for the start, and for some excellent beer and food after the event. Nice folks, and our modest entry fee got us a beer, and the rest of the money went to a local retired horse farm. A fun bike ride on deserted roads, good lasses and lads to ride with, perfect weather, beer, food, and live music! This is the life.
The group rolled out at the shockingly gentile hour of 10:45am. JOM, the organizer is a nice bloke (sometimes) and had a late start to let the folks who lived 2-3 hours away get up at a reasonable hour. Neutral start for the first 24 kilometers / 15 miles to get us out of traffic. There were two sectors of gravel prior to that, and keeping the surging herd under control was just barely possible.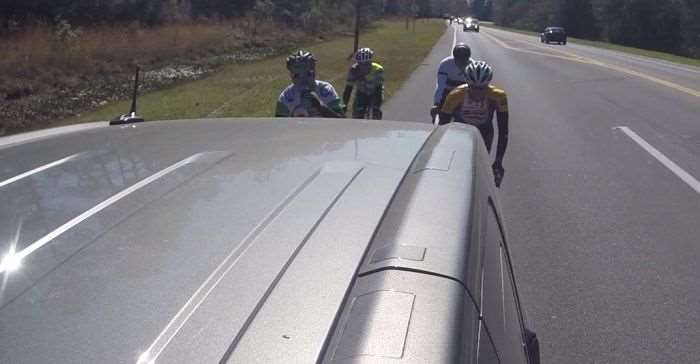 Dr. Pain did his best to keep them in check, hoping there would be some respect for an old guy, but that only goes so far, apparently. Plus, he had none of his laboratory pain devices on hand to assist with the herding. The group was mostly together when we got to the "start". Prior to that, there was one of Dr. Pain's favorite "sand pit of doom" sections.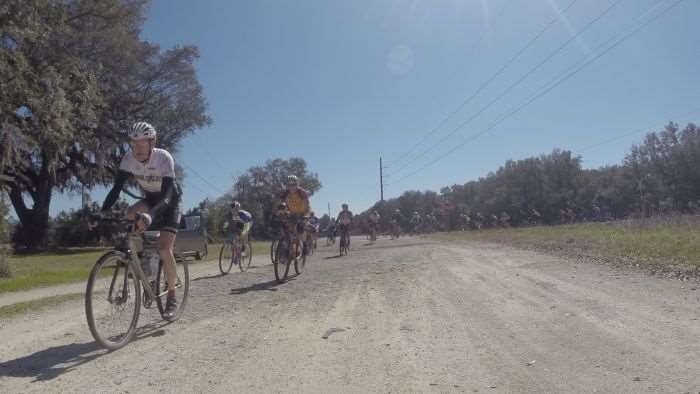 I didn't see any of the carnage behind, because tribal knowledge allowed me to go immediately to the front and have an unobscured line through the short sector. No problems. Behind was carnage, with spills, and much walking.  We waited and regrouped as we were still in the neutral zone.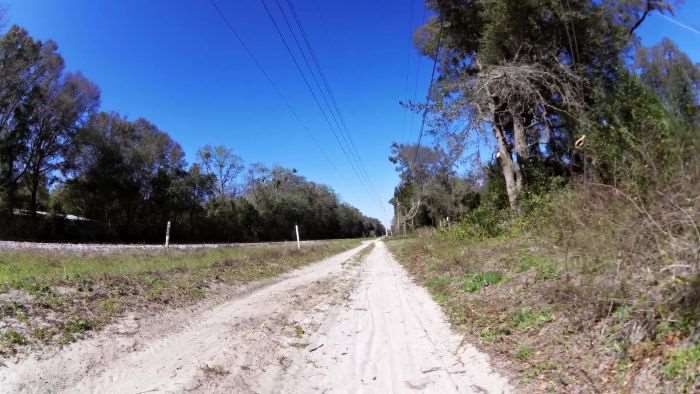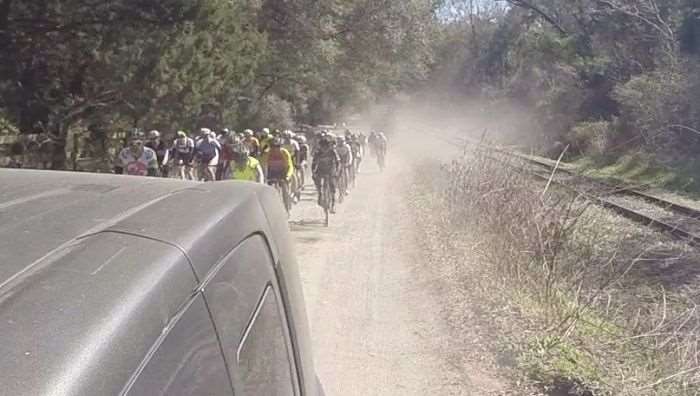 At kilometer 24, the virtual flag dropped and the not-race was on.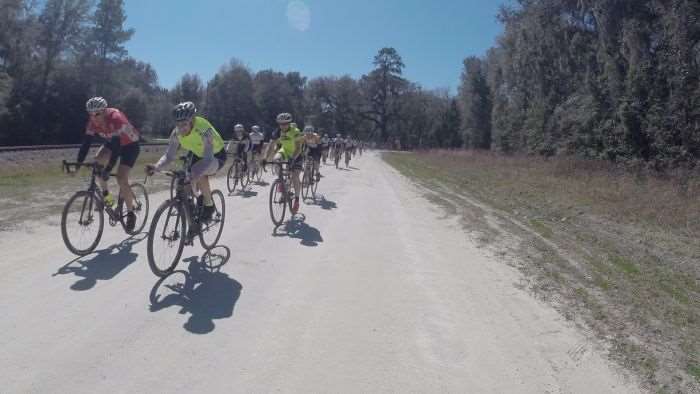 Determined to stay out of trouble and to thin the herd as much as possible, Dr. Pain immediately rolled off the front. I've often thought that on a group ride you can find out how many friends you have by rolling off the front, or off the back. I have no friends in the group.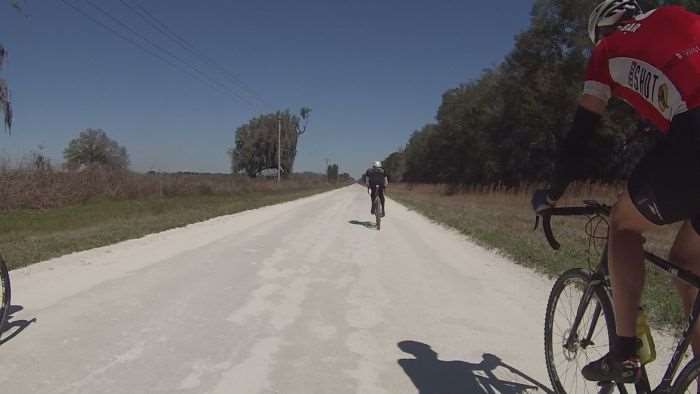 Left to flounder into a headwind, I settled into a futile solo effort off the front. Brilliant. Finally, the group put me out of my misery and came up to provide me some draft. Fortunately, it was an unsuccessful suicide attempt and I was able to continue with the lead group, now whittled down to 30 or so.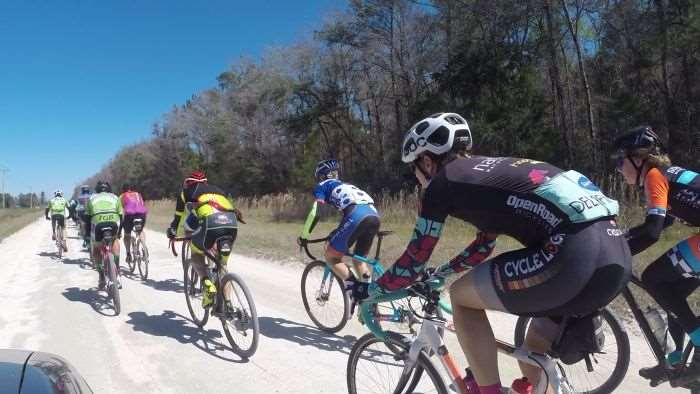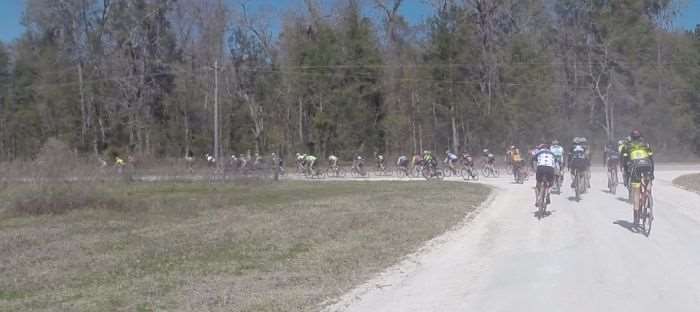 There were some serious legs in this event, including at least three prior "winners" (Ryan Woodall – 2015 30-34 National Cyclocross champion, Dr. MSG, K-Dogg) and a bunch of others from in and out of town.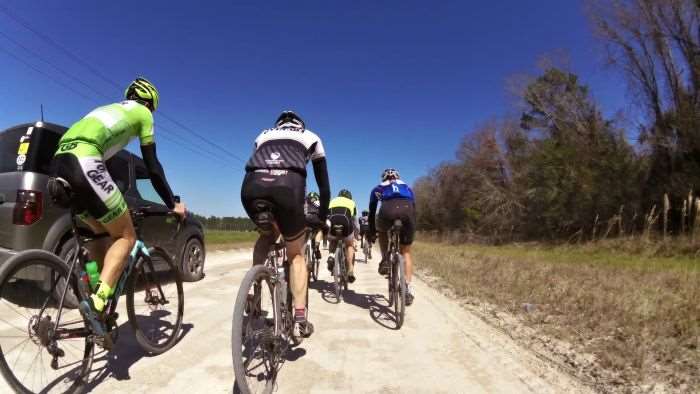 The pace was jacked a couple of times by Ryan, who was egged on by K-Dogg because the Dogg is just a troublemaker. Since the good Dr. Pain was already up there at the front, a leg searing, but thankfully short sprint brought him back and the group stayed together for the rest of the next couple sectors.
The next obstacle was Dr. Pain's other favorite sector which is a short sandy and probably private road. A small group was off the front that included two of the Gravel Cyclist crew (Pfaff Daddy and Jimbo). Dr. Pain latched on to a gent who bridged us across to that group just as we turned onto the second sand pit of doom. It was fast and furious across this sector, but it was too short and too far (kilometer 51) from the finish to permanently split the group. It did hurt some legs.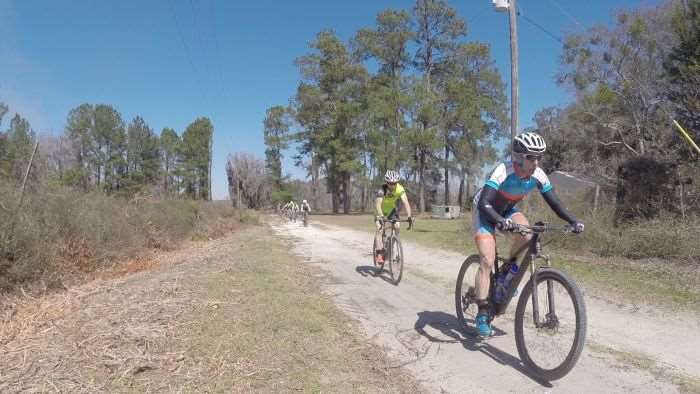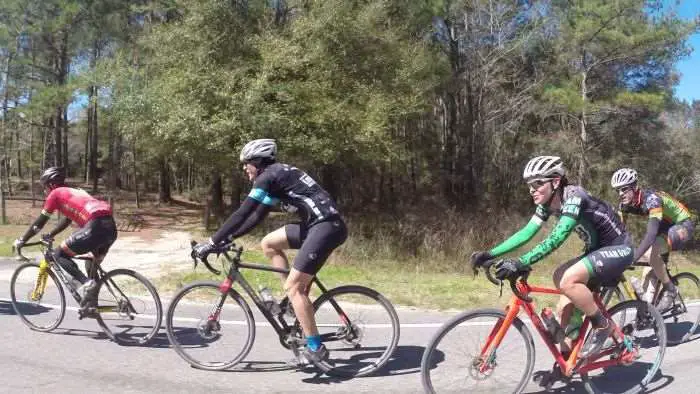 Next up were the Flappalachian chain of not-so-high altitude mole hills. That said, there are a couple of inclines of 9% in the three climbs. None is more than two minutes long, but it regularly causes considerable carnage in the Heartbreaker, and in the Tuesday Night Tallest Midget Contest (also known as Tuesday GCX Worlds).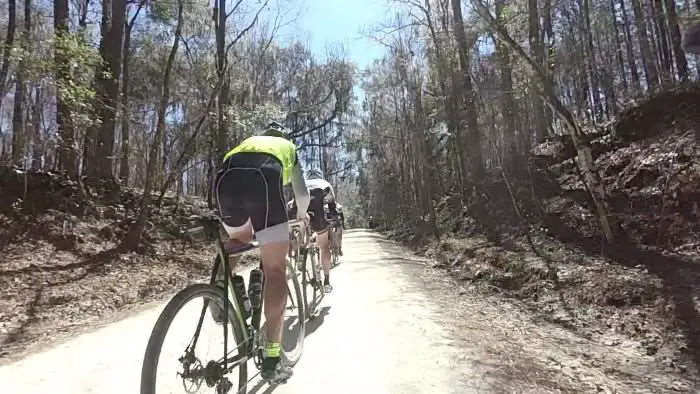 This is not Dr. Pain's favorite terrain. I employed the well known "fat man fade" technique, moving to the front, drifting back to stay in the draft over the top. Then I used tribal knowledge and big tires to move back up and repeat. There were a couple of digs by Ryan Woodall, the former National Cyclocross Champ, but enough strong legs to leave most of the group intact at the end of the sector.
A very short relaxation of hostilities occurred, until Dr. MSG launched a shocking acceleration on dirt, and rocketed off the front, followed by Ryan Woodall. There was a long line of shucking, jiving, weaving, frantic chasers that finally brought them back. Another brief pause followed and Shawn Smith, a local top-level MTB'r rolled off the front. Not thinking clearly, the good Dr. Pain jumped on his wheel. There were 24 kilometers until the finish. The next 15 minutes felt like about three days, as Shawn slowly crushed my legs.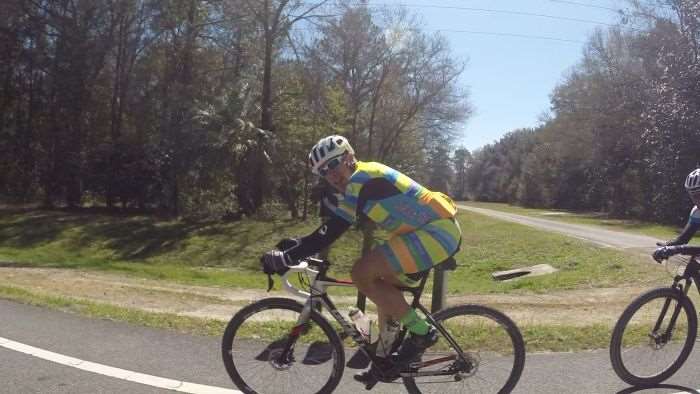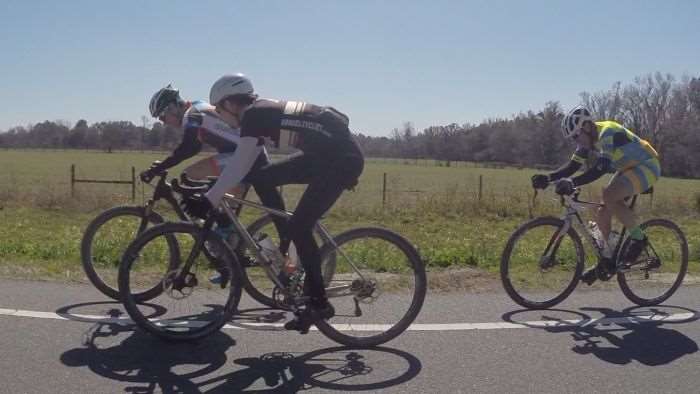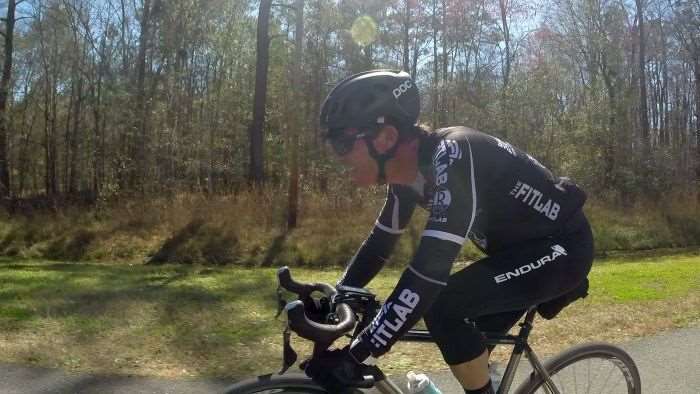 A couple of folks managed to bridge across, just as I was about to lose contact. Let's be clear, JOM "sits up", I was getting dropped. I'd like to note that young Bryce Kovi (15 years of age) bridged across to me, and almost made it to the leading trio, but the group caught us just as we turned onto the "three sisters" sector.  This sector is noted for three mile hills and some deep sand in a tree lined tunnel with high banks… sort of a sand luge track.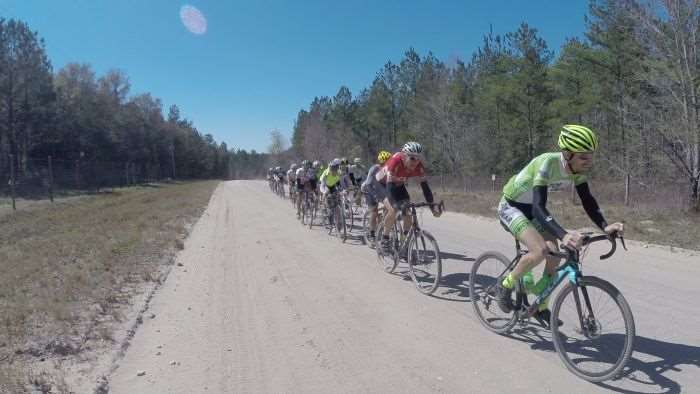 This section was where Dr. Pain got to see the back of the group. The careening and floundering observed through the sand was not comforting given his catapult activity from the week before. Apparently out of sight at the front was a vicious attack by undoubtedly two of the strongest in the group (Ryan Woodall and Dr. MSG). Dr. Pain used his fat tires and tribal knowledge to get past the flounderers and back to the front, only to find the eventual winners ahead with an insurmountable gap.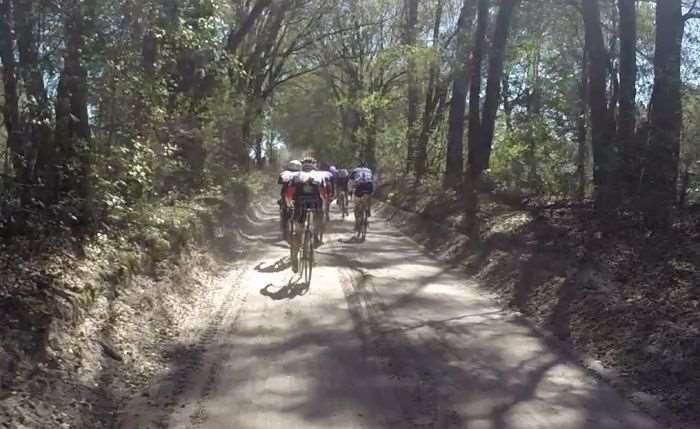 All of the Gravel Cyclist crew were still in this lead group, with only about 6-7 kilometers to the finish. Relieved to still be in contact, Dr. Pain decided to use up the remaining paltry supply of watts and did a couple of all out surges at the front to see if there was motivation to chase. What was I thinking? I successfully dropped myself after the second surge and got a long distance view of the front group finishing.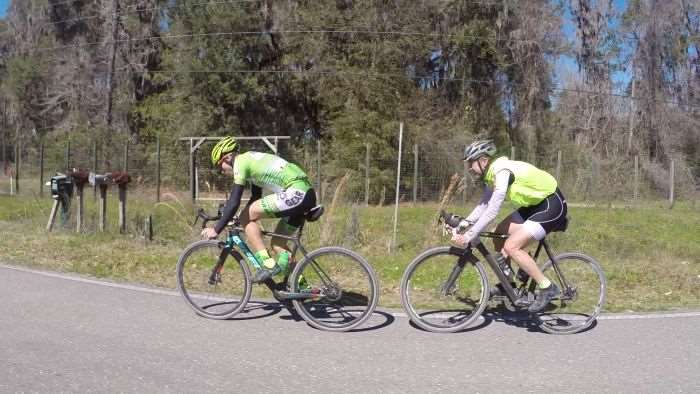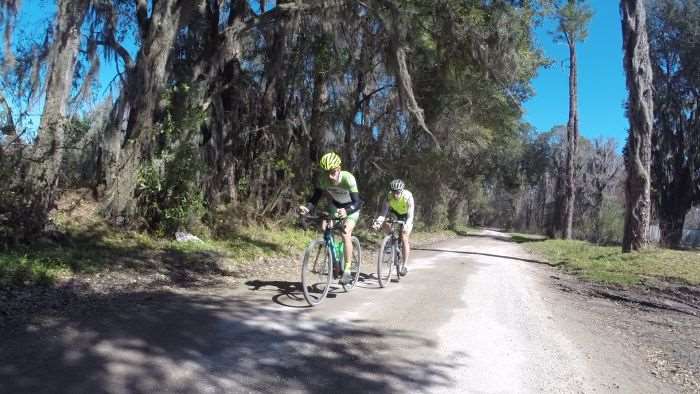 I have no idea what antics occurred during that last few km… I had no binoculars. Apparently, Ryan Woodall repeated as winner, with Dr. MSG repeated as 2nd behind him.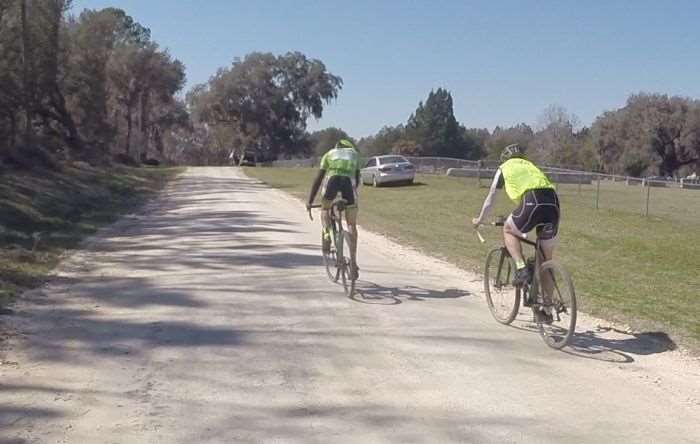 Ryan received a clapped out (JOM slang for broken) silca pump, and Dr. MSG received a cool Wolf Tooth Components beanie with tassle to cover his bald pate. Serves them both right for leaving us behind. Thanks to Shawn Smith for organizing this and other great schwag!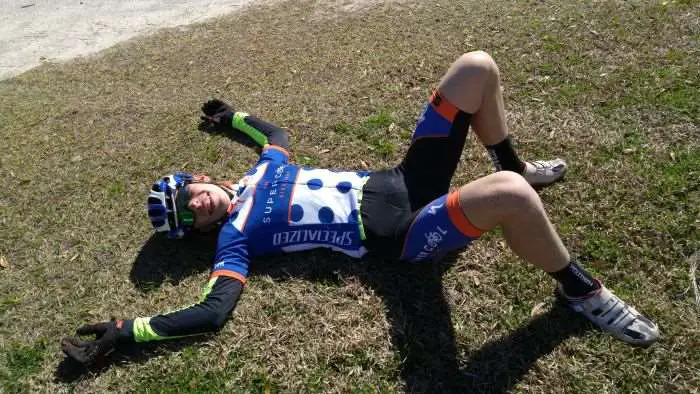 All in all, it was a fabulous event. We returned to the One Love Café for live music, accompanied by beer and good food on the outdoor patio. The horse farm charity will receive over a thousand dollars or so to buy carrots. Dr. Pain didn't fly over the bars, didn't get hurt, finished, and didn't finish last. Success!!
Event Ride Video by JOM coming soon!