Saturday March 5, 2016 marked the second running of the Dirt(y) Pecan, a totally FREE event with a choice of 60, 100 or 150 miles of dirt, gravel and clay roads – and just a small amount of pavement (bitumen if you're an Aussie) on the Full Monty 150 miler – beginning near Monticello, Florida.
John Webb, promoter of the event sums up the ride and scenery quite nicely; "you'll wind through grand southern plantations, oak canopies, farmland and pecan orchards on red clay and dirt. Pavement has been kept to an absolute minimum."

And, he was quite clear about the nature of the Dirt(y) Pecan ride:
"This is an UNSUPPORTED ride: there is NO support, NO sag stops, NOR support vehicles. The course will NOT be marked, and there will be NO printouts prior to the ride. YOU are 100% responsible for YOU, YOUR equipment, YOUR navigation, and YOUR own food and drink. If you need a juice box and a hug every 20 miles, this is not the ride for you, please stay home."
Anyone up for a juice box and a hug?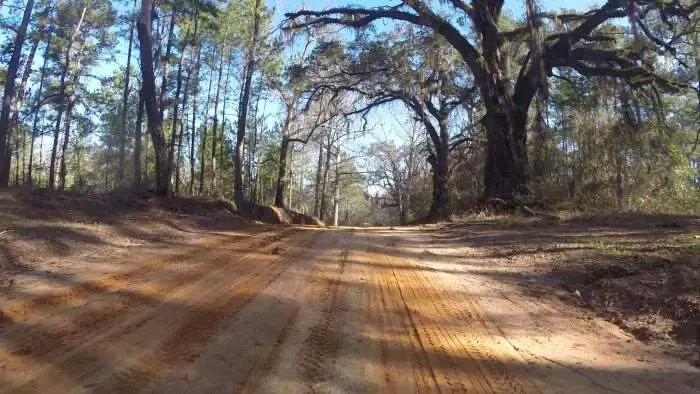 Preface to the Dirt(y) Pecan
K-Dogg, Mrs K-Dogg* and JOM have all signed up for the Dirty Kanza 200 ride later this year. We thought it appropriate to ride a lengthy event close to our USA base of Gainesville, Florida, to ascertain whether:
Could we endure at least 150 miles of riding on dirt and roads? (remember, Kanza is 200 miles).
Would our delicate arse tissues tolerate the nine or so hours of saddle time?
Would our navigational computer batteries hold up?
How best to dole out our food and hydration over such a long ride.
JOM also had an additional concern – he's been carrying around a rib injury for three weeks – something we refer to as a "Whingery". "Whinging" in Aussie slang is akin to whining. But whinging excessively about an injury and milking the crap out of it becomes a "Whingery". At least this is what K-Dogg had to say about the issue.
* Mrs K-Dogg did not appear the the Dirt(y) Pecan.
In the week leading up to the Dirt(y) Pecan 150, there had been an excessive amount of email goading among the Gravel Cyclist crew, most of it aimed squarely at JOM and K-Dogg.
Sample of goading…
"I am only going on this ride as moral support for my team mates who are foolishly planning to do Dirty Kanza. I am most interested in seeing their post-Pecan assessment. Scott (Pfaff Daddy), we are there to give them pointers on their form, their bike handling, and their strategies. For instance, "Go a little faster, no not that fast, slow down" will help them titrate their efforts for the Kanza. Additionally, useful feedback, like "Why did you guys let Tic get away from you?". "You can't win the Kanza that way" will be most appreciated."
"K-Dogg and JOM better be prepared to sit on the front for most of the ride. After all, they are training for a 200 mile race…"
My teammates are so supportive.
Ride Day
The Dirt(y) Pecan is marketed as a ride and not a race. Therefore, the Gravel Cyclist crew took a casual approach to the event. Sharing a hotel room with K-Dogg, I woke and contently sauntered about the room as I completed the usual morning rituals (that I will spare you), before piling into Dr. Pain's mommamobile (aka the minivan) with my teammates at around at 7:15am.
We expected a small group of riders at the event venue, but were pleasantly surprised to see close to 100 riders? – possibly more? – in attendance. After socialising, signing event waivers and inflating bicycle tyres, everyone in attendance began the ride at spot on 8am. We learned there were six riders doing the Full Monty 150 mile ride, but more if you counted those who left at 5:30am (for real), or 7amish. So, probably 10 in all?
Noticeable absentee at the ride start was our friend Tic Bowen, a well-known rider from the Orlando, Florida area, who recently turned his attention to the ways of the gravel. Not only is he uber strong, he's a really nice bloke devoid of a big ego or bad attitude. If you check out our ride video from the 2015 Claymont 100, you can see Tic in action, mostly pulling us around and making us suffer. Ouch.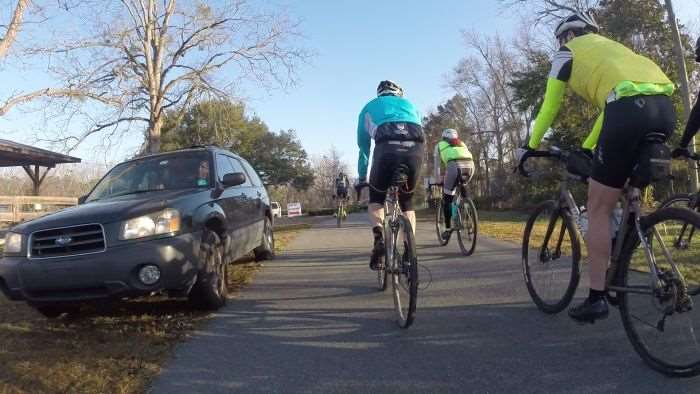 Tic did show, but after the event began rolling out – see the above image of Tic in his car as we roll past. D'oh!
Riders from the 60, 100 and 150 mile rides stayed together for the early miles out of Monticello, Florida, until the first sector of dirt, red clay and gravel was encountered. Then, it became apparent rain from two days earlier had softened up the dirt road surfaces, making them extremely sticky, requiring a lot more power than usual to roll across. Think velcro roads and you get the picture. This isn't the first time we've experienced this phenomenon.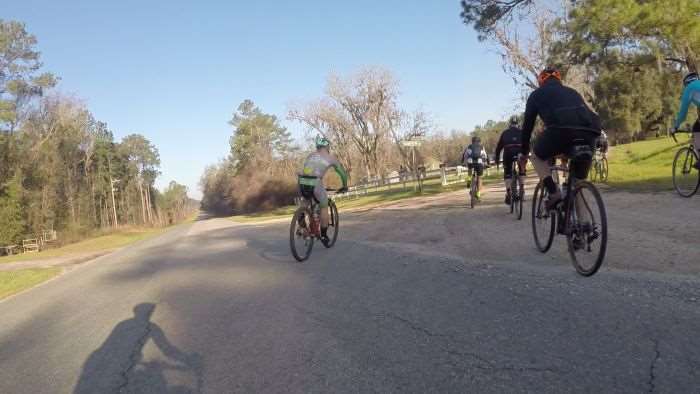 Those riding the 60 and 100 mile routes were keen on knocking out a fast time. In other words, they were unofficially racing. We in the 150 miler group were not interested in racing and did our best to shirk responsibilities related to sticking one's nose into the wind. Despite our wheelsucking, the pace of the 60 and 100 milers was pushing into our comfort zone, particularly when any sort of hill was encountered.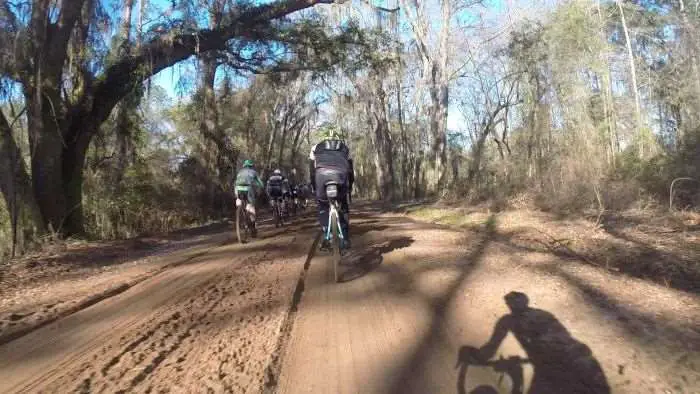 Ascending a short, steep and sticky hill takes considerable effort, something to be avoided at mile 10 of 150!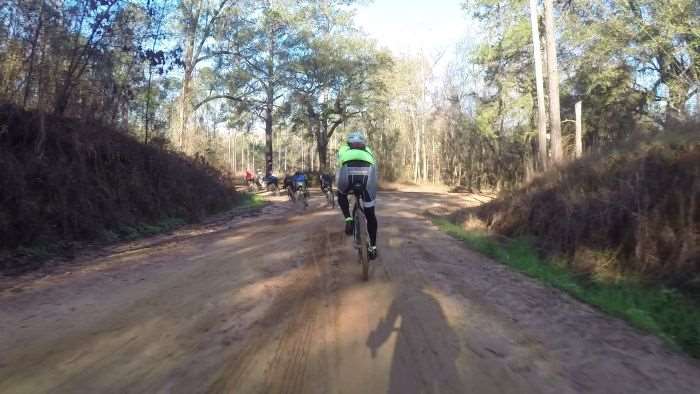 Approximately 20 miles into the 150 mile course, K-Dogg and I listened to our inner voices of reason and publicly announced, "those doing the 150 mile ride, this is the bunch to ride with" – and promptly sat up. We bid the 60 and 100 miler group goodbye, and began riding a tempo that we hoped was sustainable for the entire distance.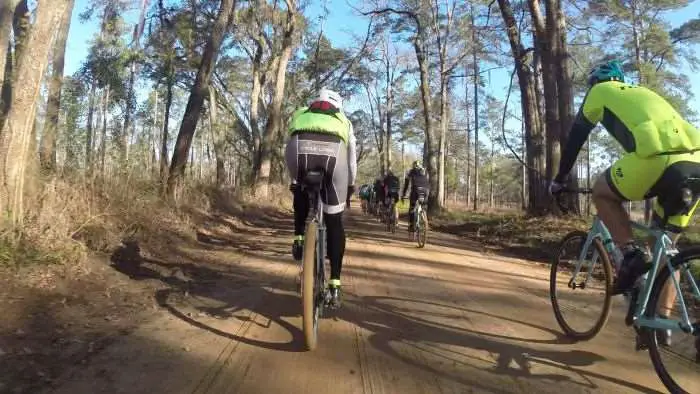 Spurred on by the email banter referred to earlier, I decided to impress my teammates by sitting on the front for mile after mile, setting tempo. In reality, they weren't impressed; K-Dogg and Dr. Pain privately discussed when and where I would crack. Would I crack? Maybe later…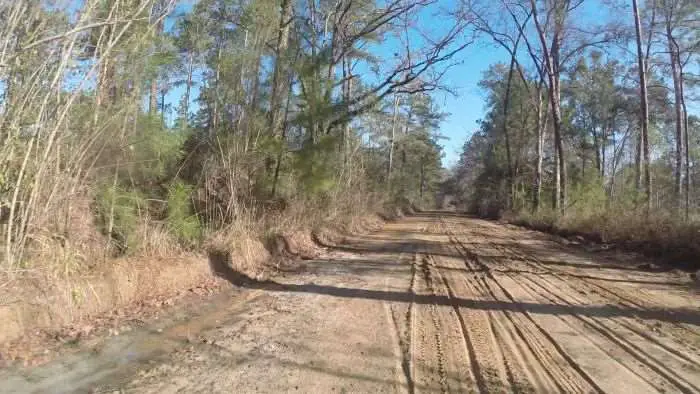 At the town of Metcalf, Georgia, Tic Bowen rolled upon our group after making a superhuman effort to bridge after missing the start. While Tic is a fit individual and has been racking up the serious miles of late, one had to wonder if he would crack later on? I continued plugging along on the front, foolishly setting tempo not thinking about future consequences.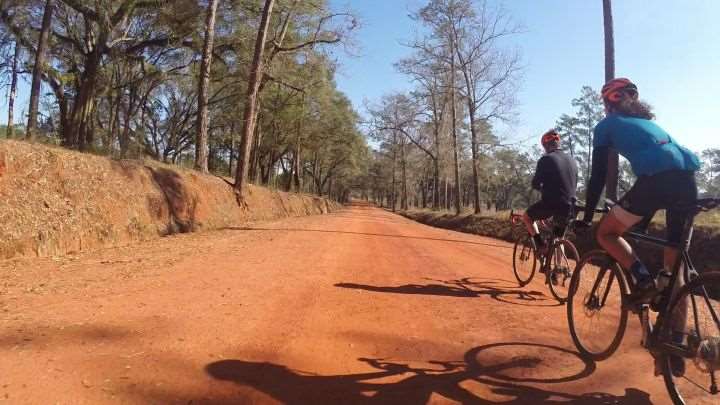 My tempo was finally broken by a shriek, followed by the thud of Pfaff Daddy and Dr. Pain falling onto the soft and sandy soil after a touch of wheels. While I had steered the group through the only safe passage along this sector of sludge; deep tyre tracks ridged either side by six inches of sticky soil, proved that even the most experienced of riders need to exercise caution and give themselves extra room to move. Thankfully, bodies and bikes were undamaged, and we pressed on.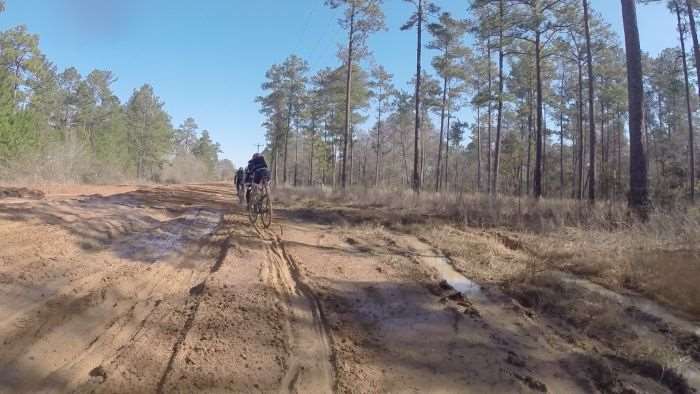 We encountered epic sludge (see above), and I listened to my teammates (and legs), relinquishing my pacesetting duties at the head of the group. Definitely better to share the workload over 150 miles than pulling mega turns on the front. Eventually, we rolled onto pavement and into the town of Boston, Georgia, home to the first store stop along the route. Incidentally, I had consumed 1 x Clif Bar, 2 x Gels and 1 x bottle of Gatorate in 68 miles / 108 kilometres. Probably not enough.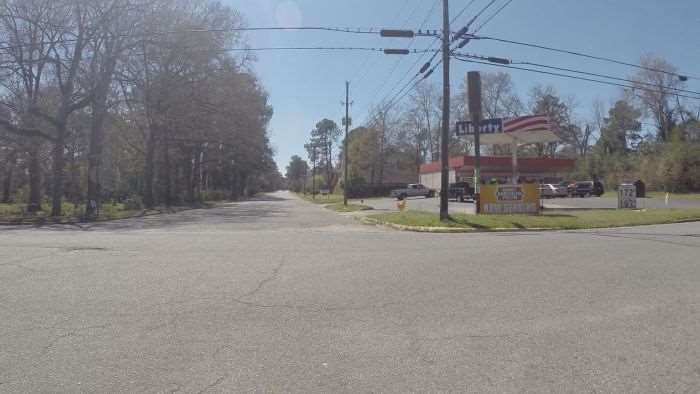 The Liberty convenience store was a popular choice among locals and riders doing the 60 and 100 mile routes. Fried chicken and other unidentifiable fried products were the number one choice of customers lined up at the cash register, while I broke convention with a can of full strength Coke, two Pop Tarts and a bottle of Gatorade – total junk food, but packed with carbohydrates and sugar, perfect fuel for riding big miles. We met two others from the 150 mile route outside the store; a bloke who goes by the Facebook name of "Buck ElRighteous" and his sidekick Jason. Turns out they'd begun riding at 7:15am, and were rolling a more relaxed pace. They continued on their merry way as we stuffed our faces and socialised a bit.
At the store stop, Dr. Pain expressed concern about his dodgy legs and ability to finish the ride. But in typical Dr. Pain style, he pressed on and promised to make a decision to finish or quit at mile #108, the site of the next store stop and rendezvous point for the mommamobile – kindly driven there by the daughters of K-Dogg.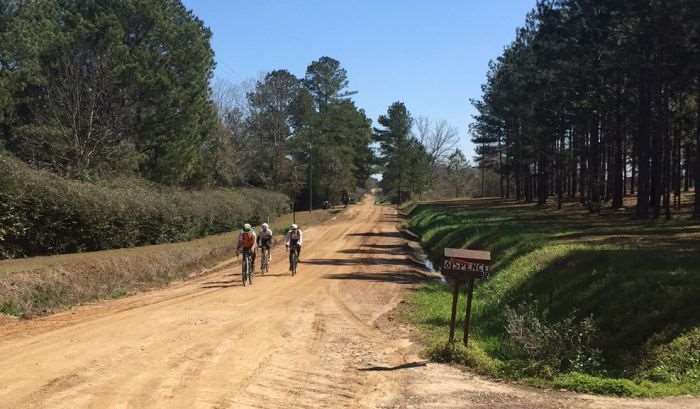 Somewhere between Boston and the second store stop at an area known as Cherry Lake, Florida, we passed "Buck ElRighteous" and Jason in the middle of an altercation with a dog. Such is life when you ride about on rural roads. Buck and Jason hung around on the tail of our group a while, but disappeared somewhere before the second rest stop. They were sticking to their own tempo, which is wise for a ride of this distance.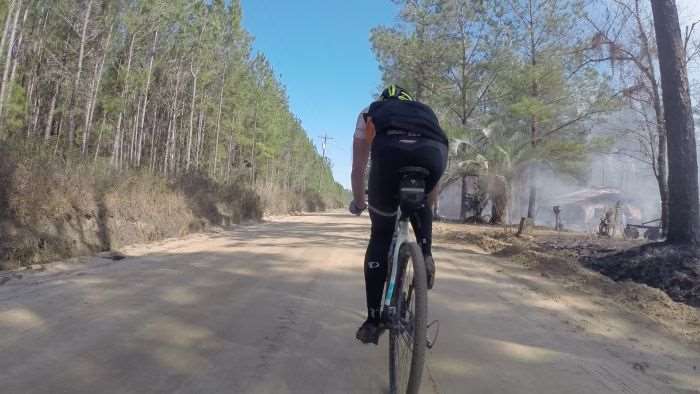 Elsewhere along this stretch, we rolled past a controlled burn that had gone very wrong, or the owner was dissatisfied with his house and decided to burn it to the ground. There no fire trucks around, and those standing close to the pickup truck parked by the side of the road didn't seem overly concerned?
At around mile 100 / kilometre 160, I began to feel the effort of the heavy roads. Fatigue was making its way to my legs, and while my rib injury has vastly improved, it was certainly being felt from time to time. As for the rest of the Gravel Cyclist crew + Tic, Pfaff Daddy and Tic were riding in a zone above everyone else while Dr. Pain and K-Dogg were dragging a little. Since the last store stop, I'd consumed another bottle of Gatorade along with 1 x Gel and 1 x Clif bar. Definitely not enough calories.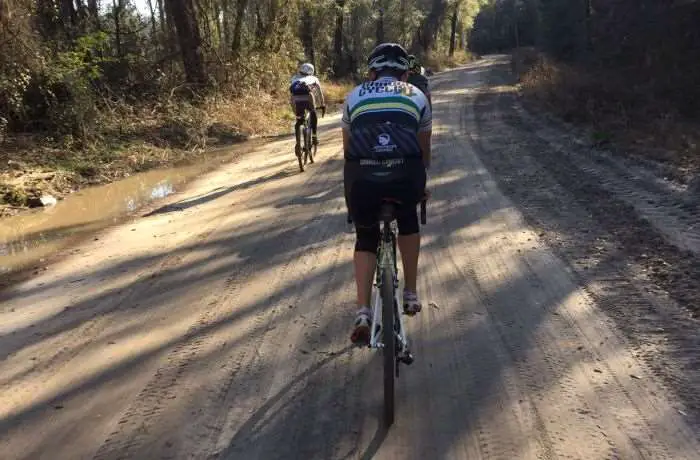 Having a reliable navigational aid is priceless for a ride of this nature. I studied the online course maps before the ride began, so I knew at what mileage markers the store stops were located. Rather than suffering and wishing for a store stop to appear, knowing where it resides provides a mental boost if there is hydration and a short respite just ahead!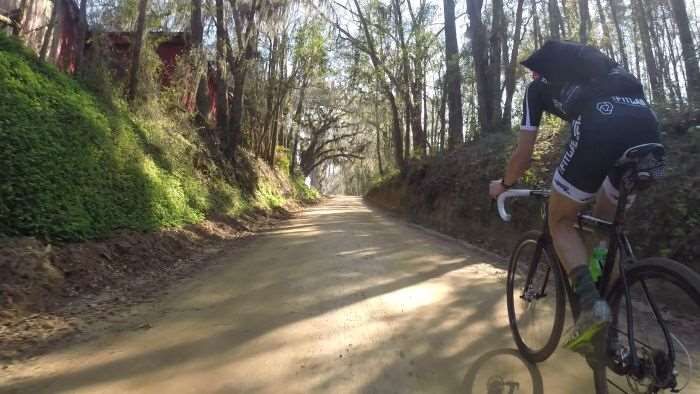 Cherry Lake, Florida rolled into view at mile 108 / kilometre 173, along with two store stop options and the mommamobile. The sight of Dr. Pain's minivan alone was enough to lift everyone's spirits! I dropped my arm warmers and lightweight gloves into the van, and took the opportunity to apply some more of Buckler Skincare's fantastic chamois cream – I'll save you the finer details of the application procedure 🙂
I was very tempted to down a beer at the convenience store, but instead chose to indulge in more liquid crap – 1 x Mountain Dew followed by 2 x single Pop Tarts and a refill of my water bottles with Gatorade. Did I mention I was getting tired of eating this crap?
At the rest stop, we were reunited with Jason Ottinger, who had dropped off our train a few miles before the store stop, along with "Buck ElRighteous" and his sidekick Jason. This would make three blokes named Jason in the one location – while I am known as JOM of Gravel Cyclist, my legit name is JaYson with a Y – Ultra cool and I thank my mother for being way ahead of any baby-naming trends!
The store stop revitalized K-Dogg and Dr. Pain. Now they were committed to the entire 150 mile ride, and joined us as we pressed on to knock out the final 42 miles to Monticello, Florida.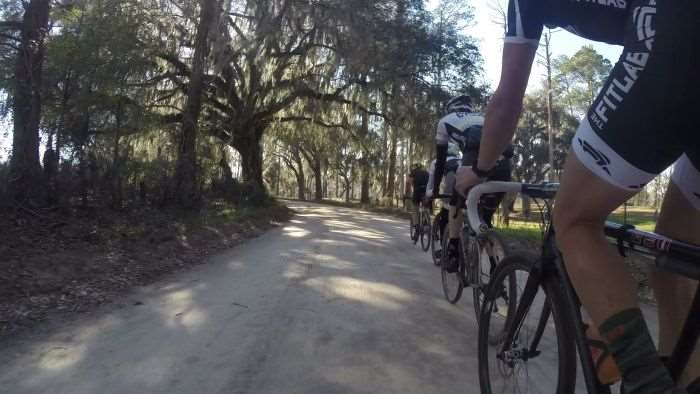 I don't know what was happening with me, but I felt amazing, at least for the first 15 miles into the final leg of our journey. Tic noted that Pop Tarts must have a positive effect on my constitution… I shrugged.
At around mile 127, our group of five turned left onto Gum Swamp Road. Sitting at second wheel behind Mr Tic Bowen, he changed position to the drops and laid down a tempo that averaged around 16mph / 25 km/hr. This doesn't sound like much, but when a road bears the name Gum Swamp, it is pretty obvious what lay in store.
Multiple bicycle tyre tracks adorned the sandy road ahead, many were deep and most were all over the road. By far, this road took the most power to roll, and at this point in the ride, I was low on power. Within 750 metres of the road ending, I cracked, yelled to Tic to slow down a tad, and silently drifted to the back. I could sense a feeling of relief from K-Dogg – I know he was suffering but was glad I was the first to cry Uncle!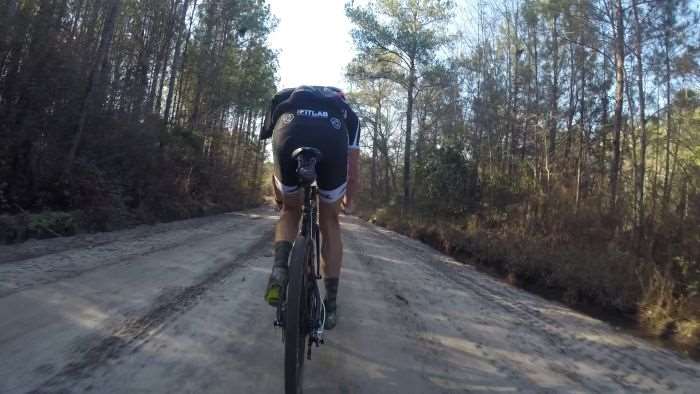 At this point in the ride, I realized the following mistakes:
I spent too much time on the front early on, versus sharing the pacesetting.
I didn't heed the pacesetting advice of Dr. Pain. Ever the helpful gentleman, he kindly suggested that I modestly decrease my pace, in order to save both of us from the likelihood of cracking completely later in the ride.
I didn't eat enough. Jamming down solid food can be a challenge, especially on bumpy and gravelly roads, so I'll be investigating gel flasks for upcoming training rides. 1 x Coke, 1 x Mountain Dew, 4 x single Pop Tarts, 4 x Gels, 2 x Clif bars and 3 x Gatorades wasn't enough calories at this point in the ride.
I should have taken an Ibuprofen or two at the start of the ride, versus later at the second store stop, when my rib was starting to bother me. Much as I eschew doctors and bollocks from the pharmacy, Ibuprofen would have been helpful.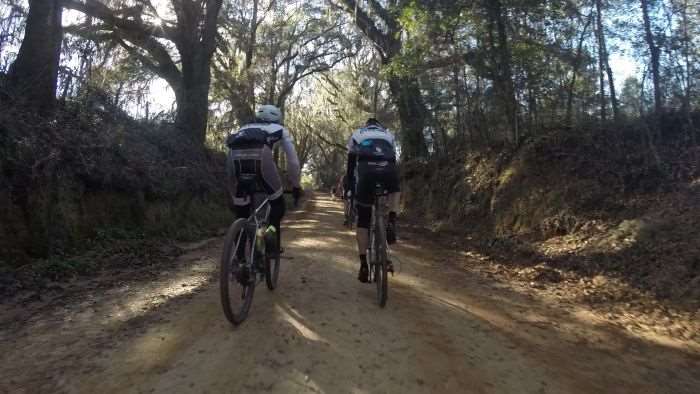 I dropped a second time, on the climb of a short but steep hill about 15 miles from the end of the ride. Tic and Pfaff Daddy were kind enough to reign themselves in and wait, but would place K-Dogg and I into duress a little later, on another chewed up sandy road.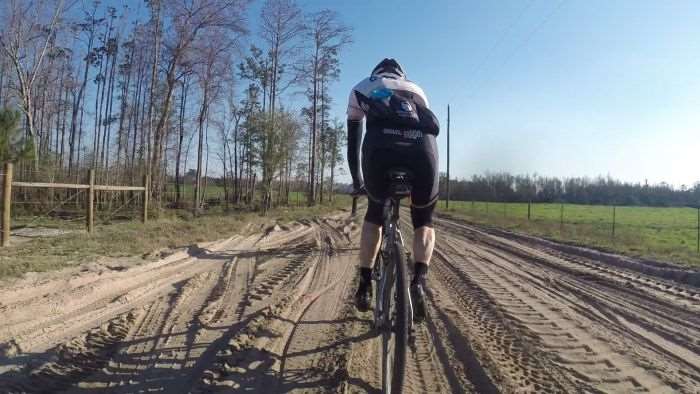 As we rolled past a cemetery, I uttered "I am going to lie down in that cemetery for a while…". Tic was greatly amused… I was half joking.
The final 23 miles of my ride were difficult and challenging, but in no way did my knackered legs and calorie deficiency detract from the overall experience.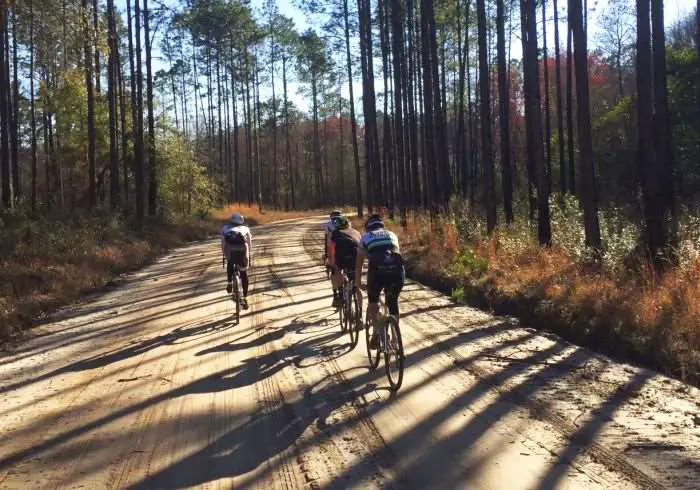 There was the camaraderie of my teammates and Tic, scenery for miles and roads with absolutely no cars to be seen. It doesn't get any better than this!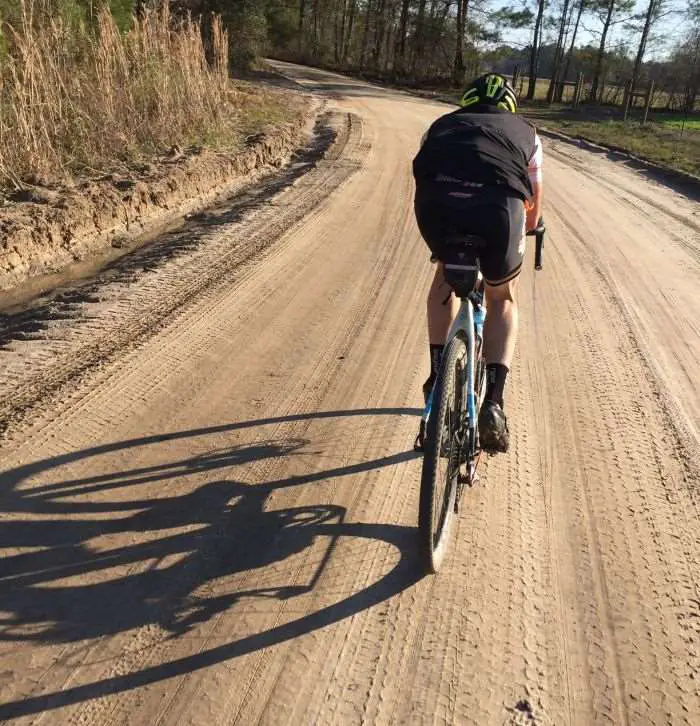 Without doubt, Tic and Pfaff Daddy were the pillars of strength in our group. They rode consistently strong all day, never flagging once, never skipping a turn.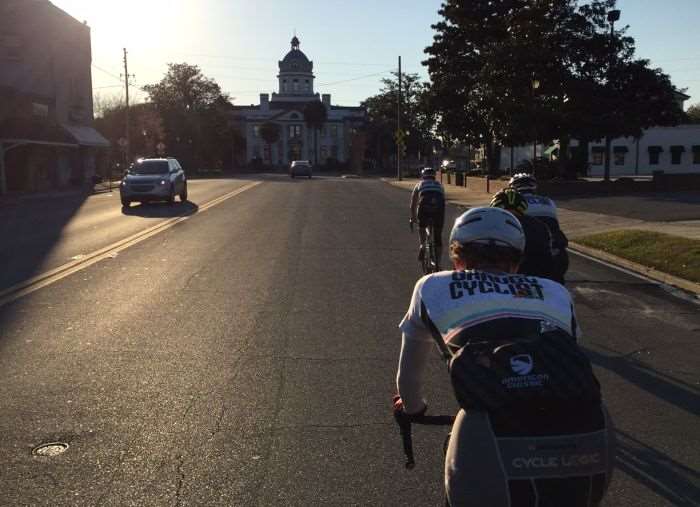 With almost 152 miles / 243 kilometres beneath our wheels, we finished the Dirt(y) Pecan with a riding time of 8:49:59 – or thereabouts – and an elapsed time of 9:46:35.
Riding time equates to about 17.18 mph / 27.5km/hr average speed. Considering this was the longest dirt and gravel ride for all concerned, we were stoked with our effort!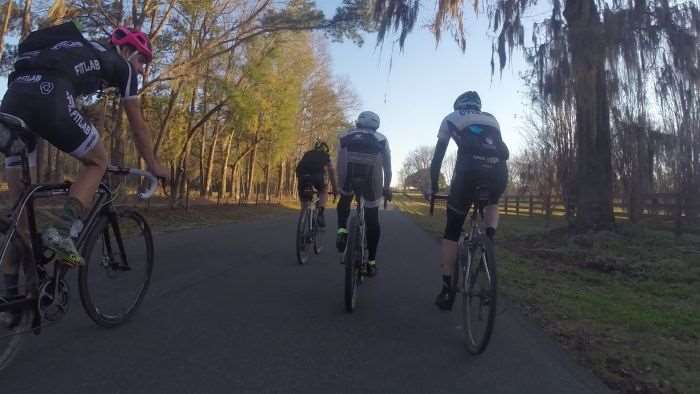 I learned a lot, but I reckon K-Dogg and I will be ready for Dirty Kanza. I cannot wait!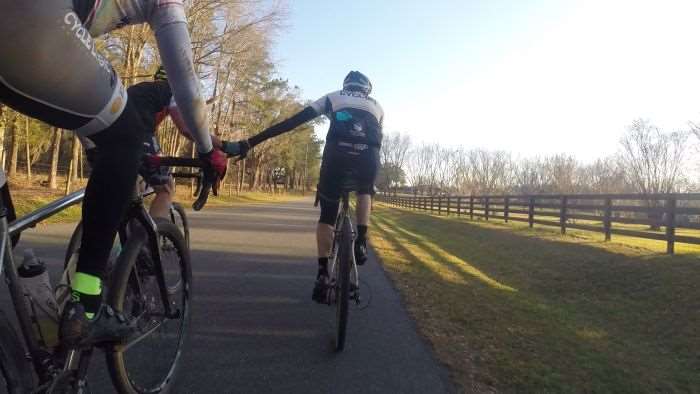 JOM's Strava Data (heart rate data pooped up somewhere).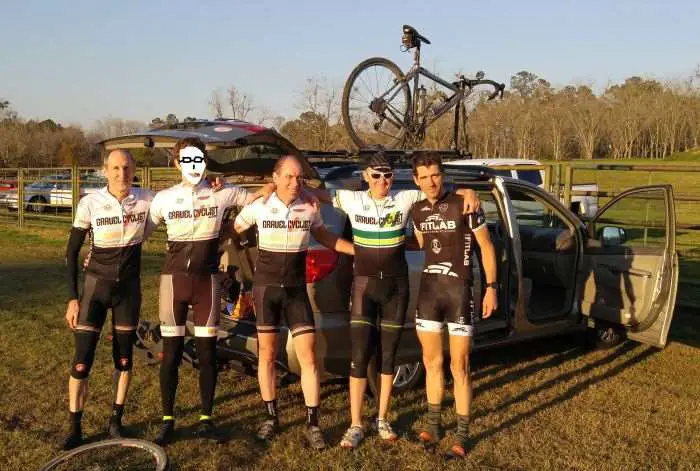 L to R: K-Dogg, Dr. Pain (face hidden to protect the innocent), Pfaff Daddy, JOM and Tic.
RIDE VIDEO COMING SOON – Thanks for reading!
DON'T FORGET. If you have a ride or race report to share, don't be shy, contact us. We'd love to share your experience with our audience.