Over the years Gravel Cyclist has traveled thousands of miles back and forth across this awesome country doing gravel races in all kinds of terrain and weather. We've done Dirty Kanza 200, Crusher in the Tushar, Hilly Billy Roubaix, Gravel Worlds, Love Valley Roubaix, Pisgah Monster Cross, Southern Cross, Assault on Mount Currahee, D2R2, Vermont Overland Grand Prix, Shake and Brake, Standard Deluxe and many more.
Most involve long drives or flights and the hassle of constant packing and unpacking complicated bikes. This can develop into real travel fatigue and irritation.
So we absolutely cherish this quaint little race (started seven years ago) named Red Clay Ramble. It is tucked away into the huge Georgia State forest just East of Macon. It is close enough for us North Floridians to drive to in under five hours and just one overnight. In addition, Mrs. K-Dogg's trusty Dodge Caravan is plenty big enough for three fully assembled gravel bikes without having to remove wheels, disk brakes and spooge filled tires. Just roll them in still dusty from yesterday's training ride, strap them down with a shoulder harness like precious children and we're good to go.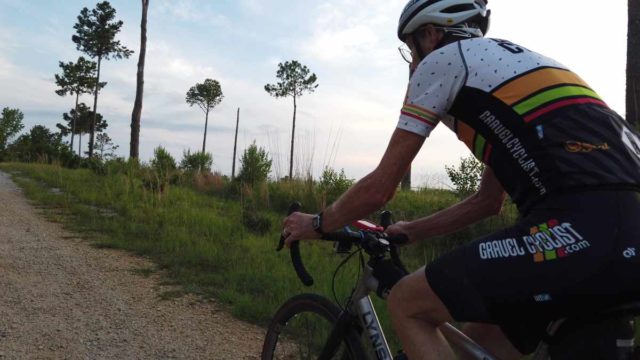 The race terrain is hilly but not mountainous. The surface is well maintained crushed gravel with just a hint of Georgia red clay that's not bothered much by rain. There is nothing particularly sketchy or dangerous. You can gleefully "turn it loose" just about anywhere along the course. Now two years ago about five miles in, there was a bad crash on a fast, steep, slippery, descent. Two guys went down hard. (they are fine now). It was a non-issue this year due to significant regrading. I did notice somebody assigned to wooden bridge duty there. Their job was to sit in a lawn chair and toe back into place some loose plywood strips laid on the "pick a plank" rickety bridge. The apre-bridge hill must have been a great spot to watch some major agony and hypoxia as the front pack shattered here.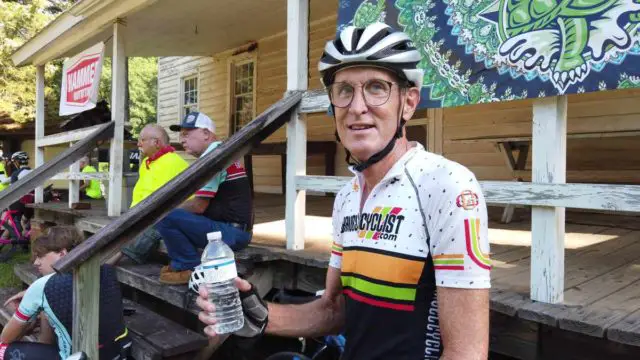 But overall Red Clay Ramble was a nice safe place to race or ramble… your choice… and at only 54 miles long most racers will be sipping beer in about three to five hours.
Who could ask for more?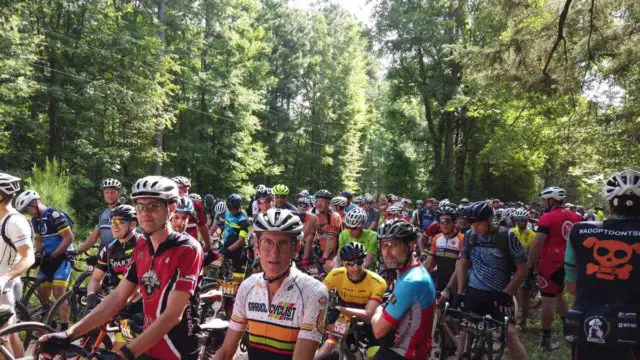 So at a luxuriously late start time of 10:00am (it was already too hot at that time) a huge gaggle of mild tempered gravel racers of all ages and talents lined up.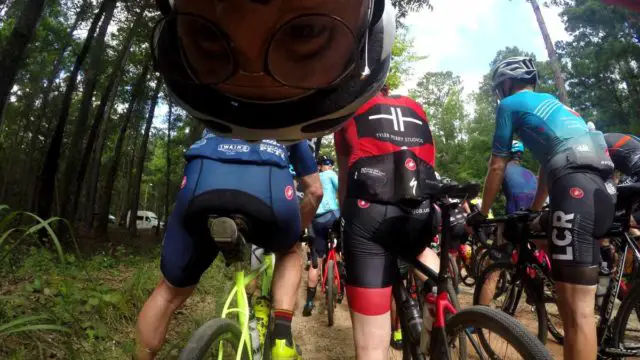 Then Jason and Dawn, the promoters, dropped the flag and off we went, throttles wide open and generating dust clouds like a Road Runner cartoon. Beep! Beep! said the100 racers-all fighting to be in the front five slots. So much for a warm up. Maybe it's my age (Did I mention I'm 64?) but I really love lead out vehicles. There is a similar race near Auburn called Standard Deluxe where the pace vehicles are two fat bikes. Carbon neutral… but also less carbon than cows. 🙂
Now Jason and Dawn warned us that less than half a mile into the race there was a 90 degree left turn followed by a slippery and punchy little uphill. " Take it easy there," they said. "Nobody is going to clinch the win there." Apparently, several guys disagreed which caused a significant, but harmless cluster-eff with much flailing and crawling about.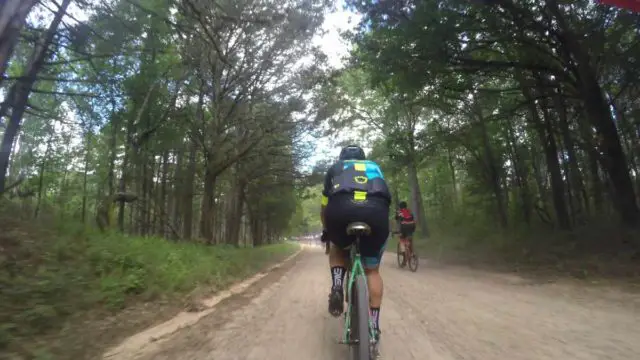 After about four miles and a hand full of hills later a process of "reverse mitosis" began where clumps of backward pressured cyclists were forced to subdivide then simultaneously discard off the back like sinuous strands of rejected DNA that de-evolved and croaked. In short, the pack shattered and no matter how hard I sat on the back nobody could bridge us back up. For the next two hours, I surfed the back and mimicked a remora fish by glomming onto younger, faster guys. Did I mention I'm 64?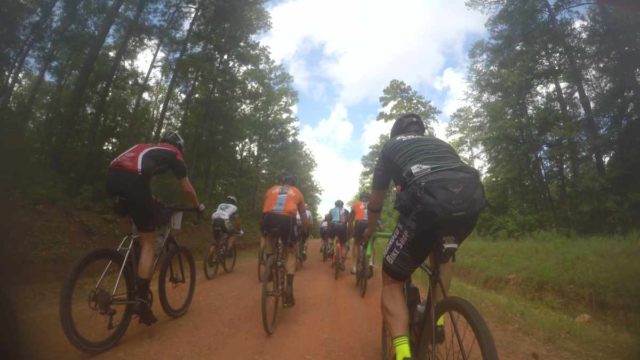 My plan was to go too hard until spectacularly being dropped then, like Dr. Pain's modus, morphed into a grand fondo participant. I succeeded marvelously! 
So pressure relieved, I rolled on and enjoyed the southern charm scenery with lakes, old mansions, and a railroad later on.
I recall at some point doing battle with a suspiciously beat up rural US Mail truck that leapfrogged me for miles. It churned up so much red dust I looked like a red-faced raccoon with weeping eyes. Every time I pulled even it would cut me off then drove just fast enough so I couldn't come around. It was either dragging a muffler or a mattress while spewing toxic clouds of red tide bacteria that must have followed me up from Florida.
It was hot. Very hot… probably because we started at 10:00am.  I would have preferred an 8:00 start but I heard there was an overwhelming vote for sleeping in. But the shortness of the race and an abundance of refreshing oasis food and water every 15 – 20 miles encouraged me to race a bit too hard.  (But thank you so much, volunteers!) 
I was using this race as training for upcoming SBT GRVL, a long mountainous race in Colorado, and thusly pushed extra hard and extra stupid. In short, I exploded then reaped severe leg cramps with about 10 miles to go. Mission accomplished dumb arse! So if you passed a spazzy old guy flailing around doing the skeleton dance that would have been me. All though of racing vanished and I cursed myself for not bringing my magic elixir / cramp killer, aka Hot Shot. It works… but only if you bring it. Did I mention I'm a moron? 
With a few miles to go I was caught by JOM towing two other people. "Oi mate!" he said from behind too loudly. "What the eff's wrong with you!"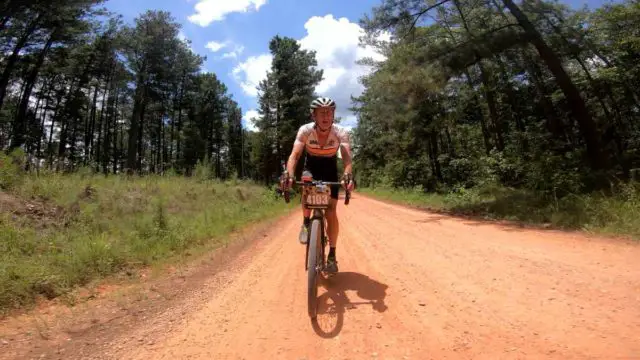 "Leg cramp" I mumbled, barely able to maintain 10mph.  "Well hop on then," he said and went to the front. A mile or so later, he drifted back to quietly chat with me. "Listen Dogg, the bloke in the yellow jersey is your age. There are two others your age up the road so I'm giving you a lead out." He didn't need to say a thing. I just smiled at him.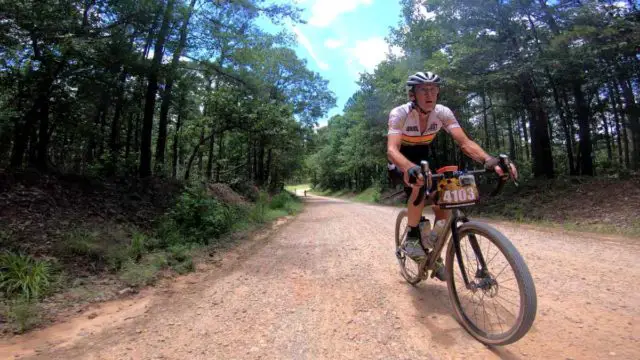 JOM and I have been road racing together for years. We both knew exactly what to do… act like total selfish jerks.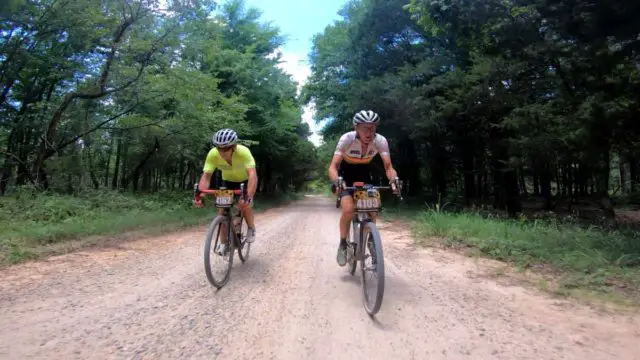 So with one kilometer to go JOM forced yellow jersey to the front for a while. When he was suitably tired JOM (without an ounce of remorse) jumped him with me on his wheel. Yellow Jersey (aka Greg) quickly dropped his head and stopped pedaling.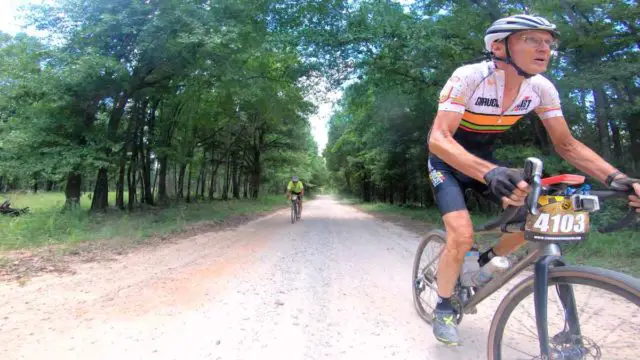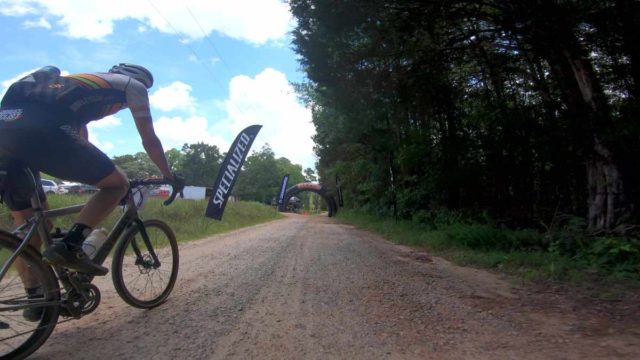 I got third overall. I felt bad for the guy. But not very much. Did I mention JOM and I used to be roadies? … but we got a divorce from road racing 🙂
See all y'all next year.
K-Dogg
Ex-Roadie