Tales of Eldorado
If you read any of our recent blogs you know I (K-Dogg) descend like a plucked chicken with vertigo. I admit it freely and so do my unkind teammates.
They try to help with advice like:
"Never touch your brakes – it only slows you down."
"Your bike steers toward what you look at so ignore that bad thing ahead."
"Look THROUGH the corner."
WTF does that mean? OK Superman, just as soon as you lend me your X-Ray vision.
Mostly they just yell at me to get the F-Bomb out of their way.
Earlier this year Dr. Pain, JOM and I were vacationing in eastern Virginia after Hilly Billy Roubaix. There was a five mile twisty descent they knew well but still terrified me. Somehow a huge dump truck got trapped between them and my leisurely self, denying them the thrill of flying around me. It was nice for me but they were absolutely furious.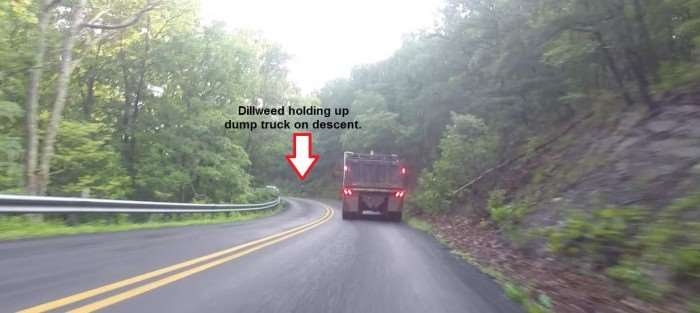 In fact, a red-faced JOM shouted an unprintable Australian obscenity then put a bird in my face at 45mph when he finally managed to get around the truck.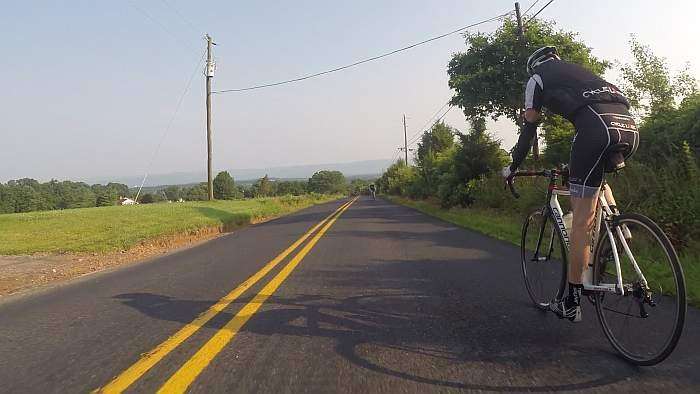 Did I mention THESE are my TEAMMATES?
Did I mention I climb much better than them?  🙂
At any rate I decided to throw some money at a technical fix – hence the Eldorado and it's lovely full frontal shock. I am happy to say it works really well despite weighing 22 lbs.
It was a godsend for Pisgah Monster Cross this year, as I could almost turn it loose on those twitchy, marbled descents monster cross promoters SO love to include. I still sucked but less so. Dozens of people still flowed past on every downhill. But once or twice I actually passed that rare person that sucked MORE than me. The front shock kept my front tire in contact with the ground and my hands and avian arms from cramping up beautifully.
This year the 70 mile course included 8,000 feet of climbing as opposed to 11,000 on last year's reverse direction – how does that work? This meant there was less climbing to bank – maybe not enough to see me through losing it on the downhills.
The Race
Except for a few miles of pace car, the race was hard start to finish including some Team Gravel Cyclist problems. In an early climb JOM had a puncture in both legs and moaned loudly going backwards fast as I steered around him. "Sorry mate" I breathed but kept going. Soon after, about 30 guys split off the peloton and carried our newest teammate the "Headmaster", aka Rusty, gradually away from me in a second group of 10.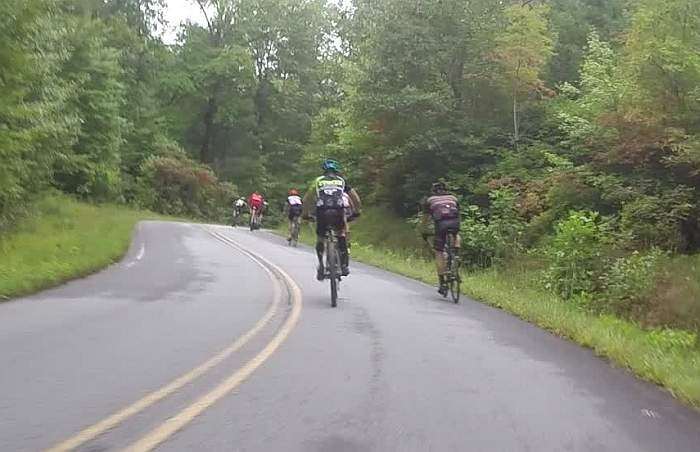 Unfortunately, a few minutes later he was sidelined yanking on his chain in frustration. The Dogg sympathized but kept going. Only room for one hand on that chain. After a long dirt climb I joined a small group onto a long paved climb of 215 up to the Blue Ridge Parkway.
This is my favorite time… everything is zen like… calm, quiet and unusually alive. You can hear your heart beating and your companions breathing as you slowly rise upwards through beautiful rock faces and surreal misty mountain views. The clouds below pooled like cream around Pisgah's peaks. You alone control your destiny and pain thresholds by will alone.
If you see riders ahead, try to gently wind them in, politely pass, then search out the next group. Focus on the moment and on your breathing and time will stop… and yet it seems to accelerate at the same time. You will top out before you know it.
At some point I came upon a couple of mountain bikers climbing with single chain rings and an 11 – 36 cassette. "How do you like your gears"? I queried. "Every effin' gear sucks"! they said… standing up then sitting right back down over and over. I drifted past.
A few peaceful moments later, as the parkway peaked out, a gaggle of blinkies, including the Headmaster, were slowly closing. At that moment loud cowbells insisted I loop to the side road aid station and stop for food I didn't need. Idiot! I didn't stop but wasted 30 seconds… just in time to see the Headmasters's group fly past. Dang it!
A quick chase later, the Headmaster was seen walking an invisible dog roadside holding a broken chain. That first chain suck must have loosened his quick chain link until it finally broke. "Dude! I wish I could help!" I cried but kept going. (15 minutes later he found a mechanic and was back racing!)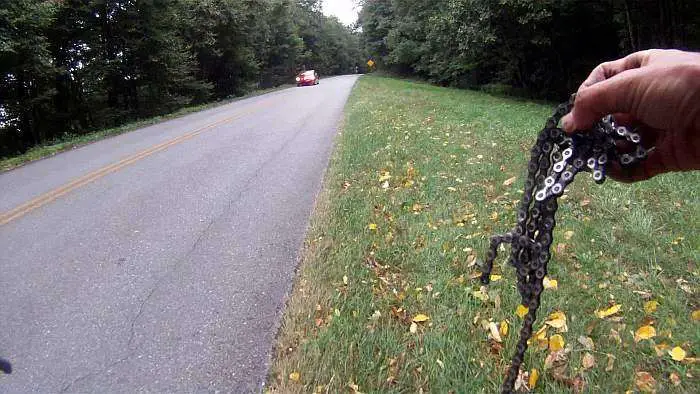 Now came an eternity of dreaded descending I thought.
Luckily, the Blue Ridge Parkway is not that steep and the roads are as smooth and safe as your mama pushing you in a stroller. Also, terminal velocity is only about 35 mph with our upright bikes and marshmallow tires.
You just can't coast much faster and your gearing is made for going uphill, not down. So you spin out quickly. I noticed the full-on mountain bikers descended side saddle on their top tubes (ouch!) to gain speed but also, I assumed, to ease jewel pressure. Mrs Dogg had the Dogg fixed years ago but these youngsters still worry about passing their genes on.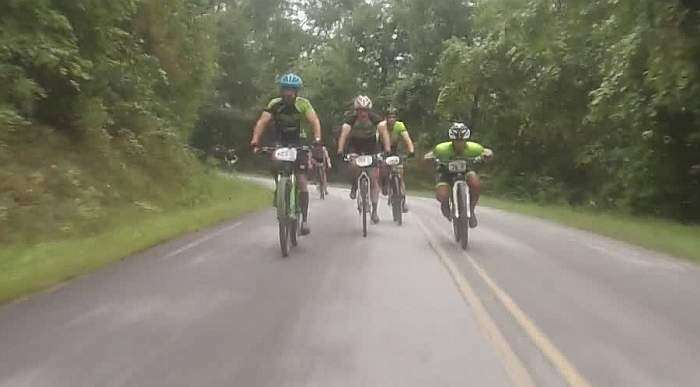 While it was a pleasant experience to safely coast mile after mile, the tunnels were downright terrifying. I was assured that you could see the far ends and that my two (2) lumen light would handle the rest.
They lied to me… one tunnel advertised "Sharp curve ahead" just as we entered it… flying downhill with a tailwind. Like shooting out a circus cannon blindfolded with no idea where the net was. The slow pulsing blinkie in front made things worse… like a demented strobe light that as best seared my retinas and at worse added to the dark. Somehow we all survived the tunnels without riding up on each other. Perhaps Garmin will invent a bat radar app. Soon enough the silky smooth pavement ended and the dirty descent began. Unlocking my Fox shock and rocking brand new disk brake pads I was so much more at ease than previous rides with my old titanium Motobecane cyclocross bike. No comparison! The shock smoothed the washboard and kept the wheels on the ground over deep ruts and big rocks.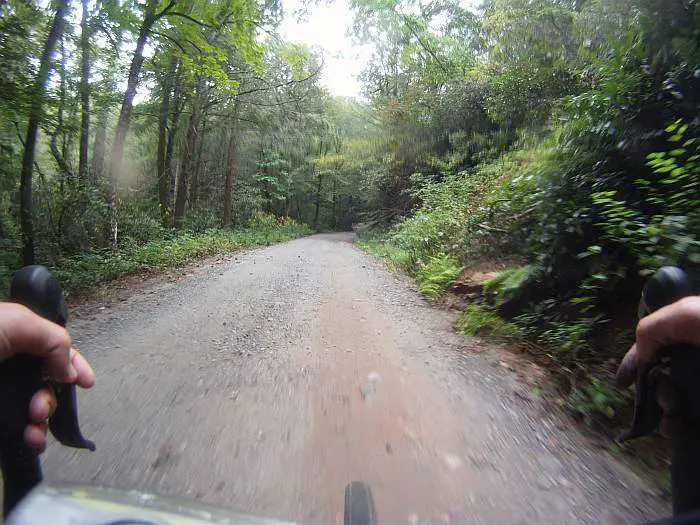 Lots of people (most, to be honest) passed me but not quite as many nor quite as quickly. The shocks made up greatly for my lack of skills.
As the finish line neared I was joined off and on by some skilled and downright nice people of both genders. How different from the selfish game-faced morons common in road racing.
At the finish the roaring crowds welcomed everyone regardless of finish time and gleefully waited to see some gentle biffing over the three plywood barricades aka cyclocross barriers. Most walked it. Some cramped knee high but grinned and got over it.
So yet another wonderful day of playing on bikes in dirt with a few hundred of my favorite people. We three Florida Idiots would love to stay a week and explore at a more leisurely pace, all the beautiful spots we blew past in the race. But we have 9 hours of driving ahead and Mrs Dogg called to tell me we are headed into a typhoon.
Many thanks to Eric Wever, who put the motor in promoter and his wonderful and most excellent volunteers for an awesome, fun and safe race.
Another thanks to Eric for gracefully adding 50+ and 60+ age categories to encourage us mature men to have a chance at a little glory no matter how you define that. There are a lot of us baby boomer flying fossils out there just waiting to show we can still play hard.
As Monte Python said "I'm not dead yet!"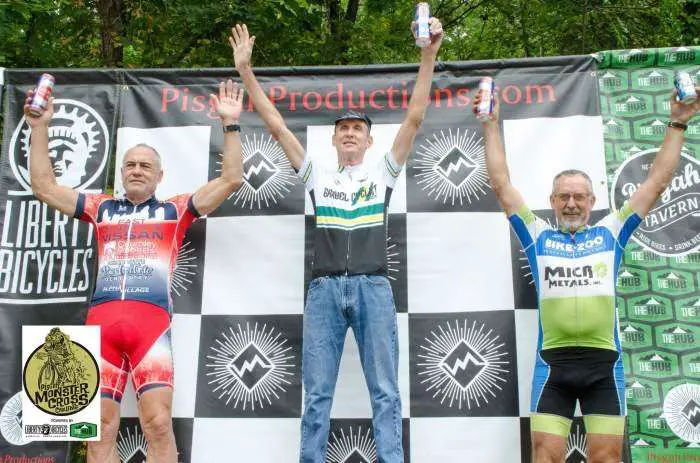 Please enjoy the Pisgah Monster Cross race video (filming by the Headmaster and JOM – Production by JOM) and hope to see all y'all up this way again real soon.
K-Dogg, JOM and Headmaster.