K-Dogg's Race Report from the 2015 Hilly Billy Roubaix – held on June 27.

We should have known – this was not going to be your average extreme gravel race. It had been steadily raining for days before we spent 15 hours driving from Florida to West (By Noah) Virginia.
We should have known – when we lined up Saturday morning in ankle-deep mud and even more rain.
We should have known – when race Promoter J.R. Petsko warned about the horrors ahead then asked for a show of hands for first timers. Ninety percent raised them high. What did the 10% repeaters know that we didn't?  Why was a nearby "Gran Fondo" canceled we wondered?
Twelve miles in we knew why.
Indian Creek Road is neither a creek nor a road. Its a 2.5 mile string of muddy kiddy pools two feet deep, wide as the "road" with slimy, slanted sides and bottoms. Down this treacherous string of Crisco cesspools I gleefully flailed my brand new concept bike, "Eldorado". Yes, this section was so awful and outrageous I actually started giggling.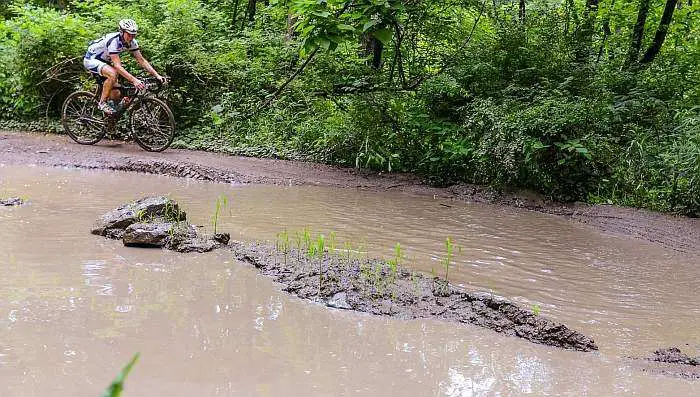 "Eldorado" is basically a carbon fiber 29'er with drop bars, front shocks, mechanical disk brakes and 1.8″ small tread tires. My idea was to improve my pathetic descending talents while maintaining roadie skills honed over the last 40 years. (Did I mention I'm over 60 now?)
Read about K-Dogg's Eldorado here.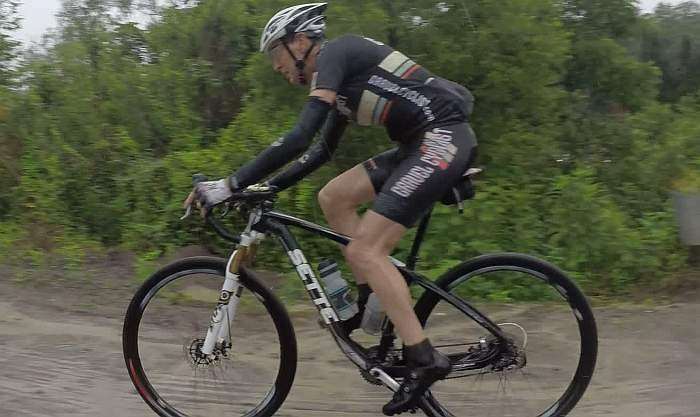 The front shock helped me remain glued to the ground, as did the wider tires. The shock also increased my confidence not to be de-horsed on some bonus boulder, deviously hidden beneath 18″ of mocha mud. I could make bad snap decisions and still survive. Also, at 22 lbs, my little cushie Cadillac climbed nicely once I locked the suspension fork out. The wider tires kept my rear wheel from losing traction on gravel and clay climbs, a marvelous improvement compared to narrow cyclocross tires.
Unfortunately, my mechanical disk brakes surrendered not long after Indian Creek Road. The mocha mud rapidly invaded both brake cable housings rendering them useless. Brake pads wore down into two slick steel plates and the brake levers hit the handlebars.
It went downhill from there (literally).
Flat road and hills were fine and I pushed hard there – but I could never turn it loose downhill. Anything over 15 mph and the speed became exponentially suicidal. More than once I employed the Fred Flintstone foot drag method just to negotiate corners. Imagine a Nantucket Sleigh Ride with Foggy Mountain Breakdown pounding in your head.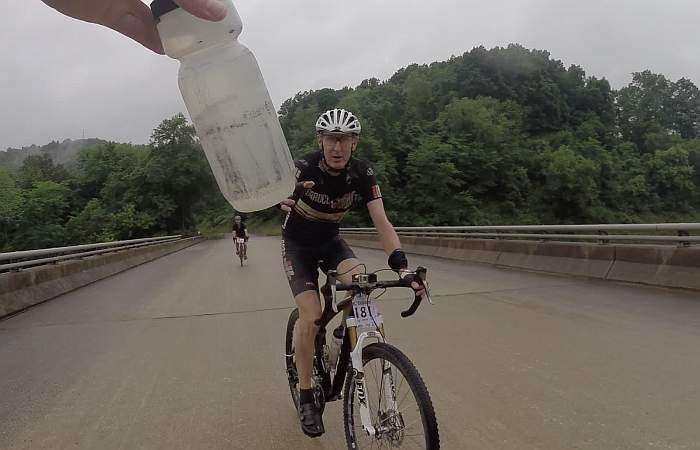 For hours I had a up and down relationship with a small group or racers trading places with me over and over again. I would pass them on the long climbs, and they would scream past me on the long descents. Repeat. Repeat. Repeat. It must have been irritating.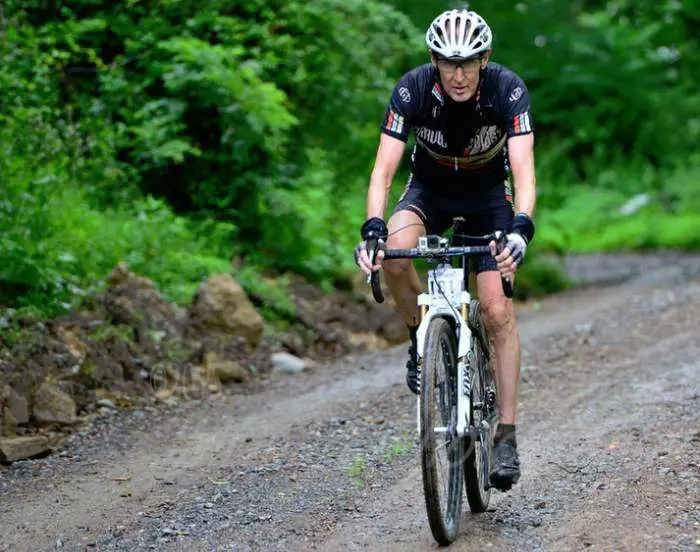 Eventually, Shawn Moore of Luna Cycles, Lenoir N.C. (aboard the Grava Bikes Revenuer), worked his field magic, gaining 30% of my original braking power back. I thanked him profusely, then shamelessly left him on the next hill. Such a nice guy! So, please help me out and visit his shop to get me out of the Dogg house!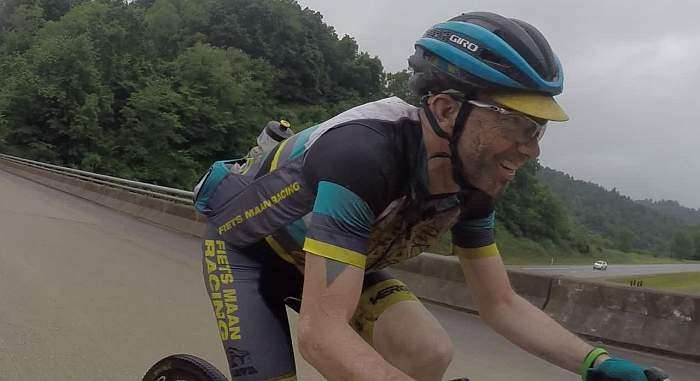 At the last aid station another skilled mechanic (sorry, didn't get his name) produced a 3 mm Allen key and boosted Eldorado's braking back up to 50%.
Note from JOM – the Alley key is used for adjusting the pads on some mechanical brakes, relative to the rotor. In K-Dogg's case, the pads were brought in closer to account for pad wear.

My anxiety level dropped by 50% also. It stopped raining and sun came out briefly.
With only one mile left my little Caddie was almost home but inexplicably punctured on the last grassy section. Seventy-one miles of sharp rocks and it punctures on fresh mowed lawn!? White spooge sprayed all over my mud caked bike and kit. It took ten minutes and two cartridges but the spooge finally held at 5 psi… just enough to roll without rolling off the rim.
Crossing the line in slow motion JOM said I won 60 plus category… except there is no such category.
So funny. Maybe next year J.R.?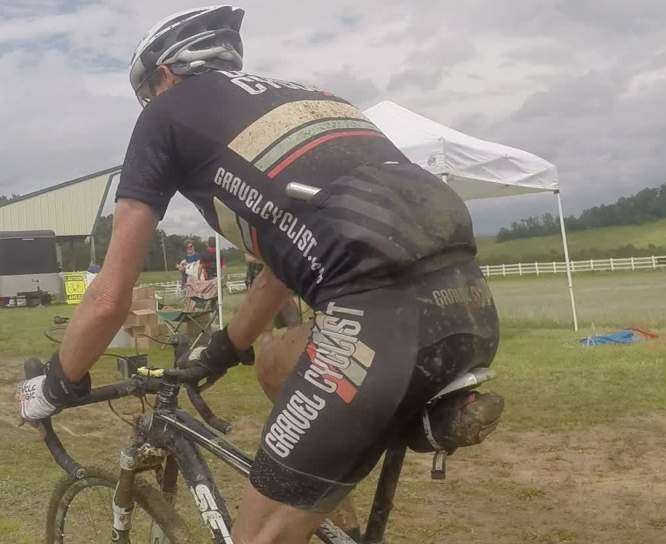 So the Eldorado performed well except for the brakes. I have been since informed that hydraulic brakes are self adjusting but even they are not fool proof. As Jeff Goldbloom says in Jurassic Park… "life finds a way."
Next time I will carry a 3 mm Allen key… or maybe a dragster chute. At the very least, some new Fred Flintstone cleats from Bedrock Sports.
K-Dogg