"Florida idiots."
That's what we are… Florida idiots. Drive eight hours north away from sunny and warm to race three hours in face numbing cold.
Walking 50 yards to registration at 26 degrees fahrenheit it was painfully obvious we were morons. Morons with just barely enough clothes to survive temperatures suddenly 15 degrees colder than predicted the night before. I hear these mountain people are clanish, but do Cam's kin control the local weathermen too?
Deal with it
K-Dogg did Prius yoga with the heat on to kit up. Cramped but discreet. The Aussie Bastard aka JOM on the other hand, shamelessly changed in the bar by a wood stove… in plain view of the registration queue. "No bloody warmup for me!" he said turning the other cheek. "Bugger that! I'll just warm up on the bike." JOM has a short memory. At Southern Cross his legs were useless as a three legged Shitzu with arthritis because he didn't want to warm up in the rain. Then there was his stream of mechanical problems. Call the waambulance!
K-Dogg tried a few pathetic warm up loops until his ears fell off then got a freeze-brain migraine. Many racers had full face protectors. JOM loaned the Dogg a cycling cap. The saloon wood stove beckoned like a double shot of 20 year-old single malt. Curiously, K-Dogg's racing buddies Farmer G and Brian Rogers appeared uneffected by the cold after enjoying an urban ride yesterday in Charlotte. They also didn't race that well. Hmmm.
Eventually the sun peeked between the Gunsmoke store fronts as a couple hundred lycra cowboys and cowgirls milled around the start stomping their feet like cattle at the OK Corral.
The Wild West
Promoter extraordinaire Cam blurted out a mercifully short safety speech then suddenly the wild west show began. Stampeding down the dirt trail like steers on loco weed, racers jockeyed for position horn to horn and flank steak to flank steak behind the "pace" car.
Hitting dirt again the "pace" car vanished and the pack began to unclump. Within seconds the race morphed into a straight line 1/4 mile long and growing. Gaps appeared. More gaps appeared. The Dogg had lined up only three rows back but now found himself near the caboose, desperately jumping from fading clump to fading clump. He managed to latch onto the first 25 just as the first serious climb began.
Soon JOM appeared going backwards with a rock in his mouth. "See ya later mate" he panted as the Dogg gave him a sympathy pat but kept going. My Gravel Cyclist teammate and I (K-Dogg) love mountains… but in opposite directions.
He is an insane descender and makes up huge times by pedaling, coasting and seldom braking. I like long steep climbs and usually leave him behind but go downhill like a plucked chicken with vertigo. If there is more climbing then descending I place slightly ahead. If the downhills are long enough and scary enough he will beat me. At each respective catch we cheerfully denigrate each other with unprintable taunts. Somehow we have managed to remain friends. It helps to be one of the few seppos (Americans) who likes crude Australian comedian Rodney Rude. He's worth a Google.
At any rate, JOM gave you the run down on most of the race with his earlier race report and race video. Team Gravel Cyclist came in 13th in the 40+ and 10th in the 50+ due, to two unfortunate flats in the last five miles for K-Dogg.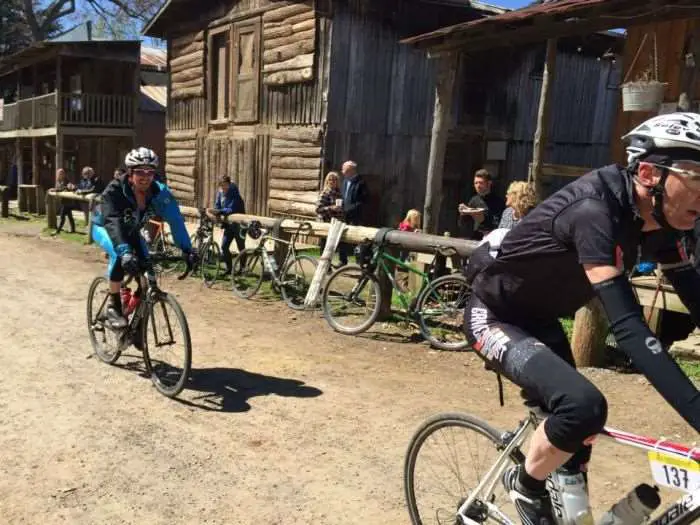 So what.
We had an awesome time with awesome people in an awesome place.
Many people enjoyed working with little groups to help break the wind when possible and sit on when its not. Many had brief chats with some of the nicest, most helpful competitors you will ever meet. Even solo bike riders had the time of their life climbing and coasting beautiful dirt roads bejeweled by flowering trees, shrubs and gardens at every turn.
It would have been nice to hang out in the saloon, toss back a few and embellish our race stories but we had an eight hour drive back to sunny (and warm) Florida.
See all y'all at Darby Roubaix!
K-Dogg
(Florida Idiot) and Gravel Cyclist Team Member / Journalist / Camera Man