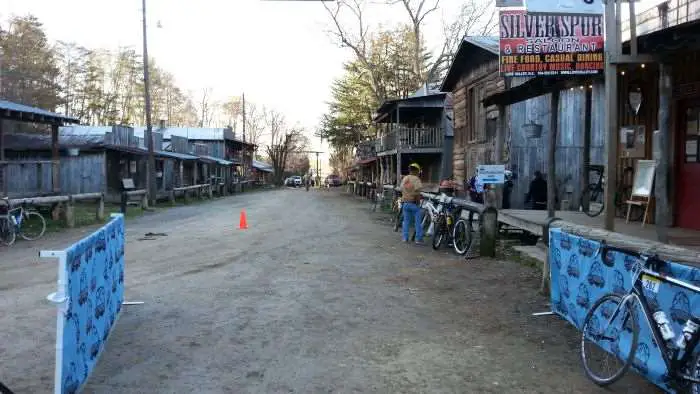 Love Valley, North Carolina is a Western themed town / horse community that sits at the base of the Brushy Mountains, about 16 miles north of Statesville. The town features a legitimate saloon, hitching posts and a general store. Motorized vehicles are not allowed within the city limits – horses and bicycles only.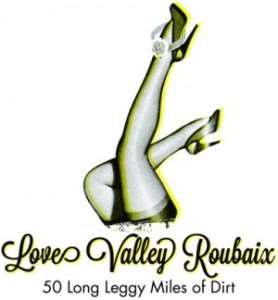 Love Valley Roubaix (March 29, 2015) is a bicycle race approximately 50 miles in length, which meanders through the Brushy Mountains, along a mixture of dirt, gravel and paved roads. As promoter Cam says, its 50 Miles of Sexy – Long Leggy Miles of Dirt – which is true, in that the scenery along this route is amazing.
The Journey to Love Valley
K-Dogg and JOM of GravelCyclist.com departed Gainesville, Florida early on Saturday morning. Having ridden several of Cam's events in the past, we knew our first time at Love Valley would be a great experience.
We loaded just enough winter clothing to accommodate the forecast weather, along with some food, cameras and of course, our bicycles. This was the first road trip for K-Dogg's new Toyota Prius, the purchase of which had been encouraged by JOM and Dr. Pain (not making the trip), both owners of Pri'i. We were also conducting fuel consumption tests along the way; namely, what sort of MPG would we get with K-Dogg driving in his usual manner with two bicycles slung behind the vehicle?
First Stop – First Flight Bicycles
After a bit of stop and go traffic along I-95, I-26 and I-77, we arrived into Statesville, and stopped at First Flight to visit Love Valley Roubaix course designer, Wes Davidson. Having zero tribal knowledge, Wes imparted everything he knew about the course. Very helpful.
We love First Flight Bicycles. JOM is a known bicycle retro collector perv, and has visited this shop many times in the past. It is a goldmine, especially if retro mountain bike technology is your thing. The shop is home to MOMBAT, and is simply amazing. Not leaving the roadies out, there is plenty of retro road bike technology in the shop, which is JOM's #1 cup of tea. Exxon Grafteks, Teledyne Titans, Harlan Myer's Cosmopolitans mmmm. Visit the shop! Buy something while you're there.
Weather forecast is a bit off…
As in, about 15 degrees cooler than we expected. K-Dogg packed light, uber light, leaving his skull cap and a few other essentials home. JOM generally plans for the unexpected, and had everything for the weather, no worries. On the positive, the crew was thankful the weather forecast called for abundant sunshine with no rain.
Race Morning
Alarm clock goes off at 6am, rudely awaking the crew. JOM and K-Dogg rose and scampered around in a sleepy daze, throwing on civvies before the planned stroll across the hotel parking lot to breakfast. JOM began acclimatization to the 28 degree fahrenheit cold by donning shorts, long sleeve t-shirt, a beanie and little else.
Pre-race breakfast was standard fare – oatmeal, waffles, toast, coffee, cereal, etc. JOM chose CoffeeMeal – black coffee substituted for water into the oatmeal. After this, the usual rituals associated with the bathroom would happen, of which we will spare you the details 🙂
Huddling around the Fire
The crew rolled into Love Valley, parked and sprinted to race number pickup at the Silver Spur Saloon. Did we mention it was cold? We collected our race numbers, briefly socialized and warmed ourselves by the Carolina brand wood stove.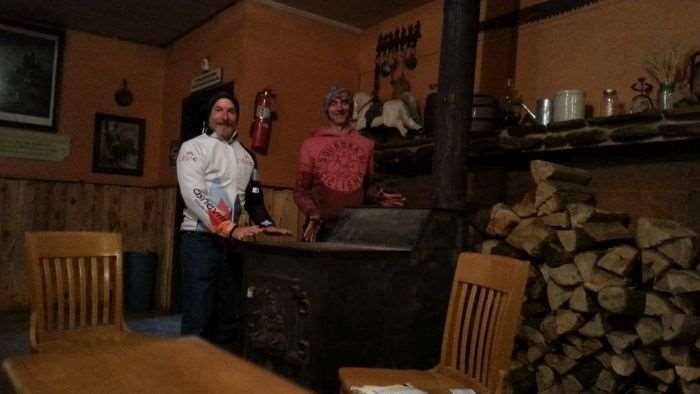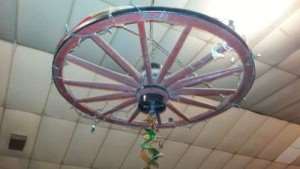 Once optimal body temperature was regained, we headed back to the car, and began race preparation. I (JOM) grabbed my bike off the rack, inflated the tyres, and promptly froze my hands.
K-Dogg, inside the car with the hybrid engine / heat running, began dressing, taking up the front of the car. For JOM, it was best to sort out the final base layers, shoes, helmet and bike prep inside the saloon, right next to the wood stove. 'Twas also a good chance for socialization with the fellow racers!
Race Start
130+ racers of all ages and abilities huddled together, as race promoter Cam made the final pre-race announcements. Did I mention it was cold? K-Dogg and JOM were suffering together somewhere in the 2nd or 3rd row. No time to warm up for JOM, hanging by the heater was the warm up.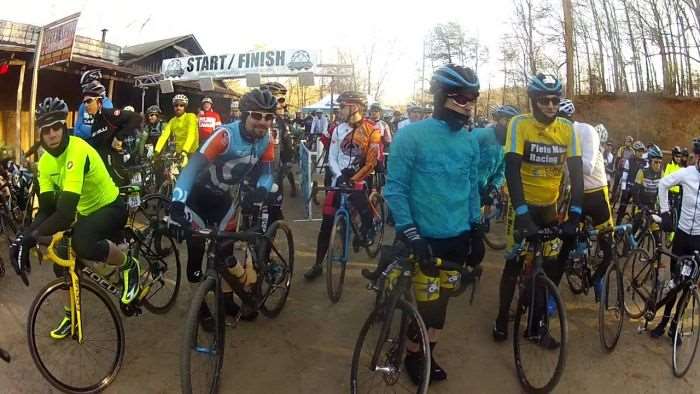 A screaming fast paved downhill stretched the group out and across the road, as everyone jockeyed for position behind the pace car, in the fight to be up front as the first of many gravel and dirt road sectors began.
This is when the pandemonium began. Heart rate jacked into the 170's, scrambling to hold sight of the front pack, while surrounded by fellow bike racers, moving forwards or backwards, as everyone dealt with the first 10% incline on gravel. A rude awakening.
I (JOM) was focusing on holding my own manic heart rate and tempo, trying to disregard those around me. It was too early to go into the red zone, and I had almost no tribal knowledge. Thoughts of the cold quickly gave way to breathing in gobs of air, avoiding big chunks of gravel, and getting over this first climb.
Punctures Galore
Race promoter Cam reported there were 22 flat tire tyre victims in the first five miles! I took note of numerous puncture victims as I suffered on by, praying to the flat gods, hoping I wouldn't join them.
Approximately half way up the first climb of Fox Mountain Road, my teammate K-Dogg in the 50+ division, pinched my arse cheek as he sailed by. He would have said hello, but oxygen deprivation means its a little difficult to speak at times. I waved his 143lbs avian like figure goodbye and pressed on. Another of my mates, Farmer G, caught me right near the summit.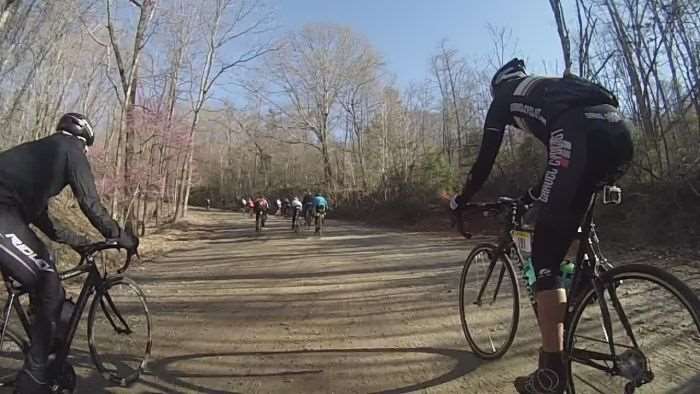 Cresting the summit, I jumped onto Farmer G's wheel, and following his superb lines, bombing the descent on 28mm tubeless road tyres. The Farmer was aboard true cross tyres, which meant I was really taking some risks sticking with him. We caught and passed several racers on the descent, including K-Dogg, who descends like a three legged Dingo with a case of arthritis.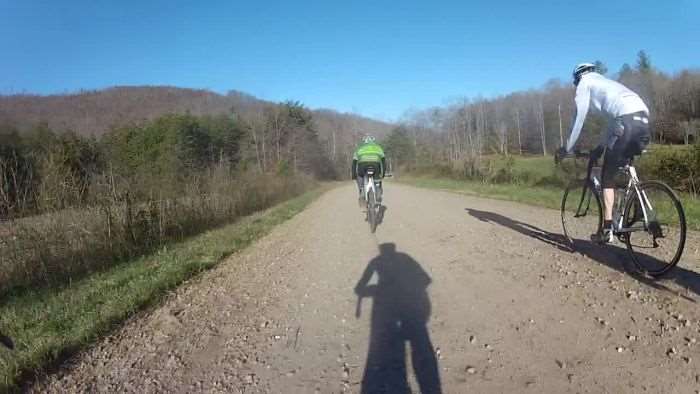 The following climb(s) would equalize things, meaning our descending gains were quickly negated by K-Dogg and the other gifted climbers who would ultimately join us. Unfortunately, yours truly was soon gapped off the back on the next climb.
The Big Kahuna
The climbing and descending sorted people into their relative comfort zones. Along the course were groups of riders, or individuals here and there, strung out like a bead of pearls. Ahead of JOM was a group of about 10 riders, with K-Dogg and another bloke in between, both dropped on the descents.
I (JOM) caught K-Dogg and the other bloke on the descent leading to the first serious climb along the course, Bethany Church Road. I set the tempo on the descent and roads leading to the base, with K-Dogg chipping in here and there, hoping to give him a good springboard to rejoin the group ahead. Closing to within approximately 30 seconds, I waved the Dogg goodbye, who successfully bridged across a few minutes later.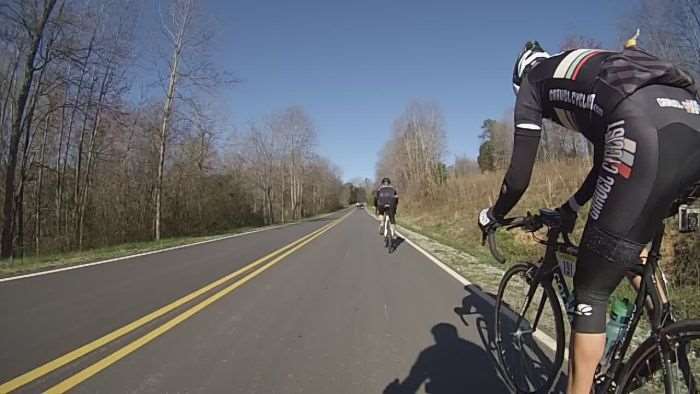 Tempo Time
JOM isn't the world's best climber, but he knows how to slow down his heart rate, and focus on riding smooth tempo up a climb, while maintaining a high cadence.
Some racers who had started too hard, were now paying the price as they ascended Bethany Church Road. I (JOM) caught Farmer G near the top, who was paying the price for a bit too much partying at the Tour de Charlotte 🙂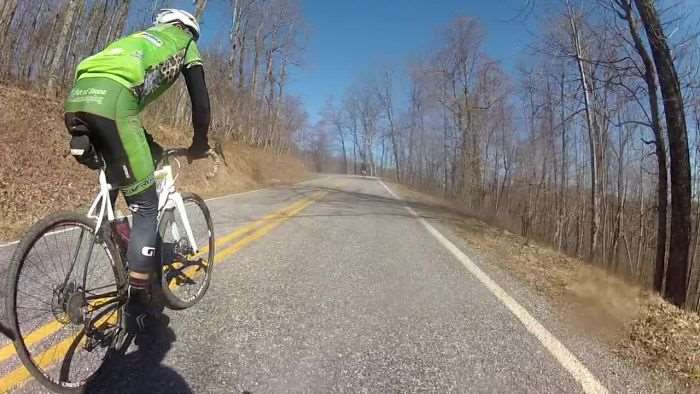 A nice group of about 10 riders congregated to ride the roads near the top of the summit. Another acquaintance of JOM's, Brad Jacobs was now in the group. There was no shirking, everyone was working well together. JOM led the group down the long paved descent into the valley below.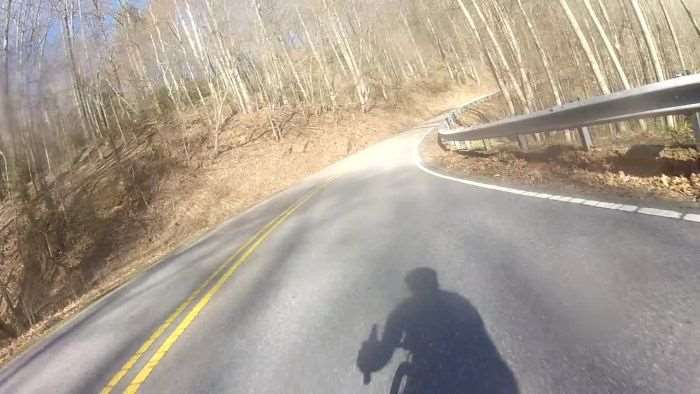 The group was joined somewhere by the two ladies currently leading the Women's 30+ race, Jessica Singerman and Rebecca Falls. JOM really wishes he had the power to weight ratio of these two athletes! Everyone chipped in their share of the work, before the next serious climb began, Balls Mill / Cherry Grove Road.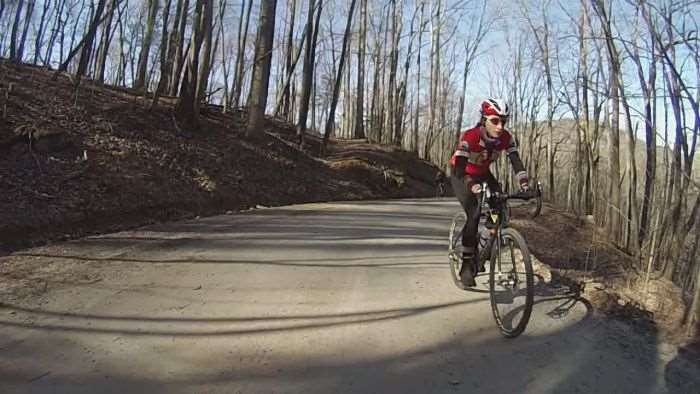 15% Grades
There was a collective groan from our group, as the right turn off Statesville Road immediately ramped up to 10%. Soon, it ramped up to 15%. There was no collusion, no working together, it was every man and woman for themselves. Surprisingly, JOM's legs were feeling pretty good here, and he, Brad, Jessica and another bloke scooted away at 4 – 5mph.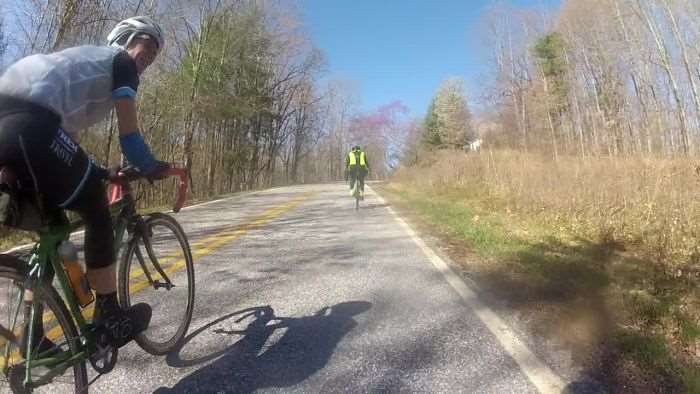 I (JOM) had time between breathing to converse with Jessica, to learn that she had lived for a two year period in my hometown of Adelaide, South Australia. Small world! We both agreed it was an amazing place… as she dropped me when the grades steepened further. Chicked again!
The Long Descent down Vannoy Ridge Road and beyond…
Much of this descent was on dirt and gravel, but I (JOM) was fortunate to be caught by Jeff Welch, co-owner of Luna Cycles and possessor of major tribal knowledge. I believe Jeff had an untimely puncture early on?, else he would have been far ahead of JOM. He knew this descent like the back of his hand, so rather than lead, I opted to follow.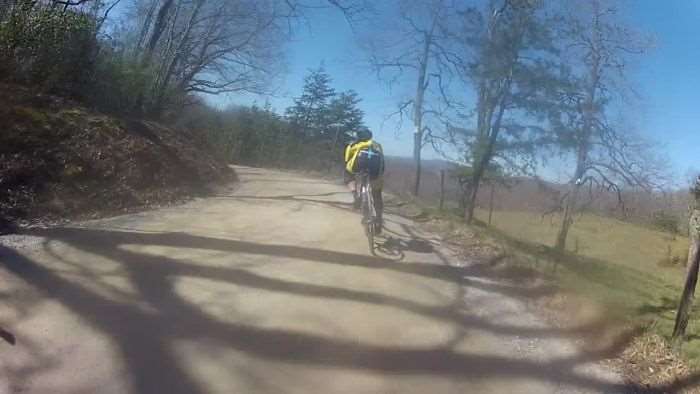 Jeff was aboard one of his Grava framesets, equipped with disc brakes and 27mm road tyres. Barring the brakes, my equipment choices were similar, meaning I had chosen well for today's race. Jeff took clean lines and safely bombed the descent down Vannoy Ridge Road / Gene Revis Lane in rapid fashion. Unfortunately, I bid him farewell on one of the following climbs, but was pleased to ultimately finish not far behind him.
Soon after I caught K-Dogg, who had suffered the malady of a punctured front wheel. We rode together until the climb of Fox Mountain, where I was dropped again. Before being dropped, I instructed K-Dogg to do his best to catch Jeff. Jeff has one-upped K-Dogg a few times in the past, although Jeff is a young 50+'er, while K-Dogg is borderline 60yo. Did I mention K-Dogg is almost 60+?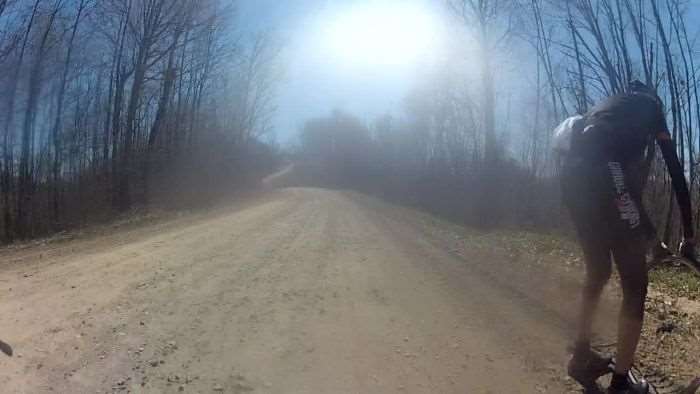 Brad Jacobs and I had gone back and forth during this race, much like we did at the 2014 Tom Dula's Revenge (my pre-Gravel Cyclist video is HERE). We would duke it out over the remaining miles of the race. I would lose Brad on the gravel descents and hurt him on the flatter roads, but he would sting me on the climbs.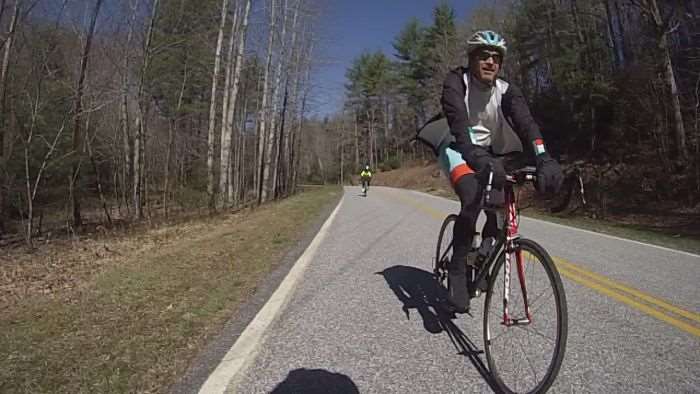 Eventually, Brad would crack me during the final climb up Fox Mountain, which was a repeat of the opening climb, albeit we ascended from the other direction this time. The 10+% grades were less than agreeable with me, and other racers suffering up it. While I couldn't close on Brad, my legs felt pretty good considering. Did I mention it was cold and I reside in Gainesville, Florida?
On the descent of Fox Mountain I passed K-Dogg again, victim once more to a flat front tyre. It wasn't his day.
Finish Line
Close to the finish, I was passed by the women's 30+ leader again, Jessica Singerman, who took a fine victory in her category! Well done Jessica! I also happened upon another mate just before the finish, Brian Rogers, who too was feeling the effects of the Tour de Charlotte from the day before. Usually, he's far up the road from JOM.
We crossed the line together, breaking the three hour barrier with a minute to spare. Brian took 13th in the 30 – 39 age group, while JOM ended up with 13th in the 40 – 49 age group.  Good times!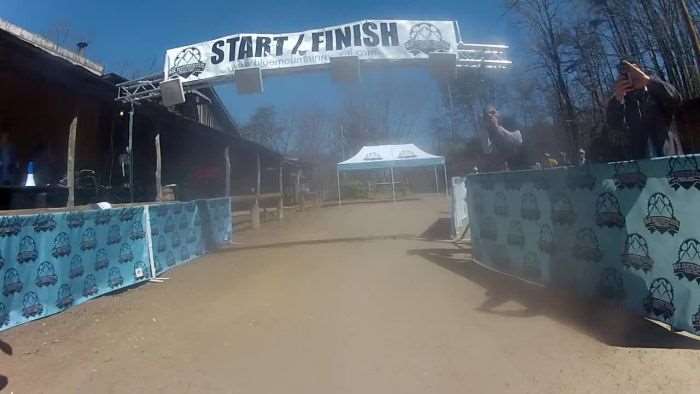 Thank You
To Cam, his team of volunteers and the town of Love Valley. Cam has never disappointed the Florida guys with his race promotions. All are well organized, and everybody helpful and courteous.
To Wes Davidson of First Flight Bicycles. Amazing course, the best one I've ridden in the Carolinas – amazing scenery.
To my fellow bike racers. There are no egos or other negativity in gravel and roubaix style racing, everyone is supportive of each other. The post ride hangout at the Silver Spur Saloon was fantastic. I (JOM) would loved to have stayed around and enjoyed some brews, but alas, our return drive to Gainesville, Florida beckoned.
To the bloke who parked alongside us. We didn't catch your name, but K-Dogg and I really appreciate the zucchini bread snacks, as well as the water bottle gift.
Sympathy Flat
In the early morning Monday hours after Love Valley Roubaix, the rear tubeless road tyre on my race bike woke me, hissing, followed by the pop of the tyre seal breaking. Better then than on Sunday during the race!  Sometimes you get lucky…
Race Video
Will be available later in the week. There were three video cameras present, two on JOM's bike, and one on K-Dogg's bike. We captured some fantastic footage which we hope you will enjoy.
Thanks for reading!