About the Honey Bee Stinger 100K
The Honey Bee Stinger 100K is an off-road endurance cycling event held on Saturday, May 16th 2015, in Hahira, Georgia.
Dr. Pain's Ride Report
At the sprightly hour of 7:00am, Dr. Pain, Jimbo, Pfaff Daddy, and the venerable K-Dogg, departed Gainesville, Florida, destination Hahira, Georgia, for the gentle 10:00am start of the Honey Bee Stinger 100K. Smooth sailing all the way, bar the 35 coffee beverage elimination stops needed by Pfaff Daddy. One wonders what he was drinking all morning.
The Cycle Logic/Gravel Cyclist team arrived at the meeting location's locked gate just before 9:00am. That's apparently when the gate opens. After milling about, two other riders (this was not a race) arrive, both from Florida. The first was a chap who left his home in South Florida at 2:00am. That's dedication. The other was Rusty from Ocala, a regular on the Florida circuits. A fine young man from the City Parks service opened the gate for us promptly at 9:00am.
Mike Meeks, promoter of the event and a local, arrived after our crew was kitted and more or less ready to go. "Meeks" as he is apparently called, was full of enthusiasm and seemed genuinely happy to have all 25-30 of us there to visit some of his favorite roads. After briefing the attendees about not getting lost, having a map to read, the lack of sag stops and only a bag drop off, the group departed. Meeks requested a neutral roll out for some unspecified length of time.
Roll-Out Time
Before the first section of dirt, K-Dogg rolled up to Dr. Pain and gave him a most rude rap on the head. K-Dogg always instructs Dr. Pain to stay near the front. Apparently he was too near the front, or the front was too far from the rest of the group, or something. Anyway, we got even more neutral for a few minutes. Approximately 10 minutes into the ride, we encountered a little bit of sugar sand. As is his nature, Dr. Pain moved to the front to avoid the usual chaos of fishtailing, dismounting, and falling down performed by some riders.
At the end of that sector, there were nine riders at the front. Dr. Pain did not receive another rap on the head by K-Dogg, so the pace must have been OK, right? Among our merry band of riders were the four Cycle Logic / Gravel Cyclists, Rusty from Ocala, Meeks, Rob "The Rocket", a familiar MTB mounted chap from Tally, and a couple others that the good Doctor has forgotten. We kept a reasonable pace for many miles and many sectors, stopping twice for Rusty to check the light on his camera to see if it was working.  It was about then that we figured that this was less of a race than usual. Stopping for just about any reason seems to be a rarity in a race, after all.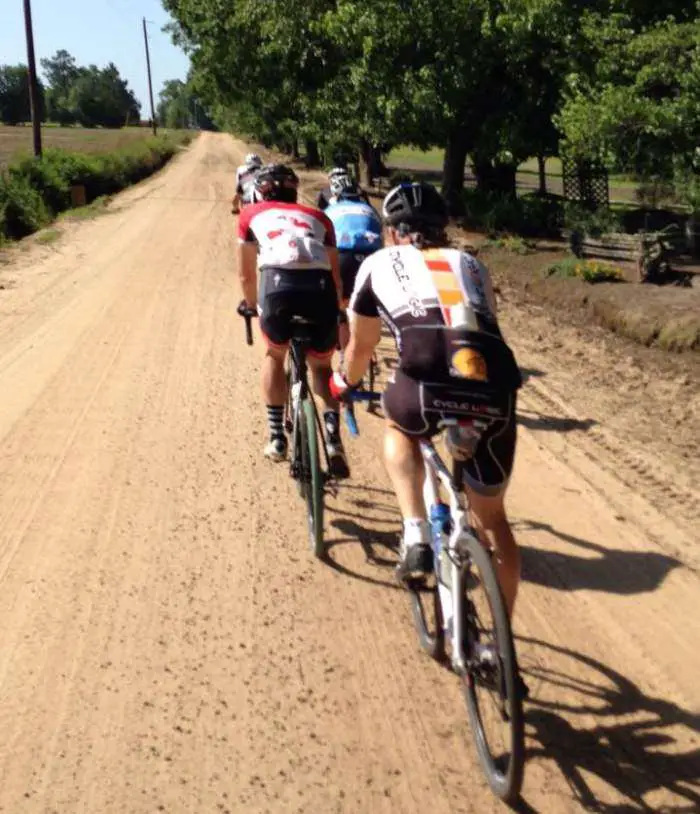 Somewhere in the early part of the ride, we went through Barney, Georgia (an unincorporated community of Valdosta, Georgia), or at least passed the peach farm with some excellent peach ice cream that we sampled after the race. There were two missed turns, despite there being at least four Garmins in the front group. One missed turn, was not a turn at all, as the "road" was actually a private lane behind a gate. No, problem, Meeks caught back up at this point and shepherded us the "correct" turn, which got us back on course. It was shortly after this that we encountered another section of more challenging road surface (sand) and we were down to eight.
Approximately 30 miles into the ride, we missed another turn while on pavement. Dr. Pain caught the error just as we passed the left turn onto dirt. Yelling "Oi!" in an excellent Aussie accent (not approved by editor JOM – a real Aussie), he got the others to turn around and join him on the dirt road. Alarmingly, Rusty came by Dr. Pain at a shocking pace, attacking on the missed turn! What to do?! Thinking this might be a race after all, Dr. Pain chased him down, and planted himself on his wheel. Rusty was flying, putting the good Doctor rather deep in the pain locker on a couple of occasions. With three team mates, a former pro-roadie, and an MTB rider chasing from behind, Dr. Pain did not contribute to the pace, sure that K-Dogg would give him a rap on the helmet again. Also, Dr. Pain likes to draft, and he wanted more people to draft.
Apparently, there was a spirited 10 minute chase going on behind as we traversed some rutted, but solid Georgia clay. If we had been there a day or so earlier it would have been greasy peanut butter, and very slow going. It was imperative that you stay within tire tracks, or risk a tumble. Once we got onto pavement, the rest of the crew ended Rusty's attack, much to the relief of the good Dr. Pain. The front group was now down to six.
Cemeteries and KOMs
A little further along, we came to a cemetery, where the drop off bags were being tended by a kind volunteer. As Dr. Pain circled around waiting for those with drop bags, the Tally MTB'r arrived chanting "eject, eject". I'm pretty sure what he meant, especially when we offered to wait (not a race, remember) for him and he mumbled something about it happening again (ejection).
Somewhere along the course was a three mile Strava segment, with a pair of sunglasses offered up as a prize for the fastest rider through the segment. No one recognized the Strava KOM segment along the course until it was over, much over. In fact, it was 20 miles later that someone mentioned seeing the sign for Kennedy Hill Road, the target of said segment. We had no idea if the Strava segment was before, or after that. One of us in the lead group probably scored it, unless someone behind was really sandbagging, saving themselves for it. For the record, nobody in the Gravel Cyclist crew does does Strava.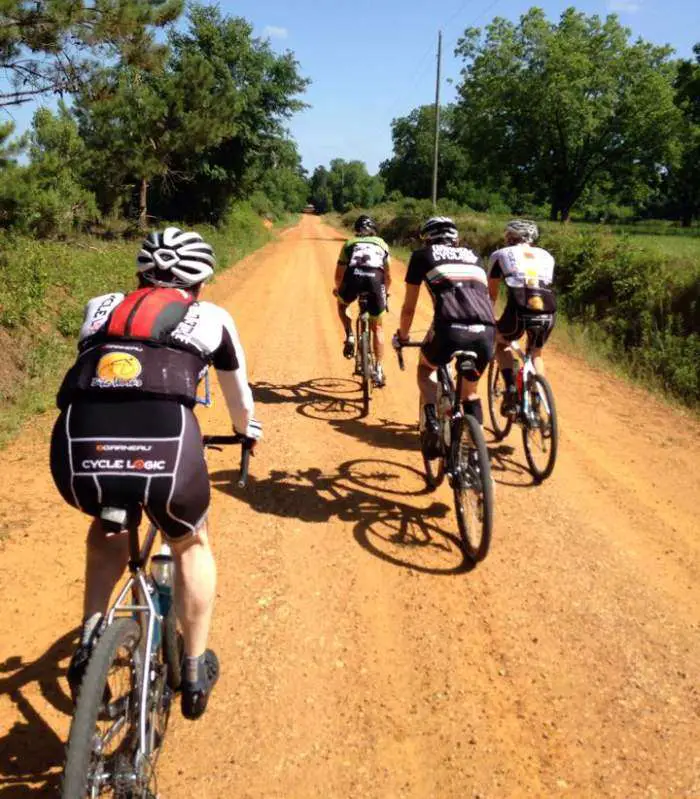 Around mile 40, a truce was called by K-Dogg. Rusty was really riding strongly, and hurting folks each time he pulled. Given that we had stopped multiple times for people, gotten lost and offered to wait at the cemetery, what was the point of drilling it all the way to the finish? Around mile 50, Rocket Rob "sat up". Clearly a fast guy normally, he was suffering from a shoulder injury and the pounding of dirt roads was taking its toll, along with the 300 psi in his tires. After dropping off, he apparently reduced tire pressure and was a bit more comfortable. Front group down to five.
The Final Miles
It was hot, we were tired, and ready to finish the ride at this point. It became a tempo ride, with everyone taking whatever pull they could manage. As we finally came upon the park where proceedings started, Pfaff Daddy blasted off the front, with Jimbo in close pursuit. No one, including them, knew what they were sprinting for, as there was no finish line.
Dr. Pain knows this game, so he reluctantly, and belatedly wound up his monster cross machine and passed them as they sat up. Clearly the finish line was further ahead of them. Dr. Pain decided the finish line must be the Cycle Logic Transport Vehicle (CTV). He brilliantly whipped through the chicane, passing his team mates and was the first to touch the CTV in a dominating, completely petty, and useless victory. There was no prize.
Overall, a great ride. There were brilliant roads, with almost no cars at all. Almost no humans or civilization at all, either, but the scenery was great. Thanks to Mike Meeks for stepping up to provide us with a new place to ride!