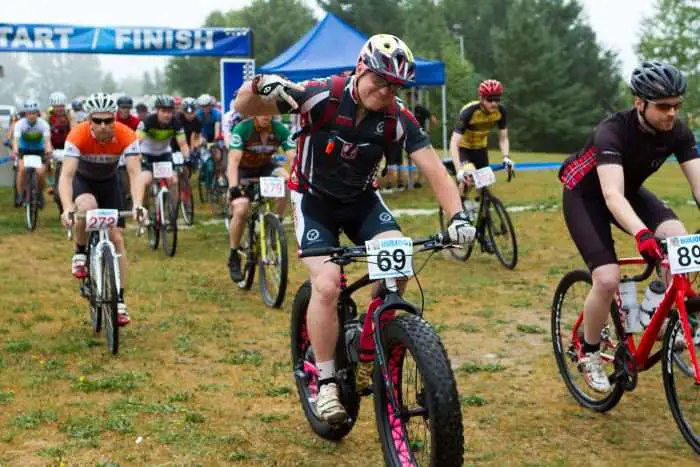 Going Big (then going home) at the Eager Beaver 100
Race day approached all too quickly for the Eager Beaver 100, my first enduro gravel race. As any bike shop manager or employee will attest, it's hard to log the training hours while supporting your cycling community, let alone during the first operating year of a new shop (shameless plug: www.thebicycletailor.ca). Ready or not, I arrived in Duntroon, Ontario with the intention of riding the 100km course I had pre-ridden about a month previous.
That ride was tough at a social pace, but on this day I felt good. I was confident in my bike setup, and after conferring with my cohort and fellow True North rider Rick Ross, I opted to upgrade to the 100-mile course (thanks to the flexible event staff). Rick and I decided to ride it together. For better or for worse, I was in it for the long haul. My revised goal was to finish and finish strong, but with no designs on ranking highly. This would be my longest race to date and I was excited to see just how much I could push myself.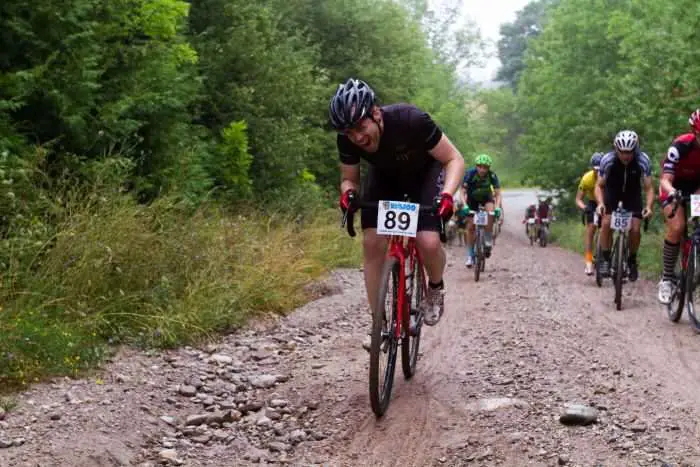 Equipment
My bike of choice for the Eager Beaver 100 is a custom outfit Devinci Tosca, an alloy cyclocross bike with a stiff chassis, race-bread CX geometry (read: short head tube and chainstays) and a penchant for aggressive riding. Highlights of the build include:
700c x 38mm Schwalbe G-one tires (noteworthy: these tires won the Dirty Kanza).
Easton EA90XD Tubeless wheelset.
TRP HY/RD mechanically actuated hydraulic disc brakes with metallic pads.
52 / 36T Shimano Ultegra mid-compact crankset matched to an 11-28T cassette.
So what did I learn riding my first enduro gravel event?
Performance under pressure
I took what I felt to be a bit of a risk and ran my tubeless tires at a low 30psi front and 35psi rear. I had never dipped below about 45, but my goal was comfort over the mixed surfaces, traction on the climbs, forgiveness on the descents and float on wet sand. The high volume and low knob profile of the Schwalbes delivered in spades, never burping off the Easton rims or bottoming out. Despite the hours of deluge and downpour I never once felt a loss of traction. To my great joy, even at low pressure the tread pattern on these tires is fast on asphalt and hard-pack, so there was very little downside to this setup. I simply can't say enough good things about these tires. We passed easily a dozen people fixing flats over the course of the first 80km.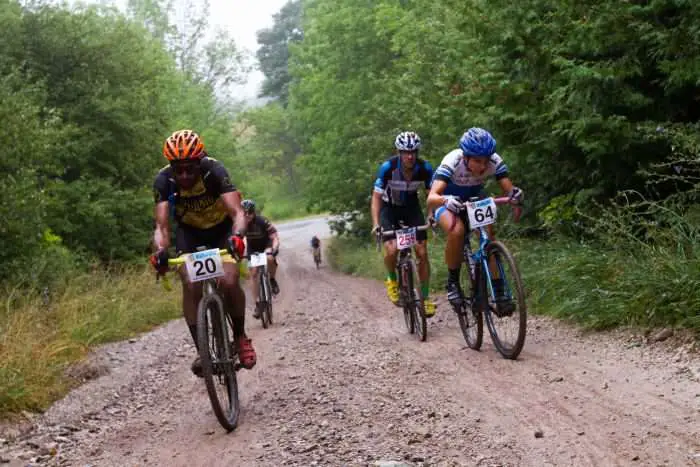 Secure your cargo
JOM at Gravel Cyclist has repeatedly discussed the virtues of stainless and titanium bottle cages, and I will be the first to admit I made a mistake on this one. Despite what I thought were extremely secure carbon cages, I lost one of my two one-litre bottles of on the first lengthy decent… as did about a dozen others. Rick would also lose a bottle around the 40km mark, but we circled back 100 metres or so for his. For me, luck (along with Dan Marshall and his army of bacon-toting support crews) were on my side. Substance Projects runs an EXTREMELY well supported event. In this case I was able to get by with a single high volume bottle, consuming less than a litre between the (6?) aid stations that had water and HoneyMaxx hydration.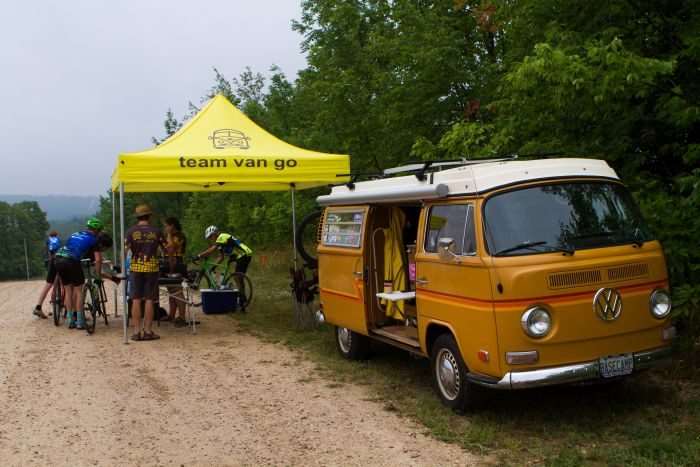 Heed this warning: losing a bottle in a gravel endurance event can have serious consequences. Gravel racers should pick up some King Cage or similar stainless (or Titanium) cages and ensure they squeeze your bottles tightly.
Keep a cool head
Rick is an experienced endurance athlete, regularly riding solo 24 hour events. I relied on his experience and calm demeanor during the first half of the race to keep me from burning too many matches during the 1500 metres of climbing. When riders passed us he'd just said "we'll see those guys later on, don't worry." Indeed, some we passed, some split off onto the 50km and 100km courses, and others just rode away. So goes racing. But things worked out, Rick was still fresh in the late stages of the race and I had enough matches left to take turns pulling and finish strong.
Sub-optimal conditions
Do you know how your brakes work in the wet? How quickly do your shorts dry on the bike? Do your tires pack up in the mud? Do your glasses fog up in high humidity? If you don't know the answers to these questions, you're probably a reasonably fair weather rider, and be forewarned: You might be in for some big surprises come race day.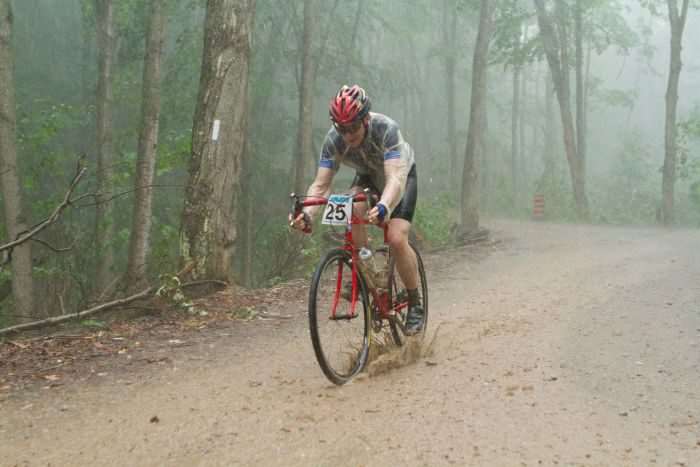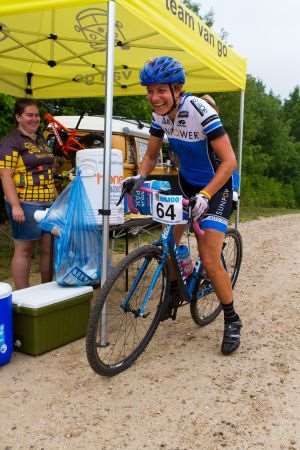 Team up, or go solo
For those of us who aren't jockeying for a podium position… and perhaps even those who are, it's a constant challenge to decide whether to work with people, let them go ahead or drop 'em like a sack of hammers. A few riders came and went from our duo, but around 50km we found a great riding partner in the Women's second place finisher Lesley Butler. The three of us worked together to reel in a few competitors, pushing each other to our limits and proudly finishing together in a mock sprint to the line with our brakes on.
Although I'm new to the gravel scene, I can't help but wonder if we will see more team-oriented riding in the future. I'm sure many racers come to events like these events to get away from road tactics, but I know my own ride/race experience was definitely enriched by working with my fellow riders.
Savour every painful moment
As much as I enjoyed the 100km course during the course preview, it was the extra 60km in the 100 miles that really was Dan's "Piece to Resistance" both literally and figuratively. Through rollers, lung-busting climbs, brake-cooking descents, forests, farmland, rivers and rainstorms, the race was equal parts challenging, harrowing, beautiful, painful and frankly, rewarding. There was always one more climb, one more technical section or one more country mile to overcome. The beauty of the course was in the cadence of it; riders were never left without a challenge ahead or a victory behind them.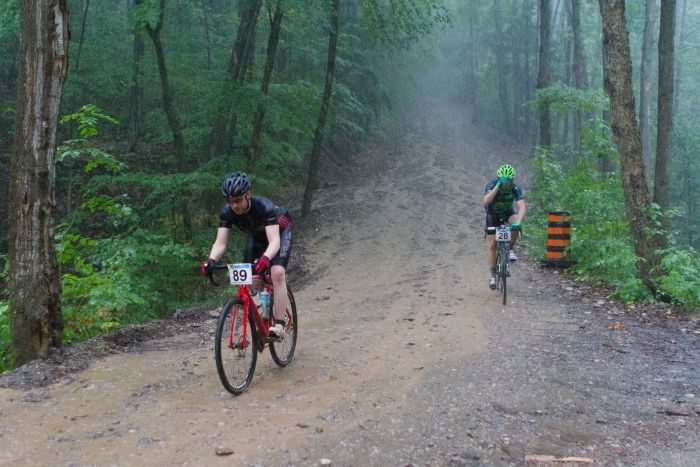 At the end of the race, we all shared our stories and experiences over food and drink. We rewarded the victors and celebrated our own feats. We said goodbye to new friends and vowed never to do this again… until next year.
Other fun facts and moments:
During pre-race warmups, one rider's disc brake warble was enthusiastically answered by a turkey in a nearby field. Gobble gobble!
Overheard a junior rider (maybe 9-12 years old) asking a Masters rider: "I'm racing the 100km today with my dad, what distance are you doing? Oh the 160km? Are you going to race it or just ride it?"
My bike had to be completely overhauled post-race. There was sand in my shoes, the frame, hubs, bottom bracket, and my brand-new brake pads were worn down to about 25%.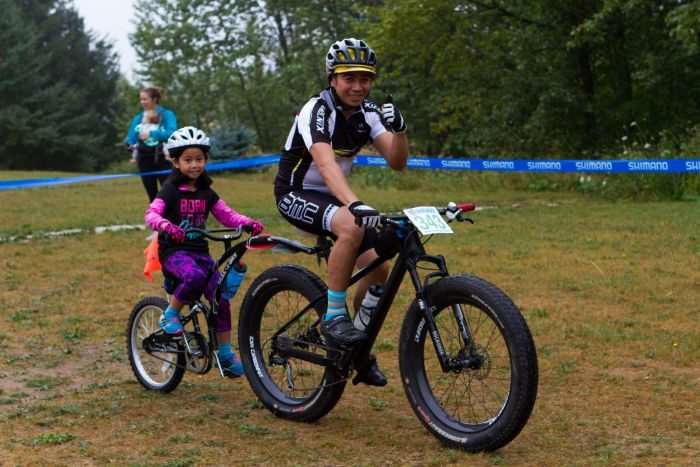 Eager Beaver Race Video!
Gravel Cyclist would like to thank Damian Bradley for his contribution – Virgil Cheung / Apex Race Photography – Dan from Substance Projects.