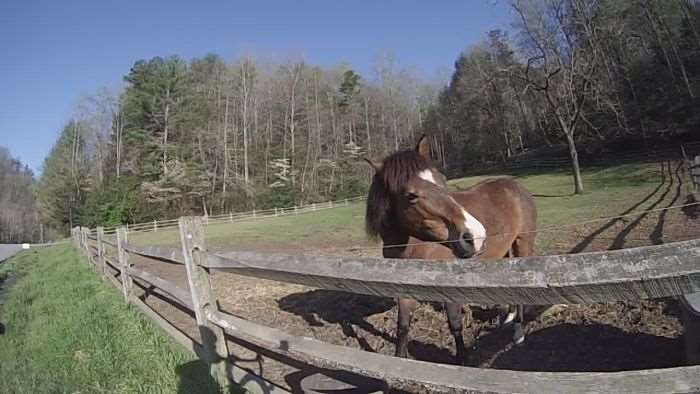 Darby Roubaix (April 12, 2015), formerly known as Tom Dula's Revenge, is a bicycle race approximately 50 miles in length, along a course of dirt, gravel and paved roads, featuring a tough climb to finish things off. The race starts and ends at the fantastic Leatherwood Mountains Resort.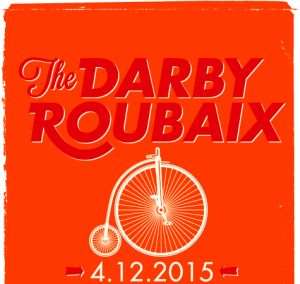 For 2015, the torch was passed from Andrew Stackhouse of Pirate Race Productions (he has relocated to Cleveland, Ohio) to Blue Mountain Revival Productions, with Gardner Deal making his debut as promoter extraordinaire!
We came, we saw, we drove…
This ain't no pity party, we love BMR's races. K-Dogg and JOM of GravelCyclist.com departed Gainesville, Florida, leaving at 6:50am on Saturday morning. K-Dogg had been sick as a Dogg all week, but was reasonably well recovered, despite carrying around a persistently annoying cough.
The first goal was to visit Shawn Moore of Luna Cycles in Lenoir, NC for two things; gather tribal knowledge about the condition of the stream crossings on the final climb at Darby Roubaix, and peruse the all new Grava Bikes "Revenuer", which we would be collecting to review on G.C., and cross post to BikeRumor.com (JOM is a contributing editor).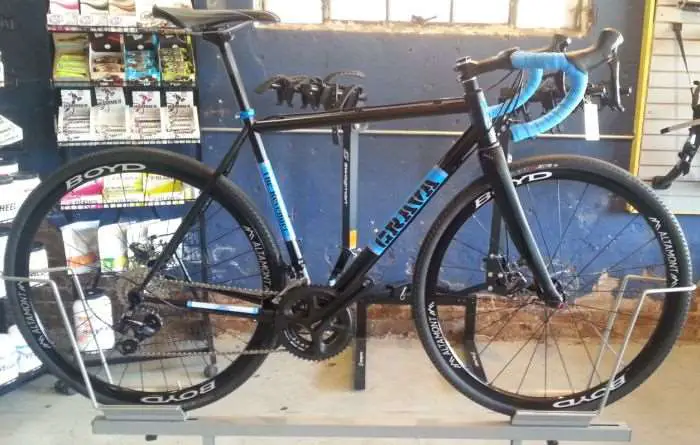 The weather forecast for this trip was fantastic. However, we were burned a little by our haphazard approach to race preparation at Love Valley Roubaix, so every conceivable combination of clothing was packed. Incidentally, for those wondering, throwing two bikes onto a hitched bicycle rack slung behind a late model Toyota Prius will knacker your gas mileage a bit. We averaged anywhere from 42mpg to 46mpg driving at 72 – 75mph. But when the petrol bill is split two ways, it makes for a pretty cheap drive 🙂
 
Luna Cycles
Stop and go traffic along I-95, I-26 and I-77 impacted our planned ETA by an hour and a half, due to excessive rubbernecking by fellow motorists and Easter holiday go'ers returning home a week later? Arriving at the shop 15 minutes past closing time, Shawn was nice enough to wait around, where we picked his brain, chatted about bikes, and ogled the Grava Revenuer… more details coming soon.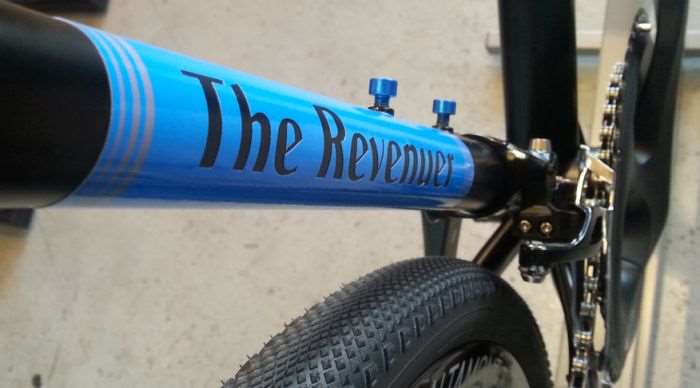 Race Morning
JOM and K-Dogg agreed to split the difference of wake up time between 5:30am and 6:00am. Fifteen minutes later makes a huge difference, whereas fifteen minutes earlier, not so much. Sadly, the hotel breakfast was a disappointment, in that it wasn't open for business. JOM and K-Dogg sauntered across the road to the gas station, the attendant inviting us inside as she enjoyed a ciggy in the comfort of her vehicle. Coffee and other rudimentary supplies were purchased, while the retina burning glow of fluorescent lighting slowly brought us to our senses.
Thankfully we had our own breakfast supplies, which we enjoyed as we eyed the weather, and gave thought to the race and bathroom rituals that would soon follow.
The drive to Leatherwood Mountains Resort was uneventful, although we enviously eyeballed the meandering mountain roads along the way, wishing they were in Gainesville, Florida… or that we reside in North Carolina for more than a weekend at a time.
Packet pickup was a breeze, followed by an hour of socializing, rolling around on the bike for 5km's warming up, while attempting to ignore the usual pre-race nerves.
Race Start
80+ racers of all ages and abilities lined up for the race start. The weather was near perfect, with temperatures in the low 50's F, raised by the sun poking through above the closest mountain.
This neutral start was one of the nicer neutral starts. A smooth, relatively flat paved road traversed at about 25mph, behind a pace car until the right hand turn across the river onto Kendell-Town Road.
JOM and K-Dogg were well positioned, hiding within the front 10 cyclists. We're no dummies.
Our mate Confucius says, Man who hide like Tortoise early in race, go like Hare later on.
Or something like that.
As expected, the pace lifted dramatically on Kendell-Town Road, with JOM's heart rate (analyzed post race) jacking into the 180's on the rise away from the river. Riders swarmed and spread across the road, with everyone wanting to be at the front for the first of many dirt and gravel sectors.
Sector Numero Uno
JOM was sitting somewhere in the top 15, with K-Dogg close behind. Entry speed into the sector was somewhere around 27mph, or 44km/hr if you prefer. Dust, gravel and dirt was flying around the place like falling meteorites. Riders were desperately clinging to the wheel ahead, as the wheel ahead clung to the wheel ahead.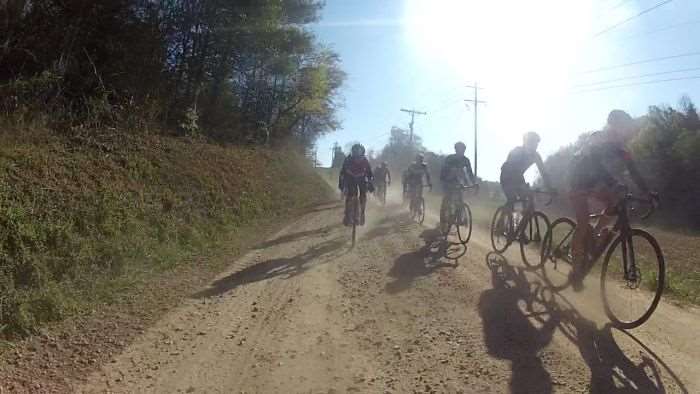 I (JOM) was singing 10cc's Dreadlock Holiday in my head while this was going on, and praying to the puncture overlords that I would make it sans punctures, and hopefully with the front group.
The gun riders at the head of the field weren't interested in passengers, and a split formed along the second or third lump of Kendell-Town Road. The drag-of-a-climb towards the last third of the road through the forest cutting caused further splits, with a noticeable gap of daylight behind the wheel of JOM, one of the riders hanging clinging for life towards the back.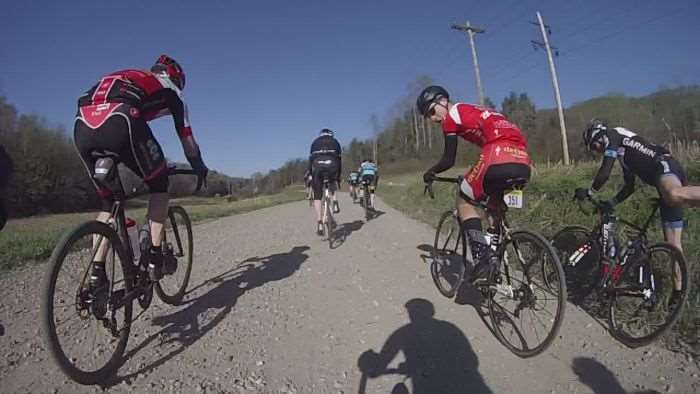 The Second Bunch
Some would say the second bunch is the laughing bunch, but there wasn't any laughing going on. A gap of about 30 seconds separated this group from the lead pack, with little hope of closing the gap.
When the group is collectively gasping for air and feeling lactic burn, destiny would dictate the lead group would lay tantalizingly out of reach, no matter the tempo or collective rotation of riders helping with the workload on the front. With some hard chasing on the gravel / first paved descent, I (JOM) was one of the last riders to bridge across to this second group.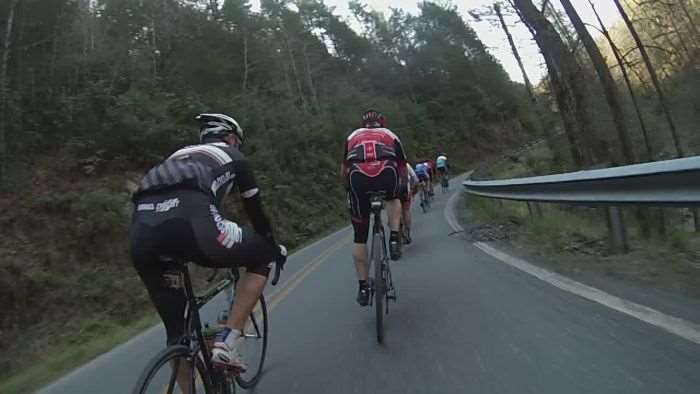 The Third Bunch
Things in group two were going well. Everyone was chipping in, rolling through nicely over the gently rolling terrain. This changed with a gentle left hand turn and ascent of Dug Hill Road. This road is deceiving. At first, it is steep with a gradient around 10% – 12%, then levels out a bit. This is where JOM gained hope. Hope he'd made it over the worse of it with the group. Sadly, this wasn't the case. The road curved to the right, further steepening. JOM lost contact, while his teammate K-Dogg, crawled back on, but was separated again near the top with another bloke.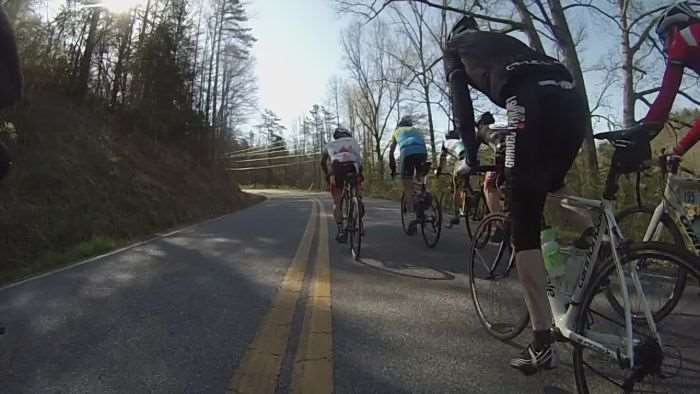 The Yo-Yo Effect
The yo-yo effect happens when you're dropped from a group, hammer a descent to regain contact, and dropped again on the next serious climb. Repeat this cycle a few times during a race. After a while, the yo-yo effect takes its toll; the string gets longer, more time in the wind bridging across solo or with others, eventually sounds the death knell when the yo-yo string breaks… and you're unceremoniously dropped.
This was JOM's plight after Dug Hill Road, with bunch #2 ahead, K-Dogg and another bloke in between, a rider from Luna Cycles between them and JOM. I (JOM) could see K-Dogg, approximately 50 metres ahead, looking forlornly behind, willing me telepathically to make the junction to his now trio. With the headwind in the valley, it wasn't happening.
The Third Group
Drawing on what Confucius said earlier, JOM rode steady tempo, knowing there was a third group behind, who he could latch on to. Why burn excess energy solo when you can do it with others!
Sure enough, the third group came along, containing notable riders such as Shawn Moore, Chris Ready and women's 30+ race leader, Hope Dixon Cooper. This group was much more to JOM's liking, riding a solid tempo, but not necessarily sawing the legs off everybody.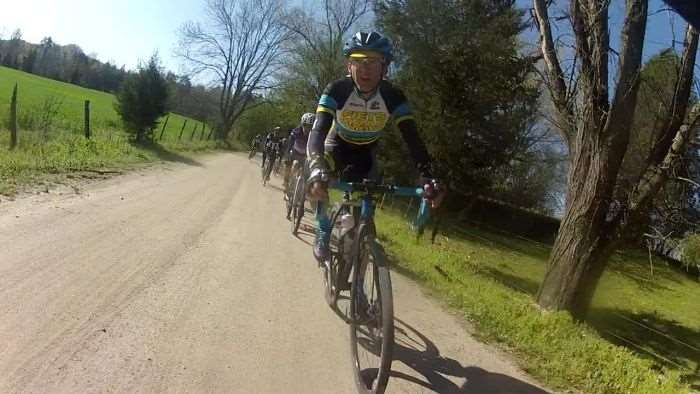 Soon, this group would begin catching stragglers, including the trio of K-Dogg and two companions. JOM was beginning to feel serious lethargy in his legs, and was selective with his turns on the front, saving energy where possible. With at least four riders from Luna Cycles now in the group, JOM figured these blokes could tow us around a bit.
The Fourth Group
JOM had survived Tom Dula Road and the steep gravel climb of Bill Horton Road. Sadly, JOM became the solo member of the fourth group near the summit of the tough gravel climb, Conley Shumaker Road. A fifteen metre gap at the top soon became a much larger gap, not helped when one's former companions are already speeding down the descent.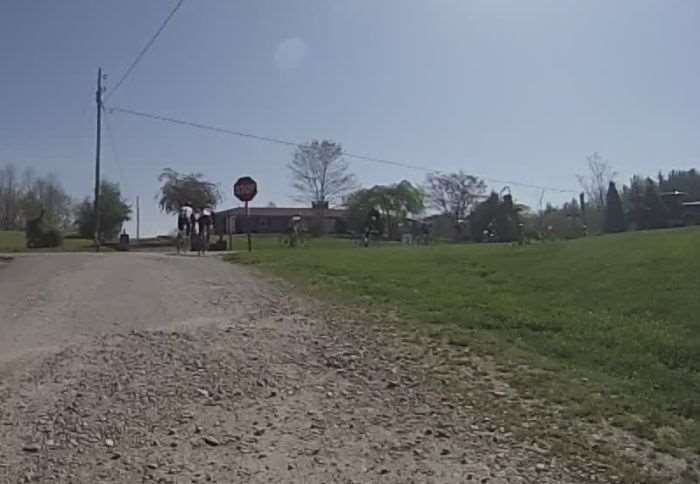 A lot of hard, solo chasing followed, with the gap to group #3 hovering at around 15 seconds. All the while JOM could see his teammate K-Dogg, comfortably hanging on the back. K-Dogg could see JOM behind, again willing him to make the junction. It wasn't happening, the steep dirt climb of Country Road 1150 came at the wrong time and wasn't doing JOM any favours. Finally, JOM bid the group farewell, as they made the left turn onto the pavement of Red Top Road, about 20 seconds ahead.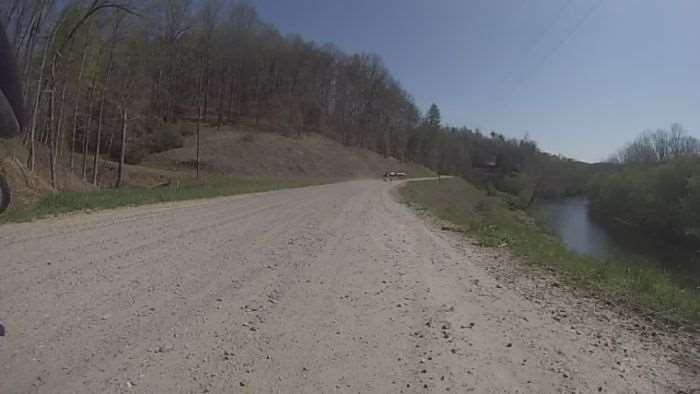 Individual Time Trial
On the positive, I (JOM) was over 2 1/2 minutes ahead of where I was on the course versus the 2014 race (formerly Tom Dula's Revenge), which was a huge improvement, and boded well for future races. Unfortunately, there was still about 13 miles to race. JOM's chance of Top 10 in 40+ were pretty much out the window after he lost contact with group #3.
The kilometres / miles leading to the final dirt sector and ascent to the finish featured meandering paved roads, lots of climbing and descending, but with little to no vehicular traffic along the way. I was really hoping I could maintain a fast enough tempo to stay away from anyone behind me, and enter the final dirt sector alone.
As is with the nature of Roubaix / Gravel racing, it is a test of one's body and machine. With about eight miles of racing remaining, my trusty bike suffered the first of two minor mechanical issues. My rear derailleur had overshifted past the smallest cog, locking the chain between the cog and dropout. Fortunately I was descending at the time, so it was a quick stop and fix to free the jam. Unfortunately, I didn't have the required 2mm allen key on board to adjust the limit screw.
Due to brain fade, I repeated the same error two miles later, attempting to hammer another descent. Cue another stop, de-jam the chain, and start rolling again.
The Last Dirt Sector and Ascent to the Finish
Just prior to the left hand turn to the last sector, I (JOM) was caught by the fourth group on the road. Rebecca Falls was the only person I knew in the group, but it was nice to have company after suffering alone for over 40 minutes.
For once, I had tribal knowledge on my side. I remembered the final climb well from the 2014 Tom Dula's race. The climb begins gradually, eventually leading to a sandpit followed by three creek crossings, before really getting steep and sketchy, with loose surfaces requiring an easy touch on the handlebars.
I rode second or third wheel early on, with maybe one rider escaping off the front. I hit the front when it counted, at the sandpit before creek crossing #1. One thing living in Gainesville, Florida has taught me. Be at the front in sand, and let the bike float. I came through perfectly clean, and traversed creek crossing #1 sans problems.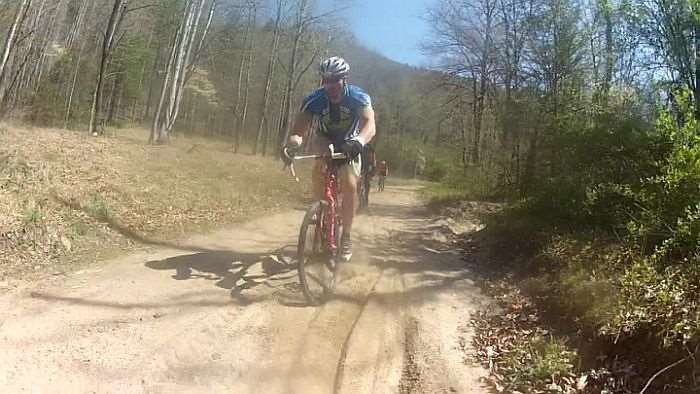 Creek crossings #2 and #3 went equally well, and the bunch had been thinned considerably. It was every man and woman for themselves!
The final kilometre of this climb is tough. It is very steep with gravel, rocks covered in moss and loose surfaces to worry about… and I'm rolling 28mm tyres.
Past the worst of the knarly stuff, I was passed by Brandon Rudin and Rebecca Falls. Knowing the climb leveled out a bit but steepened severely near the top, I knew I could peg them back. There was no way I was going to spend 40 minutes suffering alone to lose a possible placing in my age category!
With approximately 150 metres of climbing remaining and on the verge of cramping, I had enough petrol in the tank to catch and pass Brandon (sorry dude) and Rebecca to roll in for 15th place in Men's 40+. Brandon rolled in two seconds later, with Rebecca close behind, taking 2nd place in the Women's 30+ category. Nice one Rebecca!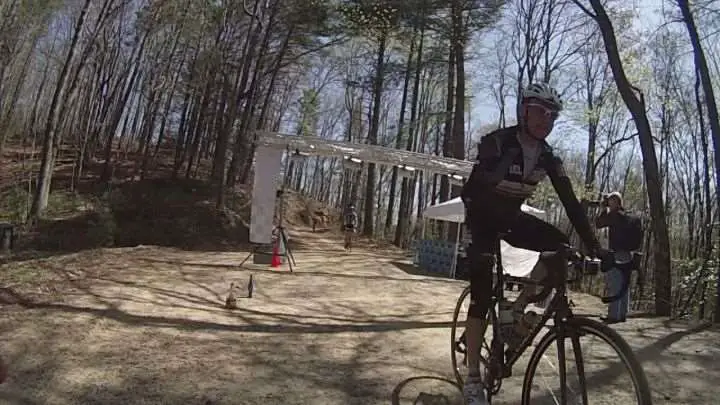 In Summary
Absolutely fantastic course, with a sterling job once again by Blue Mountain Revival Productions (this time organized by Gardner Deal), and the race host, Leatherwood Mountains Resort.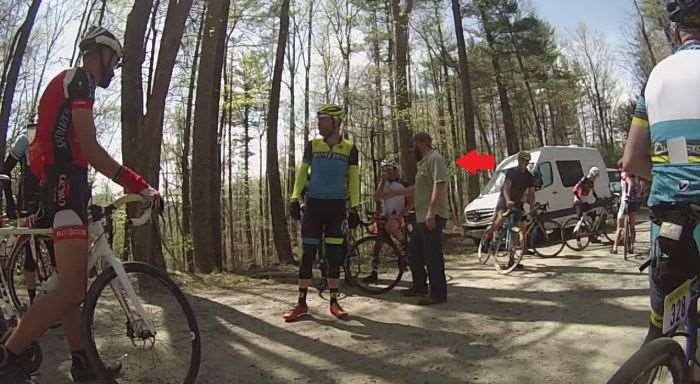 Cam Fraser of BMR was also there, handling the race announcements, presenting podiums and shaking hands with the racers (see above). Have you ever had a road promoter walk up to shake your hand for coming to his event? JOM and K-Dogg are used to road promoters sitting in their little trailers, scowling if you dare approach them with a question. Be sure to read K-Dogg's article about his Divorce from Florida Road Racing.
But we digress. Keeping the positive vibe going, K-Dogg took the first podium for the Gravel Cyclist crew, with 3rd place in 50+! Did we mention he'd been sick all week and is almost 60 years of age? 🙂  Jeff Welch took the win in 50+, with Chris Ready taking second place. Congratulations gentlemen.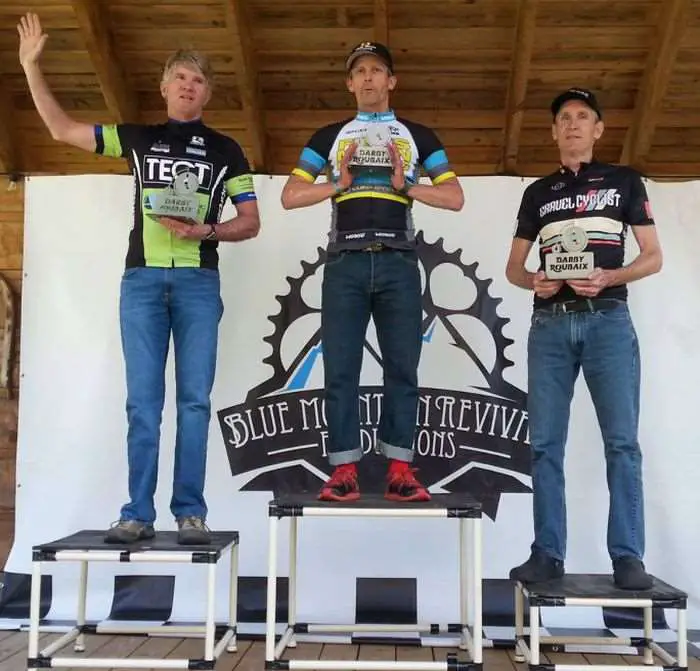 Other podiums of note are the Women's 30+, with Hope Dixon Cooper taking first, Rebecca Falls second, and Alisha Edminston taking third. For more podium photos and results, be sure to visit Blue Mountain Revival's Facebook Page.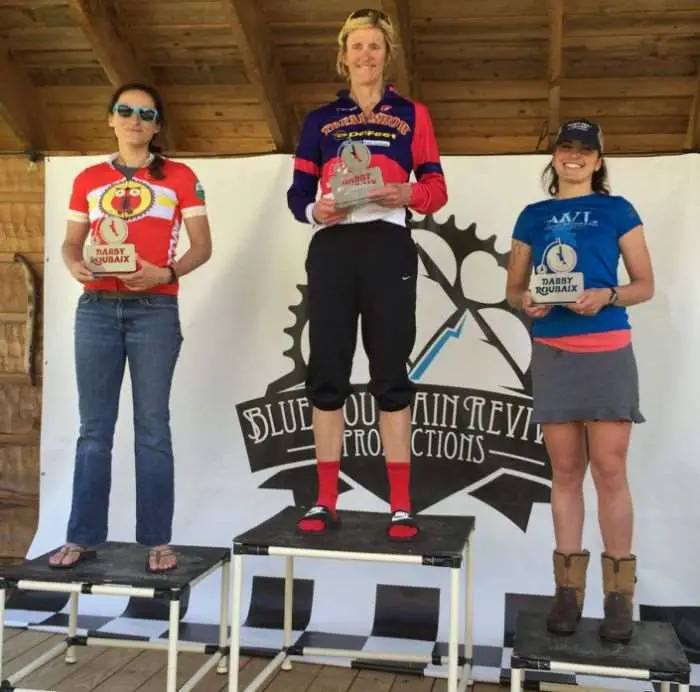 Thank You
To Gardner, his team of volunteers and the Leatherwood Mountains Resort. Cam Fraser and now Gardner Deal, have never disappointed the Florida guys with his race promotions. All are well organized, and everybody helpful and courteous.
To my fellow bike racers. There are no egos or other negativity in gravel and roubaix style racing, everyone is supportive of each other.
RACE VIDEO COMING SOON.
Thanks for reading!