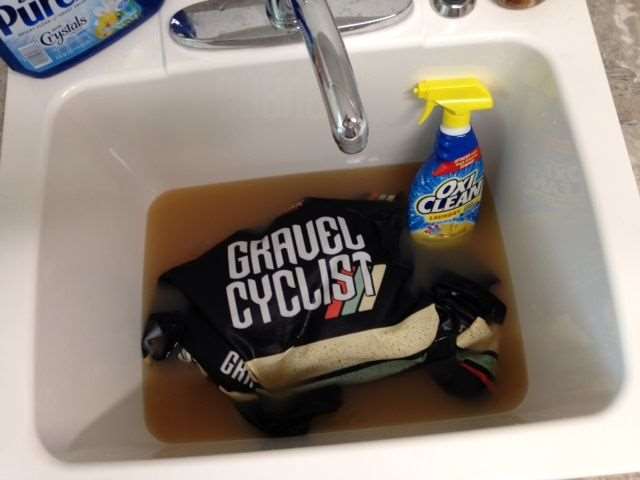 February 18th, Irwinton, Georgia from the Blue Goose Hostel.
"K-Dogg! Where the hell have you been riding?" said J.D., my mechanic from Bike Works of Gainesville Florida. "Your brakes are totally jammed up with some kind of sticky orange splort. I had to replace your brand new cables and housings and crack open all your calipers… they were totally packed and useless!"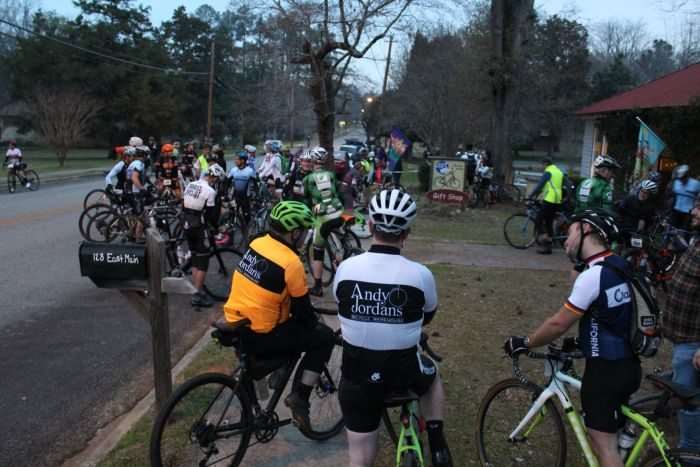 Team Gravel Cyclist had just returned from the inaugural 124 mile Middle Georgia Epic gravel race. It was one of the most painful and miserable races of my life… and yet I just can't wait to return next year!… but hopefully without the cold and rainy conditions of the last two hours.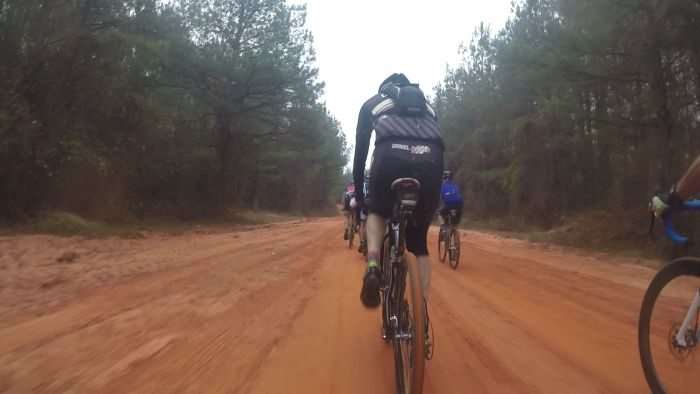 At first, the series of rolling red hills were as smooth and pretty as terra cotta floor tiles in a luxury resort, but eventually a cold steady drizzle turned ugly making me pray for an expedited checkout.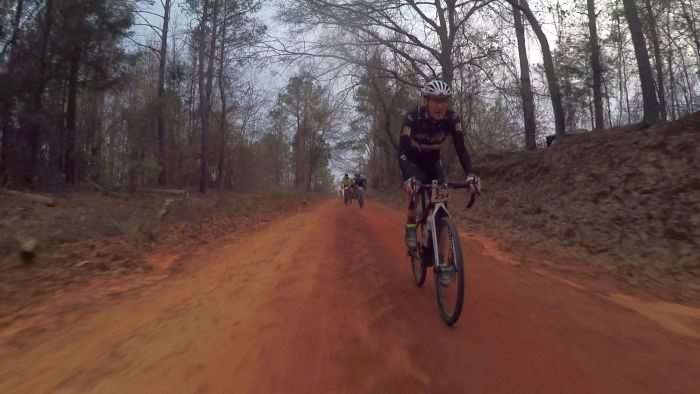 For a while, the eventual lead group of 15 or so rode a civilized pace and even allowed group pee stops.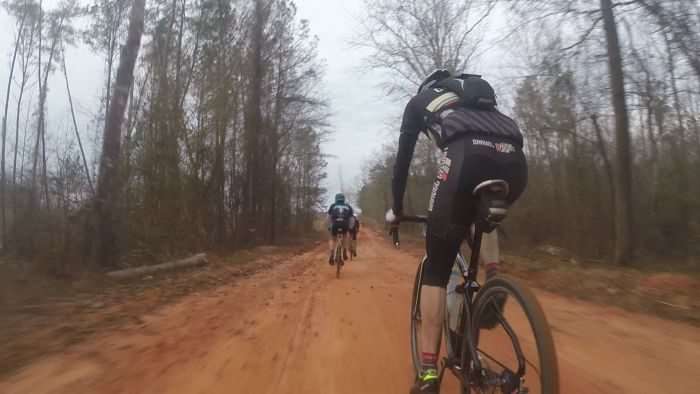 Soon enough the attacks and surges began. Then the rain began weeping down. The veneer of civilization peeled off like paint on a wet board. The fit began testing the not so fit. Heavy legged riders began sloughing off the back like dirty ice from a comet's tail.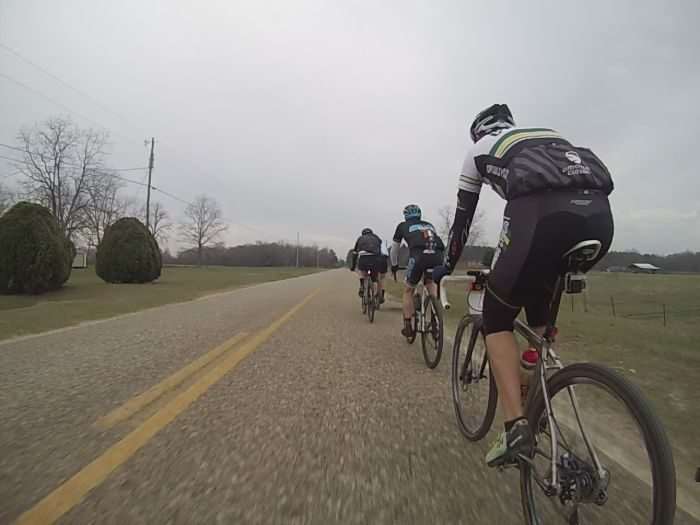 After three to four hours, JOM cracked and went backwards, never to be seen again (check out his race report). Soon after the Dogg did the same.
"Where's the bell hop?! I need taxi service to the Blue Goose Inn now!" I thought.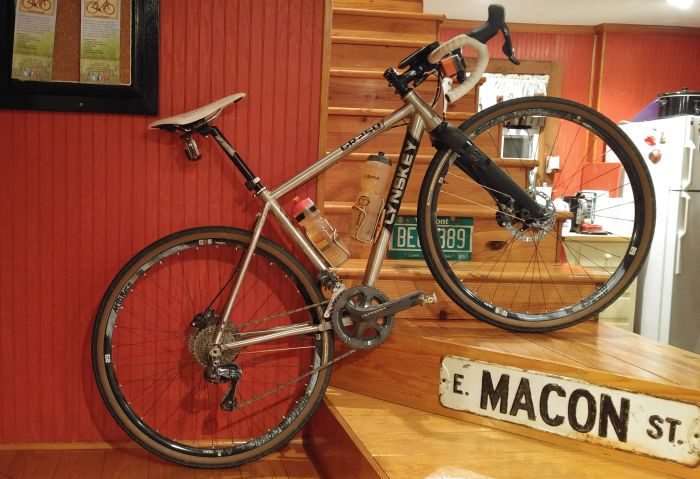 Last night the Blue Goose Hostel kitchen was aglow with good cheer. The friendly and down home proprietors chatted for hours. The mayor told us bedtime stories about the town's history. But now there was nothing for it but to shiver, zip up your cold jersey and slither on as best as you can. Nobody is coming for you. Most of the slimy red hills were too steep and sketchy for anything but a Humvee.
The little white station wagon driven by Monty the course marshall stopped checking on us. We were on our own.
Slither up… slither down… the unrelenting angry orange hills kept coming like a conveyor belt.
In my misery I created a mantra and kept chanting…
Slither up
Slither down
Slither sideways
Then fall down (which I did twice in slow motion).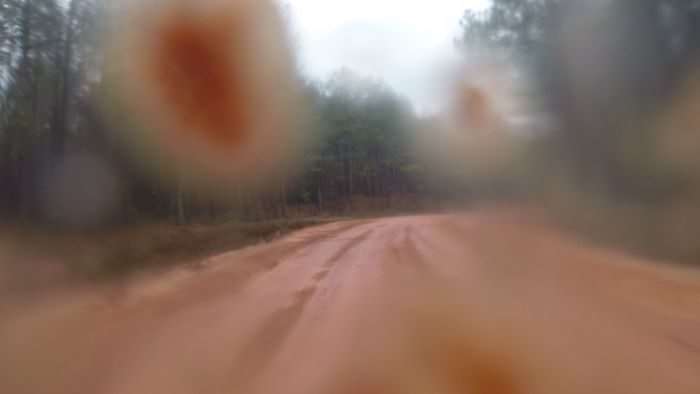 For mile after mile my drive chain creaked and groaned… I was certain my chain would snap at any second. There was no place to sit down that wouldn't leave a red ass dent in the mud. Great blobs of giant red boogers hung like stalactites from my deraillers, brake calipers, fork crowns and chain stays. Bagel sized clay Frisbees built up and launched off my tires. Stopping and walking was no better as shoes quickly morphed into 5 pound Clydesdale hooves on toothpick legs. What a sight!
I felt warmish on the climbs but my teeth chattered on the slow motion descents. My Garmin was completely useless since my glasses fogged up and the display screen was a red smear of dog $hit most of the time. For miles I navigated by the red tire ruts in the corners. Eventually I ran down Big Cody, an impossibly big guy to be able to climb so well. I tried to stay near him but he stopped to clean his pedals. I was too cold to wait so kept going.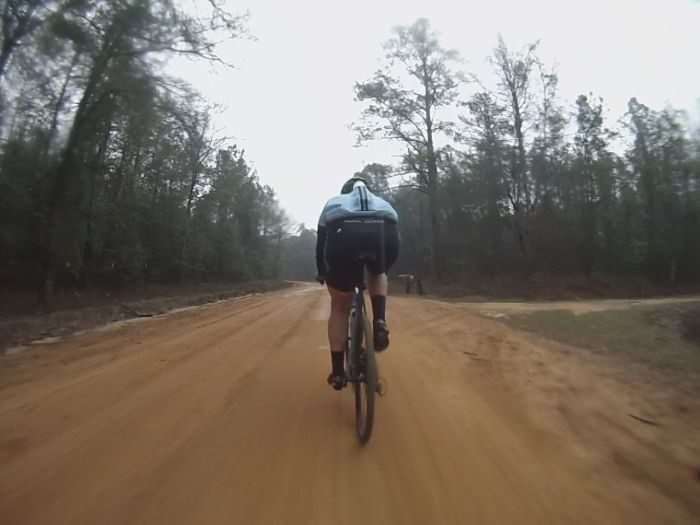 Eventually, he caught me back on the last climb. I was cold like soggy toast and just mumbled something unintelligible as we climbed away to the finish.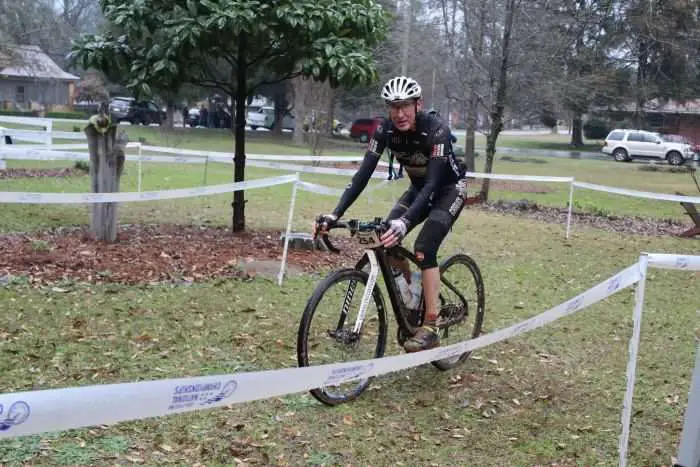 Rolling across the backyard finish line behind The Blue Goose, I joined the hose bike-cleaning queue with five other weary mud men grinning away and exchanging dirty tales. There were lots of dirty tales to share and lots of dirty bikes to unearth.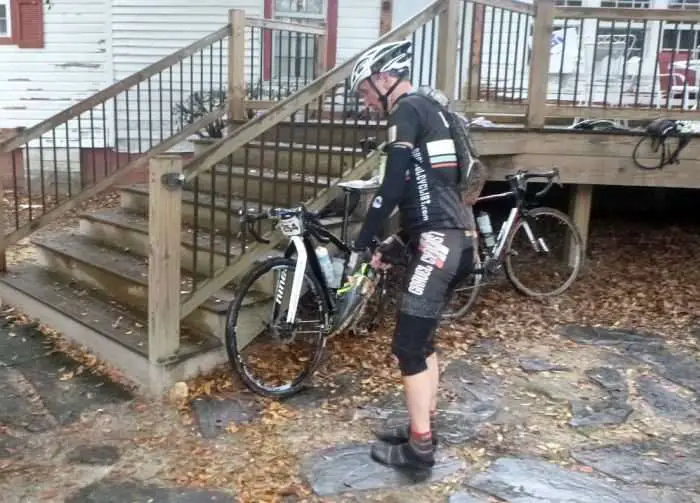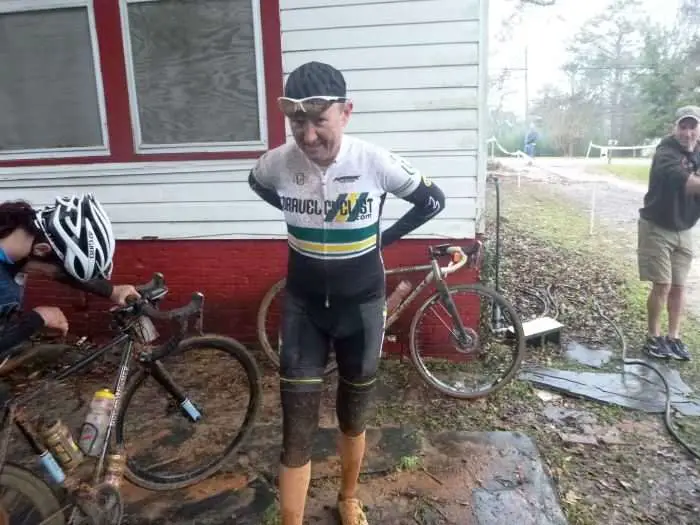 I will definitely be back this time next year… a little bit stronger and a little bit wiser about how to race in such awful conditions… what tires to ride, what gearing to choose and how to be ready for the "Sandpit of Despair."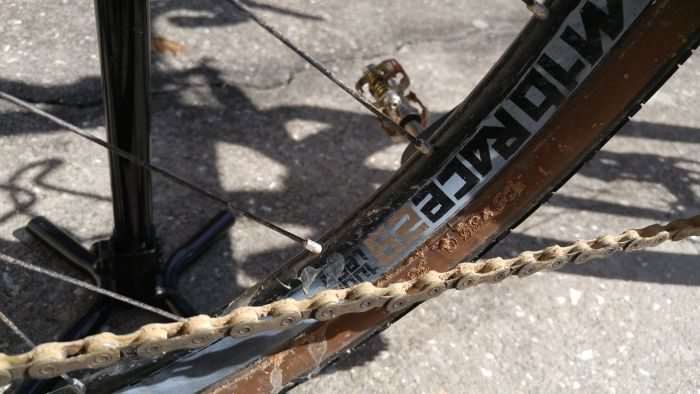 In short, I have a dirty bike, a ground down drive chain, cramping legs, and a kit now permanently dyed mud red… but I also have awesome memories I'd never replace If I'd just stayed indoors at the Blue Goose.
See all y'all next year!
Mudd Dogg