Wahoo's ELEMNT Roam was released with plenty of excitement following the success of the ELEMNT Bolt. It came with a larger size, new features, colour(ish) screen, and an equal price to the Garmin Edge 830. So, does it warrant its premium positioning and pricepoint? I gave it a few weeks of testing to find out. 
About:

Display Size: 2.7″ (68.58mm)

Screen Resolution: 240×400

Weight: 3.3 oz

Battery: USB rechargeable

Battery Life: 17 hours

Waterproof Rating: IPX7 (waterproof up to 5 ft)

Integration for: Strava, Best Bike Split, Komoot, Ride With GPS, and Relive
In the Box:
ELEMNT ROAM Unit

Integrated Out-front Mount

Stem Mount

Quick Start Guide

Micro USB Cable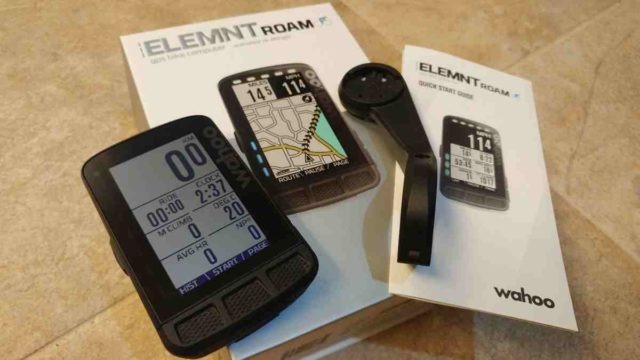 Hardware
The ELEMNT Roam is a downright ugly unit compared to its main competitor, the svelte Garmin Edge 830. Its screen is tiny in proportion to the unit's face. There are chunky bezels on each side that house strips of LEDs on the top and left, and there's the triple-button arrangement at the bottom. The power button sits on the left edge, and the up/down arrows are on the right.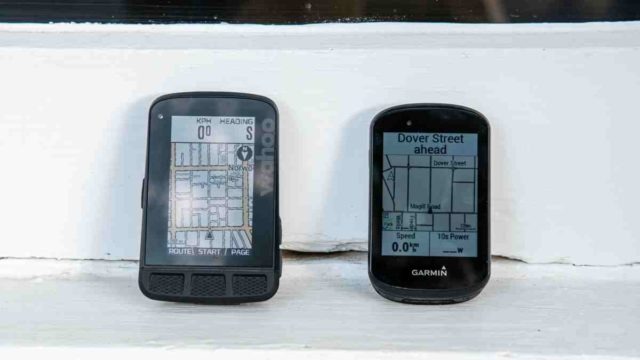 Flip it over and you'll see the patent skirting quarter-turn mount interface that's 90 degrees offset from the Garmin, and the charge port is hidden on the lower edge. It sure won't win any beauty contests but its talents lie beyond aesthetics.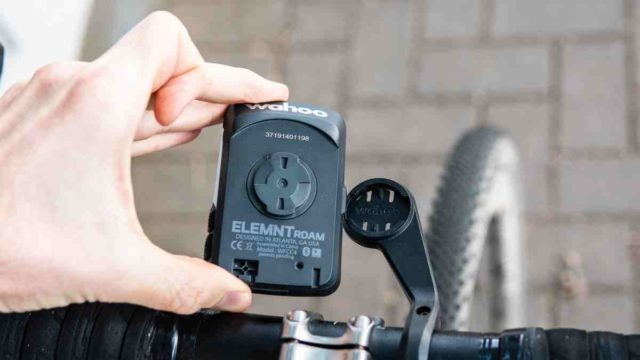 Setup and Connectivity
Getting the unit setup is a fiddly process with the Wahoo ELEMNT app acting as a bridge to the device. It took about 20 minutes of turning-off-then-on-again for the app to recognise the ELEMNT Roam was connected, and several more minutes of trying to get the Roam connected to WiFi. Certainly one of the more frustrating unit setups I've had recently. Once in, the app is straightforward enough. You can change most device settings and configure your pages and data fields. You can fully set up the unit using only the head unit with Wahoo's easily navigable menus.
Smartphone setup has become the norm over recent years and Wahoo's ELEMNT app could do with a refresh and a new user interface. For example, you don't get a visualisation of your data page when setting it up; just a vertical list of fields. Other apps from Lezyne and Bryton show you how your data page will look. Wahoo is still lacking bike or ride type profiles, so switching from road to gravel bike meant switching fields or entire screens. Garmin and Lezyne's profile and ride type systems retain your screens, data field, and sensor settings and I'd like Wahoo to do the same. 
Pairing the Roam to my phone was a daily battle that forced me to restart my phone before the unit would connect via BLTE. I won't blame the Roam necessarily for this because I have a constant rotation of review GPS units and restarting my phone to connect them is something I have to do frequently. Garmin units are the only ones that tend to connect automatically. 
Other sensors paired without issue. I have a random assortment of sensors from different brands and using both BLTE and ANT+. Everything paired quickly and stayed connected without issue including multiple power meters, speed/cadence sensors, and heart rate monitors.
Maps and Navigation
Wahoo's maps and navigation suite is one of the unit's strongest points. 
Wahoo ships their units with access to a pleasant suite of maps. They've stripped them back to be mostly monochrome with splashes of colour for highways and major roads. Each unit ships with maps for the region it was sold but you can add other regions at your leisure through the app. Garmin is still the reigning champ of quality maps but they're a paid extra to get them outside of the region that the unit was purchased.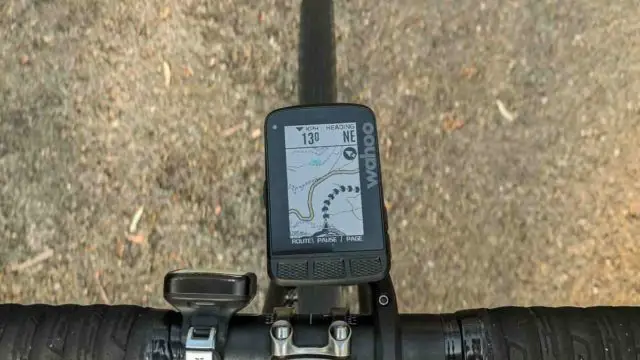 Navigation is solid with Wahoo with breadcrumb arrows showing your path on the map, and pleasant bleeping to warn you of upcoming turns. There's full re-routing if you find yourself off course that generally works well. I've always had mixed experiences with re-routing. The short stint with the Roam showed me it's capable of re-routing simple courses but doesn't handle more complex situations. It tended to work on the road but got confused on the trails.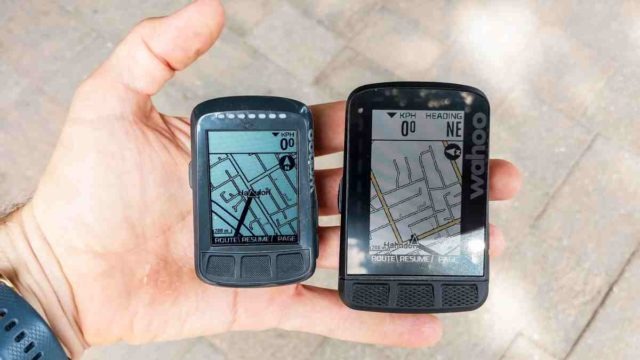 Third-party integrations have become one of my favourite features of current GPS units and Wahoo hasn't disappointed. You can use all of your routes from Strava, Ride With GPS, Komoot, Best Bike Split, and Relive. I'm most interested in the route creators with Strava and RideWithGPS, my favourite platforms. Through the ELEMNT app you can load a course from your connected accounts and then follow it on the Roam. You'll get full turn-by-turn navigation and can have the LED's on the unit face give you course warnings too. It's a great system, and extra valuable given Wahoo lacks its own native course creator.
On the Road
Oh, joy of joys the ELEMNT Roam is a fantastic unit to ride with.
Wahoo's screen clarity is exceptional with high contrast and bold fonts making sure everything is easy to read – unless you overstuff your screen with information. It reflects minimal sun, which makes it delightfully easy to read (and photograph). The small splashes of colour aren't much of an addition over older Wahoo units but neither do they wash the screen out. Readability is one of my favourite parts of the ELEMNT Roam.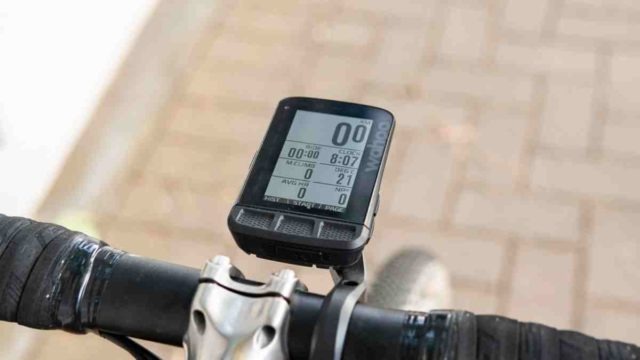 The buttons along the chin of the unit are easily reached and clicked with a thumb or forefinger when riding on the tops. It's a welcome change from a swipey Edge 830 touch screen I've been using for the preceding months. My preference has always been for buttons over touch screen and the ELEMNT Roam hardware is the best I've used when on the road. The top LED strip indicates what page you're on to give you a queue for where you are in the structure. I have a small gripe that there's only a page down option so to go up a page you have to run through all of them. Once you have multiple data screens, map screen, and Strava Live Segment screens it can take a while to find the page you want by going down.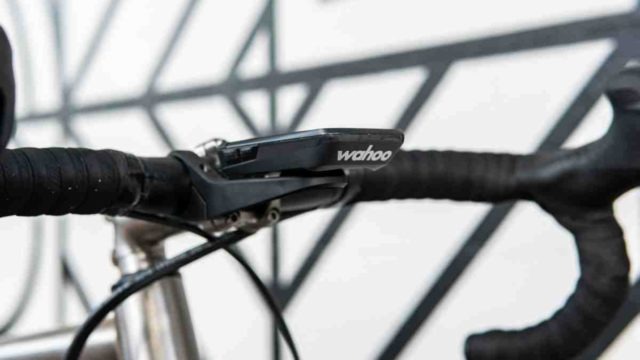 I enjoy the audio and visual feedback from the ELEMNT Roam. The unit peeps and chirps to warn you of turn warnings, Strava Segment starts, and other operations. It's unobtrusive and pleasant after years of the Garmin shriek. The RGB flashy LEDs along the side and top unit which you can program to show speed, power zones, or heart rate zones. They also show your active page, as mentioned above.
Post-ride the unit will upload your data and share it across your connected platforms.
Strava
Live segment integration has become a popular feature and Wahoo's system is good with some annoyance.
You'll get notifications of upcoming segments and a page that lists segments you're close to. Roll through a segment start and you'll get buttons devoted to swapping your target time and giving the option to change segment if there's any that overlap. It'll give you a screen tracking against your target which is nicely done.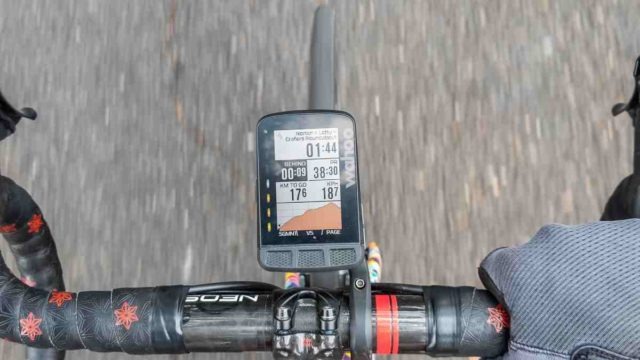 My problem is that you can't deactivate segments through the ELEMNT Roam. You have to un-star them in your Strava account. As a predominantly Garmin-user/Strava whore, I have a system of turning them all off on my Edge units by default then switching the ones I want to target back on as needed. 
Segment management aside, the Wahoo ELEMENT Roam gives Strava athletes plenty to work with.
Structured Training
Wahoo has stuffed a broad range of structured training into the ELEMNT Roam with climb and sprint programs to run through, some of which were developed with Team Ineos.
I don't have much interest in these programs, choosing to run my own power training sets. I did load a couple to see how the system runs through them on the road. You get nice graphical displays and numbers to chase – it uses your FTP numbers – and generally runs smoothly. Those into structured stationary training, and don't subscribe to any virtual riding platforms, will get plenty of value from them.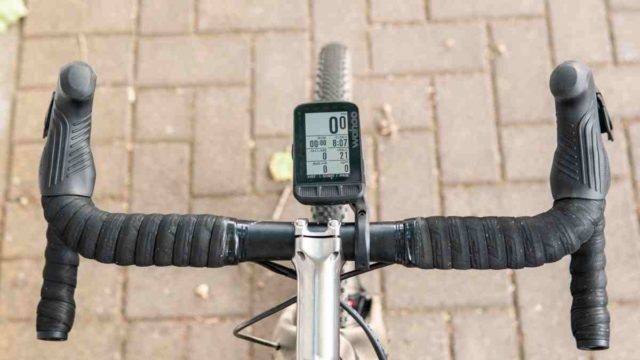 Wrapping Up
The Wahoo ELEMNT Roam is an excellent unit and worthy of sitting at the premium end of the bike GPS market. It's a pleasure to ride with; excellent screen, large and well-placed buttons, solid maps and navigation, broad integrations, and good Strava/training features.
The drawbacks are minor overall. Its biggest loss to the Garmin platform is the broader ecosystem. Wahoo's ELEMNT app is good for device management but Garmin Connect has become a feature-packed health and activity platform.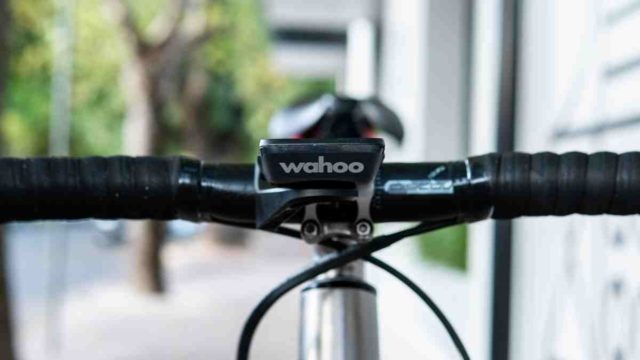 If you preference ride experience first and foremost then the Wahoo ELEMNT Roam is among the best GPS units on the market. It carries a hefty price tag but it brings the performance and feature set that justifies it.
---
Article by James Raison: James is a "pointy-bonebag hill-climbing monster", resident of Adelaide, South Australia, gravelly-minded cyclist of the next level, intrepid explorer way off the beaten track and Editor at La Velocita. You can follow Jame's whereabouts on RideAdelaide YouTube and Ride Adelaide Instagram.