This is a guest post from Dustin Gaddis of Southern Wheelworks. Dustin is the owner of Southern Wheelworks, a custom wheelbuilding shop. For readers who prefer a handbuilt, custom wheelset, Dustin provides an overview of the things you should think about when purchasing a custom disc brake wheelset for a gravel bike – along with details of some of the more popular components available.
Part I covered Rims, Spokes and Nipples. Part II covers Hubs… over to Dustin!
---
Other than choosing between aluminum and carbon fiber rims, your choice in hubs is the largest factor in the overall cost of a wheelset. They're also the parts that should last the longest; a good set of hubs can be re-built into new rims again and again. Factors in your hub decision include brake mount, axle types, freehub body, and spoke type and counts.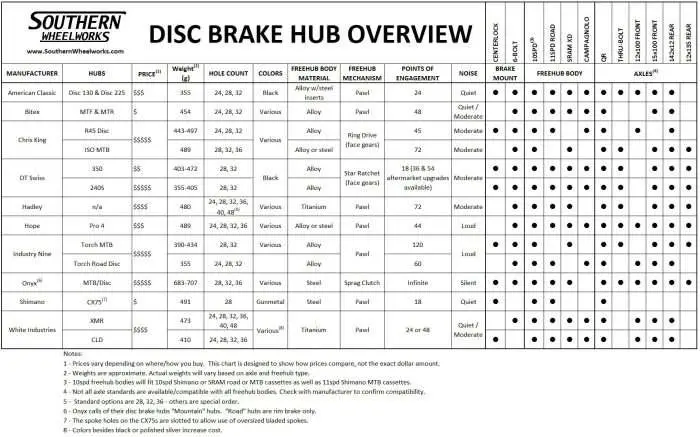 Brake Type
Two options: 6-bolt disc, and Centerlock disc. I prefer Centerlock which seems to be the most popular standard for road use, because Shimano's top-of-the-line brake rotors, the RT-99s that feature Shimano's IceTech and FreezaFin technology, are only available in Centerlock. They're the only IceTech rotor available in the 140mm size, and they dissipate heat better than any other rotor on the market. Make no mistake, disc brakes on a road bike generate a lot of heat should you head to the mountains and ride a fast and technical descent.
Even if you're not using Shimano brakes, you can still use Shimano's Centerlock Icetech rotors. Centerlock rotors help pull to heat away from the brake system and into the hubs, giving the system more thermal mass and somewhere for the heat to go besides into the brake fluid. I've ridden Shimano Icetech rotors down a technical paved descent in the mountains – at the bottom, the brake pad fins were too hot to the touch – even my quick release lever was quite warm, but the brakes never faded.
The build up of braking heat is not a problem if you seldom ride in the mountains – any 6-bolt disc brake set up would also be fine – these work fine in the mountains too, but don't have the same level of heat dissipation as Shimano's Icetech technology.
Further information: Centerlock compatible hubs can mount a 6-bolt rotor, provided the appropriate adapter is purchased. However, you cannot mount a Centerlock rotor onto a 6-bolt compatible hub.
Thru Axles and Quick Releases

For axles and disc brakes, your frame and fork will largely determine what you can use. Does your frame and fork support quick-release or thru-axle? If they're of the quick release type, I recommend buying hubs with convertible axles, because quick release axles are quickly going the way of the dodo bird. Your next bike will likely include thru-axles front and rear, so buying hubs that can be converted is a plan for the future.
If you have a thru-axle compatible frame and fork already, there are less concerns with convertibility, but it's still something to keep in mind. For example, the Chris King R45 Centerlock front hub is available in a 12mm thru axle, but not a 15mm thru axle. Should you change forks, the hub locks you in on the 12mm standard, and reduces your options.
If your frame and / or fork support the quick release standard, but you like the idea of a stiffer thru-axle, consider a thru-bolt. It works with quick release dropouts and offers some of the benefits of a thru-axle. You'll need a 9mm x 100mm thru-bolt front hub and a 10mm x 135mm thru-bolt rear hub.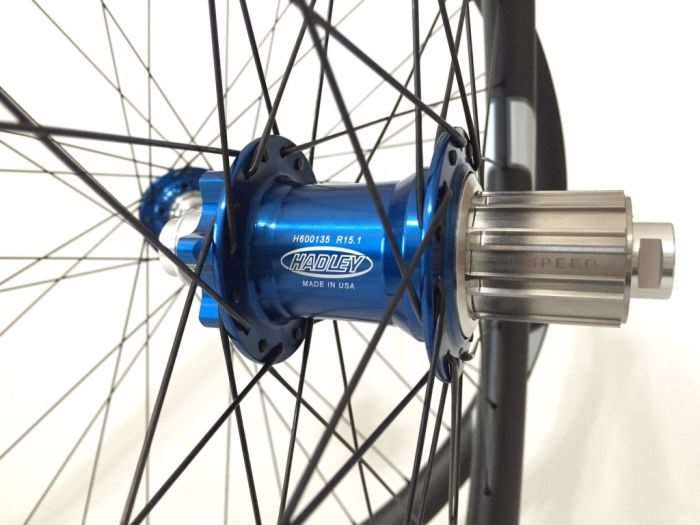 There are a few exceptions to these rules, which makes for even fewer hub options.
The Cannondale Slate gravel bike uses a Lefty fork, and therefore, a Lefty compatible front hub is required.
Specialized has their SCS (short chainstay system) rear ends that are especially frustrating. SCS places the freehub body in the same place as a traditional 130mm rim brake road hub but in 135mm spacing, therefore maintaining the traditional road bike chainline. The SCS system allows for very short chainstays without causing excessive angles on the chain. At the time of writing there is only one SCS specific hub available for aftermarket wheel builds, the Hope SP24 SCS. This hub uses straight pull spokes, 6-bolt rotor mount and is only available in a 24 spoke count; less than ideal for most riders who choose aluminum rims for their build.
However, non-SCS derailleur hangers are available allowing you to use a non-SCS hub. If your SCS frame is quick release ready, there are plenty of options, but if it is thru-axle compatible, options are few. A thru-axle frame with the non-SCS hanger requires a 12mm x 135mm axle *and* an 11-speed road compatible freehub body – which is a rare combination to find.
Clear as mud? Lets move on then!
Freehub Bodies
Freehub bodies are the next area of concern and confusion. Shimano, SRAM, and Campagnolo all have their own freehub bodies, and some mixing and matching of freehubs / cassettes / derailleurs is allowed / required / possible. We'll cover Shimano and SRAM first, since they are by far the most popular, especially for gravel bikes, more so for disc brakes.
For the longest time the venerable Shimano freehub body standard was used on both Road and MTB hubs. SRAM licensed Shimano's design, and their cassettes fit Shimano freehub bodies. Then 11-speed happened, and everything went awry.
SRAM developed a 1 x 11 MTB drivetrain. To get a wide gearing range, they needed to fit a 10 tooth cog onto the cassette. A 10 tooth cog is too small to fit on a Shimano freehub body, so they designed their own freehub body called the XD Driver. Nowadays, SRAM offers their 1 x 11 system for Road and CX groupsets as well, and depending on the cassette you're using, you may need the SRAM XD driver freehub. The XD driver freehub body also works with the company's new 12-speed Eagle MTB group, and it's just a matter of time before we see 1 x 12 systems trickle over to drop bars…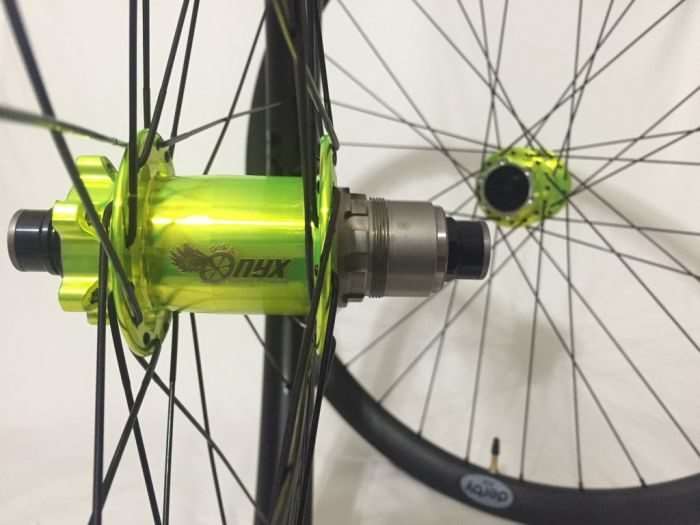 When Shimano went to 11-speed they did it on the road first. They were not concerned about fitting a smaller cog to widen the gearing range; they wanted to fit an extra cog in the middle of the cassette to tighten the gaps between shifts. However, they couldn't physically fit an extra cog onto their aging freehub body design. Rather, they lengthened the freehub body by 1.8mm – towards the center of the wheel, which requires moving the driveside hub flange inboard a bit, thus reducing lateral stiffness which worsens spoke tension balance – but the 11-speed road freehub body was born. SRAM 11-speed road cassettes also fit onto the Shimano 11-speed road freehub body.
Then, and this is where it starts getting confusing – Shimano bumped up their MTB drivetrains to 11-speed. However, since the large cogs on a MTB cassette are bigger than the largest cogs on a road cassette, they were essentially able to hollow out the big cog a little, allowing it to sit further inboard and cantilever out over the driveside hub flange a bit. Therefore, the 11-speed Shimano MTB cassette will fit onto standard 10-speed freehub body.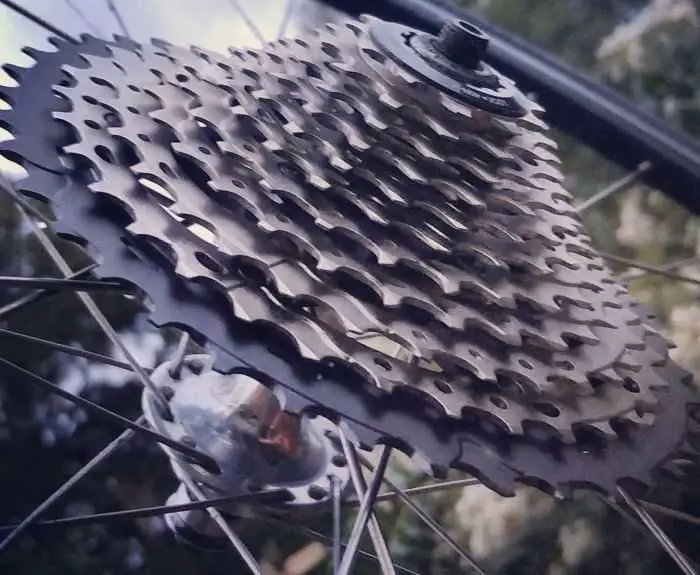 Some hub manufacturers have started making all of their disc brake hubs 11-speed road compatible, because this allows for use of an MTB or Road bike cassette – MTB and 10-speed road cassettes simply require a spacer to be installed onto an 11-speed freehub before the cassette is installed. For those hub manufacturers who have stuck to a 10-speed freehub body, there are some advantages. The driveside flange can be placed further outboard which improves spoke bracing angle and wheel stiffness. These manufacturers typically produce Road and MTB specific hubs.
Finally, there's Campagnolo. They've had their own freehub body standard for years and it's pretty simple – if you have a Campy cassette, you need a Campy freehub body.
Everyone still with me?
When picking out a hub, you need to know what drivetrain you'll be using, and keep in mind what options you may want in the future. Most newer hubs can swap the freehub body to change to another standard, but possibly not to what you need. For example, Hope Pro 4 and White Industries XMR and CLD disc hubs are available with any freehub body you want on the same hub shell. If you have a 2 x 11 Shimano drivetrain and swap it for a 1 x SRAM group, you simply swap the Shimano freehub body for a SRAM XD driver and you're good to go.
Industry Nine and Chris King both make separate Road and MTB hubs. Their MTB hubs do not offer an 11-speed road option, but SRAM XD freehubs are available. Their disc road hubs are 11-speed road compatible, but neither company offers a SRAM XD freehub for their disc brake road hubs.
The last thing to consider with freehub bodies is the material. Depending on the hub, options include aluminum (alloy), steel and titanium. Steel is tough but heavy, aluminum is light but can get chewed by cassettes (although American Classic offer a neat solution to this problem with their steel inserts on an aluminum freehub body), titanium is tough like steel but light like aluminum, and of course more expensive. Some hubs are available in more than one option. Hope offers a stainless steel freehub option at no extra charge, which is good for heavier and /or really powerful riders. However, their standard aluminum option can be problematic for riders who put out the big watts – the pawl seats can deform.
Spoke Counts and Related Options
Once you've narrowed down the hub options that will fit your frame and cassette, you'll you have to find a hub with the right type and number of spokes. Most hubs for custom builds use standard J-bend spokes, but there are some straight pull spoke options available from DT Swiss and Hope. I recommend staying away from straight pull spokes – it offers little benefit other than slightly lighter hubs. J-bend compatible hubs provide more options for lacing patterns, more spoke options (not all spokes are available in a straight pull version), and the spokes are less expensive and easier to find a replacement should you break one.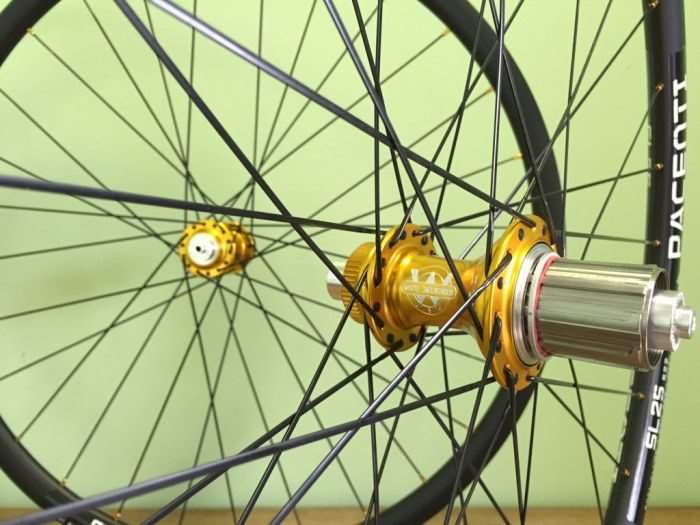 When it comes to spoke number, some hubs have lots of options, some only have a few. Most of Shimano's rim brake hubs are available in 32 and 36 hole count only, but their one-and-only disc brake road hub is 28 hole only. DT Swiss offers 28 and 32 hole count in their J-bend hubs, and they also have a few 24 hole straight pull options available. If you're a heavyweight rider and need more spokes than the average Joe, your options are a bit limited, but there are some 36 hole hubs available and a few that go as high as 48!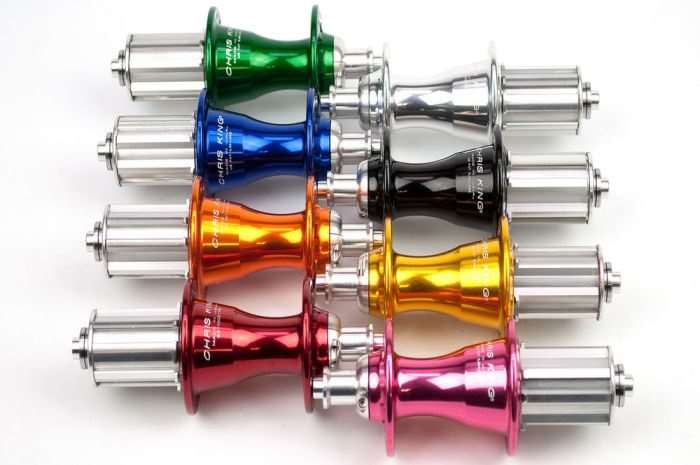 If you're still following along, you've narrowed your options down to the hubs that will meet your needs – but what about colors? Some hubs are available in one color, some have a few choices and some have lots of choices. The exact shade of each color can vary a bit from between one brand and production run to another, so do your research.
Freehub Mechanisms
Freehub mechanism, points of engagement and noise is another consideration.  The freehub mechanism is what allows you to coast, and there are a variety of mechanism types used. DT Swiss and Chris King both use a similar design, with a pair of face gears that merge under power and allow all of the teeth to engage simultaneously. This design makes for a very strong and reliable mechanism that is unlikely to slip, and is well suited to very heavy or powerful riders. If you have a history of destroying freehubs, look to Chris King or DT Swiss for your next set of hubs.
Other designs by companies like Hope, White Industries, Industry Nine, and others, use a ratcheting pawl system. A drive ring inside the hub has ramped teeth with pawls mounted to the freehub body, and will engage those teeth under power, but slip up and over the ramps when coasting. American Classic offers a similar design but uses a cam plate to engage and disengage its six pawls simultaneously. But the most unique option is Onyx's sprag clutch, which offers instant engagement and zero noise when coasting. However, the trade off comes at weight due to all of the steel required in this design.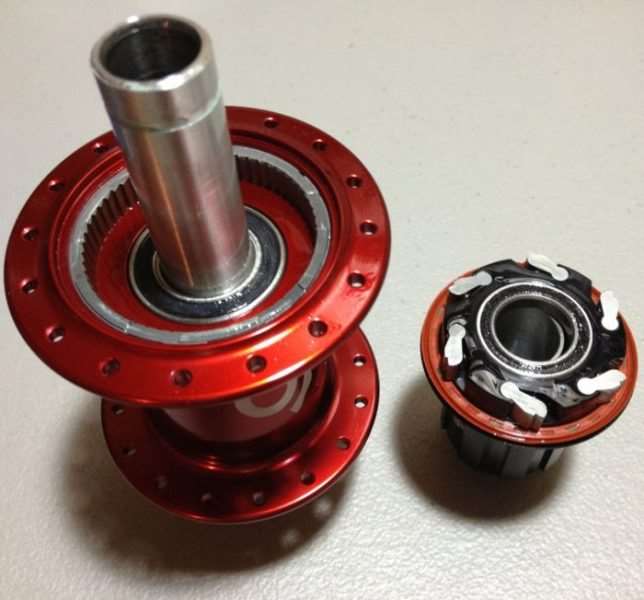 Inside the Industry Nine hub above, the six pawls are arranged into two sets of three, and each set is offset so only one set engages at a time. Coupled with the 60 tooth drive ring, the offset pawl system allows for 120 points of engagement. The road hubs use only one set of three pawls, and have 60 points of engagement.
Noise level when coasting varies from one brand to another. Shimano and Onyx are the quietest while Hope and Industry Nine are the loudest. Some people love the sound of a noisy hub; others prefer the serenity and noises of the road, trail or gravel.
Points of engagement refers to how frequently the freehub mechanism can engage, as in, how much slop / free-play exists between engagement points. When you start pedaling and you're moving the chain, but the freehub hasn't actually engaged yet – that's the "slop" I'm referring too. A higher number of engagement points means less slop. For example, if a hub only had two points of engagement, the freehub could rotate as far as 180 degrees before it actually engaged. That translates into time and energy wasted turning the pedals with no power being used to move the bike forward.
See the chart below for a nice visual. Fast engagement (very little slop) is really nice when riding technical MTB trails. For gravel riding, rapid hub engagement isn't typically a concern. But if you plan to ride some singletrack with your gravel bike, or if your gravel roads feature some gnarly climbs, fast engagement is always nice to have.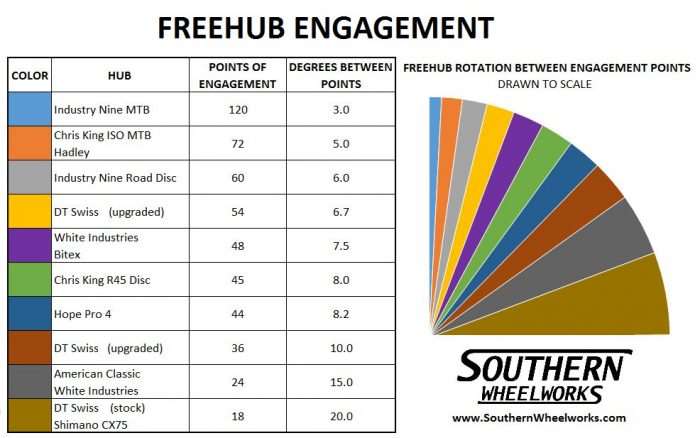 Two final things to consider – price and country of origin.
Hubs are made in Taiwan, China, USA and even the UK – good stuff comes from all of these countries. Some people like to support local businesses, so knowing where your hubs are made is nice. When it comes to price, there's a broad spectrum covered by the various brands, and you'll have to decide for yourself what you want or need to spend. Your budget may allow you to get the best thing available, or you may instead be looking for something that offers the best value for your dollar. If you have a very specific set of needs, you may not have any choice in the matter!
Remember, lightweight hubs = lightweight wallet.
If you've made it this far, thanks for putting up with my rambling and I hope you've found Part I and Part II to be helpful! As you can see, there are LOTS of things to consider when looking into a set of custom wheels. If the choices feel a little overwhelming, talk to a reputable wheel builder. Obviously I will recommend my own business :), but there are other wheel builders who do good work and may be local to you. A good wheel builder can use their experience and expertise to help make sure you get the best set of components to meet your needs, and, they'll assemble them properly so you ride plenty of trouble free miles.
Please post any questions you have in the comments section.
Thanks!