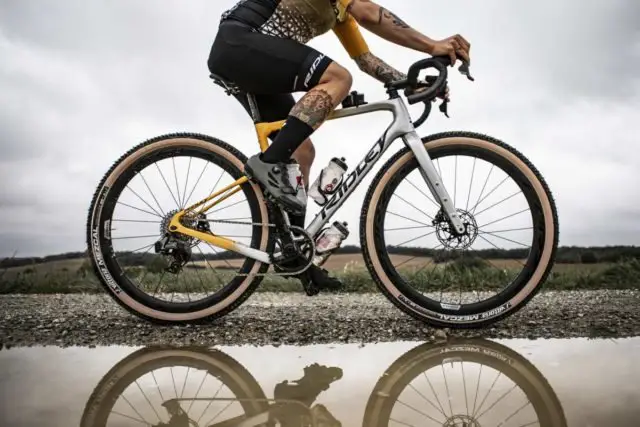 "For those in pursuit of a bike with maximum performance in demanding terrain and the ability to roam paths and slay trails, this is the right bike. Destination unknown? Not a problem with the new Kanzo Adventure! With its abundance of mounting points, trusty geometry and the option to add a suspension fork and hub dynamo, this gravel bike is extremely versatile."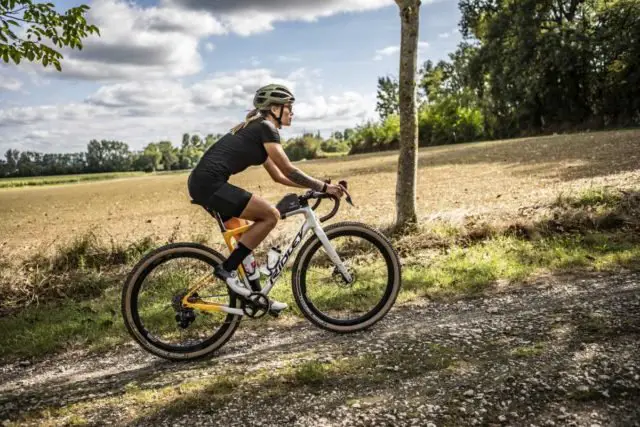 "The Kanzo Adventure allows you to make of gravel what you want. Have you got a day trip planned? A multiple day bike packing adventure? Or an ultra-cycling race? This gravel machine can do it all due to its diversity in setup possibilities. You never know what your next adventure is going to be, but you do know that you can rely on this bike for it. Its steering behavior gives enough trust to conquer endless mountain passes and shred unexpected single tracks while still being able to steer fast and aggressive on the most technical offroad sections. Easily adjust your luggage setup and ride trouble-free from dusk till dawn (and way longer). With the new Kanzo Adventure your only worry is to enjoy the ride."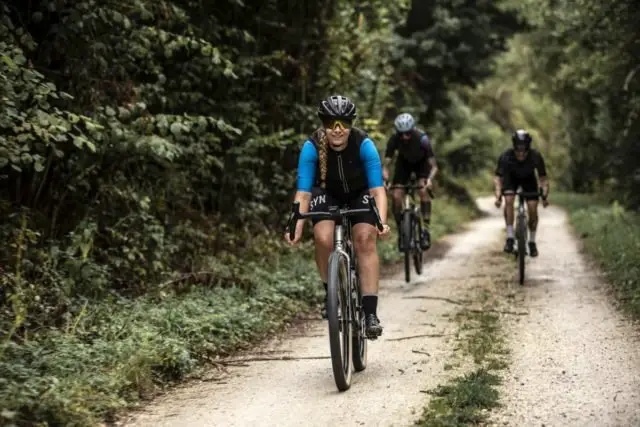 History
"It's safe to say that the popularity of gravel bikes has exploded over the last few years. Ridley was one of the first European brands in the gravel market with the release of the X-Trail in 2015, although they called it 'all road' instead of gravel back then. Over the years gravel bikes have evolved and multiple types emerged on the market: from light and fast bikes meant for gravel racing to bikes finding the perfect balance between road and gravel that are perfect for bike packing trips. All these types of bikes come with different geometry, tire width and mounting points."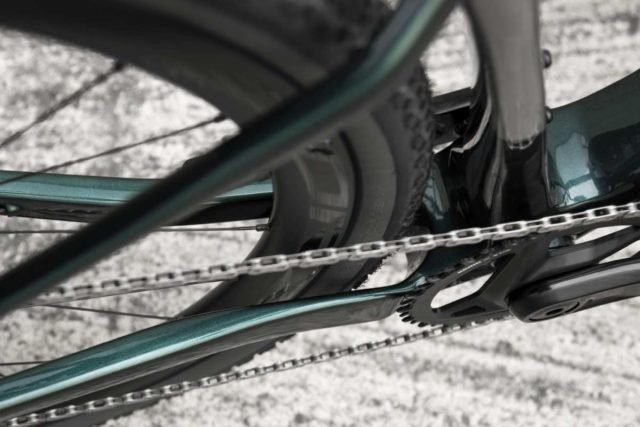 Evolution
"After the release of the X-Trail, Ridley rapidly developed their gravel bikes, because they know that not every cyclist has the same interpretation of gravel riding. The current Kanzo Adventure was added to the Ridley gravel fleet in 2019. At the same time the X-Trail was renamed Kanzo Speed. In 2020 the Kanzo Fast was added to the line-up."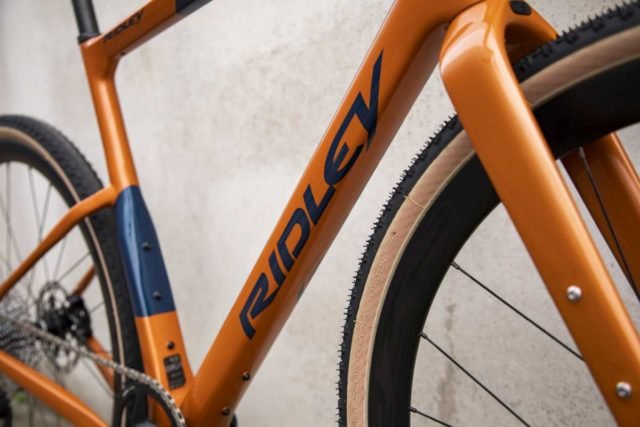 "Ridley already owned a wide range of gravel bikes with these three frames. However, a bike at the more adventurous side of the gravel spectrum was still missing. That's where the new Kanzo Adventure comes in."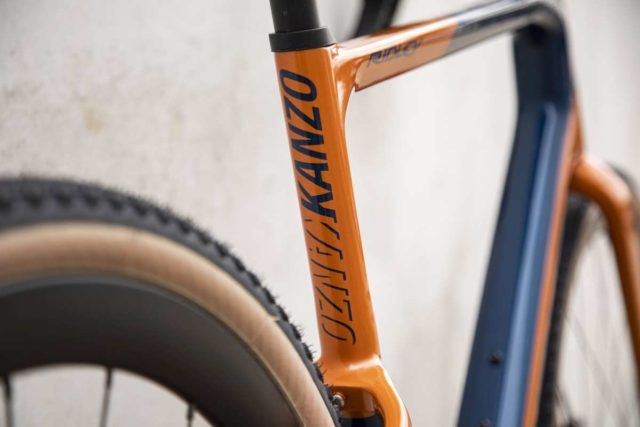 This newly developed bike differs from Ridley's other gravel bikes in a number of ways:
Progressive

geometry

for more comfort and trust

An abundance of

mounting points

on the frame and front fork, ready for every bike packing bag

Wide tire clearance

for any terrain

Integrated dynamo cable routing
Integrated, smart cockpit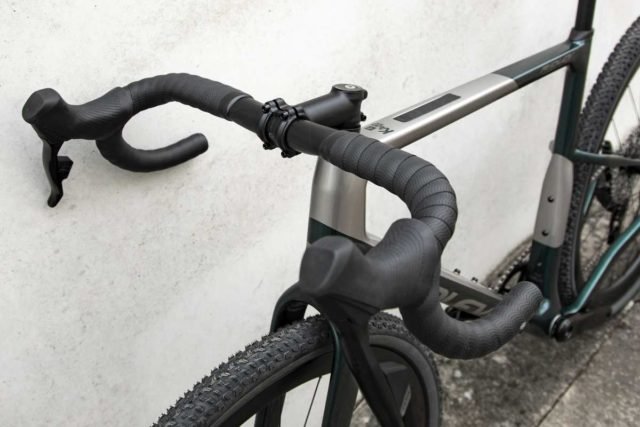 Geometry
"To optimize the geometry of the bike, Ridley spent countless hours of testing. Just like the Kanzo Fast, this bike has a Kanzo Optimized Geometry (KOG), which means that the geometry has been tuned to the intended use of the bike and the terrain. The geometry of the Kanzo Adventure is specifically developed for rough terrain and adventure."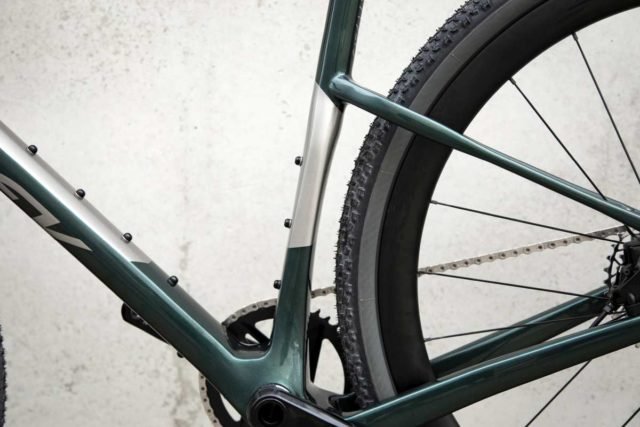 "The Kanzo Adventure has a modern, mountain bike-inspired geometry. In other words: a slacker head tube angle, a lower bottom bracket, a longer wheelbase and a steeper seat tube angle. The slacker head tube angle lengthens the wheelbase and gives the bike more confidence. Yet, they kept the bike handling responsive by using a shorter stem. It's the same technique seen on mountain bikes."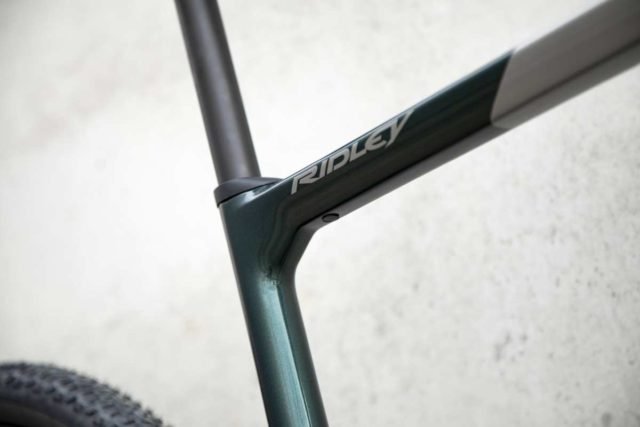 "Another factor that determines the feel of the bike is the bottom bracket height. The higher the bottom bracket, the more nervous and unstable the bike feels. Ridley used a lower bottom bracket to ensure the bike is stable and comfortable enough to spend long hours in the saddle."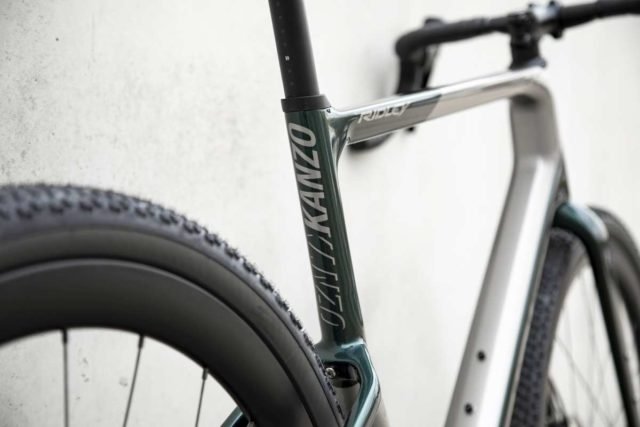 "The bike has got a steeper seat tube angle, another method seen on mountain bikes. It shifts the rider's center of gravity a bit forward and keeps the position compact, making the geometry perfect for steep climbing with a fully loaded bike. You can put more power on the pedals when climbing without having to worry about losing traction."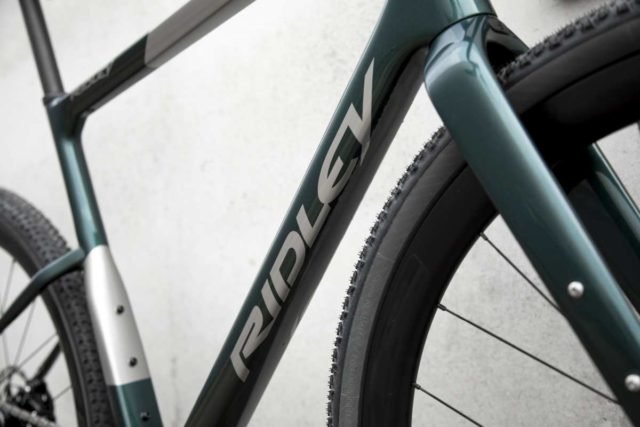 "Ridley has also taken into account the length of the head tube. The first suspension forks have made their appearance on the gravel market and it's the perfect complement for the Kanzo Adventure. The length of the head tube is kept shorter, because a suspension fork always has a longer fork length than a regular fork, which raises the handle bar height. This way installing a suspension fork will have less influence on the cyclist's bike fit of the Kanzo Adventure."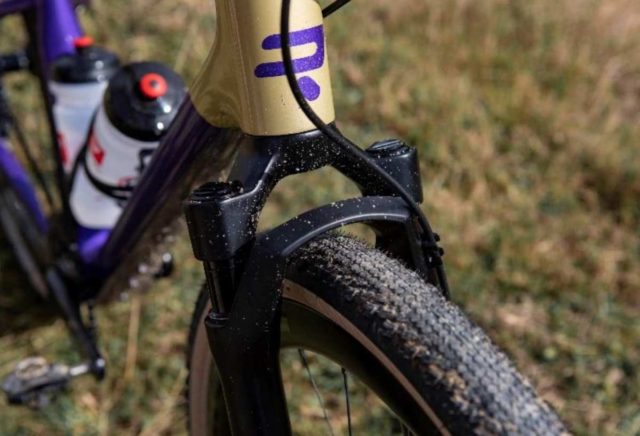 Geometry Compared to Kanzo Fast
"When taking a look at the geometry of the new Kanzo Adventure and the Kanzo fast, there are some clear differences." Gravel Cyclist's review of the Kanzo Fast can be seen here.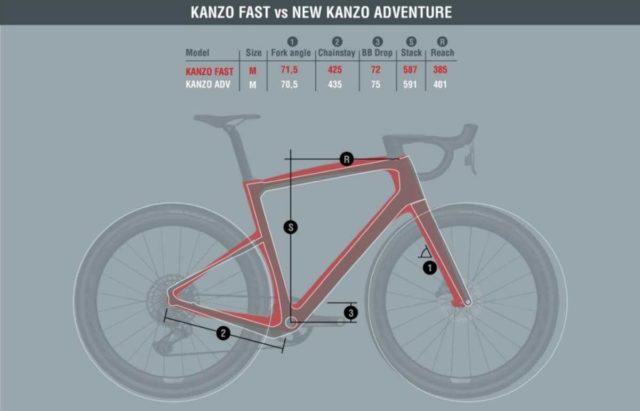 The

bottom bracket

of the Kanzo Adventure is lower compared to the Kanzo Fast (75mm versus 72mm) and therefore provides a more stable riding feel on difficult terrain.

The

head tube angle

of the Kanzo Adventure is slacker than the Kanzo Fast. Where Kanzo Fast is focused on fast gravel tracks on which you want a reactive bike, the Kanzo Adventure offers more confidence and stability on rougher terrain and technical downhill sections.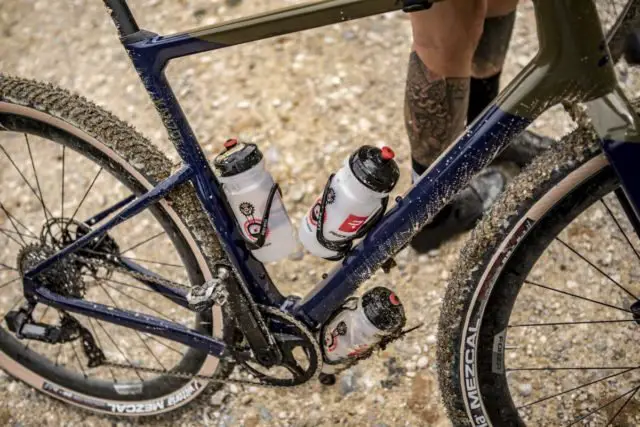 "Because of these geometry characteristics the rider's center of gravity is lowered and positioned more centrally. This makes the bike easier and safer to handle, especially at high speed and with luggage."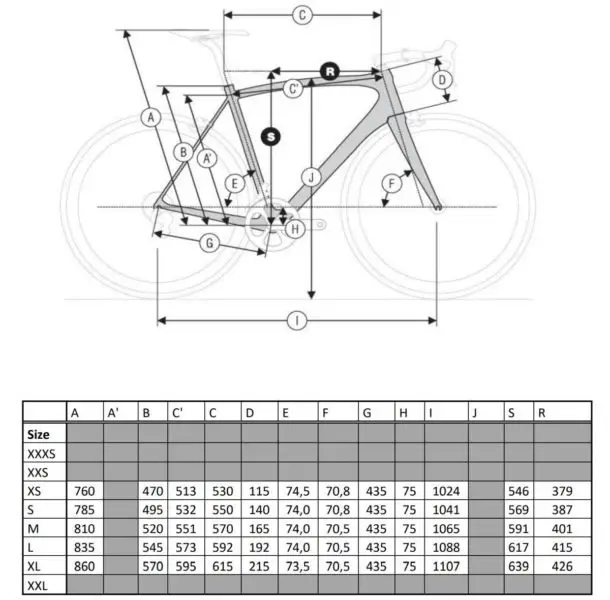 Weight
"During the development process of the new Kanzo Adventure, instead of weight, the focus was on durability and strength of the frame in order to ensure the bike can handle a wide array of terrains and setups. Therefore the frames are tested according to mountain bike standards instead of normal road standards. The weight of an unpainted frame in size medium is 1250 grams. The weight of the bike with the Sram Rival XPLR specification is 9 kilos in size medium."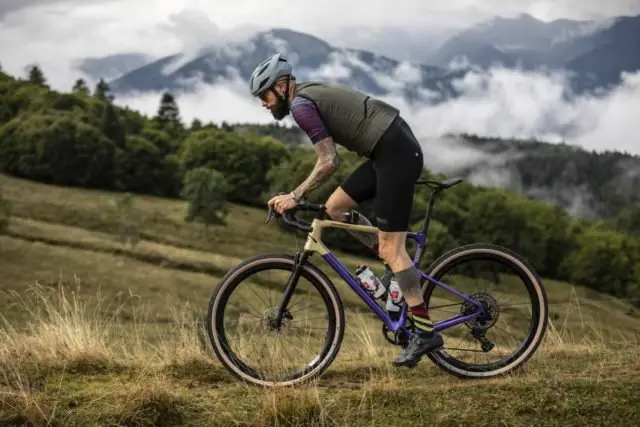 Kanzo Adventure in Detail: Mounting Points
"A multitude of riding styles comes with a multitude of luggage set-ups. The design team has taken great care in making sure the Kanzo Adventure has got an abundance of cleverly positioned mounting points to suit your style. The bike has a total of twelve mounting points on the frame only."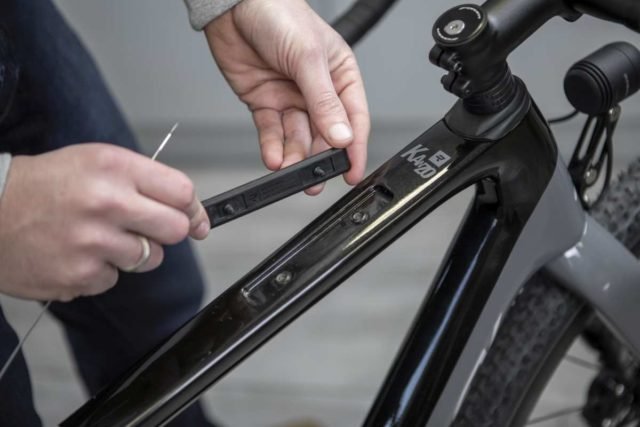 "There are four mounting points on the top and three on the bottom of the down tube. The seat tube is equipped with three mounting points as well. This ensures that you can determine the perfect position for your bottle cages or toolkit in combination with a bag, for example."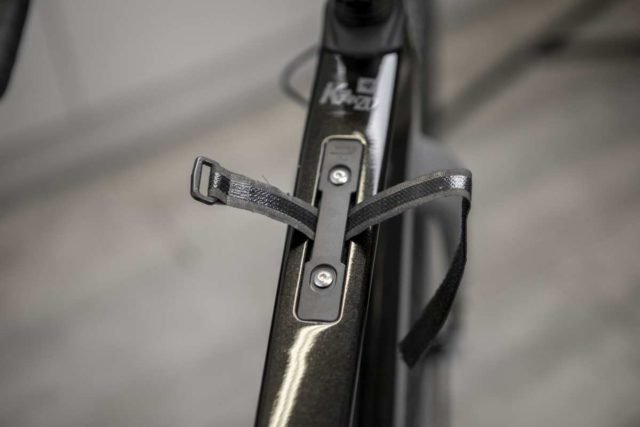 "The top tube is flat, straight and only slightly sloping, so a frame bag fits nicely. On top of the top tube there are find two more mounting points. It's the perfect place for a top tube bag, a toolkit or for mounting other accessories, such as battery packs."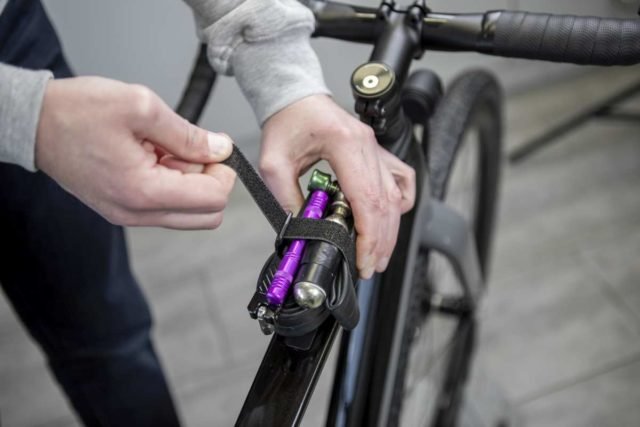 "The mounting points can be hidden with a flush fitting cover in you don't want to make use of them. With the bike Ridley also supplies a so-called 'dog-bone' spacer, in case you want to secure a strap to the top tube mounting point(s) or to use as a spacer between a top tube bag and the frame."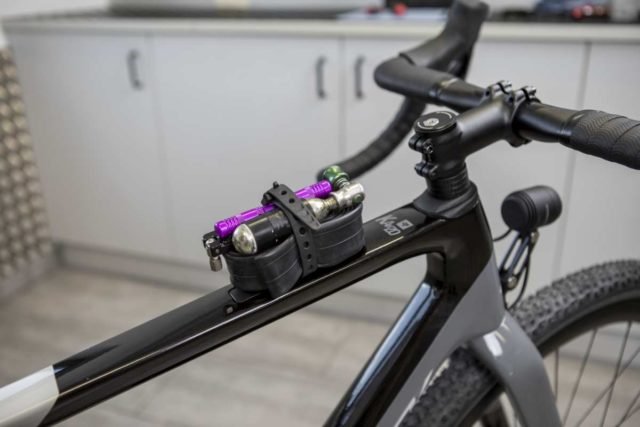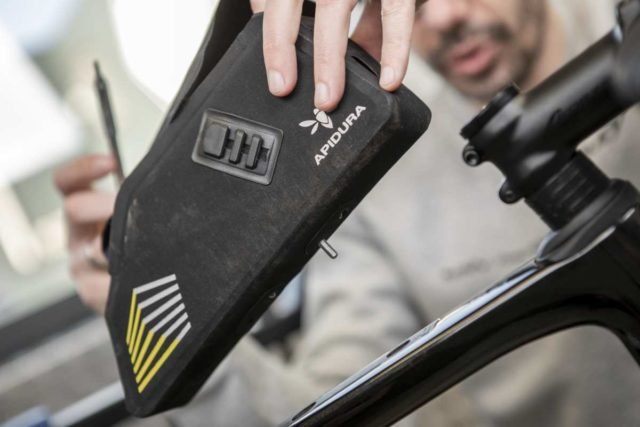 Kanzo Adventure in Detail: Fork
"Ridley has added four mounting points to provide maximum flexibility when it comes to adding bags and bottle cages. The mounting points are positioned as low as possible, lowering the center of gravity, to ensure a more stable feel when riding with luggage. The three mounting points on the front fork were added to secure a cargo cage, so you can securely strap a fork bag securely for example. The lower mounting point combined with the fork crown mounting points serves to attach a mudguard."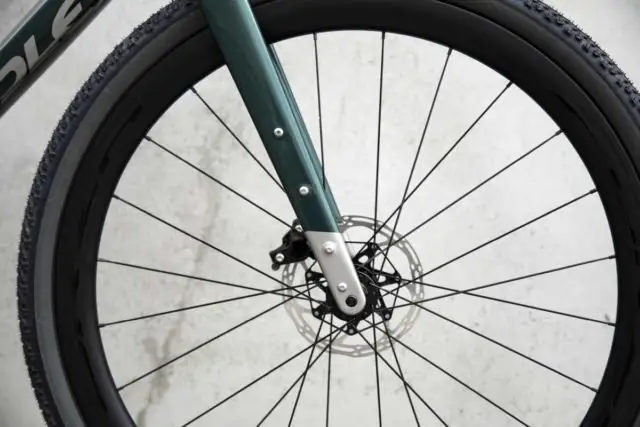 "Each fork leg has a maximum load of three kilos using cargo cages. If you make use of a lowrider, you can even go up to nine kilos in total. To do this, simply combine the mudguard mount with one of the cargo cage mounts."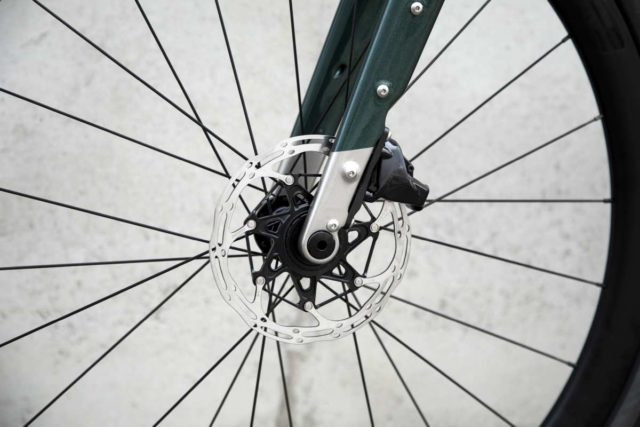 "How you want to carry luggage on the bike is up to the you, but the abundance of mounting points on the frame and front fork leaves you with plenty of possibilities to choose from."
Kanzo Adventure in Detail: Dynamo Lighting
"Another new feature of the Kanzo Adventure is the possibility to use a hub dynamo. A lot of bike packers and ultra-racers make use of a dynamo on their bike for lights or to charge their electronical devices, like GPS bike computers, phones and power banks."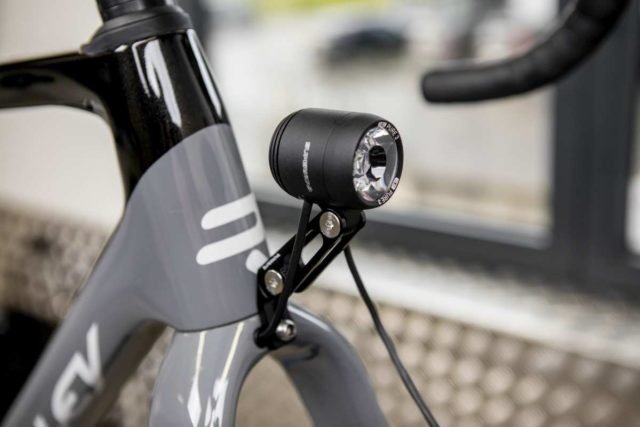 "The dynamo cable runs inside the fork leg up to the fork crown, where you can also mount a light. There's no need for tie wraps or tape to guide the cable along the fork anymore. You can run the rear light cable internally through the frame to a cable port near the seat tube to mount the rear light. No need to rush to find a place to sleep before sunset or before your lights run out of battery on your next adventure! With the Kanzo Adventure you can ride all day and all night hassle-free."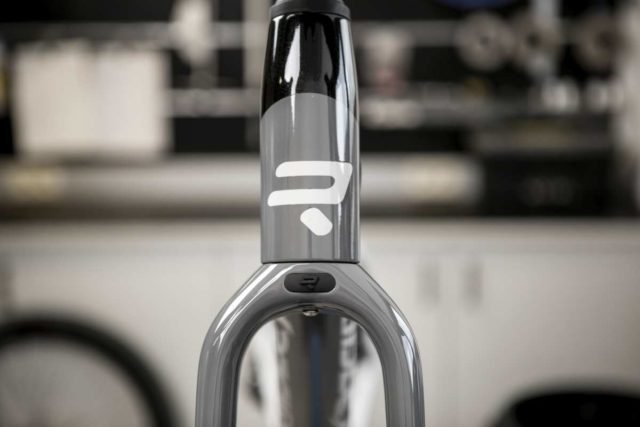 "If you don't want to make use of this feature, you can hide everything nicely with bespoke rubber covers."
Kanzo Adventure in Detail: Cockpit
"For the Kanzo Adventure Ridley used the F-Steerer technology, making shifting and braking cables invisible by hiding them in the frame through the stem. This technology isn't used in order to make the bike more aero, but mainly to make sure that no cable gets in the way when mounting frame and handle bar bags. This makes it easier to attach bags and prevents possible damage to the bike. Moreover, the cables can't get snagged and are protected in case of a crash."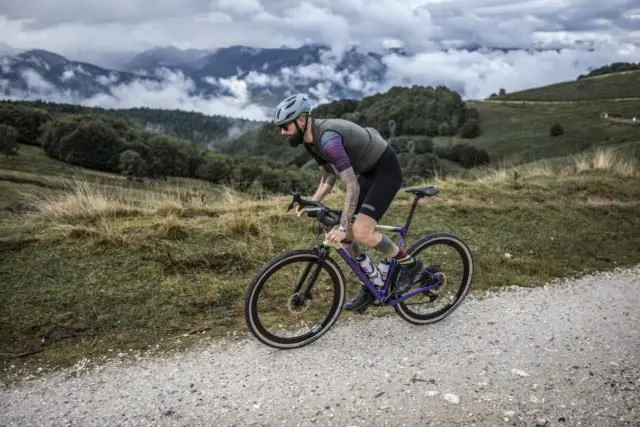 Kanzo Adventure in Detail: Tire Clearance
"Another feature to distinguish the Kanzo Adventure as adventure gravel bike is the maximum tire width. With the advent of more and more demanding terrain in bike packing events, Ridley has designed the bike to fit tires up to 29×2.1", while leaving enough space around the bottom bracket and fork crown for extremely muddy conditions. The Kanzo Adventure feels at home on all surfaces: from smooth gravel with a narrower tire set-up to rougher terrain which, until now, you would only dare tackle with your mountain bike. Here too the Kanzo Adventure offers unrivalled flexibility to adapt your setup to the terrain of your next adventure."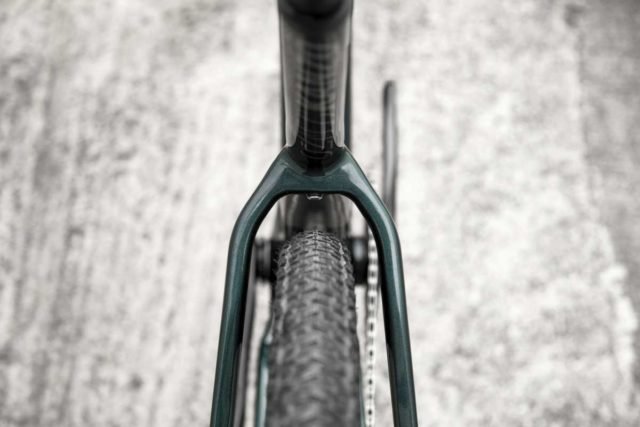 Kanzo Adventure in Detail: 1x Chainring
"To combine the increased tire clearance with the responsive rear end, Ridley decided to use a single front chainring. Just like the Kanzo Fast, the Kanzo Adventure frame is Classified Powershift ready for those that want even more range than modern one-by drive trains offer."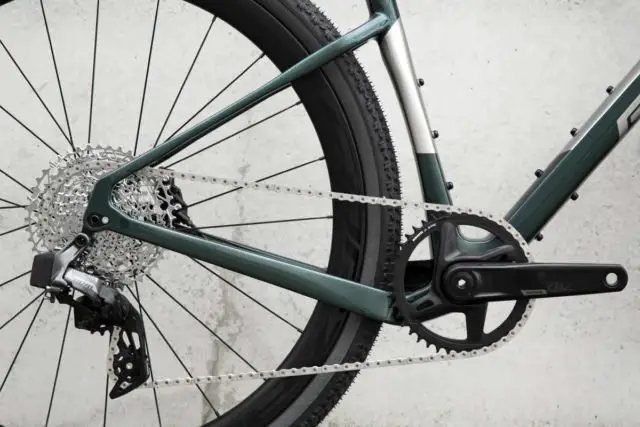 Customized Kanzo Adventure
"The Kanzo Adventure is completely customizable with the online Configurator. Use the Configurator to build your dream adventure bike. You can completely customize it to your liking: choose your favorite design, colors, finish, group set, components, wheels, tires, saddle and accessories."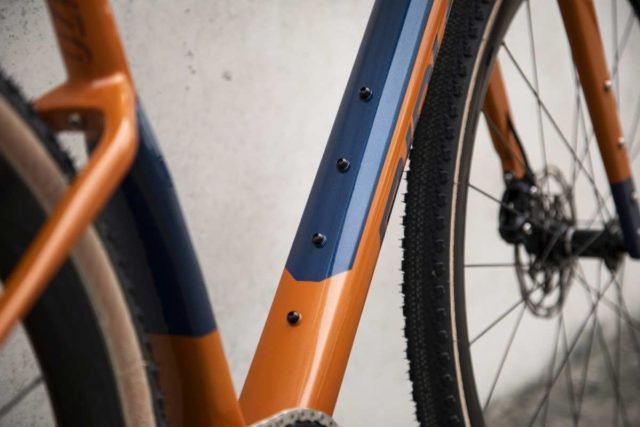 "All its features make the Kanzo Adventure an extremely versatile gravel bike giving you heaps of ride enjoyment. This bike is ready for any new gravel adventure, even when your destination is still unknown."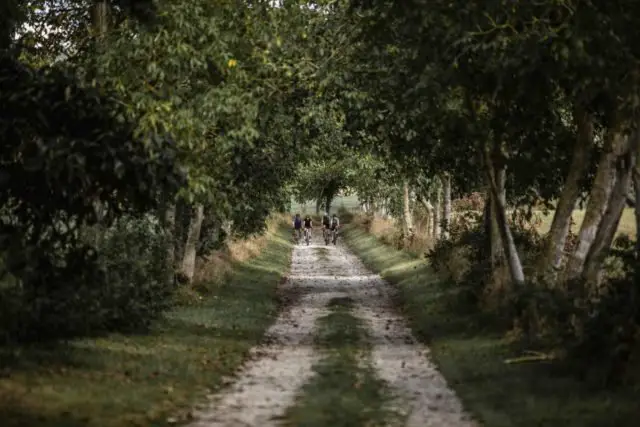 General Specifications
Frame:

Headset –

11/8" / 1½", IS242/28.6 | IS52/40Kanzo Adventure

Bottom Bracket –

PF BB86

Axle –

12/142 Thru Axle

Seat Post –

27.2mm, Round

Disc Brakes –

Flat mount, Max 160mm Rotor

Weight – 1250gr
Fork:
Axle to Crown Length – 400mm

Fork Rake – 50mm

Fork Crown – Integrated Crown Race

Fork Steerer – D-Shaped Steerer

Axle – 12×100 Thru Axle

Weight –

499gr
Additional Photos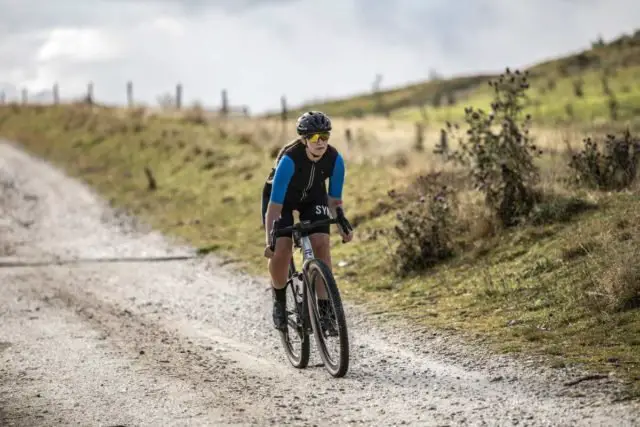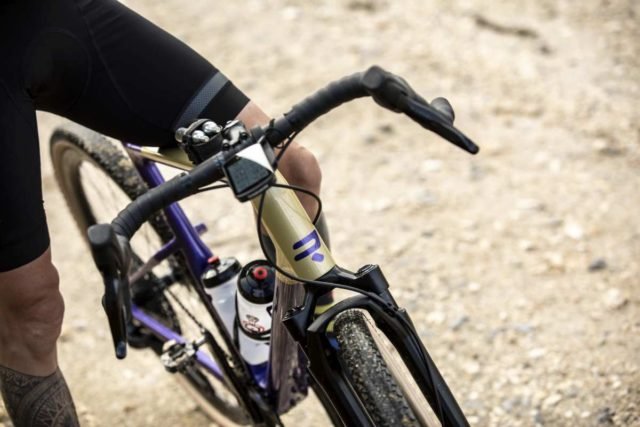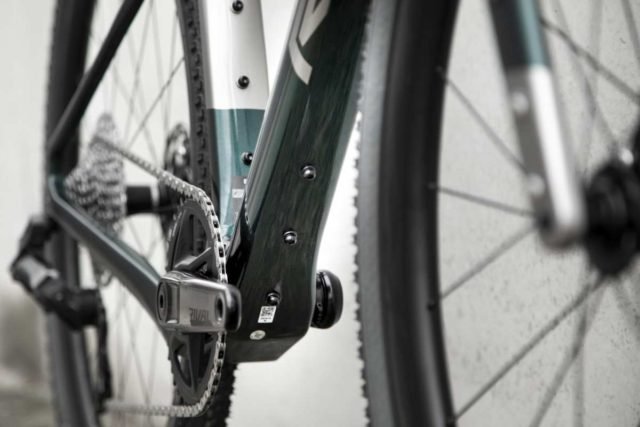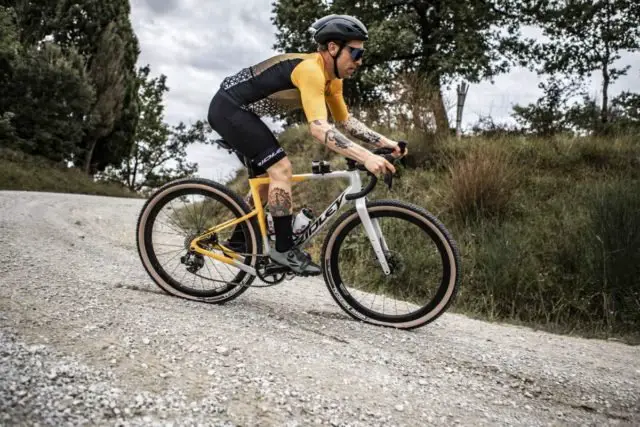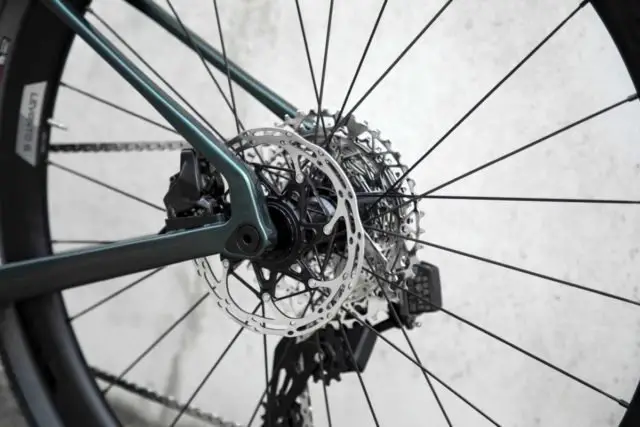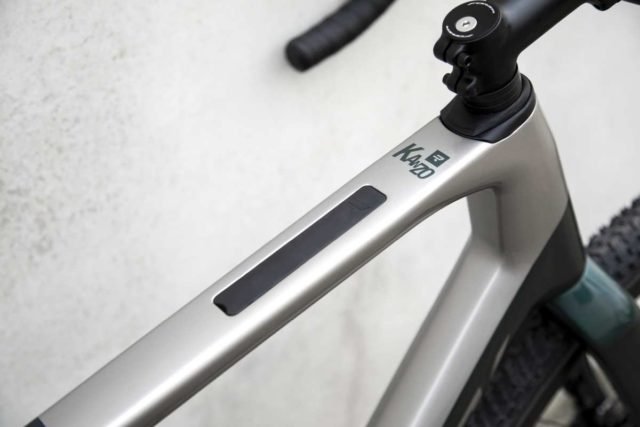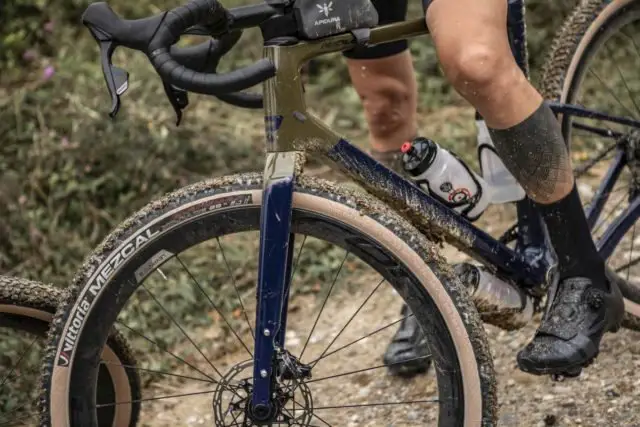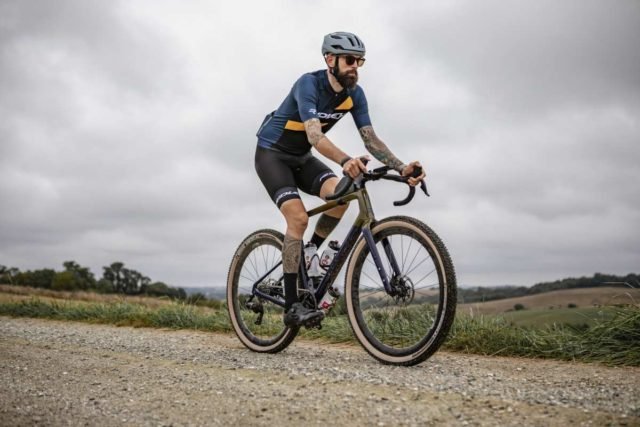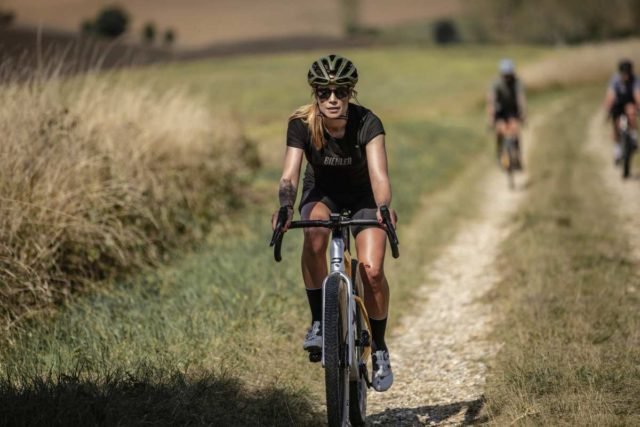 More information including models & pricing at Ridley Bikes