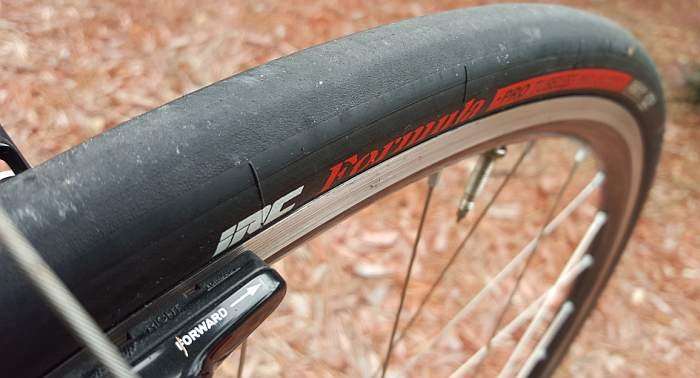 From IRC – "The RBCC rubber compound was developed by IRC and its performance has been proven in numerous races. The Formula PRO TUBELESS RBCC shoulders are layered with RBCC compound for high grip performance and the center tread is composed of hard compound which strikes a balance between wear-resistance, grip and rolling resistance."
The Gravel Cyclist crew mounted the RBCC version of IRC's Formula Pro Tubeless tires (tyres) in the 25mm width, just over three months ago. While we haven't been riding them exclusively since that time, we have ridden them in at least one Roubaix race event, and rolled a bunch of training miles involving paved (bitumen) and hardpack gravel roads.
The Weight
These beauties tip the scales at 294 grams and 299 grams respectively. Manufacturer specification is 305 grams, so this is an unexpected bonus; many manufacturers are known for listing cherry picked tires that err on the lighter side.
Still, you're probably thinking, bloody hell, that is pretty heavy for a road tire. If you factor in the weight of your average tube (about 80 grams) combined with a nice training or race oriented w-i-d-e road tire at about 260 grams, the weight is quite competitive.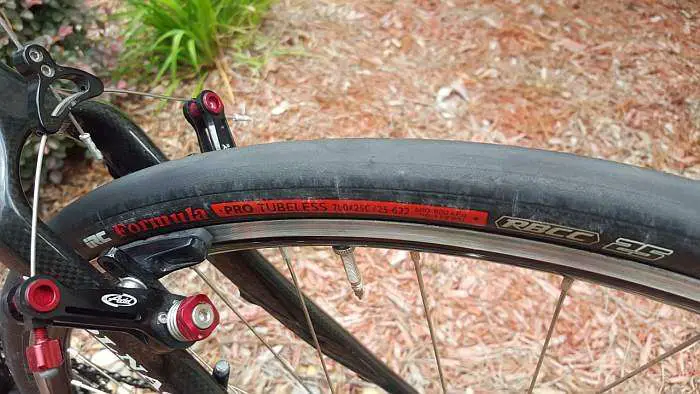 Sealant needs to be added to the IRC Formula Pro Tubeless RBCC tires, so another two ounces, or 56 grams if you prefer metric. The addition of sealant will make the IRC tire heavier than a regular clincher and tube combination, but there are gains such as puncture protection, and the ability to run lower tire pressures.
If weight is a concern, IRC produces the 240 gram IRC Formula Pro Tubeless Light. Tasty.
Tire (Tyre) Installation
Using a floor / track pump with plenty of air volume per downstroke, the IRC's will mount sans compressor, and sans sealant – we always ensure a tire will mount, inflate and seat before installing sealant. We've tried the IRC's on two different tubeless road rims, and in both instances, the tires were a tight fit. The tight fit can make installation a little challenging for those with not so strong hands, but a tight fit is perfect for security on the rim – nobody needs a tire rolling off.
Specified by the manufacturer as a 700 x 25mm tire (tyre), in reality, these measure 27.8mm. Perfect!
How do they ride?
Your reviewer (JOM) weighs between 154lbs – 158lbs (69.5kg – 71.5kg), and tested these tires (tyres) inflated to 75psi on the front, and 80psi on the rear. At this pressure, their ride is comfortable, with low rolling resistance over smooth, and not so smooth surfaces. They love hammering down paved or hardpack gravel descents – by that I mean, not full-on chunky gravel, but a hardpack surface with some gravel scattered here and there. You would be better served with a true gravel tire for gnarlier conditions, but these are perfect for Roubaix type events – Rouge Roubaix, Love Valley Roubaix and Darby Roubaix spring to mind.
Speaking of Darby Roubaix, I (JOM) installed one of the IRC Formula Pro Tubeless RBCC tires on the rear wheel of my race bike at this year's event. Absolutely no problems in ride quality, across road surfaces such as pavement, gravel, dirt and even a creek crossing or two! And, no punctures!
Note: We pushed these tires harder than their intended purpose, so keep that in mind. We're not responsible if you slice a tire while attempting to cross a river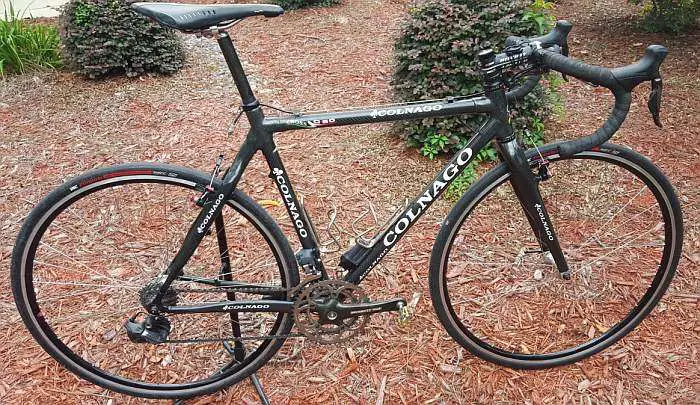 The IRC's recently stood up to several days of tough climbing and descending in the Shenandoah Valley, close to towns such as Strasburg and Woodstock, and over climbs such as Wolf Gap into West Virginia. Not all of our rides were on paved roads. Many of them were on hardpack gravel. The tires stuck like glue on fast descents, with speeds in the low 50's Mph (80 Km/hr) in some cases.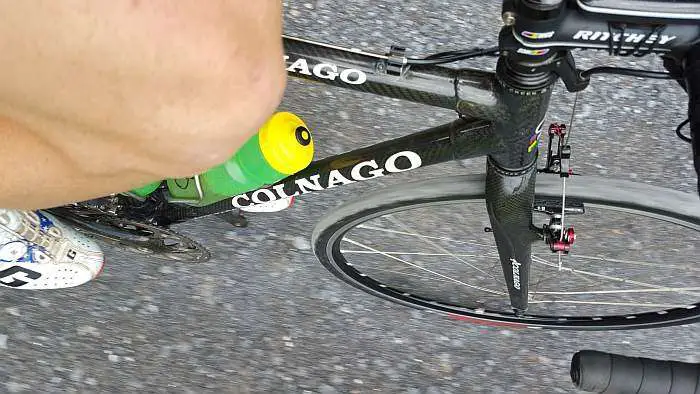 The IRC's were tested on fast road group rides. There was no noticeable delay in acceleration, or any measurable penalty due to the additional weight of the sealant. In fact, any potential negatives didn't enter to mind. Rather, I (JOM) enjoyed the sublime ride they offered, knowing I could ride through small patches of crud on the road, not worrying about possibility of a puncture.
Overall
The IRC Formula Pro Tubeless RBCC 25 is an excellent all round road tire (tyre), that is suited to pavement, or hard pack gravel surfaces. Thus far they have proven to be long wearing, with superb grip and low rolling resistance.
Priced between $US 76 and $US 100 for each tire, these made in Japan IRC's are not cheap. However the higher price tag is offset by all of the qualities mentioned above. As an added bonus, should you puncture one of these tires, they can be repaired with a glue type patch kit – specifically for tubeless road applications.
IRC Tires are not well known in the USA, but they are a real alternative to the other tubeless tires currently on the market. We hope to see them make in-roads into the cycling marketplace.