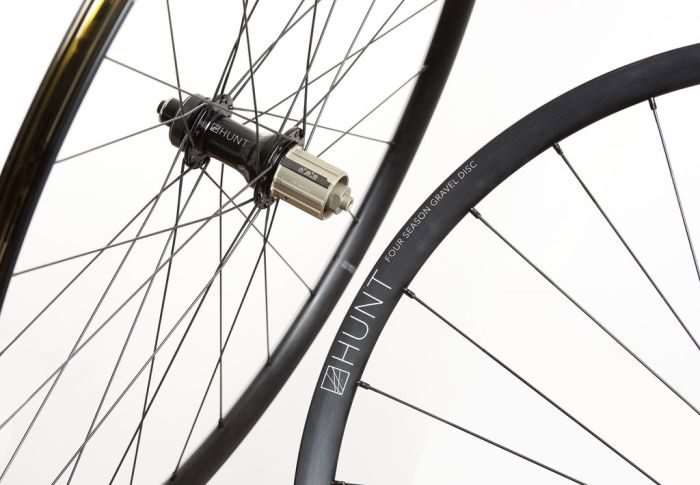 "Honoured to create wheels for devoted riders".
Hunt Wheels isn't a household name at this time, but since their brief time frame in the market, the UK based brand has made leaps and bounds. The company produces a wide range of wheels featuring aluminium and carbon rims that won't break the bank, and each wheelset includes free world wide shipping.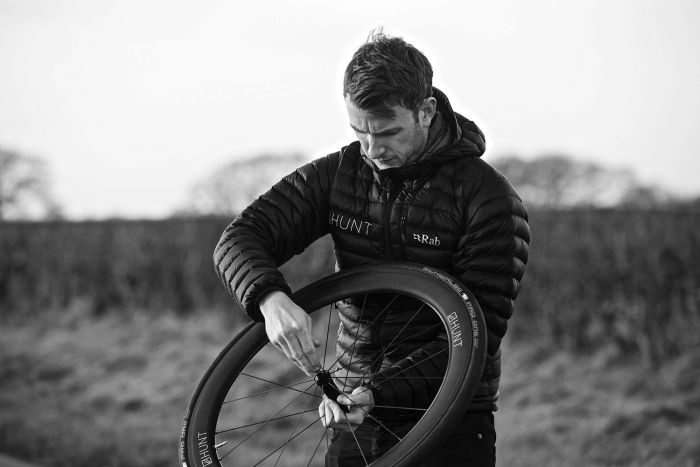 WHY – The bike wheelsets we want to buy aren't easily available so we've made them. We, Peter and Tom (above) Marchment, are avid cyclists and have years of experience in the UK bike industry sourcing and marketing bike components from around the world. Tom has worked with several leading performance wheel brands. This knowledge means Hunt Bike Wheels bring you the latest practical technology and thinking in all things round.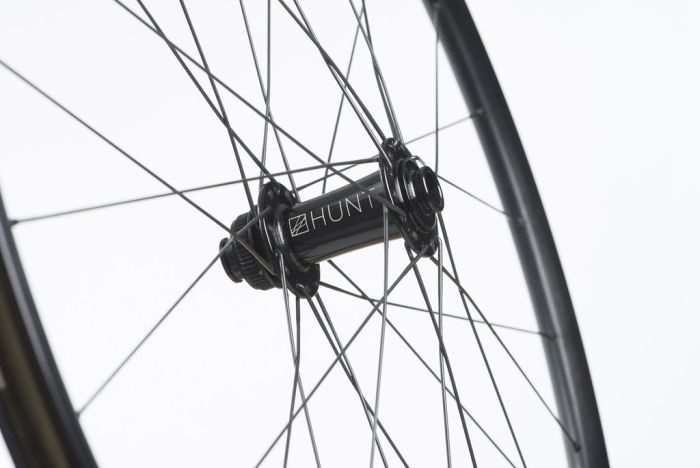 THE CHASE – Most of our rides are currently on the road so that's where we began. The wheels used for the vast majority of road miles need to be fast, light weight, suitable for wider road tyres, durable, easily serviceable and provide excellent braking performance. We have become strong advocates for tubeless technology. Having tested tubeless extensively on and off road we know it provides you with noticeably improved ride quality, grip and puncture protection.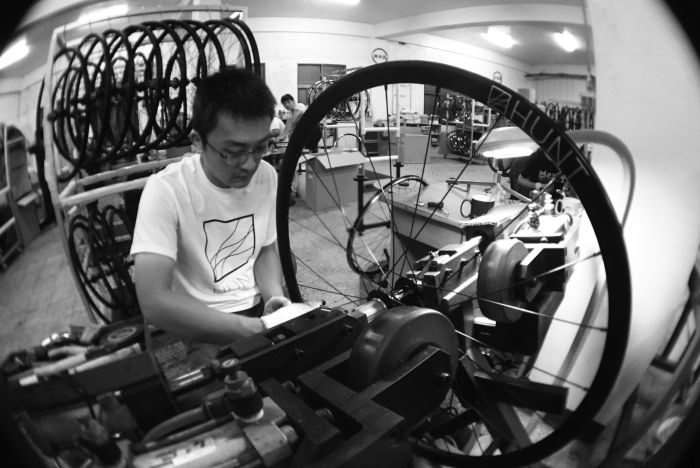 Above, wheels being hand-built and finished by Mr. Hao-Cheng at our wheel building partner. He has built and finely tensioned tens of thousands of wheels for leading high-end brands during his many years as a master wheel builder. All our wheels go through a two person build and finishing process. Every wheelset then has a full quality control inspection where all features of the build are checked. Your wheels are then signed off personally by the builder on the individual control card which is supplied in the box.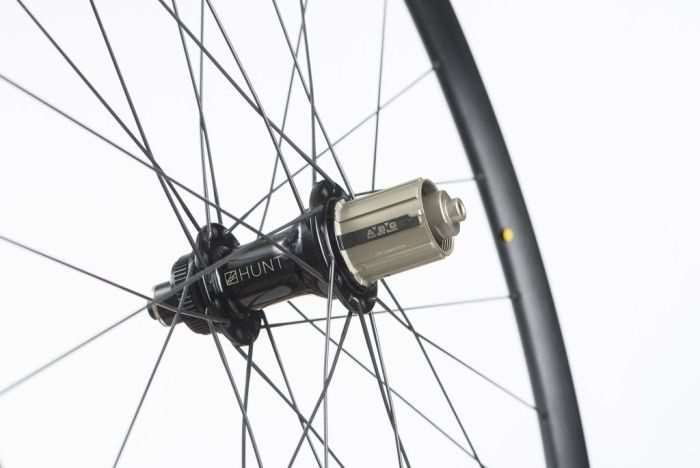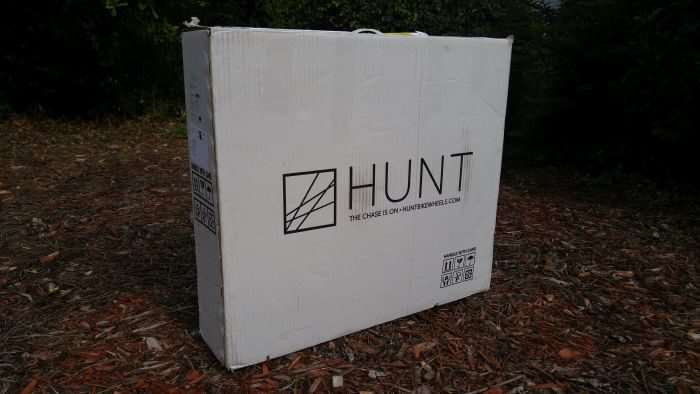 Pictured above, this is how the Hunt Four Season Gravel Disc wheels (700c) arrived at Gravel Cyclist HQ, with speedy delivery from the UK by DHL.
Wheel Weights and Tech Specs
All of Hunt's wheels arrive with tubeless tape, valve cores and a pile of accessories that cater to most current axle standards.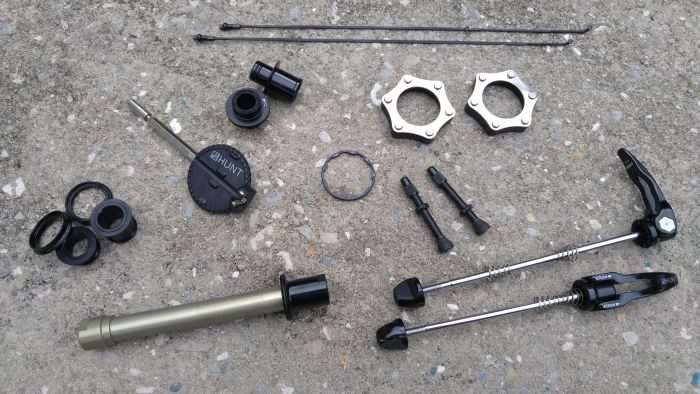 Pictured above is the accessories package that arrived with the Hunt Four Season Gravel Disc wheelset. It is comprehensive to say the least:
Spare spokes (a really nice touch).
6-bolt rotor adapters.
Truing key with removable nipple driver.
Tubeless valves.
End caps for 12mm thru-axle for the front wheel (additional 15mm thru-axle end cap set is pictured, but does not come standard).
Rear 12mm x 142mm thru axle.
Cassette spacer for 9 / 10-speed cassettes.
A lot of manufacturers would charge good money for these extras. Out of the box, the wheels are configured for the 9mm quick release standard and center lock brake rotors – more on that further down.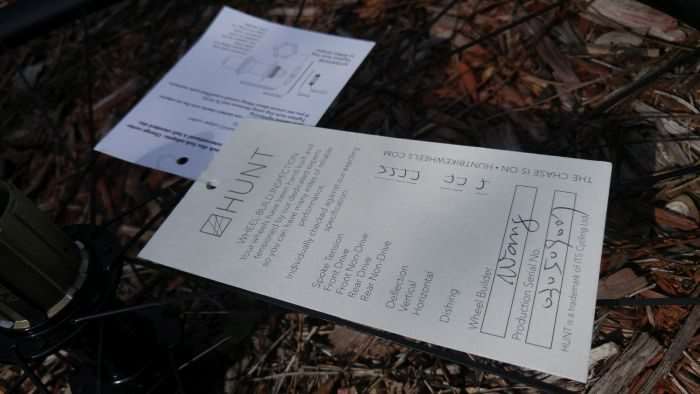 Mentioned earlier, each wheel is checked for appropriate spoke tension and dishing, and signed off by the wheel builder.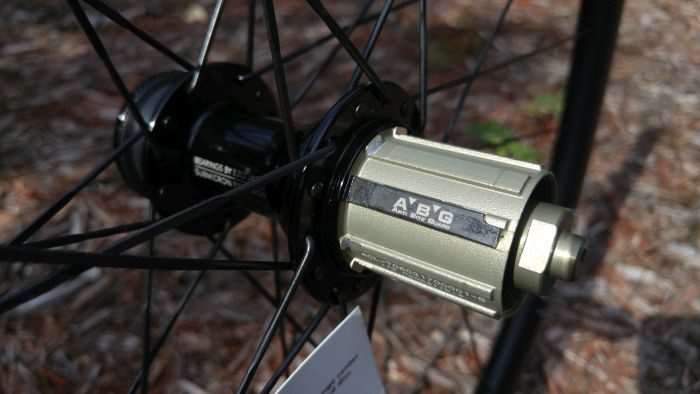 Hunt Wheels feature "ABG" on their aluminium cassette body – Anti Bite Guard. To the best of my recollection, Hunt Wheels are the second manufacturer to use this feature on their cassette bodies. Cassettes have a nasty habit of biting into soft aluminium cassette bodies, scoring and damaging them, sometimes making cassette removal a challenge. My review wheelset is set up for Shimano / SRAM 11-speed, but SRAM XD driver and Campagnolo cassette bodies are available as well.
With rim tape and the supplied valve stems / cores installed, the wheelset tipped the scales at 1,657 grams, 28 grams above the manufacturer's specified weight. However, Hunt weighs their wheels sans valve cores and tubeless tape, so that brings the weight pretty close to their specification weight of 1,629 grams for the pair.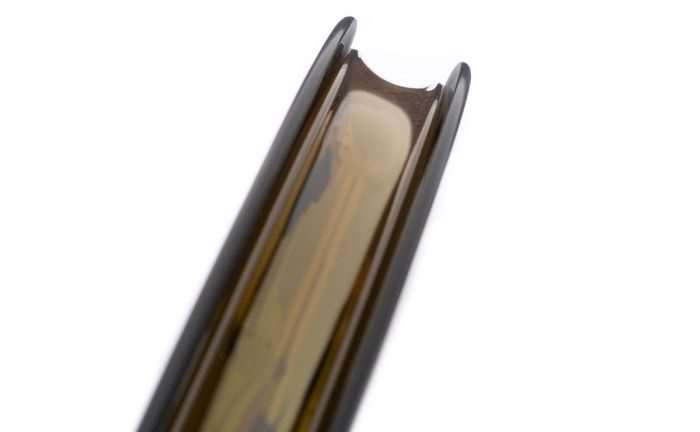 The Hunt Four Season Gravel Disc wheelset is designed around 6061-T6 heat treated, aluminium, tubeless-ready rims. The rims measure 25mm externally, 20mm internally, with Pillar stainless steel, triple butted J-bend spokes and brass nipples. The center channel of the rim well is lowered, which helps with easier tubeless tyre sealing, and a subtle bead hook locks tyre beads into place.
Axle, Disc Rotor and Tyre Installation
Because there are so many axle and rotor standards on the market these days, it is nigh on impossible for a versatile wheelset such as the Hunt Four Season Gravel Disc wheelset, to ship in the perfect state for your bike. Remember, Hunt Wheels are a fairly small operation with limited resources who are unable to customize each wheelset exactly, but the wheels do at least include everything you need to set them up for your bike. Mentioned earlier they arrived configured for the older 9mm quick release standard and center lock disc brakes.
These wheels would be finding their home on the Orbea Terra gravel review bike which features 12mm thru-axles front and rear, and a stock wheelset supplied with center lock rotors. Thus, all I had to do was swap out the front wheel end caps and the rear wheel axle of the Hunt wheels.
I could go into great detail here, but all of that work has been done by Hunt Wheels themselves, on their Frequently Asked Questons page. I simply followed the "How should I fit 4 Season Disc / Season Gravel Disc Hub Axle adapters" section on that page, which listed step by step instructions, on how to set up the front wheel for thru-axle. They also have helpful YouTube videos available demonstrating this simple process.
For the rear wheel, more of the above, but this time following "Fitting rear axle adapters". In under five minutes, both wheels were ready to roll.
Rotor installation was a snap with center lock – easily the fastest of the two rotor mount standards, and really appreciated by us review types who are always swapping brake rotors and such!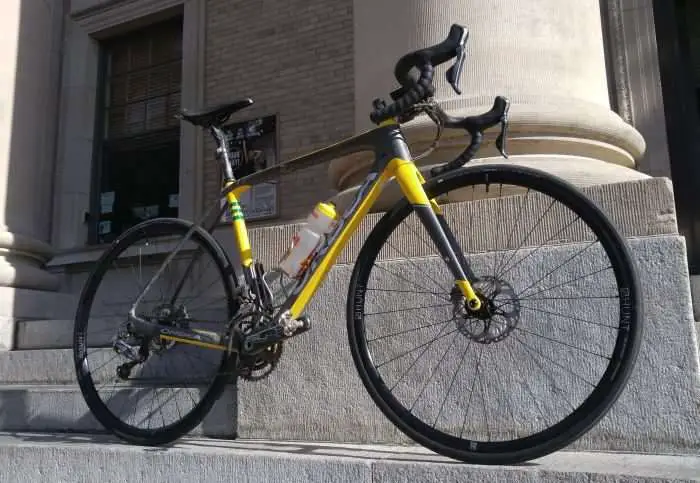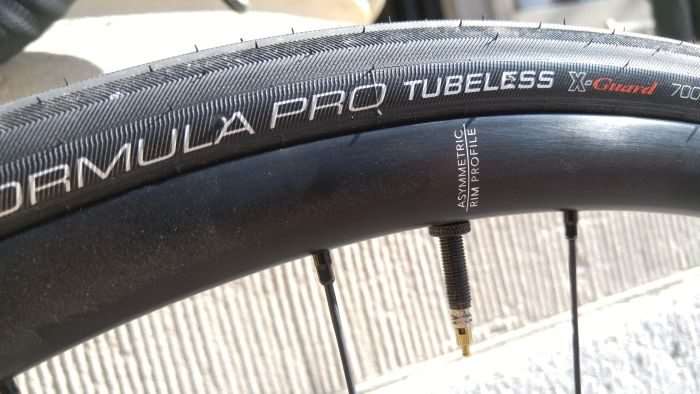 For the duration of the review, I mounted and ran two different tubeless tyres with the review wheels. The IRC Formula Pro Tubeless road tyre in 700c x 28mm (we'll be posting a review of this tyre in the future), and the Schwalbe G-One tubeless gravel tyre in 700c x 40mm (yep, posting a review of the Schwalbe too… so much to do).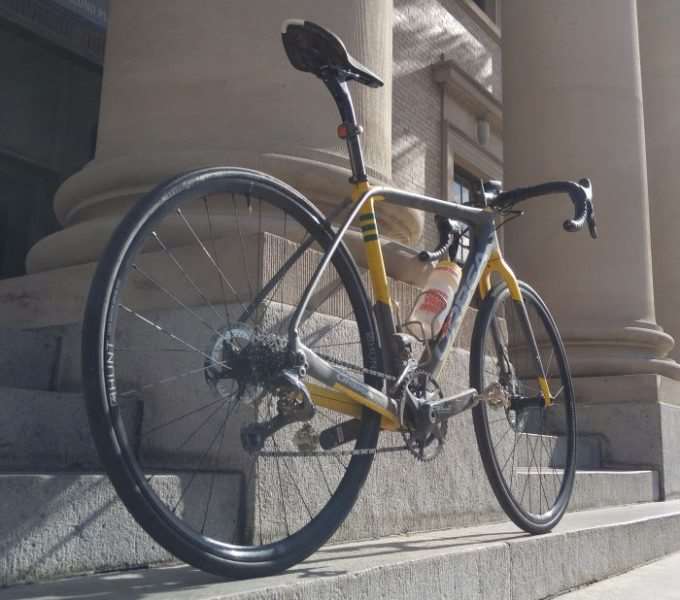 I like to run my gravel bike review bikes on the road / pavement / asphalt / bitumen from time to time, and a 28mm road tyre also comes in handy for Roubaix type events – I cite Rouge Roubaix as an example, one of the toughest races in the South Eastern United States.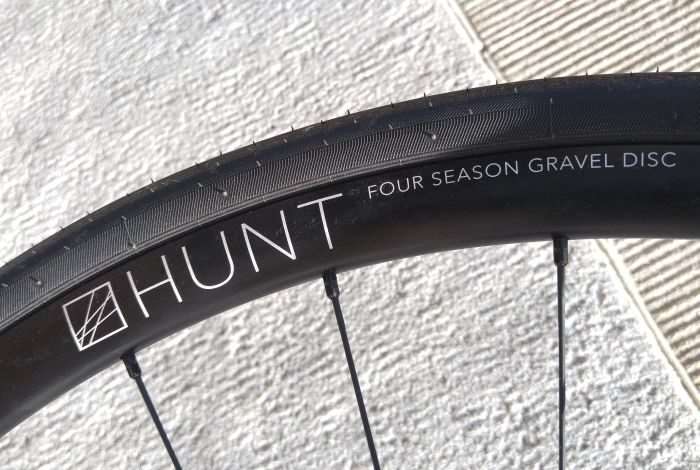 Both tyre combinations mounted easily to the wheels, sans struggling with a tight fit or the need to use tyre levers; thank the hookless, tubeless rims for this much-appreciated feature. The tyres aired up nicely with Bontrager's TLR Flash Charger pump), but I'd expect the Topeak Joe Blow Booster pump would have no troubles either – or there is always the venerable air compressor.
The Ride
Weighing not a lot over 1,600 grams with all of the trimmings, the Hunt Four Season Gravel Disc wheels accelerate up to speed well, but as to be expected, they won't be as snappy as a wheelset that weighs some 200 grams less. However, they hold that speed well and stay there nicely – which is exactly what you need for knocking out a few hours on a tasty gravel loop – or arduous 13+ hour trek such as the Dirty Kanza 200. Yikes!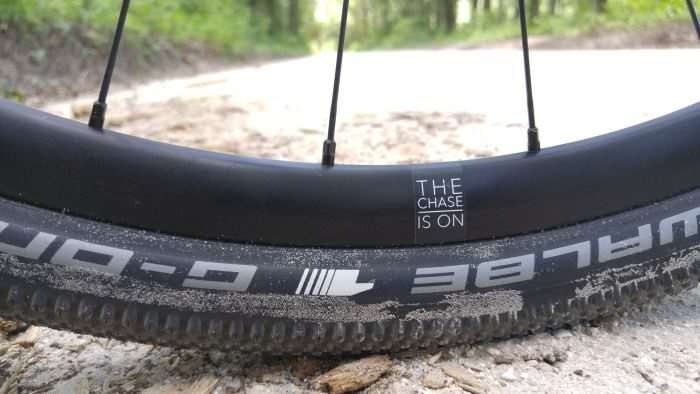 The Hunt's 28 Pillar, triple butted J-Bend steel spokes (2.0 – 1.6 – 2.0 then 2.2 at the head) are just what you need for a wheelset designed for gravel road use. Easy to replace should you break a spoke, and paired with 12mm corrosion resistant brass nipples, a long service life is guaranteed. For the duration of the review, the Hunt wheels stayed perfectly in true, which is a good testimony to the skills of the wheel builders.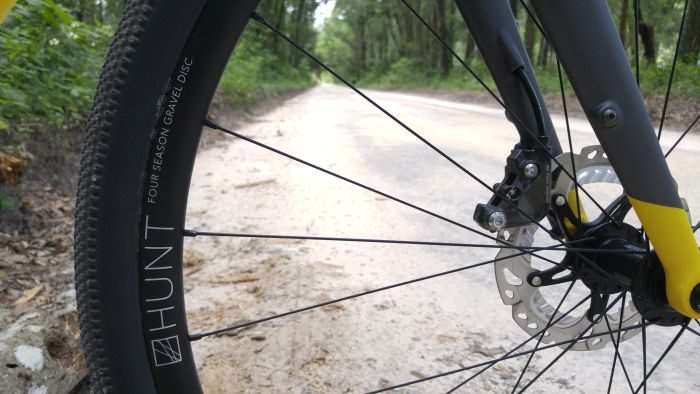 The Hunt Four Season Gravel Disc wheels are quite nondescript in appearance, sans fancy or garish logos. For those who appreciate the more subtle end of aesthetics, you'll certainly appreciate the overall look of the Hunt wheelset. Incidentally, I just received the more expensive Hunt 30 Carbon Gravel Disc wheelset for review, and they're a little difficult to tell apart from their less expensive aluminium brethren, unless you look a bit closer.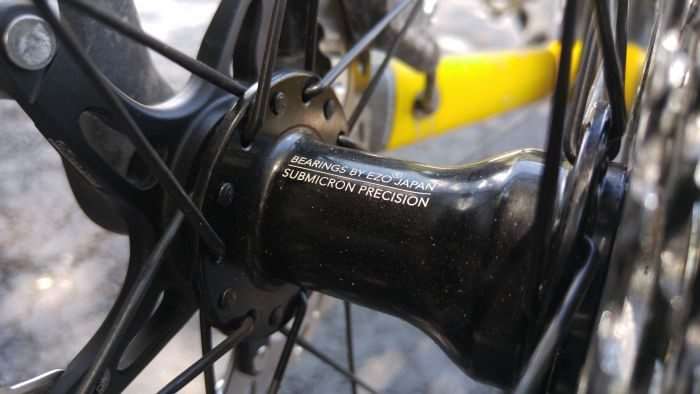 Nowadays, more and more hub manufacturers are producing hubs with an ever-growing number of engagement points. More is certainly better on a mountain bike, but even in the humble world of gravel cycling, there are times when you really need to finesse a bike through a tricky, rocky patch of gravel, or as has been the case many times in 2017, crawl slowly through a muddy bog – which may require a quick line change and power to the max. That's when those extra points of engagement really come in handy. At worst, 12.85 degrees of movement have to occur in the Hunt's rear hub, before the forward driving mechanism is engaged. When it comes time for the coasting, freewheel operation is nice and quiet.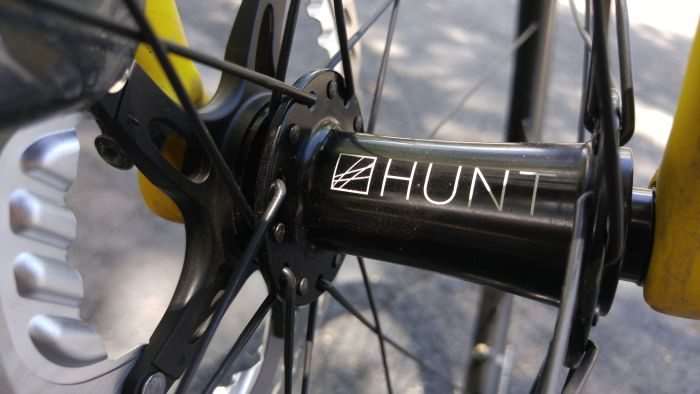 Front and rear hubs feature Japanese EZO bearings, which roll on 7075-T6 aluminium axles.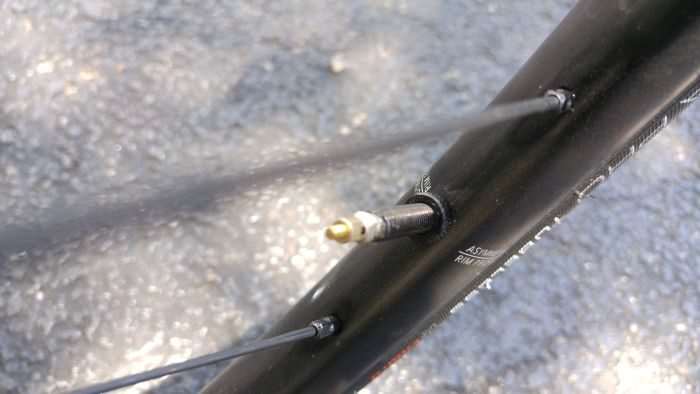 By today's aero wheel standards, the Hunt Four Season Gravel Disc rims measure a relatively shallow rim profile of just 24mm. Thus, you can expect no issues with side and crosswinds. The wider, tubeless compatible rims add benefits such as increased air volume which translates to comfort – which also means you can inflate them to a lower pressure than you would for an equivalent wheel setup with tubes.
The Hunt wheels are rated at a rider weight limit of 115 kilograms / 253 pounds – your reviewer tips the scales anywhere from 153lbs to 160lbs, depending on how much he's been riding, or how lazy he has been. Consequently, your reviewer – back to first person again – I was unable to budge the wheels laterally, anytime I made a serious out of the saddle effort. However, their stiffness does not contribute to the regular pounding that is just an average day of riding around with a smile on your face on a gravel road.
I had concerns the end cap system on the front wheel would be a source of contention, but no clicks, ticks or chirps anywhere.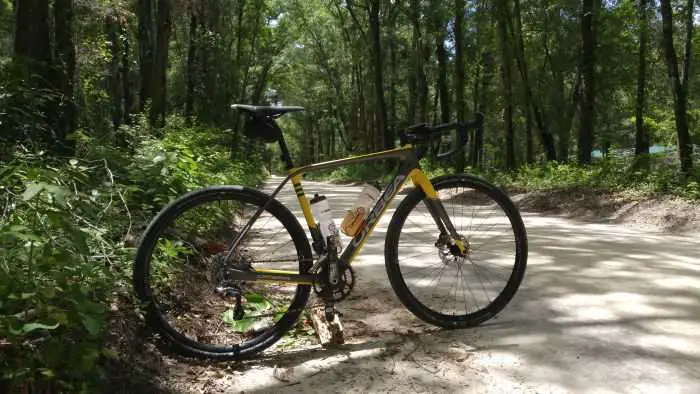 Tyre pressure is one of the biggest factors to ride quality, and is one of the most overlooked factors regarding overall comfort on a bike. That said, once you have set your tyre pressure to the appropriate level – for me, I usually inflate the front tyre to about 35psi, the rear to 38psi, for a tyre such as the Schwalbe G-One, which measures 700c x 40mm – ride quality of the Hunt wheels is most excellent.
The Hunt Four Season Gravel Disc rims aren't the widest available, but are on par with other gravel specific wheels on the market, at 25mm external, and 20mm internal. I believe Hunt has designed this wheelset as a solid all-rounder – good for tubeless use on the road, and good for tubeless use on the gravel. I'd say they got it pretty spot on.
As is the case with many wider, tubeless rims nowadays, you can pretty much count on gaining an additional 2mm of tyre width, depending on the tyre in question. Think free tyre width upgrade, but without the extra weight!
Braking
Absolutely no drama with hydraulic disc brakes. Install your disc rotors, align the calipers – perhaps the biggest chore of all – and go ride. Shimano's hydraulic Di2 ST-R785 levers and complimenting brake calipers brought the Orbea Terra review bike to a screaming halt, no matter what wheelset I had on the bike. Disc brakes = winning on gravel, wet, dry or mud.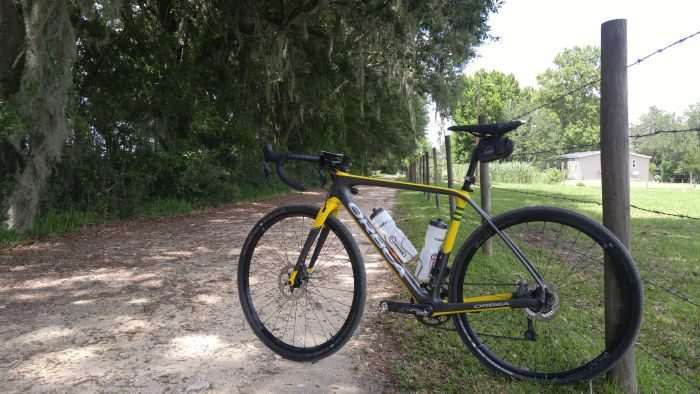 Summary
The Hunt Four Season Gravel Disc wheelset is built to exacting specifications, and has proven to be a very reliable and flexible package that is perfect for gravel cycling – or road cycling, on a suitably equipped road bike.  The wheelset is optimized for tubeless use, but is perfectly capable of running with tubes as well.
The use of simple parts such as J-bend spokes that are easily sourced from any good local bike shop is a massive plus. Just think, what are the chances of replacing Proprietary Spoke X in the proverbial middle of nowhere?
The simple end cap system and ease of axle swap for the rear wheel – another plus. Overall, this is a simple, no-nonsense wheelset with solid and reliable parts. The accessories that arrive with the Hunt Four Season Gravel Disc wheelset is impressive.
Finally, the Hunt Four Season Gravel Disc wheels are not the lightest wheelset going, but absolutely on par with wheelsets that cost a whole lot more.
Pricing
The Hunt Four Season Gravel Disc wheelset is an absolute bargain at $US 469.50 / £369.00 GBP – including free shipping worldwide! This price includes pre-installed rim tape, valves, end caps, skewers, 6-bolt rotor adapters and spare spokes.