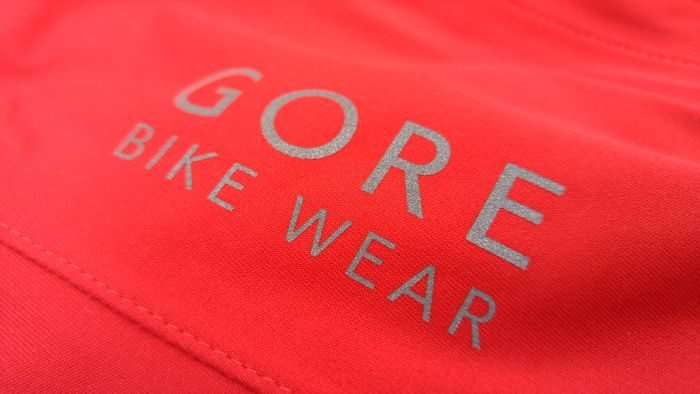 This review comes to you during the heat of the northern hemisphere summer. But somewhere on planet Earth, it is cold and possibly wet. I discovered the true meaning of cold and wet earlier this year, during my appearance at the Land Run 100 gravel bike race in Stillwater, Oklahoma.
Dressing for cold weather in the high 30's / low 40's Fahrenheit is usually a doddle, but when rain is thrown into the mix, dressing appropriately becomes a real challenge. Stay warm and dry, all at the same time, and maintain a level of dexterity that allows you to perform the basic functions of riding a bicycle. Sometimes easier said than done.
I ventured into the 2017 Land Run woefully underdressed for the conditions. My Castelli Gabba jacket and Nanoflex bib knickers have worked well in rainy conditions when temperatures were in the low 50's Fahrenheit. But when the temperature is lowered by a further 10+ degrees, Fahrenheit or Celcius, we're talking about another degree of unpleasant cold. Once the race was underway, it didn't take long before I was chilled to the bone. The Gabba jacket had done a good job of mostly keeping water at bay, but it was no match for the cold. At the half way point of the race in Guthrie, Oklahoma, I made the wise choice to abandon the event. I was borderline hypothermic, shaking uncontrollably and having difficulty controlling the bike.
For the approximately 10% of riders who managed to finish the 2017 Land Run 100, many of them were ensconced in a shell rain jacket of some kind. Clearly, those riders were onto something.
Gore Bike Wear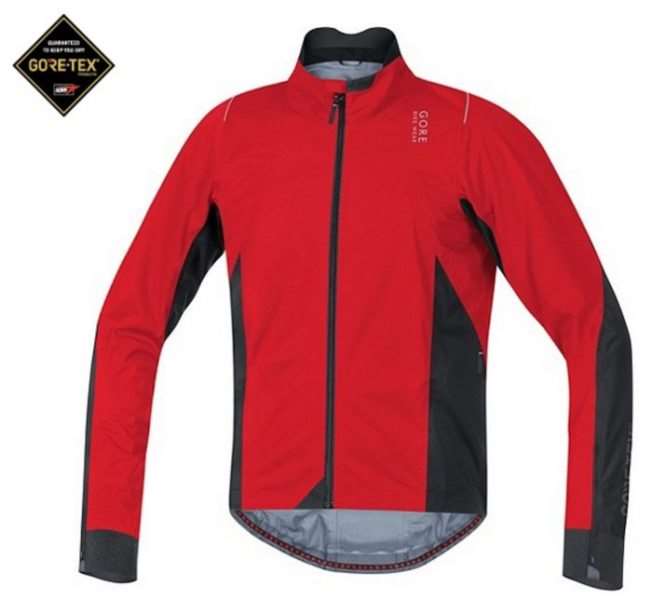 "In 1985 W.L. Gore and Associates first brought dedicated cycling clothes to the still young market. The company's own employees recognized at an early stage cyclists' desire for functional cycle accessories and firmly believed that the development of waterproof and at the same time breathable cycle wear could be a promising venture."
I have known about Gore's Bike Wear product line for some time, but I'd always convinced myself their jackets and related items were complete overkill for the type of riding and racing I enjoy. In light of my 2017 Land Run 100 experience, my thinking changed. I needed a jacket that was windproof, able to trap essential body heat sans overheating and keep the water out.
About the Gore Bike Wear Oxygen 2.0 Gore-Tex Active Jacket
"This GORE-TEX® Active jacket offers maximum breathability for the dedicated performance oriented road cyclist who trains in all weather conditions. A slim race cycling cut provides a perfect fit. Two zipped side openings allow for easy access to the jersey pockets."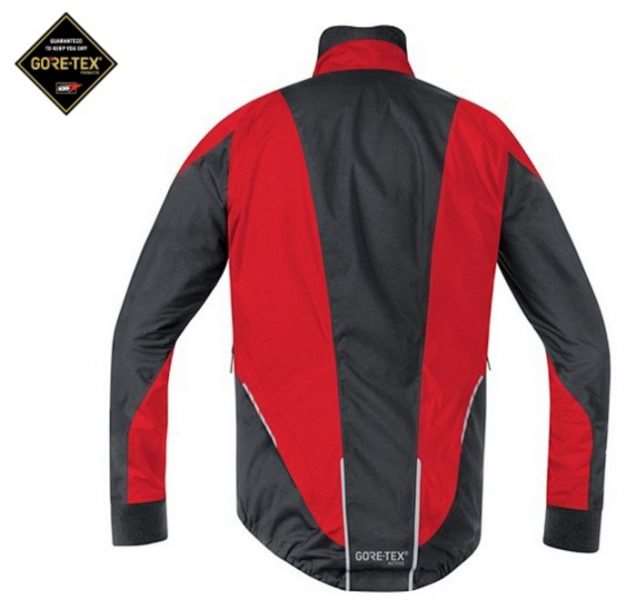 As luck would have it, I was contacted by the marketing folks who represent Gore Bike Wear a few weeks before the 2017 Almanzo 100 race. Late May weather in Minnesota can be rather hit and miss – fine and pleasant – or cold and wet – thus, the timing of the event could provide a perfect opportunity for a real world review of Gore's Oxygen 2.0 Gore-Tex Active Jacket.
I arranged for a review sample of the jacket pictured above, in size Medium. I really liked Gore's concept of a slim fitting race-type cut for an all weather jacket. To be honest, this was one of the primary reasons I'd avoided buying such a jacket in the past. Just about every all weather jacket I've seen first hand was loose fitting, flapped about the place, and generally reminded me of a parachute.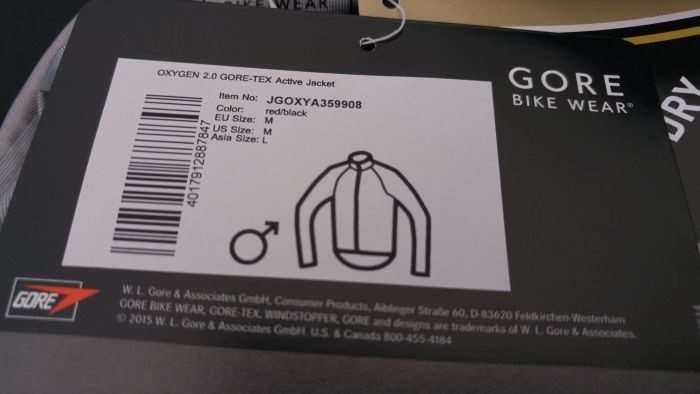 Features of the Gore Oxygen 2.0 Jacket (quoted from the company's website):
Ergonomically shaped collar.
Reflective print on shoulders.
Reflective print on sleeves, sides, and back.
Reflective logo on front and back.
Reflective print on sleeve cuffs and collar rim.
Partially elastic hem.
Zipped forearm for comfortable entry, removal and for ventilation.
Reinforced hem for easier closure of the zipper.
Reinforced collar for easier opening of the zipper.
Zip-underflap and zip-port.
Two side zip openings for easy access to jersey pockets.
Zip tags for easy opening.
Long back.
GORE-TEX® Active Product: Lightweight, extremely breathable, durably waterproof and windproof.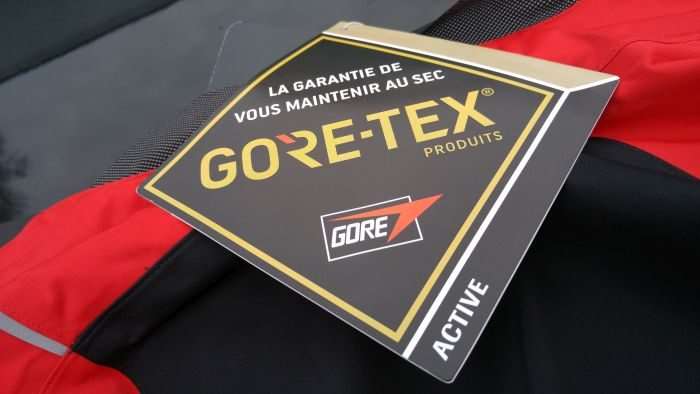 Upon receipt of the jacket, I was pleasantly surprised with the fit of its race-type cut. The sizing was true to Gore's measurement charts on the company's website, something that is always a concern if people are buying products online.
Please excuse the suspect modeling photos below, all were taken selfie style, which isn't my style at all.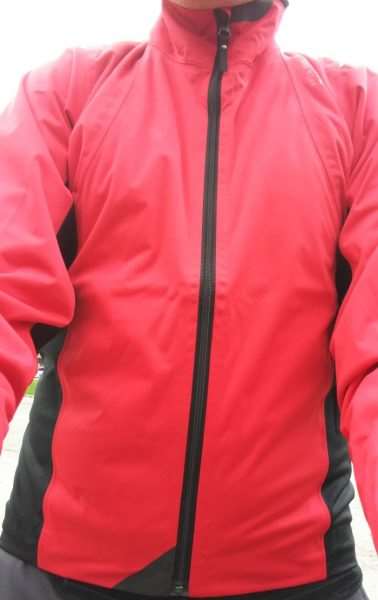 Above, I donned the jacket over a long sleeve t-shirt, attempting to emulate a long sleeve base layer. Perfect fit sans the flap factor.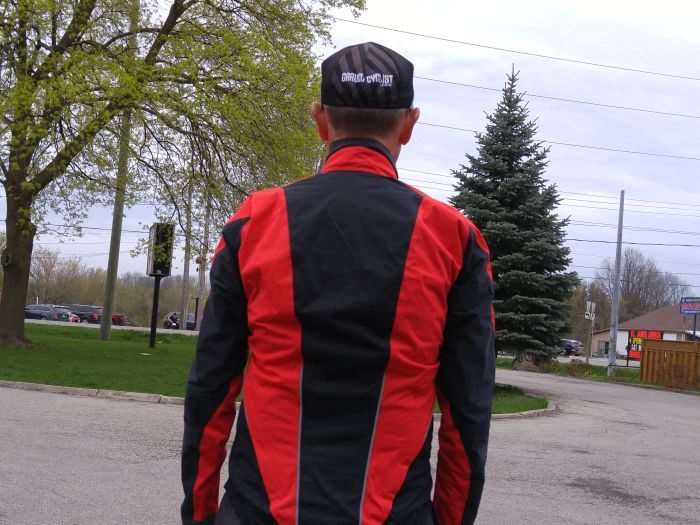 The jacket was worn as "casual" wear for a few hours as I scouted the town of Paris, Ontario, Canada, before the 2017 Paris to Ancaster race. Rain had fallen on and off, and temperatures hovered around 37F / 3C. Not exactly warm.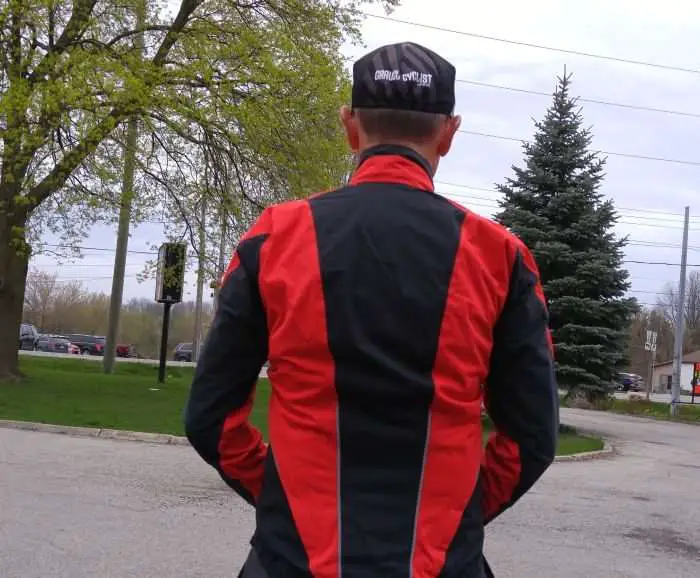 Mostly, I was interested in experiencing the general fit of the jacket during this initial foray. I wasn't able to sample the water repelling properties of the Oxygen 2.0 when these photos were taken, that would have to wait until later. Nor was I riding a bicycle and generating heat, so a future test of the jacket's thermal properties would also need to happen.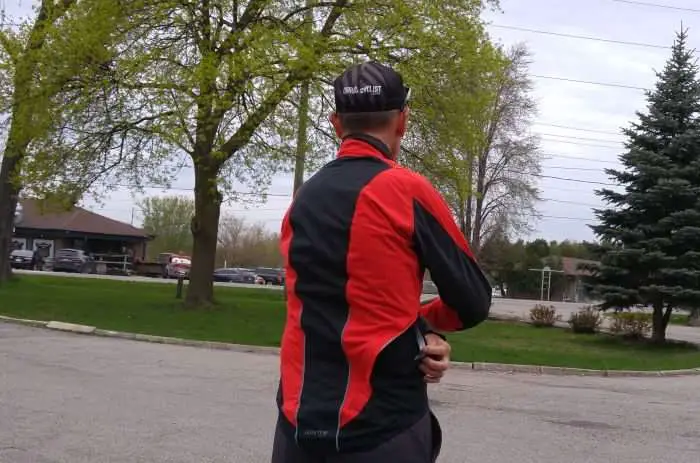 Above, the long back/tail of the jacket can be seen. This is especially useful in preventing water from entering the region of one's derriere.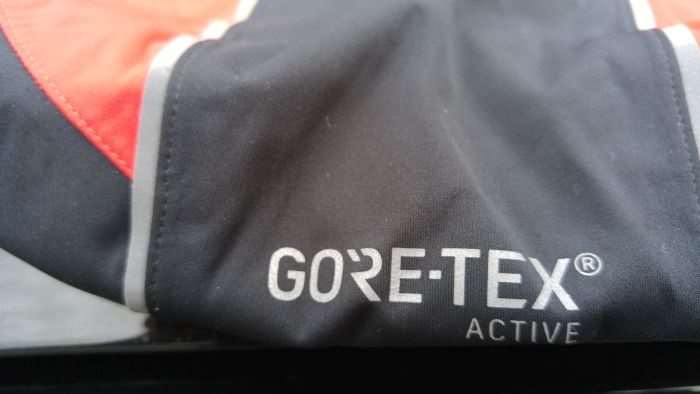 Above, a close-up view of the tail end of the Oxygen 2.0 Gore-Tex Active jacket.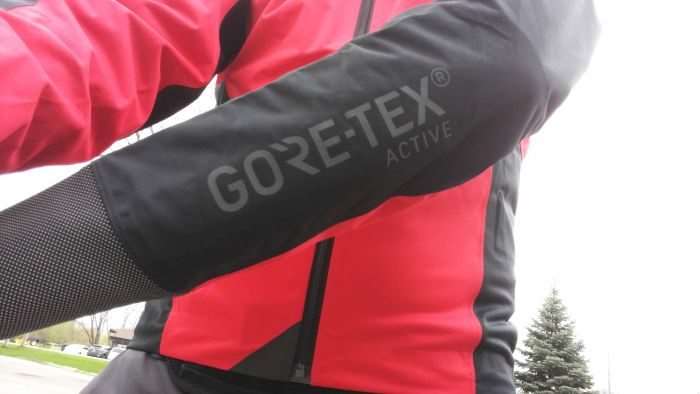 As alluded to earlier, Gore-Tex Active promises breathability, water and windproofing.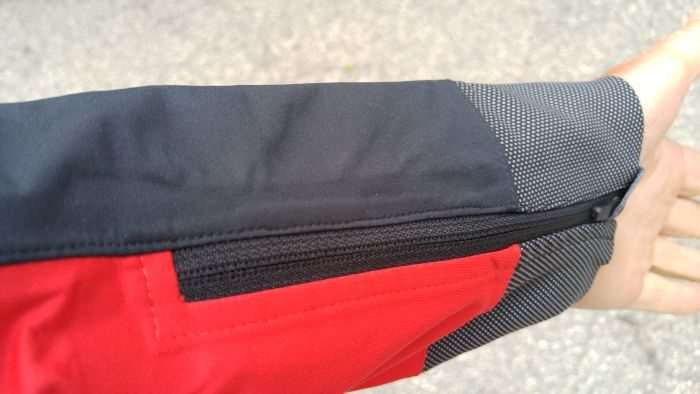 Above, the zippered forearms are a thoughtful touch, as is the reflective material at the base of the sleeve.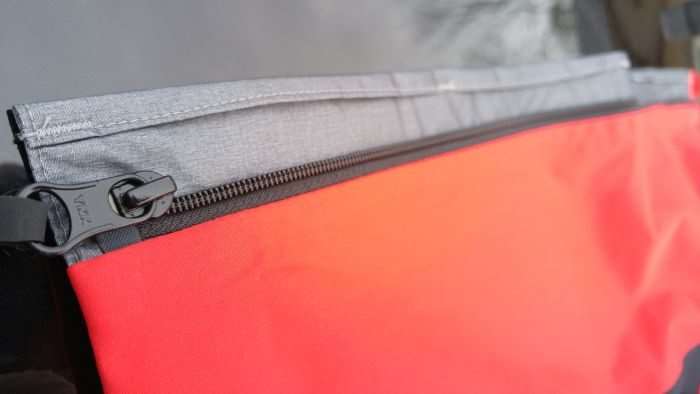 Gore wisely choose YKK zippers for the Oxygen 2.0 Gore-Tex Active jacket. If you've never heard of YKK, they are the biggest and best zippers available. Ever had a jersey zipper fail miserably after a few uses? Not so with YKK, they are built to last. Note the under-flap, an essential element of the jacket that keeps water and wind at bay.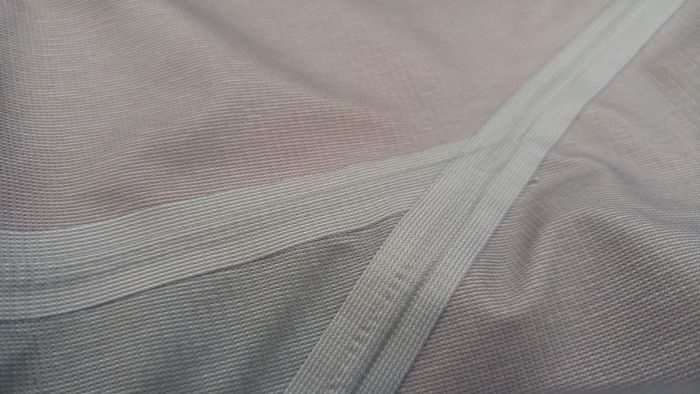 Inside the jacket, seams are reinforced, essential for a long service life.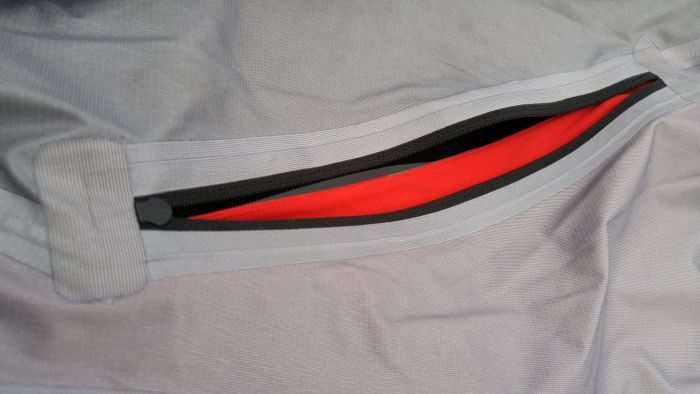 Above, one of two zippered side openings. Designed so as to provide easy access to one's jersey pockets, these side openings also vent excess heat that could build up inside the jacket.
How does the Oxygen 2.0 Gore-Tex Active Jacket perform?
Fortunately, or rather, unfortunately, the 2017 Almanzo 100 was forecast to be a cold and dirty affair. But these conditions were perfect for a genuine review of this jacket! For the nitty gritty details, you can read my race report or see my race video. Temperatures hovered around the high 30's Fahrenheit / low 40's Fahrenheit all day. Adding to the cold was rain. Rain fell non-stop from start to finish, dousing me for almost eight hours.
Of the 333 riders who braved conditions at the 2017 Almanzo 100, only 100 finished. Before the bad weather was forecasted, over 1,200 riders were registered. By the time the race was run and won, I cracked a top 20 finish. The only reason I finished the 2017 Almanzo 100 was solely due to the Oxygen 2.0 Gore-Text Active jacket.
On race day, I wore the following:
Long sleeve base layer.
Regular weight short sleeve jersey.
Arm warmers.
Oxygen 2.0 Gore-Text Active jacket.
Lightwest vest, which is personalized to promote my website 🙂
Regular weight bib shorts.
Knee warmers.
Wool socks with foot warmers.
Seal Skinz gloves with hand warmers.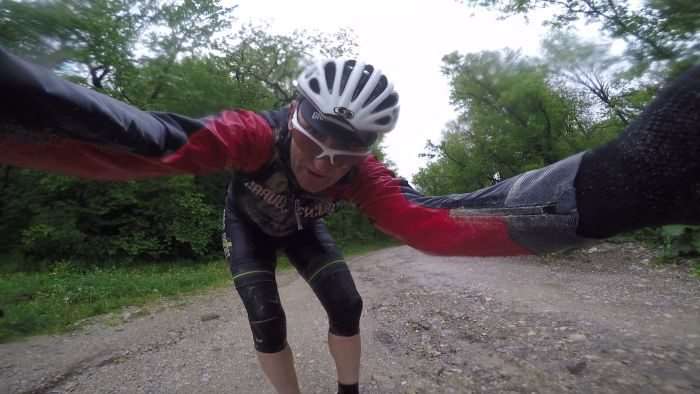 Ordinarily, I would have been soaked to the bone, frozen to the core and unable to finish a race in these conditions. With the Oxygen 2.0 jacket donned, I remained perfectly comfortable all day. At no time did water enter the jacket, nor did I overheat. I did crack the front zipper down a little on some of the climbs, but only to regulate temperature during those harder efforts.
I felt reasonably aero riding this jacket. There was none of the usual flapping about or wind drag typically associated with an outer shell type rain jacket. And, it looks good. I would have preferred an all black jacket, but the red is easy to spot in dark and dank conditions… and red is faster, just ask Ferrari

I don't rate my reviews on a points system, but if I did, it would be a perfect 10. I cannot recommend the Oxygen 2.0 Gore-Tex Active Jacket highly enough. It is a piece of kit you may seldom use, but you'll be thankful you own it when the temperatures drop and the rain begins to fall. It also stows nicely into a tight little bundle.
Priced at approximately $US 279.99, this is not a cheap item. But, you cannot put a price on comfort in bad weather. Think about that for a minute. I was a DNF at this year's Land Run 100. If the Oxygen 2.0 was with me for that race, I would have finished, and salvaged a 2,400 mile round trip in the car, driving from Florida to Oklahoma!