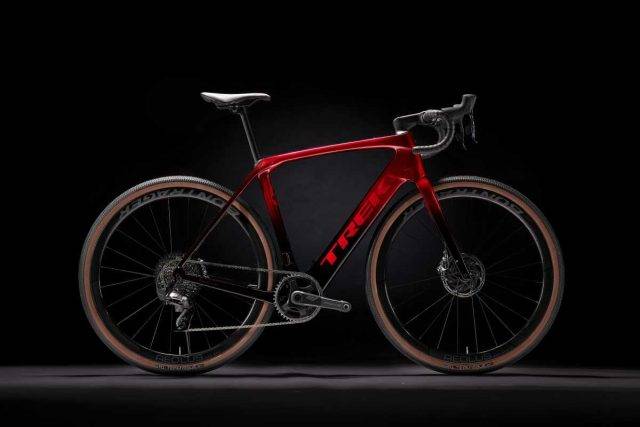 "Trek released the all-new Domane+ SLR today, a natural-feeling performance e-road bike with an unprecedented weight-to-speed ratio. Weighing in at just around 11.8 kg with a 28 mph (25 km/h in Europe) max assist, the Domane+ SLR is an electric road bike unlike any that have come before." – TrekBikes.com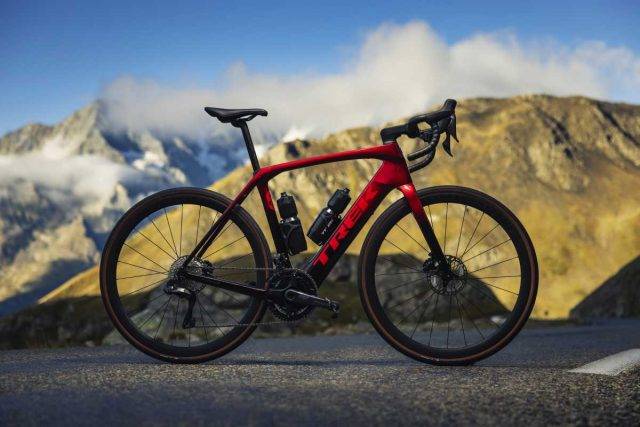 JOM of Gravel Cyclist has been reviewing the all-human powered version (aka the acoustic version) of this bike, and it is proving to be a capable all-rounder, performing well on mixed-surface roads in Colorado, Minnesota, Wisconsin, Florida, and beyond. Review of this variant coming soon, but we do have a Domane+ arriving for review sometime in the near future. You can see the unboxing and standout features video at this link.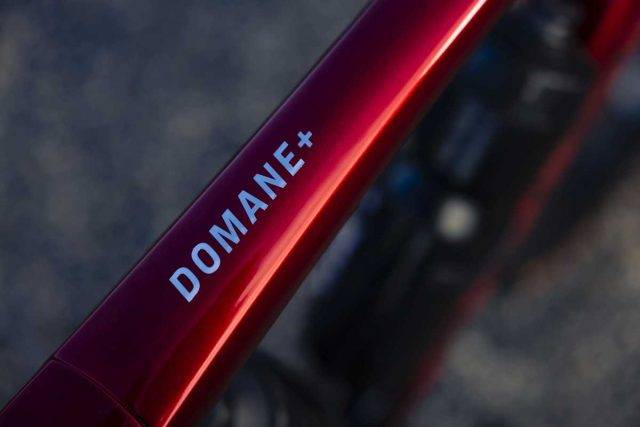 "The Domane+ SLR doesn't look, sound fit, or feel like an electric bike. It boasts a lightweight carbon frame, whisper-quiet motor, sleek controls and road-specific tune for a true road bike experience with a subtle and powerful boost wherever you need it."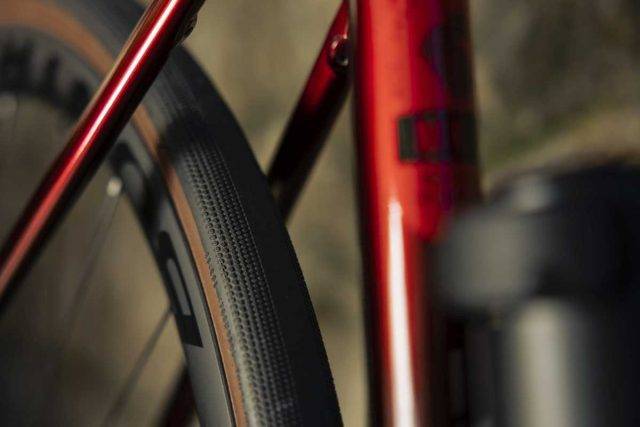 Remarkably light and compact e-system
"The all-new Domane+ SLR weighs in at just around 11.8 kg thanks to a lightweight frame design and compact e-system. The TQ harmonic pin ring e-system is remarkably lightweight, quiet and compact while packing enough extra power for the most epic adventures."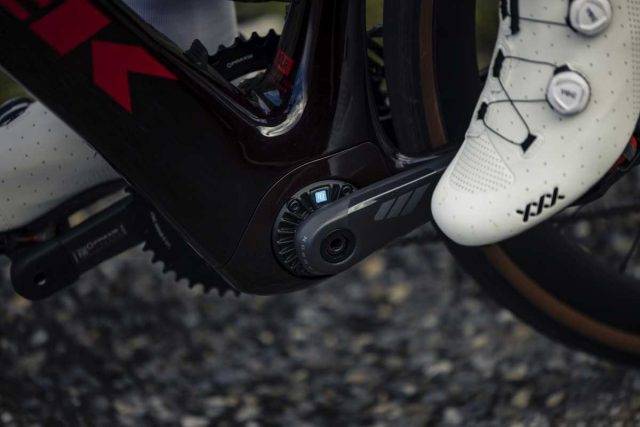 Ride far, ride fast
"Domane+ SLR has a max assist of up to 28 mph (25 km/h in Europe), with a 360-watt/hour battery that can take riders around 60-miles in Eco mode (or around 90 miles with the optional 160-watt/hour Range Extender). And riders can explore even further by customising their ride assist in the Trek Central app."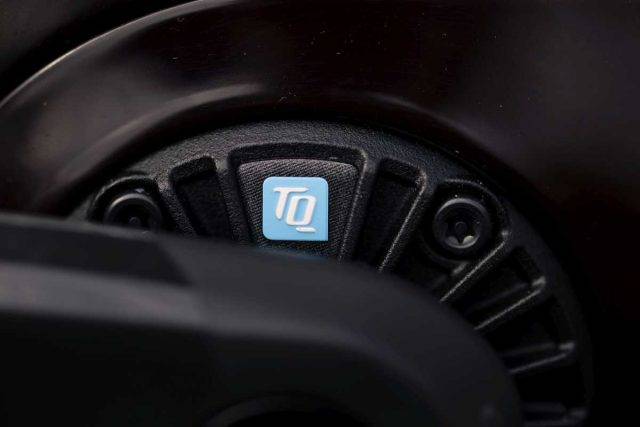 Real road fee

"A close-to-standard road Q factor, intuitive mode control buttons on the hoods, and road-specific tune give Domane+ SLR a traditional road bike fit and feel while still providing a natural-feeling boost for hills, windy days or extra-long adventures."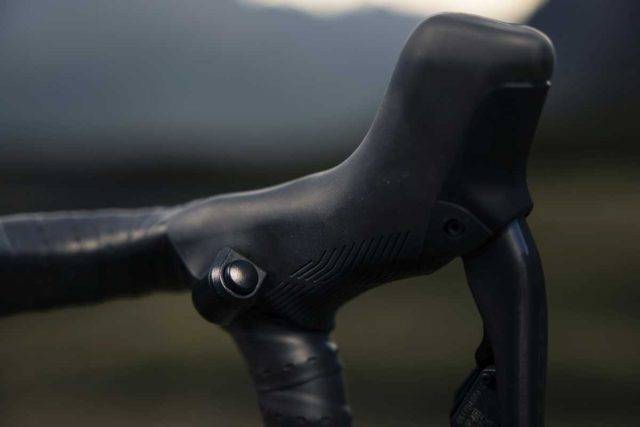 Road-smoothing IsoSpeed comfort
"The Domane+ SLR was built with the same rider-friendly features as the traditional Domane, including rear IsoSpeed to smooth bumps in the road and a stable endurance geometry for long-haul comfort."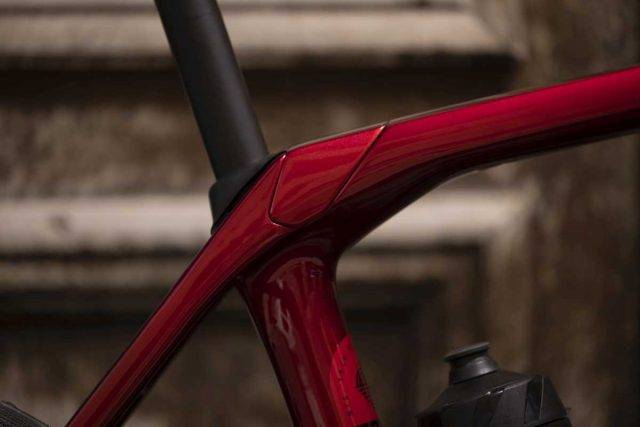 Versatile tyre clearance
"Riders can venture from smooth tarmac to packed gravel with ease thanks to 40 mm tyre clearance. For gravel-dedicated e-road riders, our eTap models come with gravel tyres and a SRAM 1x XPLR group set."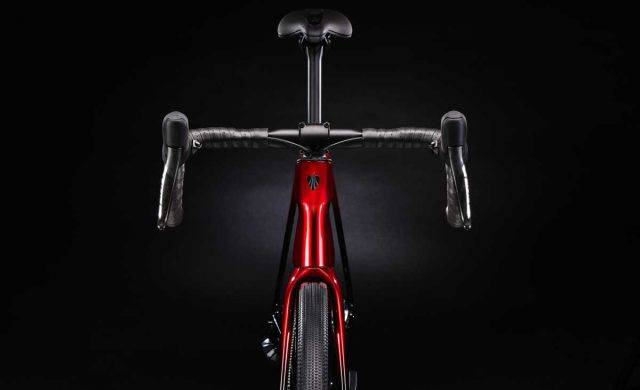 Our best and lightest carbon
"The all-new Domane+ SLR was designed with our highest-end 800 Series OCLV Carbon to shave weight and provide superior ride quality."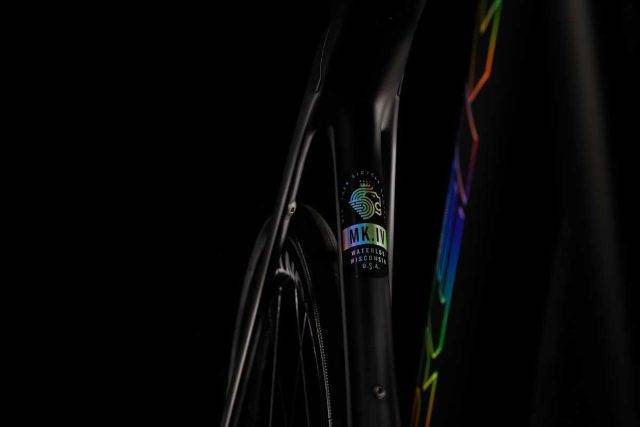 Trek Central App
"The Trek Central app seamlessly connects with Domane+ for customised motor tuning, activity tracking and real-time range calculations."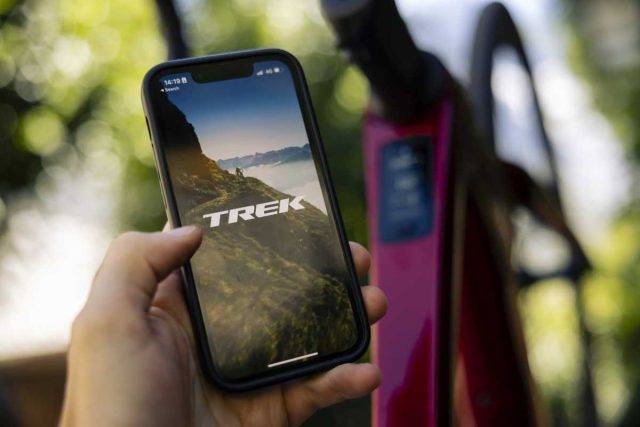 Pricing
Domane+ SLR 9 eTap P1 NOW $US 12,999.99
Domane+ SLR 9 P1 NOW $US 12,999.99
Domane+ SLR 7 eTap P1 NOW $US 9,999.99
Domane+ SLR 7 P1 $US 9,999.99
Domane+ SLR 7 $US 9,499.99
Domane+ SLR 6 eTap P1 NOW $US 8,999.99
Domane+ SLR 6 P1 NOW $US 8,999.99
Domane+ SLR 6 $US 8,499.99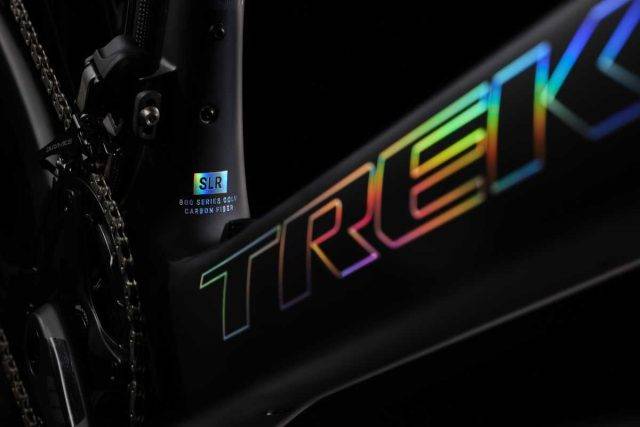 Specifications
| | | | | | |
| --- | --- | --- | --- | --- | --- |
| Name | Frame | Shifters | Front Derailleur | Rear Derailleur | Crank |
| Domane+ SLR 6 | 800 Series OCLV Carbon, TQ drive system, tapered head tube, rear IsoSpeed, internal routing, flat mount disc, fender mounts, 142x12mm thru axle | Shimano 105 R7170 Di2, 12 speed | Shimano 105 R7150 Di2, braze-on, down swing | Shimano R7150 Di2 | Praxis Carbon |
| Domane+ SLR 6 eTap | Same | SRAM Rival eTap AXS, 12 speed | N/A | SRAM Rival XPLR eTap AXS | Same |
| Domane+ SLR 7 | Same | Shimano Ultegra R8170 Di2, 12 speed | Shimano Ultegra R8150 Di2, braze-on, down swing | Shimano Ultegra R8150 Di2 | Same |
| Domane+ SLR 7 eTap | Same | SRAM Force eTap AXS, 12 speed | N/A | SRAM Force XPLR eTap AXS | Same |
| Domane+ SLR 9 | Same | Shimano Dura-Ace R9270 Di2, 12 speed | Shimano Dura-Ace R9250 Di2, braze-on, down swing | Shimano Dura-Ace R9250 Di2 | Same |
| Domane+ SLR 9 eTap | Same | SRAM RED eTap AXS, 12 speed | N/A | SRAM RED XPLR eTap AXS | Same |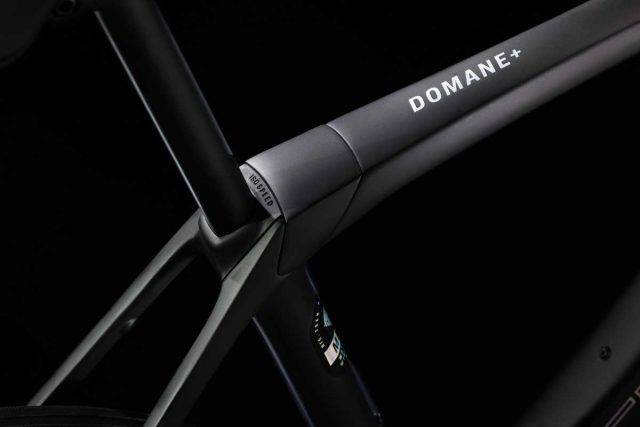 MY23 Domane+ SLR FAQ
What's different about the frame compared to previous versions?
All-new TQ-HPR50 e-bike system that makes Domane+ SLR look, sound, fit, and feel like a road bike

All-new 800-series OCLV frame that is over 700g lighter than the outgoing Domane+

More clearance: Domane+ SLR now has room for 40mm tires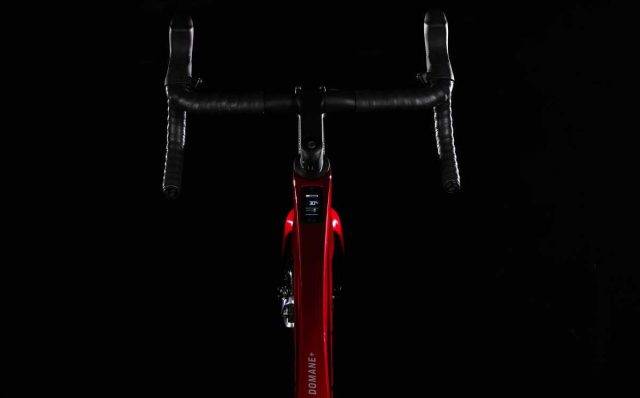 What is the geometry?
Domane SLR+ uses Endurance Geometry. Compared to the H1.5 geometry found on Madone and Émonda, Endurance Geometry features a taller head tube and longer wheelbase to maximize comfort and stability.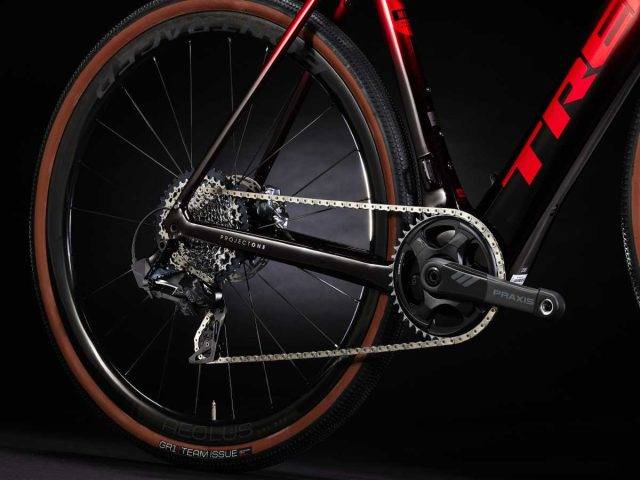 What is the maximum tire size?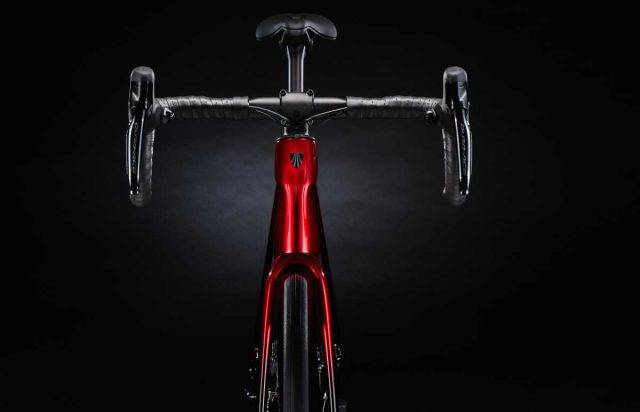 Max rotor size?
Front: 180mm (min 160mm)

Rear: 160mm (min 140mm)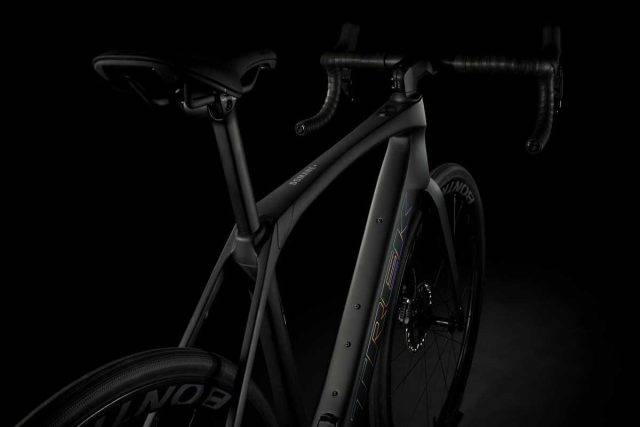 What chainrings can I use?
SRAM: X-SYNC 1x in sizes 36T to 46T (107 BCD). Praxis 107 BCD spider.

Shimano: Praxis chainrings available in sizes 48/36, 50/34, and 52/36.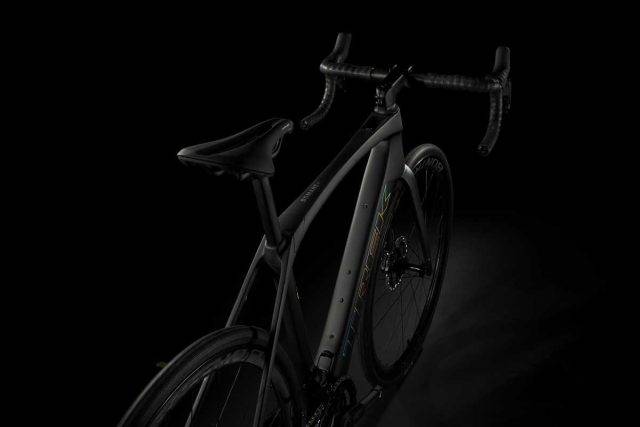 What is the hub spacing?
100x12mm front, 142x12mm rear.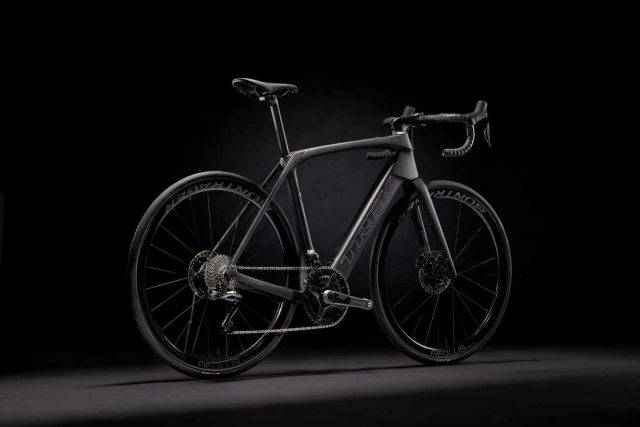 What's the Q-factor?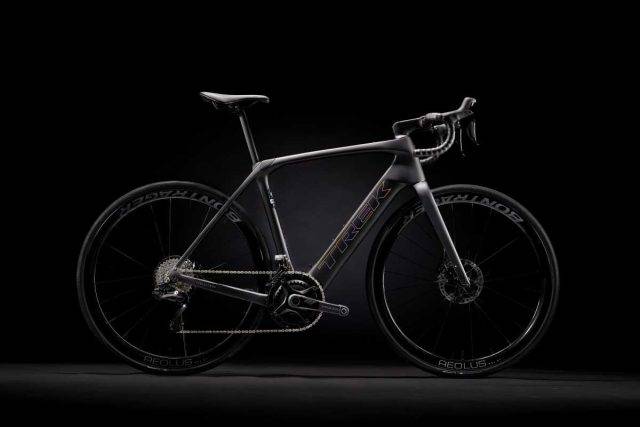 Does it have any accessory mounts (kickstand, racks, fenders, lights)?
Domane+ SLR has hidden fender mounts to be used with SKU W331954 and the RCS Pro stem is Blendr-compatible.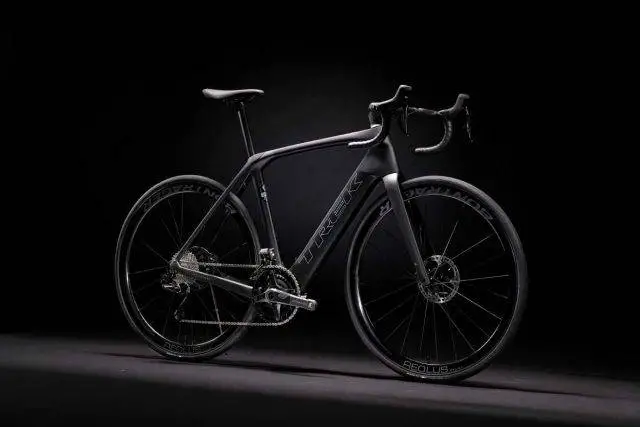 Is it compatible with mechanical drivetrains?
No, electronic drivetrains only.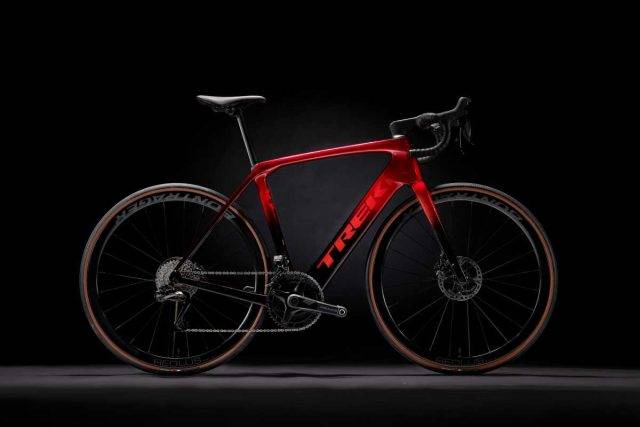 Does the frame have an internal storage compartment like Domane SLR/SL?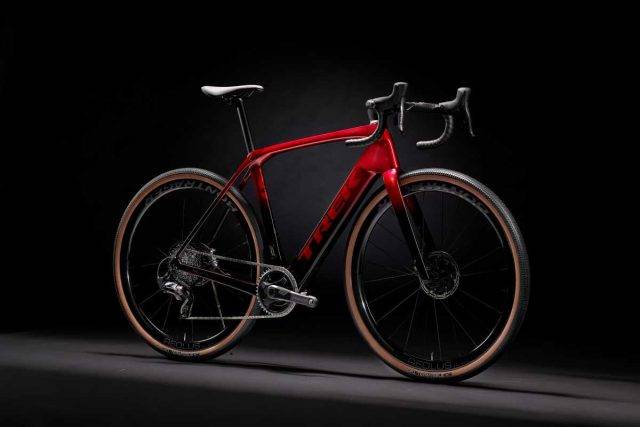 What do I need to know about the RCS Pro stem?
The RCS Pro is an all-new, integrated stem that shares compatibility across several different road models. It keeps the cables tucked out of sight while also allowing riders to swap stem sizes without having to remove any brake hoses or shift housings. RCS Pro is available in both -7 and +7 degree rise.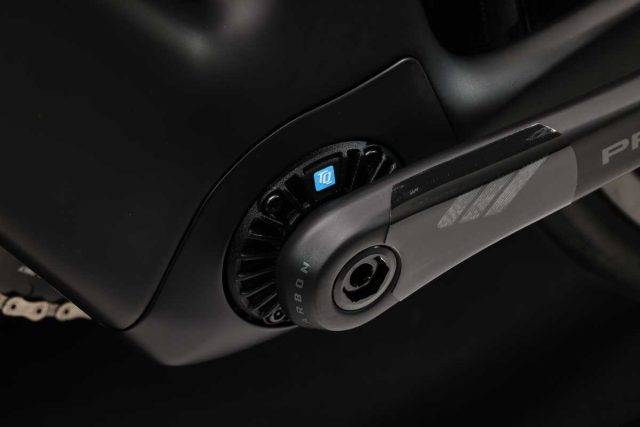 Does Domane+ SLR have top tube bag mounts like the acoustic version?
No – the spot where a top tube bag would go is used by the TQ display. There are no hard mounts for bags on Domane+ SLR.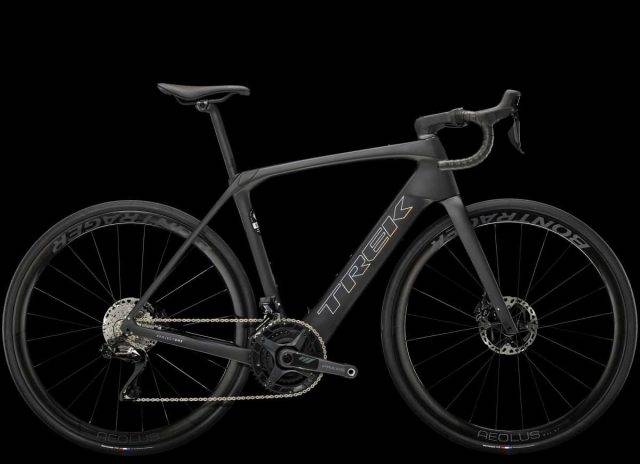 TQ Drive System
How does the TQ Harmonic Pin Ring motor function differently from other e-bike motors?
Most other e-bike motors use gears and belts to transmit power. These parts take up more space and can make noise or break. The HPR50 uses a harmonic drive transmission that's small, simple, and dependable.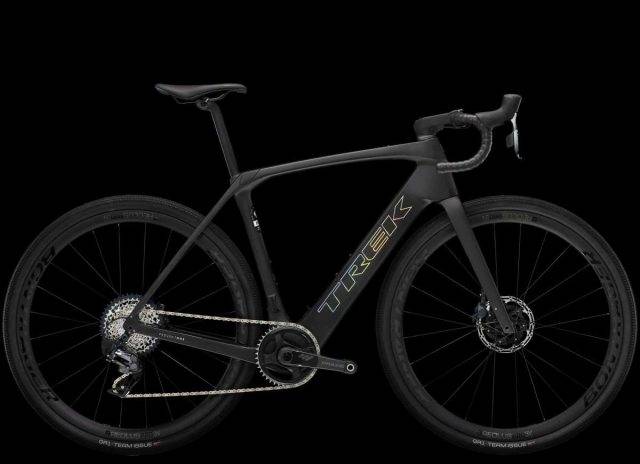 What are the TQ system's specs?
Up to 300 watts of assist, 50Nm of torque, 360Wh battery.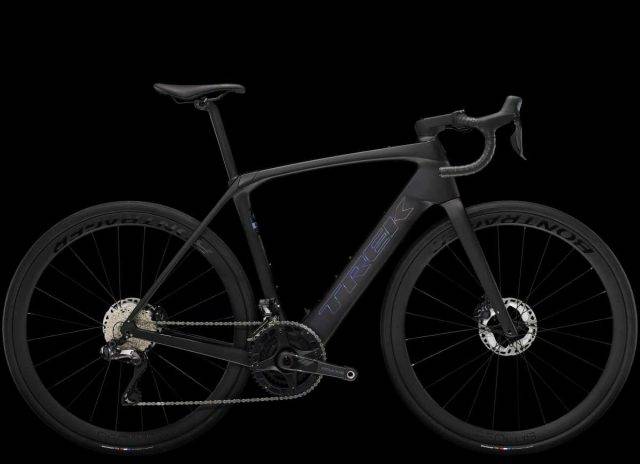 What's the max assist speed?
28mph in the US, 25kph in EU & AU, 45kph in NZ , other markets subject to local speed regulations.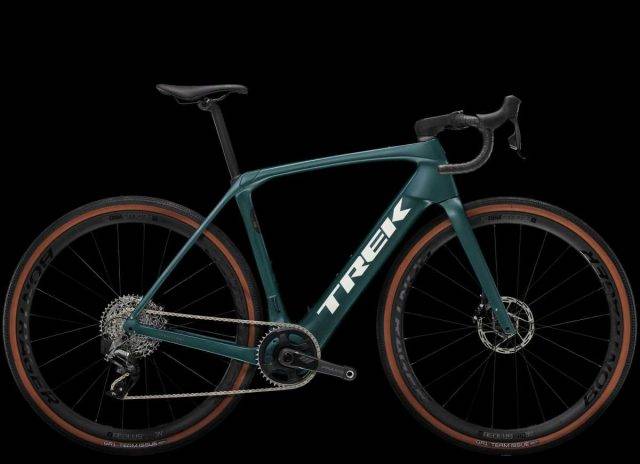 Riding Domane+ SLR
What is the range?
Range varies significantly depending on many factors such as rider weight, assist level, tire choice, riding surface, terrain, and more. With that in mind, you can expect about 60miles / 97km with the internal battery and about 90miles / 145km with the optional Range Extender.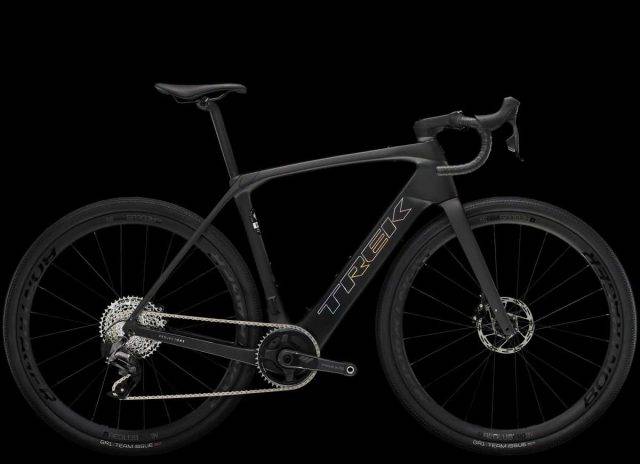 How many assist modes are there?
There are three assist modes.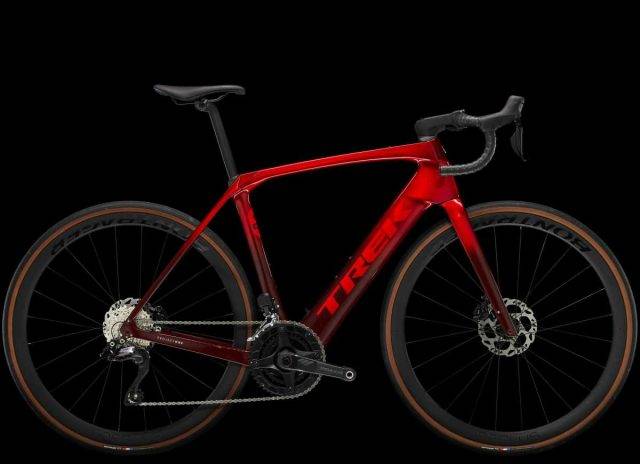 How do I cycle through the assist modes?
There are mode-change buttons mounted to the shifters, so you don't have to take your hands off the controls to shift modes.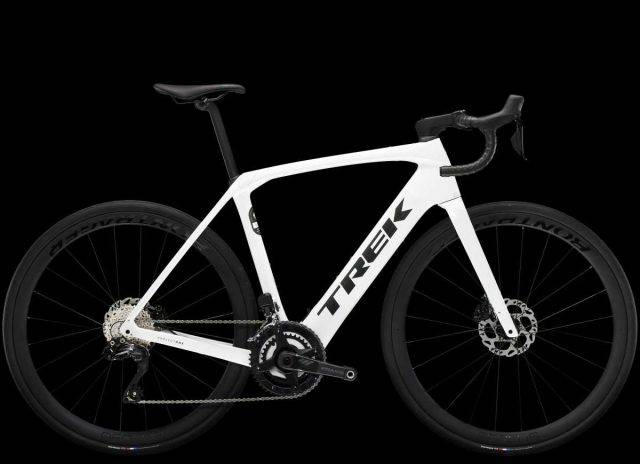 Can I customize the assist behavior?
Yes. Both the Trek Central and TQ apps allow you to adjust max power, assist factor, and pedal response per assist level. If you don't like your changes, it's easy to reset back to the factory settings.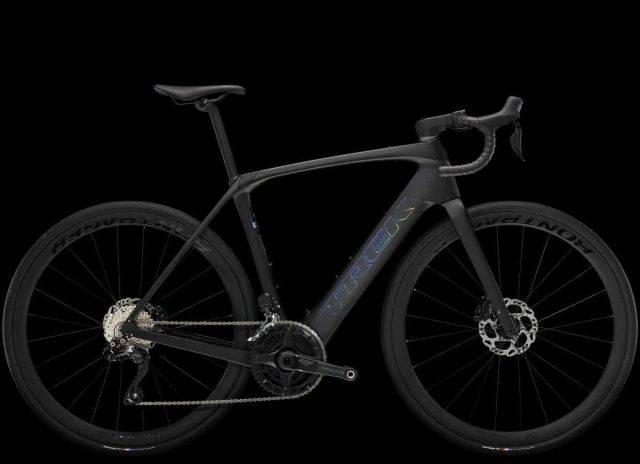 Range Extender
How do you get the Range Extender?
Through your local Trek retailer. Range Extender batteries are not eligible for return by the retailer due to hazmat shipping regulations. Each retailer will set their own policy regarding customer returns of Range Extender batteries.

Ranger Extender battery on Trekbikes.com.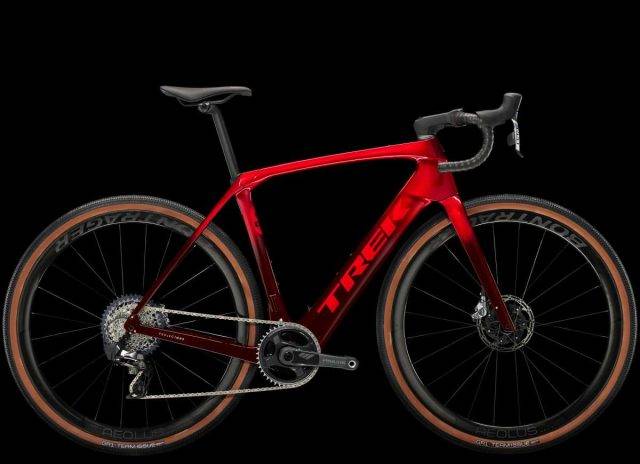 Do I need any other parts for Range Extender?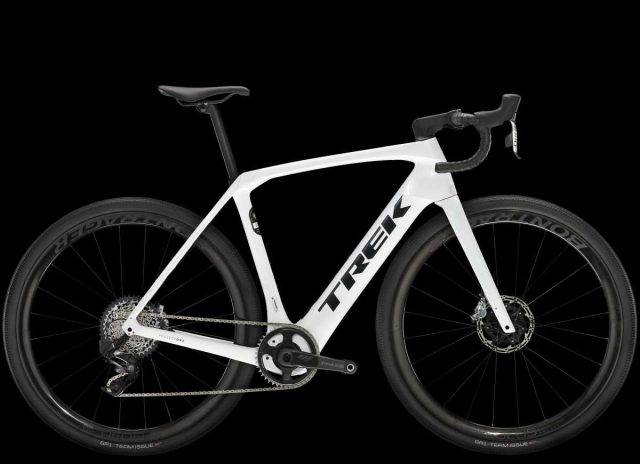 How much does the Range Extender weigh?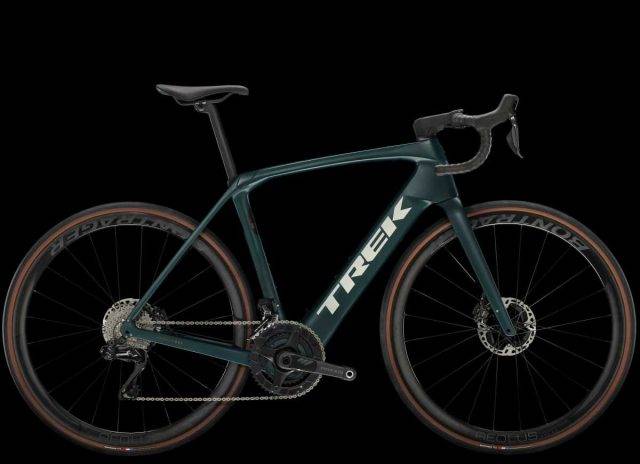 How much extra range do you get?
It is 160Wh, which gets you approximately 40% additional range.
Can I ride Domane+ SLR with only the Range Extender and no battery?
Yes! This also allows you to fly with Domane+ SLR by leaving the main battery behind and taking the 160Wh Range Extender in your carry-on. Check with your airline before traveling to confirm compliance with regulations.
How do I remove the main battery?
This job is not for the faint of heart, but an experienced home mechanic can remove the battery in 15-30 minutes. Remove the drive unit cover, remove the drive unit, remove the screws that hold the battery charge port in place, remove the battery. To put it back together sans battery, re-install the charge port bolts, re-install the drive unit, then re-install the motor cover. Sound like too much work? Your local Trek retailer is happy to help.
How long does it take the Range Extender to charge?
Are all sizes compatible with Range Extender?
Availability
The Domane+ SLR will be available globally on TrekBikes.com and through Trek's global network of retail partners.