Spooky Frames
"The Original East Coast Hardcore Bicycle Company" are nowadays based out of Bellows Falls, Vermont.  You can read a little of Spooky's history HERE.
Sharing a common problem for the bicycle and frame hoarders among us, Patrick had a Spooky Darkside frameset that he wasn't sure what to do with.  Granted, it was built as a complete 26″ MTB, but he had other ideas for it.  Patrick is a local Gaineville, Florida cyclist, and sometimes joins the Gravel Cyclist crew on the dirt, limerock, gravel and sandy roads around the area.
Patrick's bike started life as a Spooky Darkside 26″ harddtail MTB, built by Frank the Welder – Frank is a well known guy, you can read more about him HERE and at his Facebook Page.
Whether Patrick gained inspiration for this bike from the bikes of JOM and Dr Pain, or he came to it of his own volition, he painstakingly converted his 26″ MTB Spooky Darkside into a super sweet 27.5″ Spooky Monster CX bike – the first 27.5″ Monster CX bike this Gravel Cyclist editor has ever seen.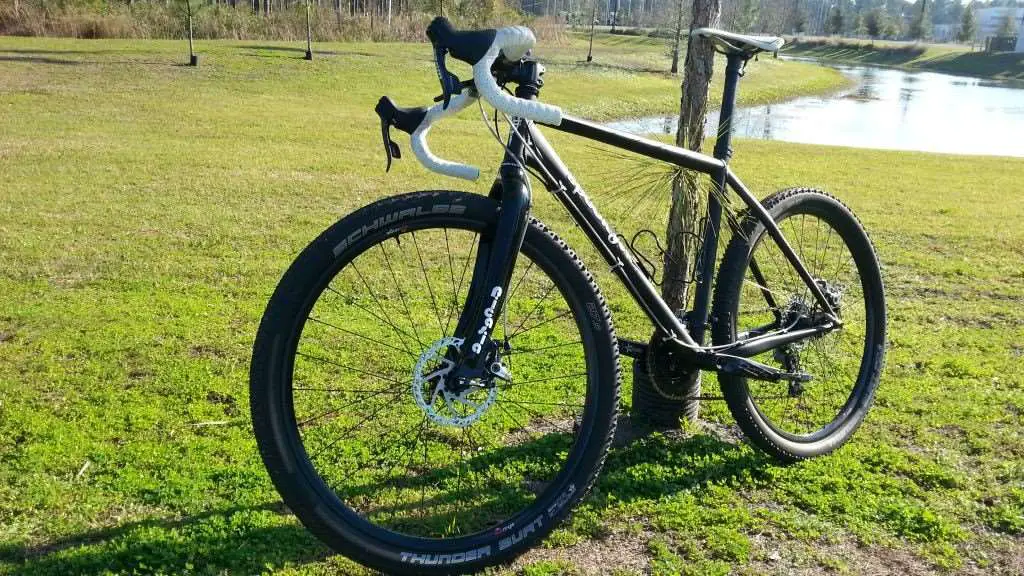 Patrick Ryon's Spooky Darkside 27.5″ Monster Cross Rig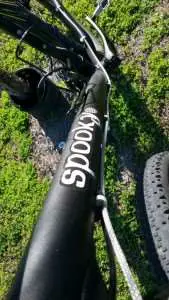 Frame: 2008 Spooky Darkside, aluminium, 26″.
Fork: eBay special, 27.5″ all carbon.
Headset: Ritchey WCS.
Seatpost: Race Face Evolve.
Saddle: Ritchey WCS.
Wheelset: Sun Ringle, 27.5″.
Tyres: Schwalbe Thunder burt, 27.5″.
Handlebars: 3T Rotondo.
Stem: Specialized, 60mm x 31.6mm.
Shifters: SRAM Apex 10 speed, with Kore cross tops.
Derailleurs: SRAM X9 front and rear.
Crankset: FSA Afterburner, 44 / 32 chainrings.
Bottom Bracket: FSA external cup.
Pedals: Crank Brothers.
Cassette: SRAM PG 1070, 11-32.
Brakes: TRP Spyre Mechanical.
Bottle Cages: Minoura aluminium.
Apologies for any errors or omissions in the bike's specifications.
Photos – Click a thumbnail image to see full size (hosted by Flickr).
[alpine-phototile-for-flickr src="set" uid="[email protected]″ sid="72157648472756383″ imgl="flickr" style="gallery" row="11″ grwidth="800″ grheight="600″ size="240″ num="21″ shadow="1″ highlight="1″ curve="1″ align="center" max="100″]