Nowadays, when people think GPS, they think Garmin. It's akin to thinking about a marker pen – think Sharpie in the USA, Texta in Australia, or Vivid in New Zealand. That's nice and all, but there are other GPS computer options out there.
Courtesy of the many hours I (JOM) have spent on the Shimano S-Tec website, I recently learned about the Magellan Cyclo 505 GPS computer. Because GPS computers are so ingrained among most of the Gravel Cyclist crew, I thought it prudent to investigate a real alternative to the GPS computer(s) I've been using since July of 2008.
If you've read our article relating to Route Planning 101 – Using Technology, you'll know how invaluable GPS cycling computers and mapping websites / resources can be for planning gravel rides.
The folks at Magellan and Shimano USA (distributors for the Magellan range in the USA) kindly sent us a Magellan Cyclo 505 GPS computer for review – with the USA road map sets installed.
What's inside the Box?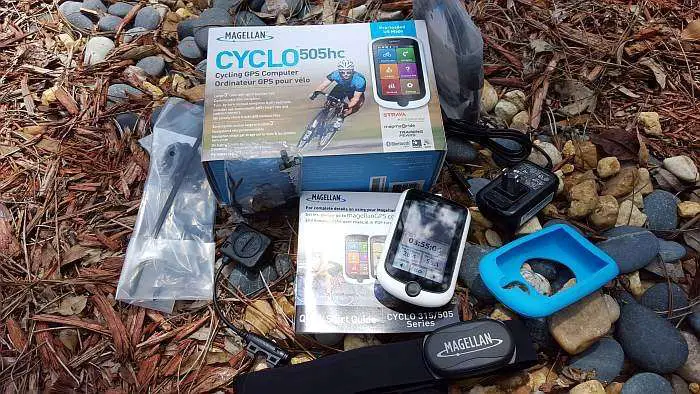 The Magellan Cyclo 505 HC, the premium offering from Magellan, comes in a nicely presented box containing the following items:
Magellan Cyclo 505 HC GPS Computer with 3″ color, anti-glare touchscreen.
Magellan Quick Start Guide.
Magellan Heart Rate Monitor – ANT+ Compatible.
Magellan Speed / Cadence Sensor – ANT+ Compatible.
Wall charger with interchangeable power outlet terminals – USA version supplied. Recharges using the USB mini interface.
3 x Stem mounts for the computer.
1 x Out-front mount for the computer – mounts to the handlebar (not pictured).
1 x USB connector (mini type).
1 x Rubber protector in blue for the computer. The Magellan Cyclo 505 HC is water resistant to IPX-7 standards (up to 1 metre for up to 30 minutes).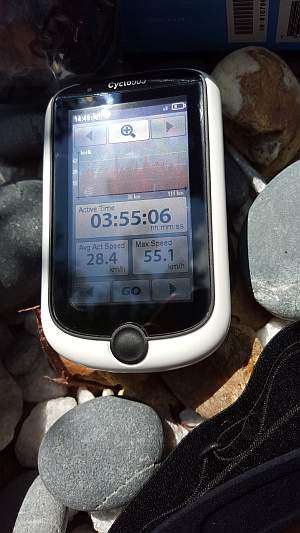 The 505 has some impressive features:
ANT+ support for speed / cadence, Heart Rate Monitor and Power sensors.
Bluetooth connectivity for smartphones – can notify the user of incoming calls or texts, etc. Calls can be responded to if answered with a Bluetooth headset.
Shimano Di2 integration using the SM-EWW01 D-Fly component (we have one on the way).
Wifi network connectivity with or without your desktop computer. Rides wireless sync to Magellancyclo.com website, which in turn sync with other popular sites such as Strava.
Shake and Share! – Share a planned route wirelessly with other Magellan Cyclo 315 or 515 users by selecting the feature, and shaking the units back and forth at each other.
Thus far, I (JOM) have one dirt and gravel ride under my belt with the Magellan 505 – read about that ride HERE.
If you look to the up and to the right, you can see a glimpse of some of the history data available. In this case, the screen highlights total ride time, average and maximum speeds, with a nice graph plotted indicating the speed over the distance of the ride. For the record, I ride in kilometres – always have, always will 🙂
With a fresh map and firmware update installed as of 08/10/2015, I'll be running the Magellan 505 through its paces, and look forward to providing a full review. Thus far, it looks very promising.
Stay tuned and thanks for reading!