Kogel Bearings was born from the frustration of a shop owner in Belgium. Belgium is known for a lot of things, including beer and frites, cyclocross racing, cobbled bergs, wet roads and mud. Expensive bicycles with dodgy, low-quality bearings are not a fit for the conditions of Belgium, and thus, the idea was sparked for Ard Kessels to do something about it.
Sometime in 2013, Kogel Bearings was established in a five by ten-foot storage unit in Ard's newly adopted USA hometown of El Paso, Texas. Ard had three goals with Kogel Bearings:
High-end bearings for a high-end bike.
Develop specific seals for road and off-road use.
Design bottom brackets that eliminate the use of creaky adapters.
Manufacturers haven't made this a joyous task, as for a while there, a new bottom bracket standard was invented on an almost weekly basis. BB30, PF30, BB86, BB90, BB92, BB95, BBRight, 386 EVO to name the majority, along with our venerable favorite invented eons ago, the English thread 68mm, or 70mm if your frame is of traditional Italian origin.
That's a lot of options.
I first learned of Kogel Bearings when I poked around Amanda "Panda" Nauman's race-winning Niner RTL 9 RDO gravel bike at the 2016 Dirty Kanza (follow this link to the 2019 edition of Amanda's bike). Amanda's mechanic, Dave, is a choosy fellow, and wouldn't select a product for the rigors of gravel and cyclocross (Amanda also races cyclocross) unless it had considerable merit.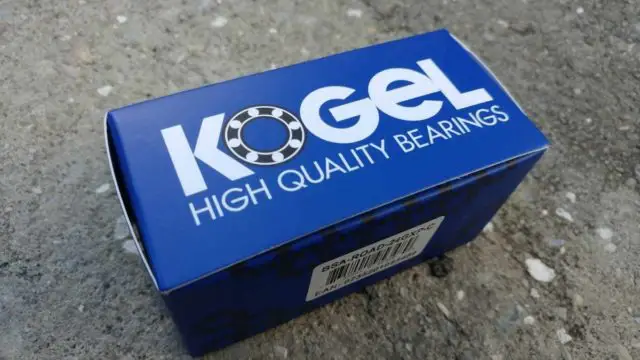 Kogel Ceramic Bearing Bottom Bracket – BSA Thread
"Originally fabricated by the Birmingham Small Arms company, BSA is the classic English threaded bottom bracket standard found on many road and mountain-bike frames". English thread bottom brackets have seen a resurgence on road and gravel bikes of late, no doubt attributed to their simplicity and reliable nature.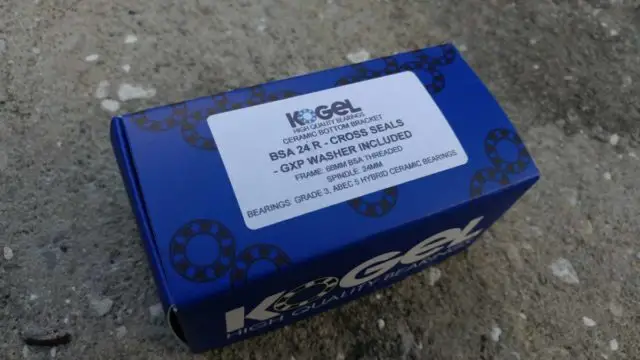 Pictured above is the review sample I received from Kogel Bearings, sometime around April / May of 2018. I chose the BSA / English thread version for Shimano 24mm crank axles, with the additional measure of "cross" seals. "Cross" seals are designed to better protect the bearings they shield, although I do believe there is a small price to pay in terms of rotational resistance.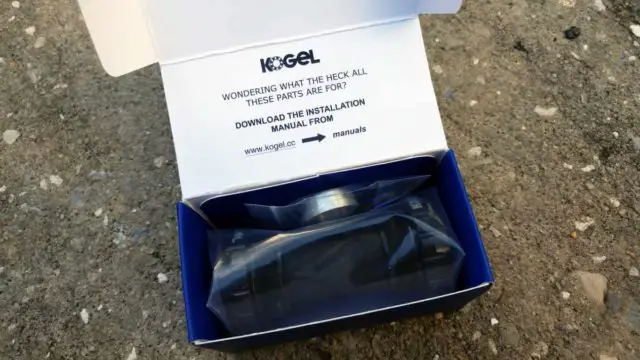 Above, this is what you see when the box is popped open. 1 x Kogel bottom bracket and a washer I'll never use. As a habit, Kogel ship a GXP washer with every 24mm spindle bottom bracket, but remains unused for cranksets with straight spindles by Shimano, Rotor, FSA, etc. Notable is the absence of a manual, which in my mind is a good thing. In this age of less paper is more, you're best following the directions and downloading the manual from Kogel.cc – Rule of thumb, if in doubt, RTFM, "read the f'n manual".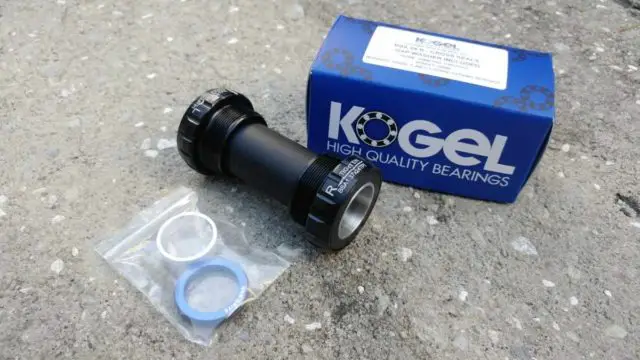 On the ABEC scale, there are five classes from the largest to smallest tolerances: 1, 3, 5, 7 and 9. Stating the obvious, ABEC 5 bearings fall into the middle. From Wikipedia, "The ABEC rating does not specify many critical factors, such as load handling capabilities, ball precision, materials, material Rockwell hardness, degree of ball and raceway polishing, noise, vibration, and lubricant. Due to these factors, an ABEC 7 classified bearing could perform better than an ABEC 3 bearing."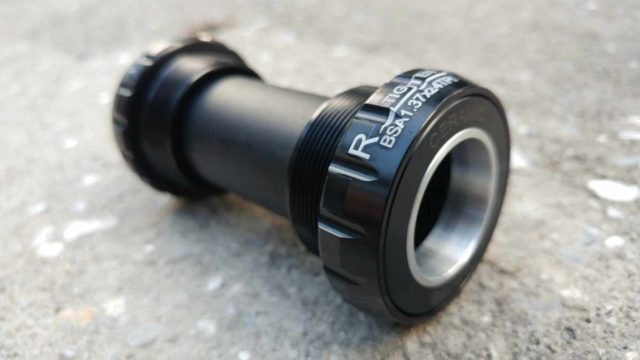 Like just about every other ceramic bottom bracket bearing on the market today, Kogel's cartridge bearing units are hybrid. In other words, the balls themselves are ceramic whereas the races and retainers are stainless steel. Full ceramic bearings are available on the market but the cost is driven up to levels of absurdity. Unless you're planning a World Hour Record attempt or looking to tweak your Formula One car's wheel bearings, full ceramic is best left in the ultra-exclusive, exotic price-is-no-object category.
Weighing it up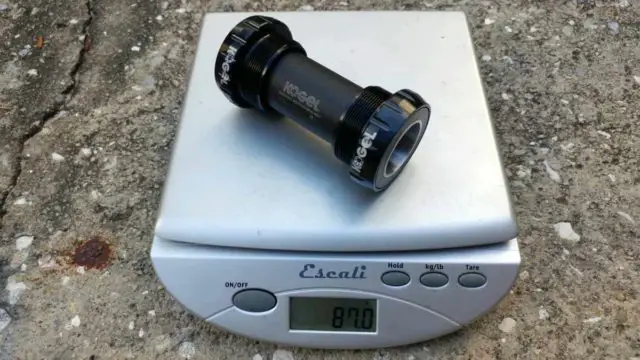 As the gram scale shows above, the Kogel Bearings bottom bracket for BSA English thread weighs in at 87 grams, including the sleeve that sits between the two cups. The sleeve does a nice job of segregating the crank axle from things such as internalized Shimano Di2 wiring.
Installation
With the correct tool for the job, installation of anything is easy. Park Tool's BBT-9 bottom bracket tool makes installing external cup bottom brackets such as the Kogel an absolute breeze.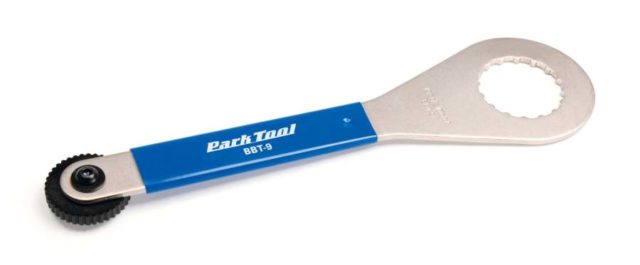 For Shimano cranks, the other end of the tool engages eight internal splines of the crank adjustment cap.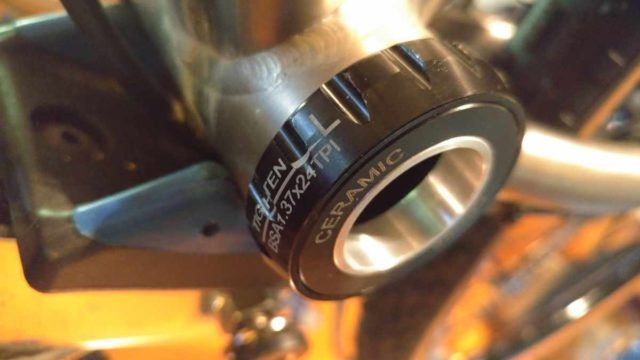 Installing a Kogel English thread bottom bracket is an extremely simple process as follows:
Ensure the bike's threaded bottom bracket shell is clean and free of dirt and grit.
Slather your grease of choice onto the bottom bracket shell threads (drive and non-drive side). I generally use Finish Line Premium grease for alloy or steel shells. Because I'm installing the Kogel bottom bracket into my trusty Lynskey PRO GR titanium gravel bike, I always use an anti-seize compound versus regular grease; in this instance, Muc-off Anti-Seize Copper Compound.
This step is optional for steel and alloy shells, but I prefer to wrap a thin layer of Teflon plumbing tape over the threads of each cup, ensuring the end of the tape follows the thread direction of the cup. Whilst my grease of choice features Teflon in its composition, I believe Teflon tape reduces the chances of creaks and other noises emanating from the bottom bracket shell.
Install each cup by hand, gently threading into the shell, ensuring there is engagement and no cross-threading happening. Remember the rule of English thread bottom brackets. Non-drive side = right is tight, left is loose. Drive side = left is tight, right is loose.
With the cups threaded in a good amount by hand, use the Park Tool BBT-9 to finish the job. I don't massively overtighten, but enough to ensure those bottom bracket cups aren't loosening off. Alternatively, a torque wrench with the appropriate cup tool for Shimano is recommended if you really want to be accurate.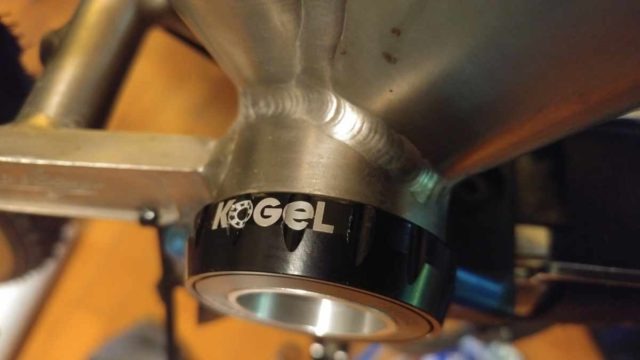 12+ months of Ownership and a bunch of Miles/Kms
These days, because of the sheer number of review bikes (a legitimate first-world problem) I deal with, I'm seldom seen riding my personal bikes, except for when the weather gets really bad. Whilst I do ride the review bikes in dodgy weather, my Lynskey PRO GR is my official "Plan B" bike for those rides and races where mud could be a factor, especially if big tyre clearance is needed. It's also ridden on days that I like to enjoy that magic carpet ride that Ti offers. You can see a video of the Lynskey in "Plan B" form at this link. It's no coincidence this bike is the benefactor of the Kogel bottom bracket in this review.
Without doubt, bottom brackets are the unsung heroes of a bicycle. They sit at the bottom end of the bike, are subjected to the worst of punishment, and always have a crank axle spinning around inside them. They lead a thankless life and there isn't much to say about then until something fails or starts creaking.
The same can be said for this review. Since installation into my trusty Lynskey PRO GR titanium gravel bike, the Kogel ceramic bearing bottom bracket has dutifully performed on a ton of training rides sans issues. No creaks, groans or click noises, and the bearings are still as smooth as the day I installed the bottom bracket.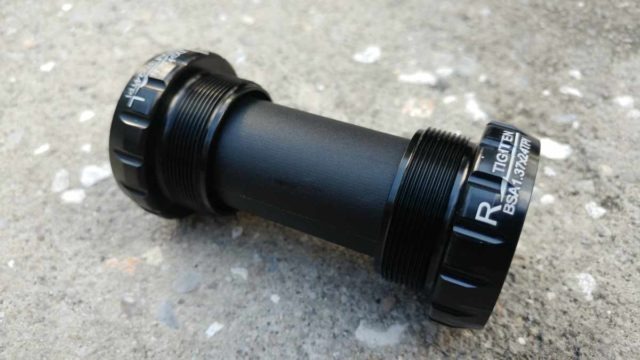 Kogel's two year, very few questions asked bearing warranty
To best explain this, I've made quotes directly from Kogel's warranty page:
"When I started Kogel, I wanted it to be the company that I would love to be a customer of. This means high-quality products that actually improve performance for cyclists, but as well a company that people like to connect with. This is why we pick up the phone when you call, or we return your call if we missed it. On a product level that means we want you to be happy with your ball bearing purchase. If that means we have to replace a product every now and then when your mechanic was a bit ham-fisted, or occasionally if a good customer was not aware that cleaning a bike with a pressure washer is a no go, so be it."
"I always felt that as long as we make a top-quality product, we are going to have a low number of returns and that rule holds up until today. We have calculated a small margin for error in our pricing, because we know our products are not perfect. How can we expect everything to work flawless if you imagine the forces we send down from our quads to the tiny contact surface between our races and ceramic balls. It is an engineer's nightmare if you think about it. That small buffer allows us to turns frowns upside down when we get warranty claims. If we do our job so well that there are no claims, we can add it to our bottom line at the end of the year. How good is that?"
"With that said, at Kogel Bearings we believe in the honor system. Our golden rule is: if you claim your fifth warranty and the neighbor shop has not claimed any, that's when we start asking our 'very few questions'. I hope this mentality works as an inspiration for the rest of the bike industry (I am calling on you, tire, ball bearing and wheel makers!). If we all back up our products with a flexible warranty, it will be a strong motivation to build a better product."
Highly Recommended

I don't have a formal rating system for my reviews, but if you're looking for a replacement bottom bracket for your bicycle that:
Works well in disgusting conditions
Long-lasting
Available in a ton of varieties including gold and red
Supported by a company with excellent customer service
Excellent warranty
Then I say, visit Kogel's website or give them a call to place an order. Priced at $US 174.99, they aren't cheap, but quality costs. In addition to the BSA English thread unit in this review, Kogel manufacture bottom brackets for many of the standards seen on today's gravel / road / mountain bikes.
Alternatively, support Gravel Cyclist by purchasing through Amazon at the links below (we receive a tiny cut of each sale):