If you haven't heard Justin's name before, take a gander at the results list for Iron Cross XII, 2014.
Fourth fastest overall, 4:11:45 ride time, amazing stuff.  Justin is 37yo, meaning the 40+ Masters men category is in trouble, again, when he turns 40.
Justin's Bike
Justin and I met each other on Saturday, and again after Sunday's race, where we traded notes about our respective race bikes; the genre of which I refer to as a Monster Cross bike.  Justin likes to call his machine a Frankenbike.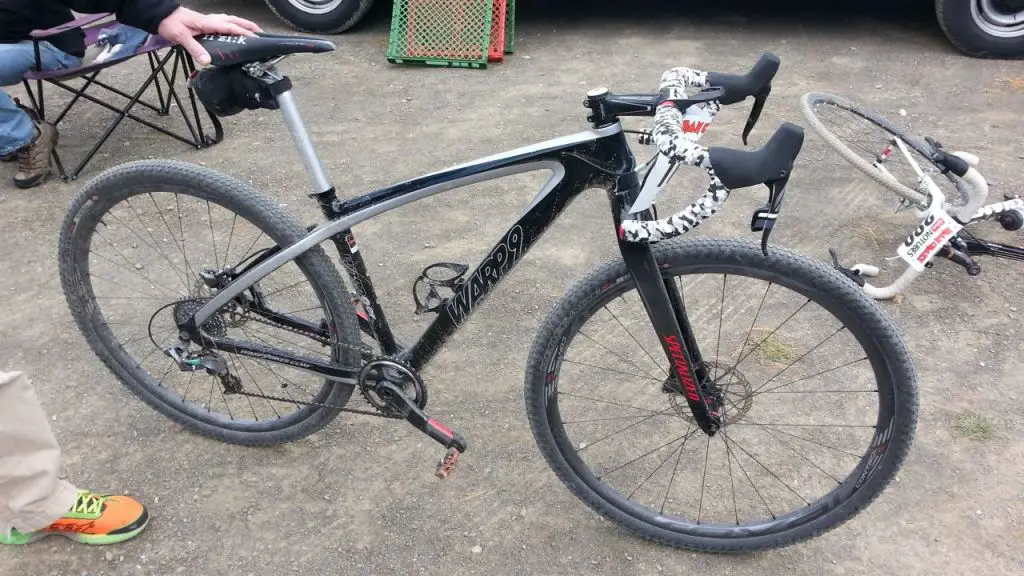 Frame: Warp 9 Carbon 29'er.
Fork: Specialized Rigid Carbon.
Saddle: Fizik Arione VS.
Wheelset: Specialized Roval Control SL 29'er.
Tyres: Specialized Renegade 1.8″.
Shifters: SRAM 11 Speed Hydraulic.
Drivetrain: SRAM CX1 11 speed.
Crankset: SRAM XX1 Mountain crank, 38T single chainring.
Cassette: SRAM PG1070, 11-32.
Brakes: SRAM Hydraulic.
This bike is FAST, as is the rider aboard it.  Justin reported the SRAM CX1 groupset performed flawlessly; CX1 is something to consider if you're looking to utilize a 1 x 11 drivetrain setup.
Why a Frankenbike or Monster Cross Bike?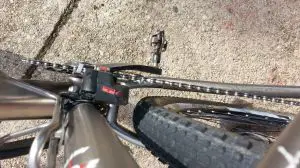 Readers can view my original article on the subject, What the heck is a Monster Cross Bike?  Justin's bike, like my own, was built to be the near perfect gravel machine.  With easy provision for tires (tyres) up to 2.2″ in width, and a wide gearing range, they are extremely versatile bicycles.  There's also the drop bars, which replicate one's road position, with multiple hand positions, versus the one or two associated with regular MTB handlebars.
One can safely bomb chunky gravel descents on a Monster CX rig, while riders aboard regular cyclocross bikes with narrower tyres generally tip toe down, out of fear of puncturing a front or rear tire (tyre).  Having punctured a front wheel and crashed on a knarly descent at Hilly Billy Roubaix 2013, building a Monster CX bike was also about safety for yours truly.
Also, check out the custom Quiring Monster CX Gravel Race rig of Dr Pain.
Future
I hope to feature more bad-arse bikes from the gravel racing scene, here on the Gravel Cyclist blog.  Garth Prosser's bike is one I'd like to get under the microscope.
Thanks for reading.