JOM of Gravel Cyclist scoured the halls of Interbike 2015 in search of cool bikes, gear and other goodies relating to the genre of getting dirty on less-than-traveled roadways. Tires are the most important interface between the road and one's bicycle. JOM came across heaps of options that are new, well-proven, or not-so-well known.
Schwalbe Tubeless Tires (Tyres)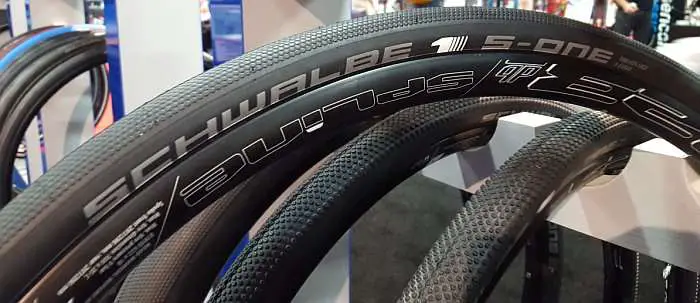 Schwalbe's S-One is designed for the rigors of European racing on cobblestone events like Paris Roubaix, Tour of Flanders, etc. With its tubeless ready construction, we feel this would be an excellent tire for USA events such as Rouge Roubaix, Darby Roubaix, Bromont B7 100, etc – hard packed surfaces with not a huge amount of gravel. The S-One features Schwalbe's V-Guard for puncture protection and tips the scales at approximately 310 grams.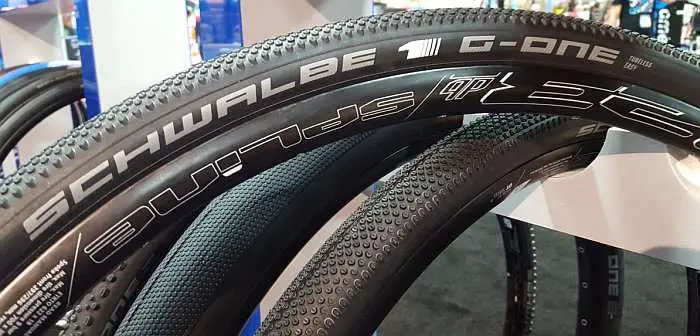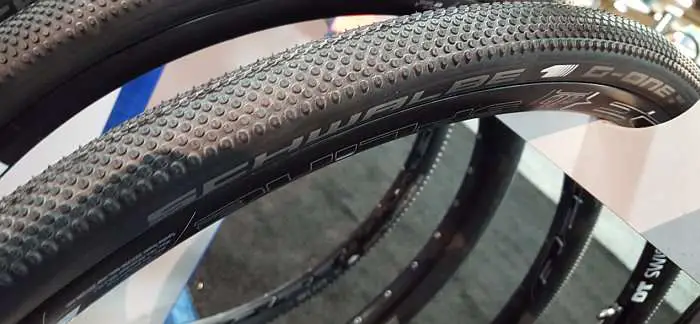 Schwalbe's G-One is specifically designed as a gravel tire and available in two different widths and two sizes – 700c x 35mm (400 grams), 700c x 40mm (450 grams) and 27.5″ / 650B x 40mm (410 grams). Tubeless ready.


Schwalbe's Pro One is a refinement of their original Pro One, featuring their new Micro Skin construction process. This construction process helps to drop the weight of the tire by approximately 70 grams, much of the weight loss happening due to the Micro Skin fabric in the tire's sidewall. Available in 700c x 23mm (235 grams), 700c x 25mm (255 grams) and 700c x 28mm (275 grams), the revised Pro One could be another promising Roubaix type event tire – fast and light. Tubeless ready.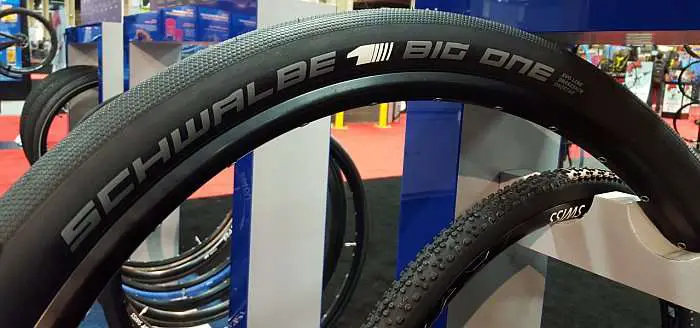 The Schwalbe Big One is marketed as the "fastest you can get for beach races". Beach racing isn't well known in the USA, but it is a growing genre in the Netherlands and the UK. Check this VIDEO out. Available in 27.5″ /650b x 2.35″ (520 grams), 29″ x 2.35″, with or without Schwalbe's Snakeskin puncture protection (550 grams vs 4400 grams), we at Gravel Cyclist suspect this tire may be quite fast on hardpack surfaces where the odd sections of sand may appear. Wider is always better in loose conditions.
Our favorite all-round tire on hard pack and sand (provided you have a bike with serious tire clearance) is Schwalbe's Furious Fred in the 29″ x 2.0″ size – this tire is uber fast, albeit a little delicate.
More tires specific to the gravel genre as seen at Interbike 2015, coming soon. Thanks for reading!