True North – a custom Singlespeed Gravel Bike – by Damian Bradley

This bike is piloted by Damian Bradley; while your first reaction might be otherwise, the "singlespeed cross" is a versatile bike for Southern Ontario, Damian's back yard and home to True North Cycles framebuilder, Hugh Black.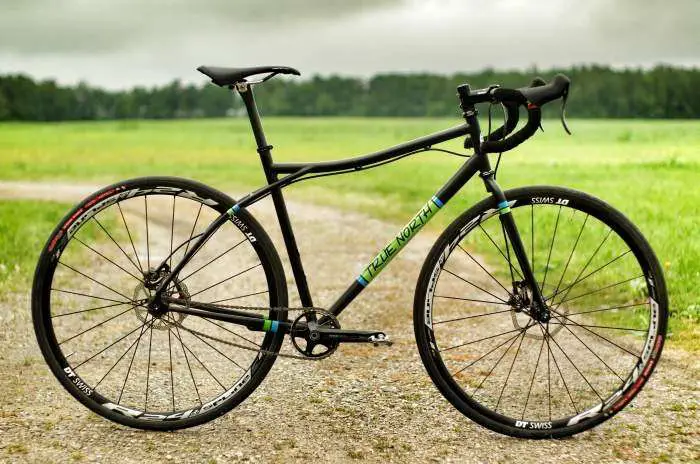 The Fraulein (Damian's girlfriend and local friend of the Gravel Cyclist crew), told him he was crazy to forgo gears for anything other than a commute. In a desperate bid to impress her, Damian set out to prove that the singlespeed doesn't lose much against a geared bike, on long solo rides over gentle rollers in the farming region around Guelph and Waterloo, Ontario, Canada.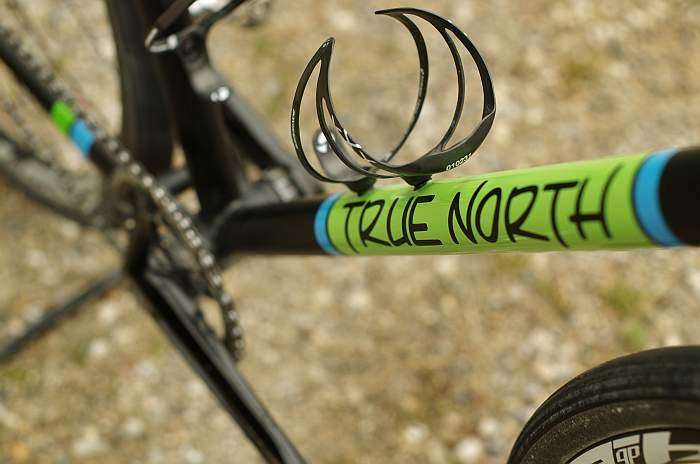 Damian recently compared an identical 110km route about two weeks apart in very similar conditions, and recorded only 0.1 kph difference (that's .0625mph for the imperial folks) between his geared and singlespeed cross bikes. The True North was also raced to an 8th place finish in the singlespeed category (308th of 1190 overall) in the 2015 Paris to Ancaster race, during which it was reported that no less than 5 (five!) riders called attention to the frame during the race itself. It's a looker.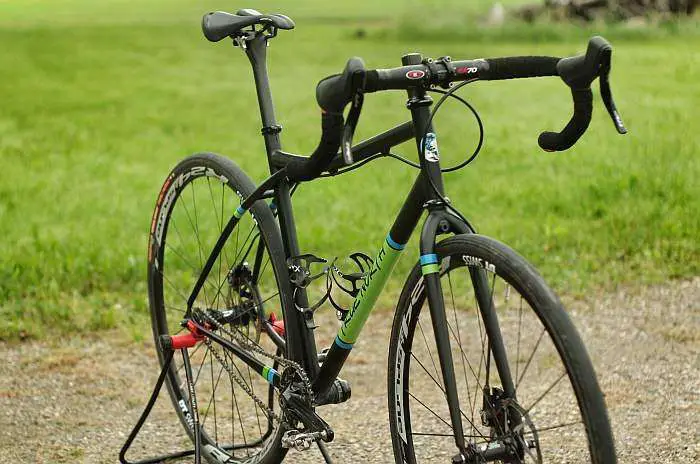 This may be one of many frames crafted by veteran builder Hugh Black over the years, but there is none other quite like it. Originally fabricated as a showpiece in 2004, it was a gravel bike before the industry had a term for it. In fact, Hugh rode the bike as a fixie in the 2006 Paris to Ancaster. The frame was built with compliance, standover height, a balance of stability and maneuverability (and of course artistry) in mind.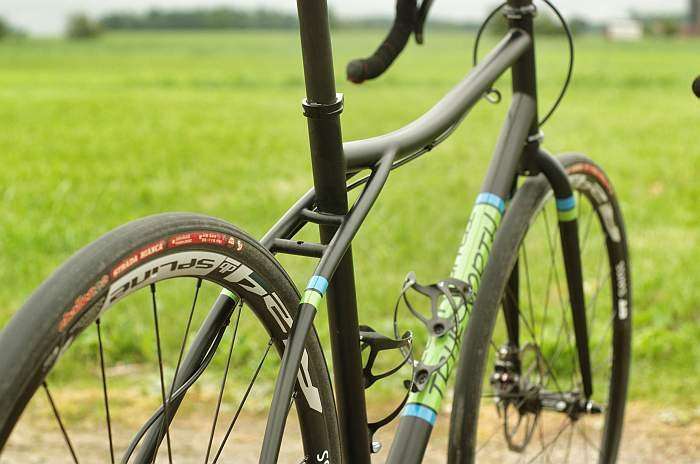 The welds are fillet brazed for a stunningly smooth finish, with the curved top tube connecting to the arced seatstays, only interfacing with the seat tube at a small bridge on the back side. Between the geometry, small front triangle and under-top-tube hose routing, the True North would be classed as cyclocross race bike, which can certainly hold it's own on a cyclocross course. Where it really shines is on on all-day adventure rides, rutted and pothole ridden country roads, or sloppy spring and fall grit fests where geared drivetrains get eaten alive. If there is an off season for this bike, it should hang on a gallery wall next to a Tom Thompson or Emily Carr original… make no mistake: this is fine Canadian art.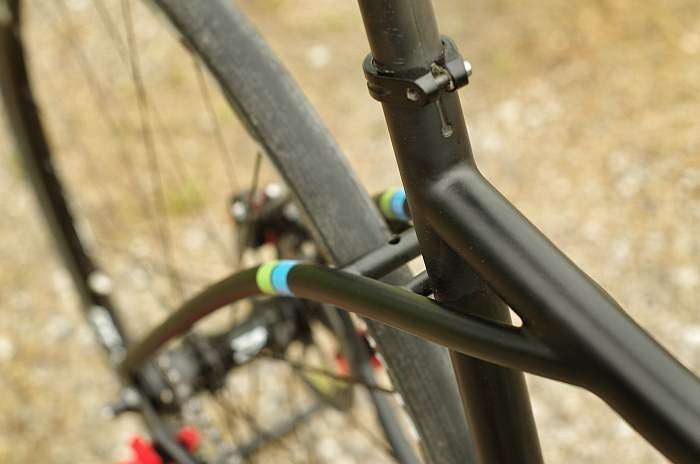 As sometimes happens with important works, this one had been hiding for quite some time – in this case, in the back of the True North shop. When Damian put in a call to Hugh inquiring about a singlespeed cross frame, Hugh decided it was time put the frame back into the limelight.
There is a reason builders love working with steel as much as cyclists love riding it: Hugh stripped the paint, cut off the cantilever bosses, and welded an IS disc tab to the fork and a sliding disc tab on the seat stay to accommodate the horizontal dropouts. TRP hylex singlespeed hydraulic disc brakes were chosen as the stoppers. Opting for True North "team colours", the frame was powder coated a stunning matt black, and Hugh graciously invited Damian to the shop to apply his own blue and green vinyl decals. They may not be perfect, but there is nothing like sweat equity to bring out pride in a project.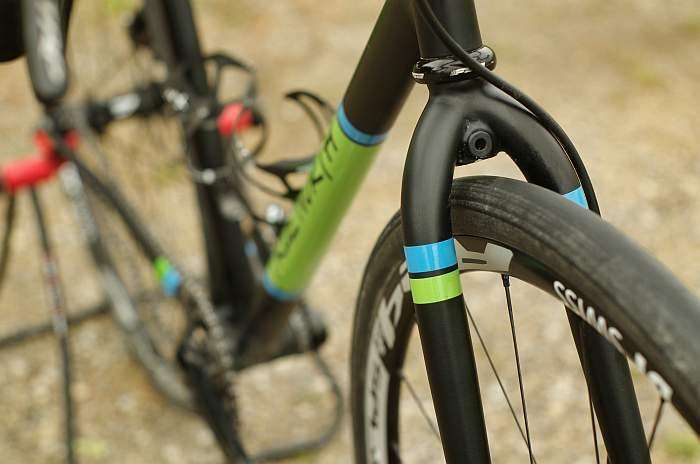 In a few words, the build is simple and the ride is sublime. With the compliant frame, svelte and supple fork, high volume 30mm tires, the True North floats silently over cracked tarmac, hard-packed gravel "no winter maintenance" roads and rail trails in the area. Stomping on the pedals, the power transfer is snappy through some old stock Raceface Cadence cranks. There is surprisingly little side to side-to-side flex at the rear end or bottom bracket. While taking some getting used to, the wide 46cm bar helps with singletrack stability and out of the saddle cranking, and the short 80mm stem and zero-setback seatpost compensate for the long-yet-extremely comfortable TRP Hylex brake hoods and wide bar stance. Braking is a one-finger affair with modulation and power in spades.
Other features of note are the 1" head tube (no taper here!), Gearclamp singlespeed adapter which makes for quick chain line setup and cog swaps, MKS chain tugs, which keep the rear wheel aligned under disc brake torque, and the wallet-friendly DT Spline 24 DB tubeless (and 11-speed road) compatible 135mm spaced wheelset.
To see more True North Cycles creations, check out their Flickr Stream / Facebook Page / Web Site.
Damian's True North Singlespeed Gravel Bike

Frame: True North Custom Steel Singlespeed Gravel.
Fork: True North Custom Steel "Stiletto" disc.
Headset: FSA 1" Orbit-X.
Seatpost: Debadged Carbon 27.2mm x 350mm.
Saddle: Specialized Romin Evo.
Wheelset: DT Swiss Spline 24 DB.
Tyres: Challenge Strada Bianca 30mm clincher.
Handlebars: Easton EA70 Ergo road, 46cm centre to centre.
Stem: EIS S5, 80mm.
Shifters: None – Single speed!
Derailleurs: None – See above


Crankset: Raceface Cadence 110BCD w/34t FSA chainring.
Bottom Bracket: Shimano XTR, MTB 73mm external cup.
Pedals: Shimano XTR M980.
Cassette: 13t stainless steel cog w/Gear Clamp singlespeed adapter.
Brakes: TRP Hylex hydraulic calipers with Avid HS1 160mm rotors.
Bottle Cages: Matte Carbon.
More about the bike:
The bike weighs about 20lbs as built.
The 34-13t gearing is considered "micro gearing", which was done out of convenience rather than conviction.
 High Resolution photos by Damian Bradley