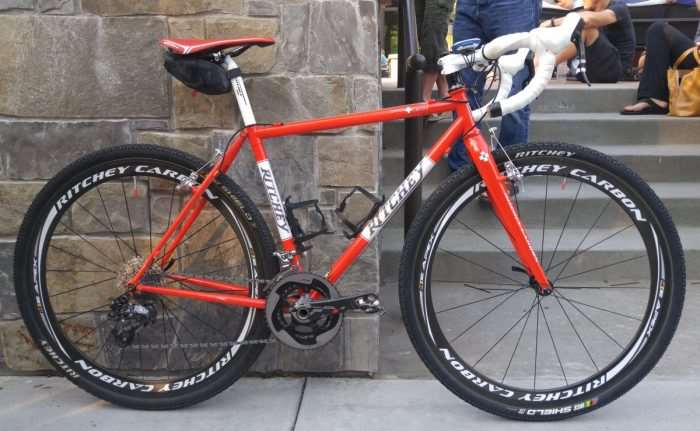 "Tom Ritchey is one-of-a-kind. He continues to juggle his duties as president and lead designer of our company, now distributed in over 40 countries, while still logging 10,000 miles a year all over the world. Inspiration often comes to him while out on a ride, generating ideas that he then processes as three-dimensional design images – in his head."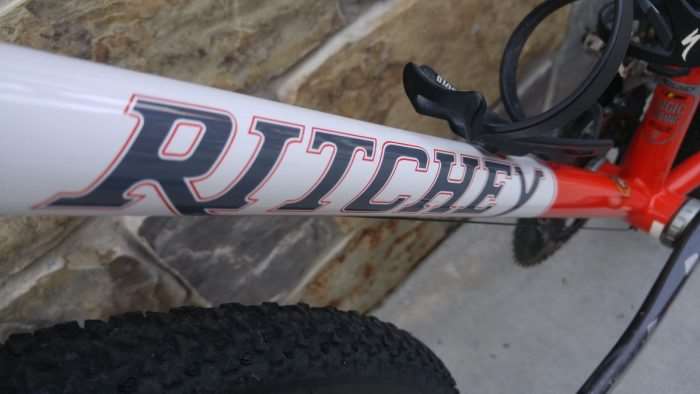 "This is followed by the creation of initial concept models, many of which he creates by fillet brazing pieces or scraps of frame tubing. It all comes naturally to a guy who taught himself to build frames as a teenager, and who designed some of the burgeoning mountain bike industry's first frames and components back in the 1970's. Every year Tom guides our R&D efforts in pursuit of both subtle improvements to existing products, or large-scale advances leading to new ones."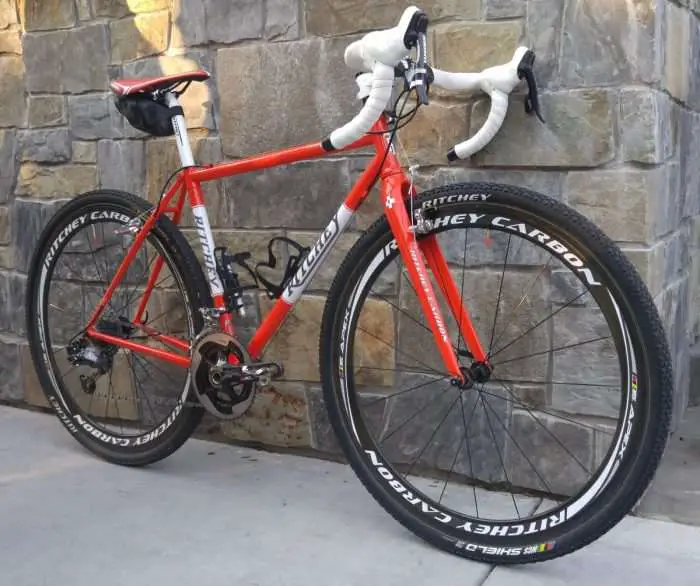 Ritchey SwissCross
"Many Ritchey-sponsored mountain bike champions were also cyclocross champions—Thomas Frischknecht, Henrik Djernis and Ruthie Matthes, to name a few. And though they were paid to race Ritchey mountain bikes, they often wanted a Ritchey cyclocross bike to race in the winter. This ultimately resulted in another iconic Ritchey model—the SwissCross."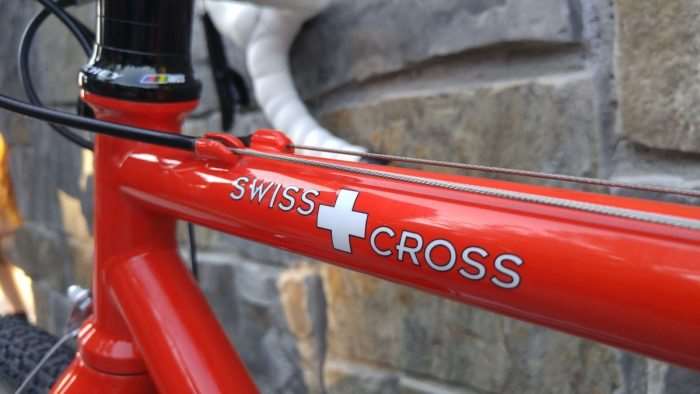 We're unsure of the exact model year of this particular SwissCross. They were re-introduced around 2011 as a homage to the original SwissCross bikes. This example was spotted lurking around the 2017 Rebecca's Private Idaho event – at the rider meeting – and near podiums on the event day. If the owner of this bike is interested in coming forward, we'd love to hear from you!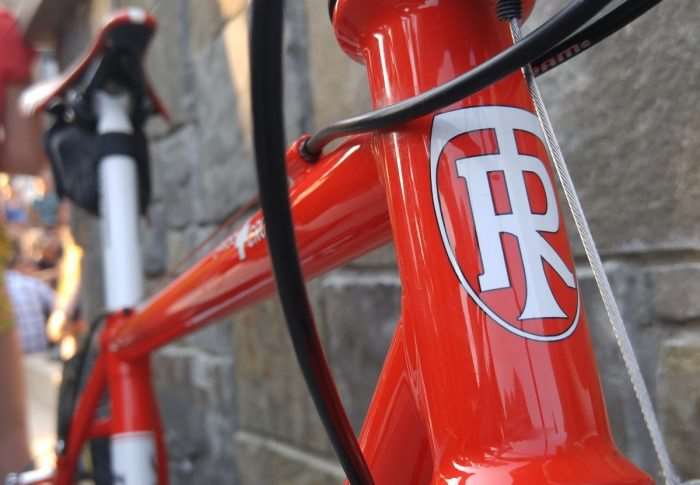 The SwissCross is only available as a frame and fork, not a complete bike – just how we like them. That way, you can build out the bike to your liking.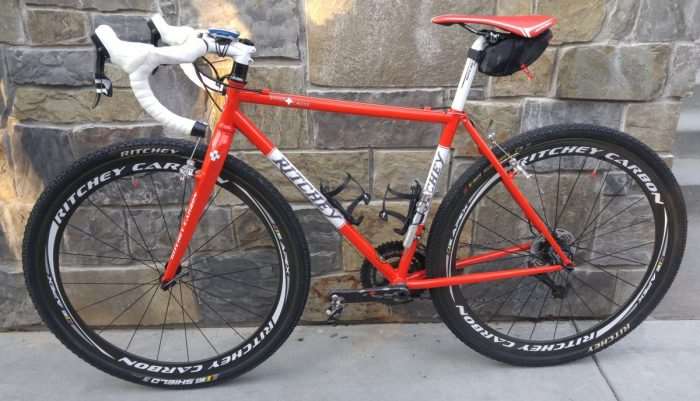 Keeping this SwissCross in the spirit of the Ritchey trade show bikes, it has been kitted out with just about every imaginable Ritchey part, even down to the tyres!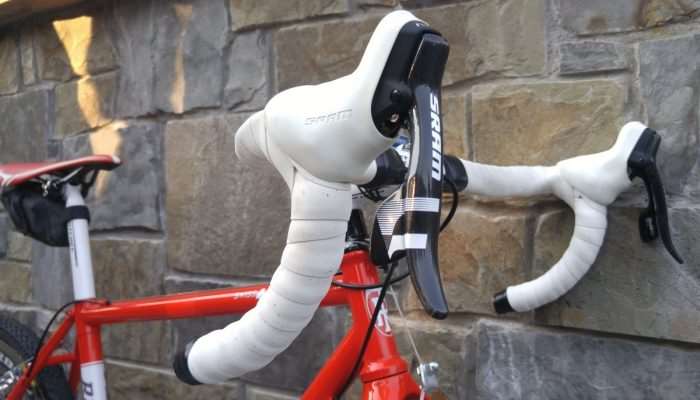 Beginning at the front end, this SwissCross features SRAM Force 10-speed shifter / brake levers, complimented by white brake hoods and handlebar tape. Can you say classy?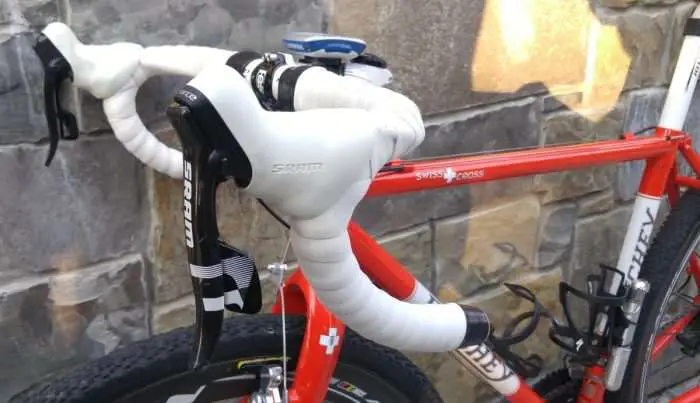 White handlebar tape is a bit of work to maintain, but JOM of the Gravel Cyclist crew ensures many of the site's incoming review bikes are also kitted out in this manner.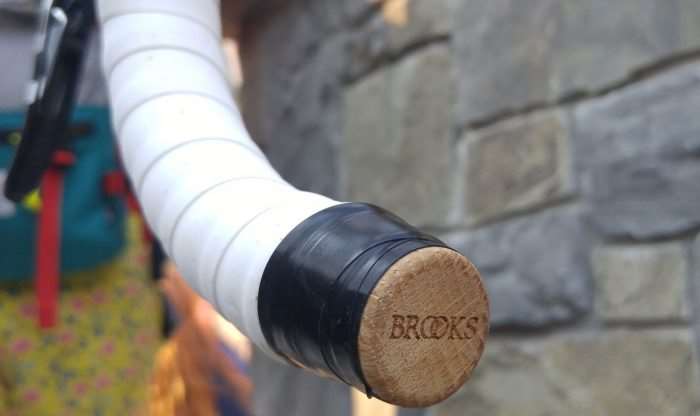 This SwissCross doesn't wear a Brooks saddle, but the cork handlebar end plugs are a cool touch.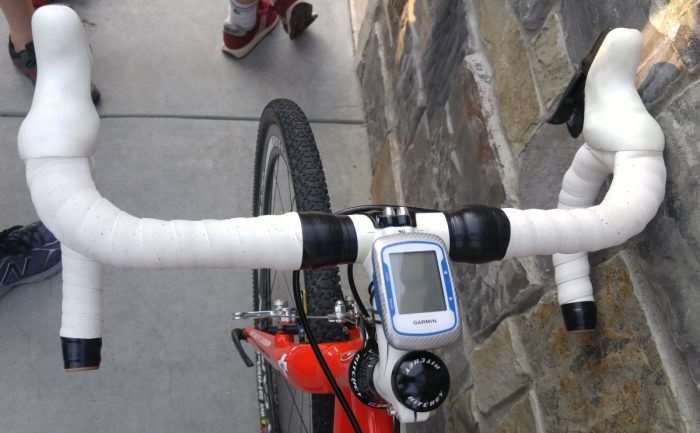 White Ritchey WCS handlebar and stem with Garmin computer on top of the stem.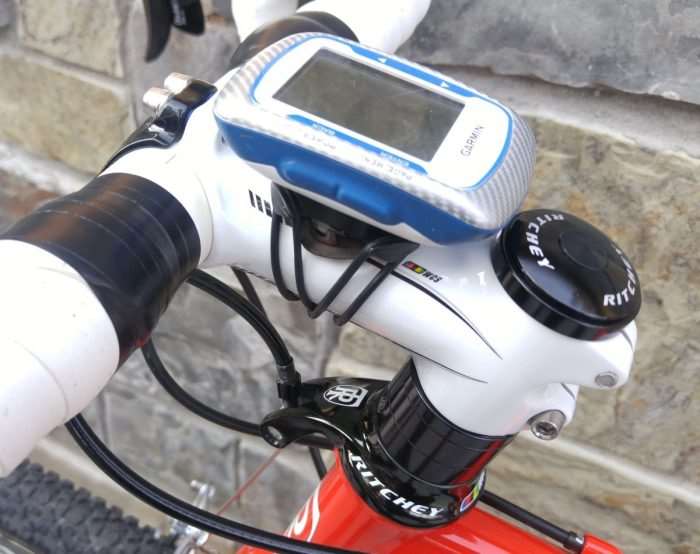 Later models of the Ritchey WCS headset feature an integrated brake cable hanger with adjuster barrel.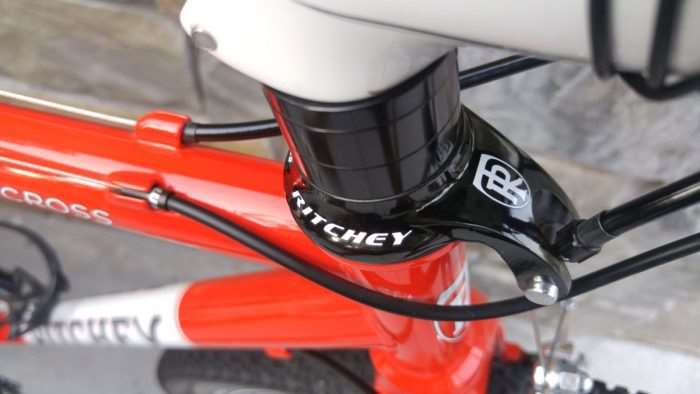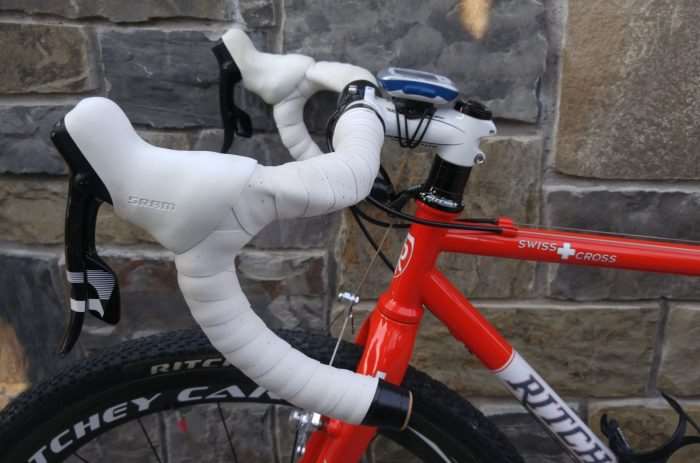 Ritchey's straight blade WCS cross fork is prone to brake shuddering, so careful attention must be paid to pad toe-in.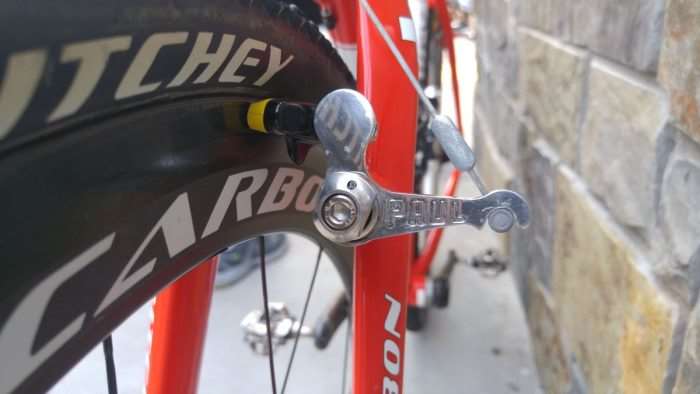 The owner of this bike knows a thing or two about building a classy bike. Paul Neo-Retro brakes exude class, especially in the polished silver finish.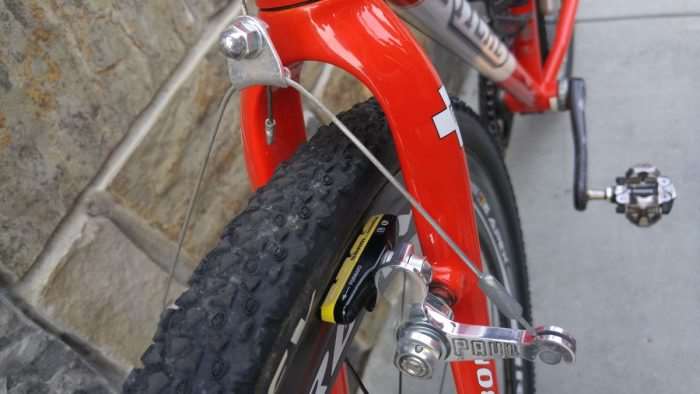 "The Neo-Retro is a wide-profile cantilever brake based on the geometry of the famous Mafac tandem brake."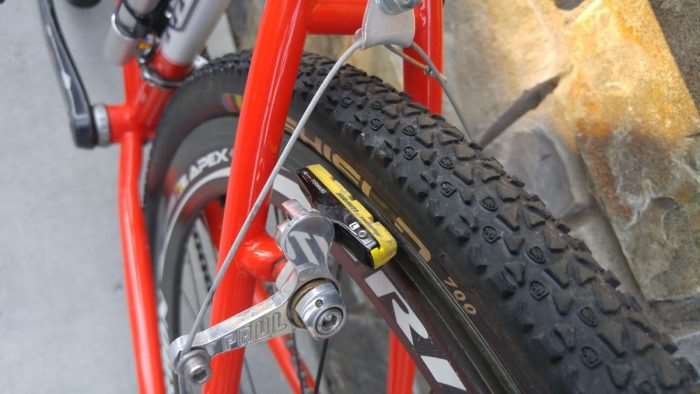 "Where the Neo-Retro differs from its classic heritage is in its modern materials and adjustability."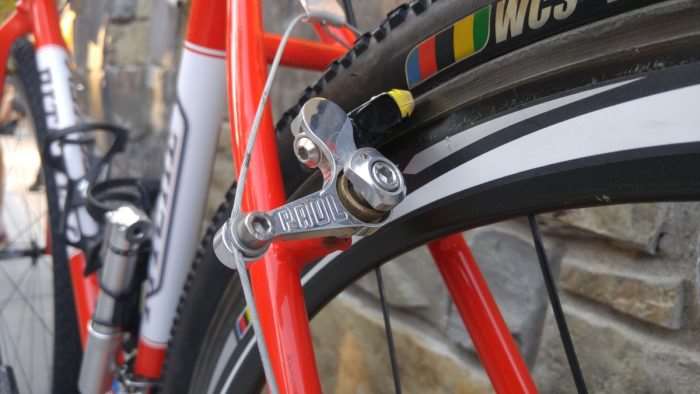 As this Ritchey SwissCross is equipped with carbon wheels, the bike's owner has wisely chosen Swiss Stop's excellent yellow carbon specific brake pads.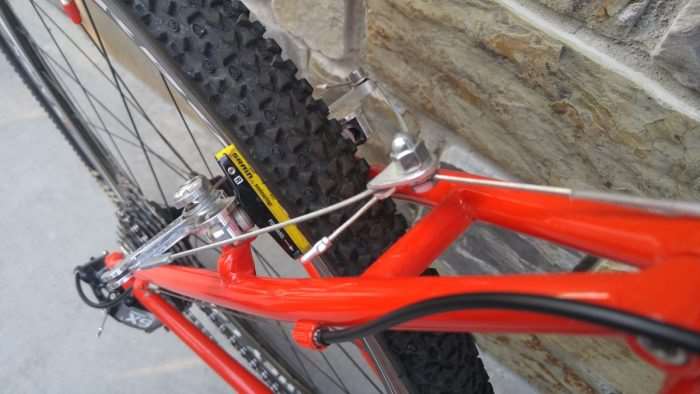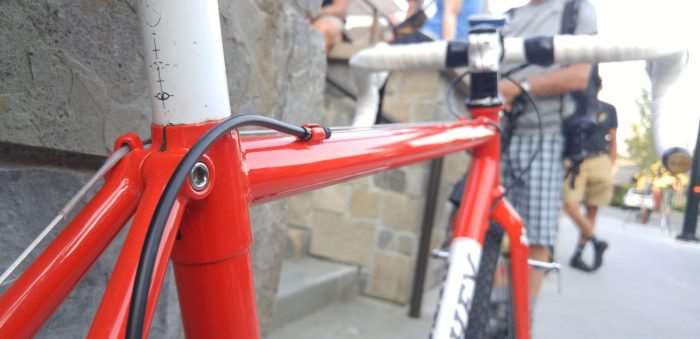 Above, the rear derailleur cable is routed along the top tube, then down the right-side seat stay.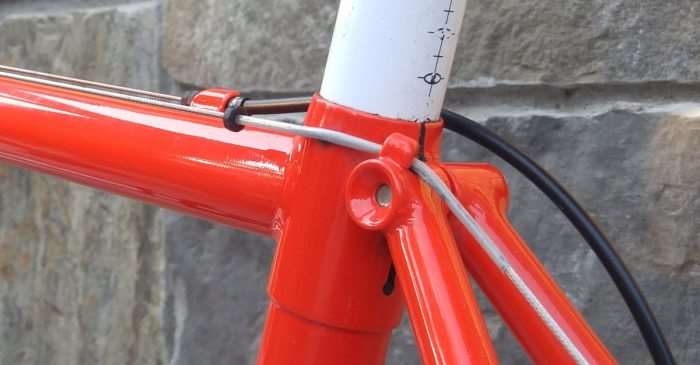 The rear brake cable is also routed along the top tube, but on the left side. Note: The bike's owner has a small plastic sleeve in place to help protect the Ritchey's sweet red paint.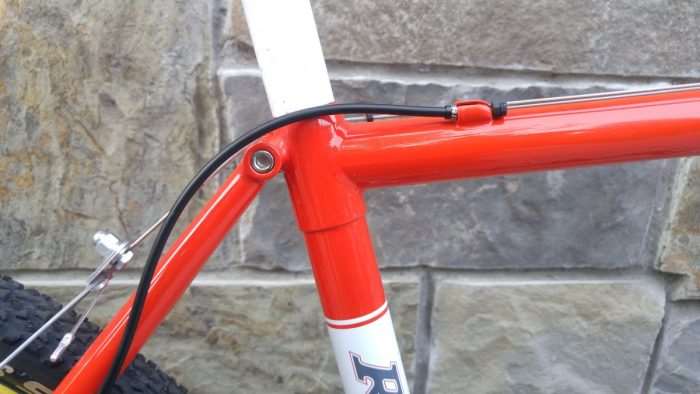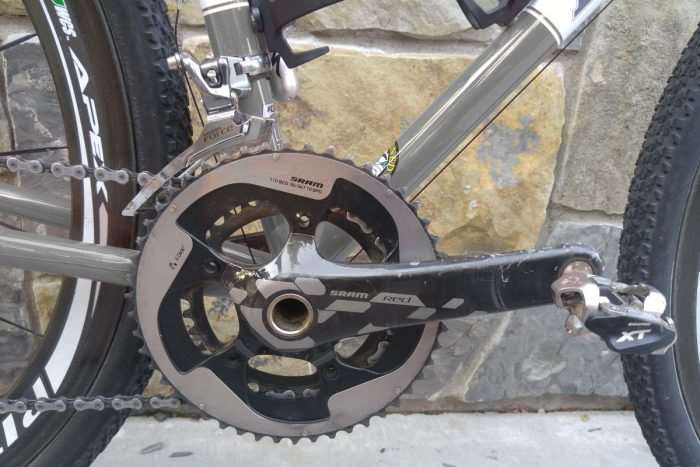 SRAM Red 10-speed carbon crank with 50/34 chainrings. Shifts are handled by SRAM's Force derailleur. The Force front derailleur features a steel cage whereas the Red version, features a titanium cage. The Force variant is rumored to be stiffer than the Red version, and was a favorite among professional European World Tour teams during the 10-speed drivetrain era.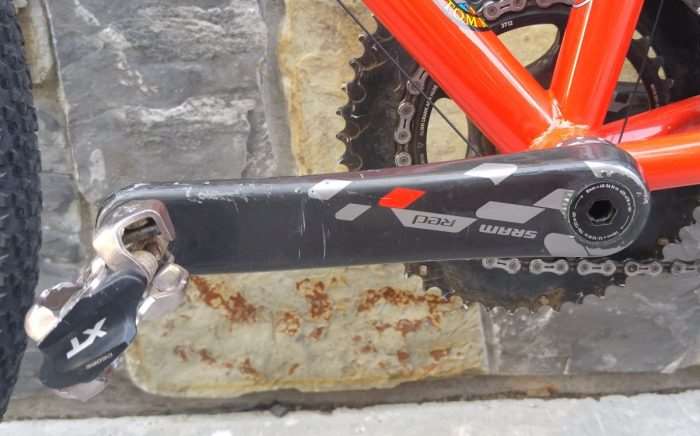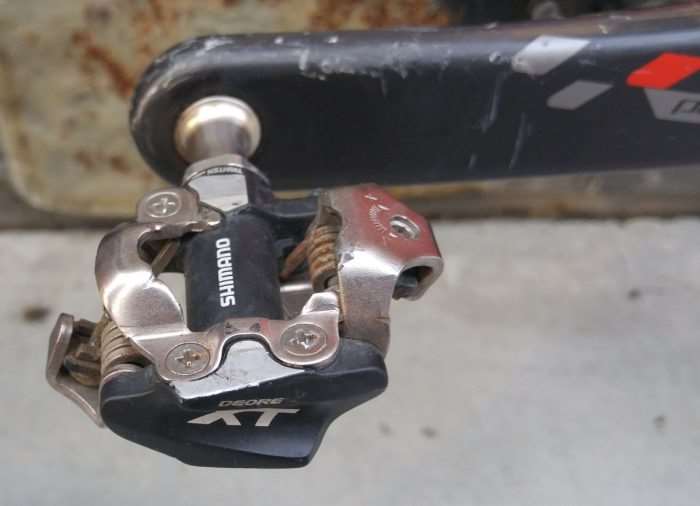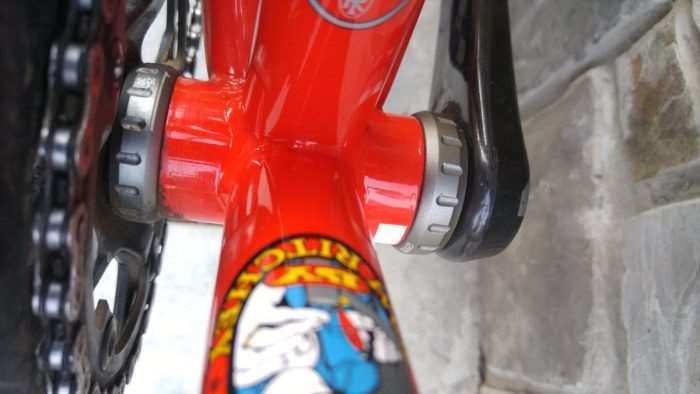 Above, a SRAM X9 rear derailleur handles shifting duties on the SRAM PG1070 11-32 10-speed cassette.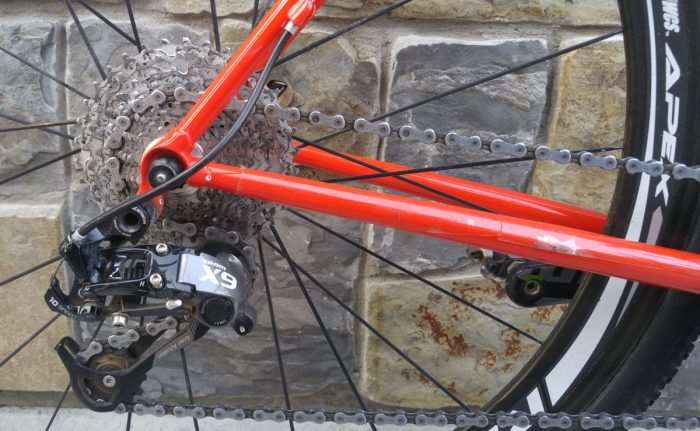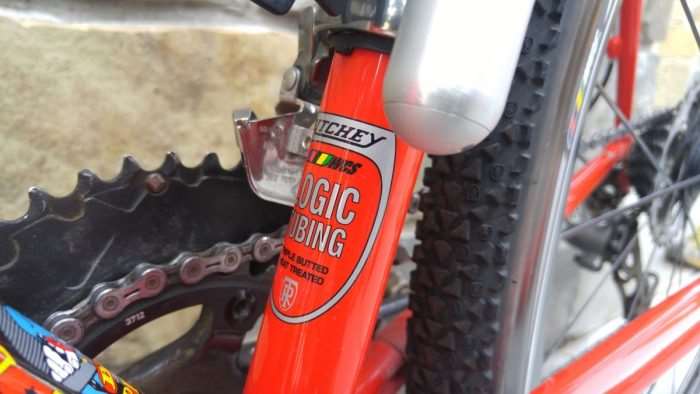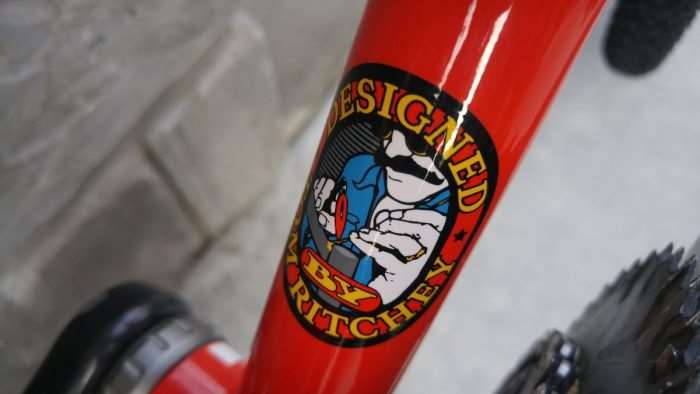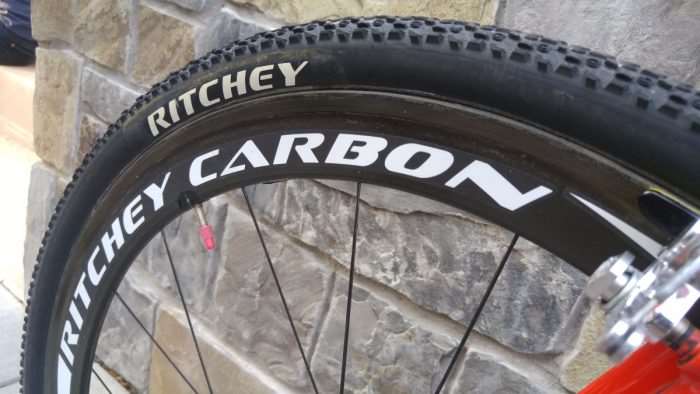 Ritchey WCS Carbon Apex wheels are tubeless ready, 38mm in depth and spec'd with the company's own hubs – 20 spokes front, 24 spokes rear.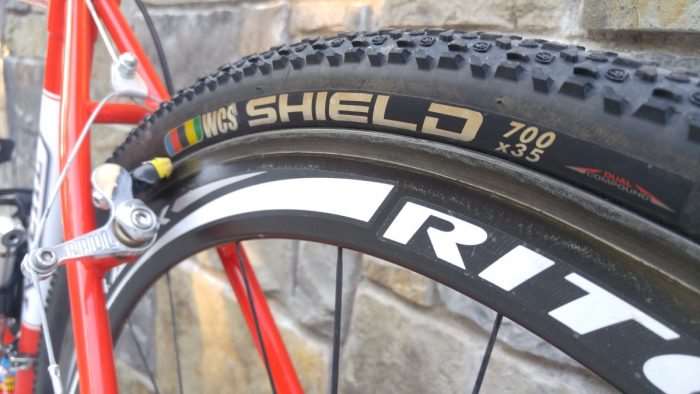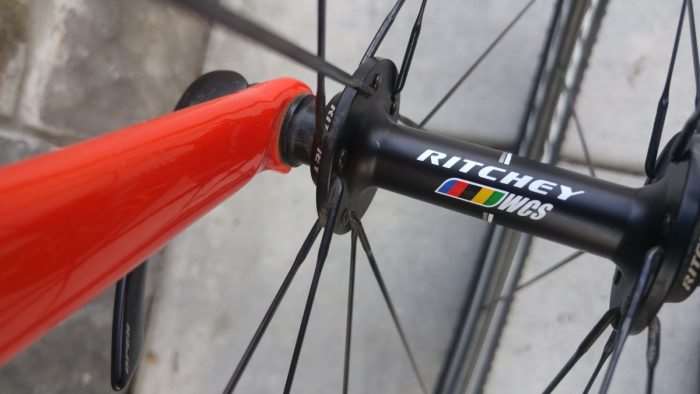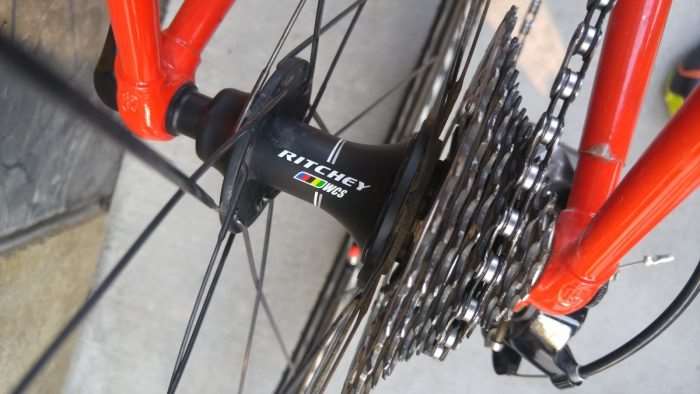 This older model of the Ritchey Apex Carbon wheelset is laced 2X on both sides of the rear wheel.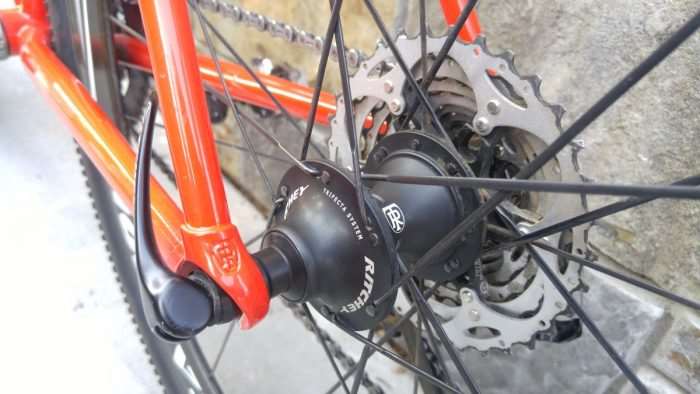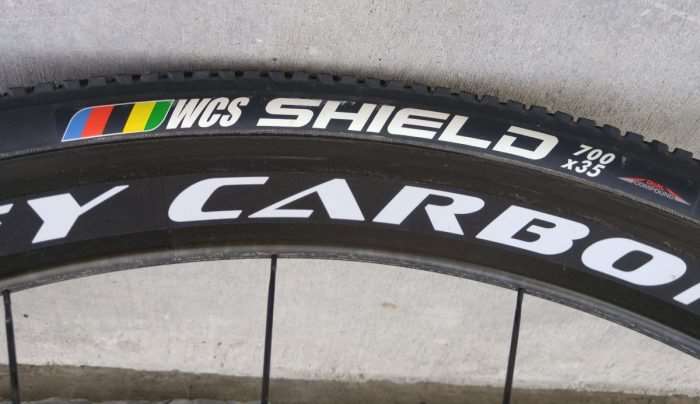 Ritchey's WCS Shield tyre is the company's "race-bred cyclocross tire". It is tubeless ready with a low-profile tread pattern and side knobs for extra cornering traction. The tyre is also a good performer along one's local gravel road.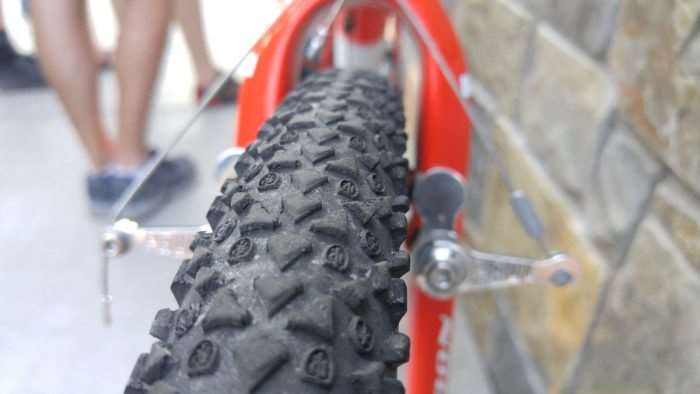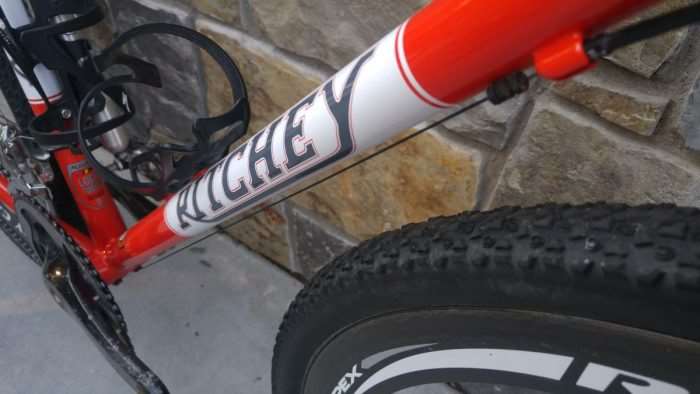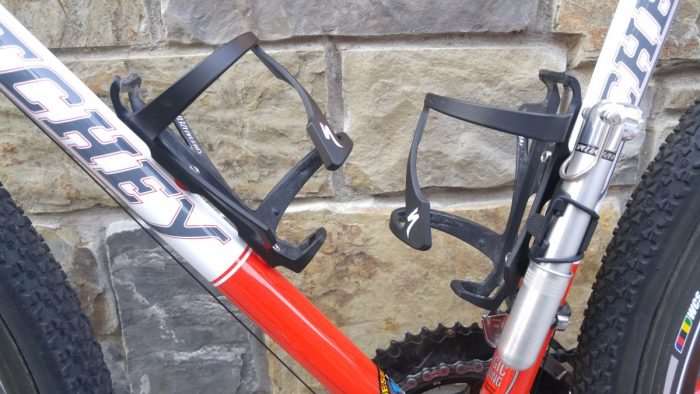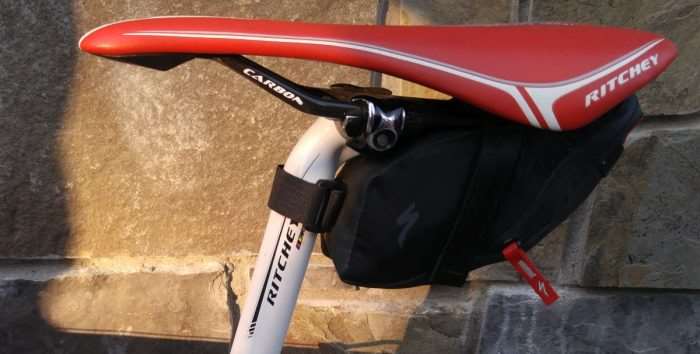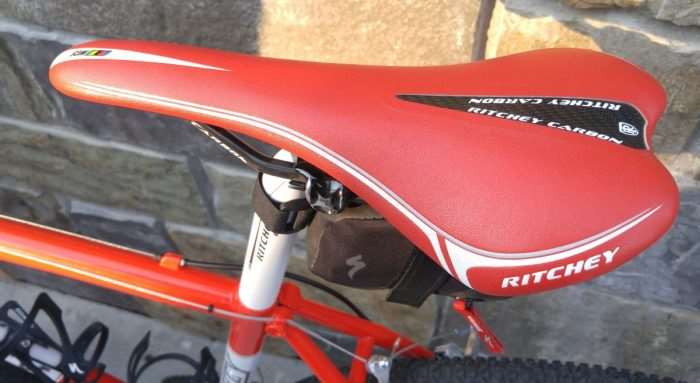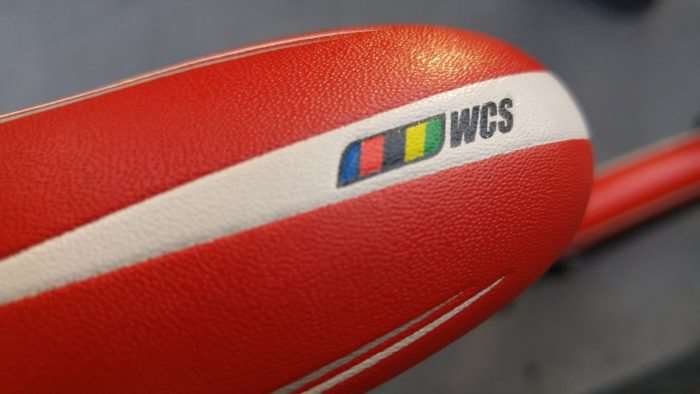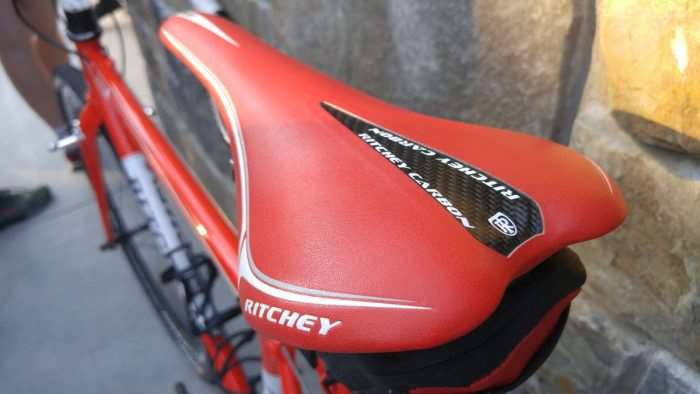 Ritchey SwissCross turned Gravel Bike:
Frame: Ritchey SwissCross, Ritchey Logic triple butted, heat treated, steel tubing.
Fork: Ritchey WCS Carbon CX.
Headset: Ritchey WCS with integrated cable hanger.
Stem: Ritchey WCS.
Handlebar: Ritchey WCS.
Bar Tape: Ritchey Logic EVA.
Brakes: Paul Neo-Retro cantilever.
Brake Rotors: N/A.
Brake / Shift Levers: SRAM Force 10-speed.
Front Derailleur: SRAM Force 10-speed.
Rear Derailleur: SRAM X9.
Cassette: SRAM PG1070 10-speed 11-32.
Chain: SRAM PC1070.
Crankset: SRAM Red 10-speed with 50/34 chainrings.
Bottom Bracket: SRAM.
Pedals: Shimano XT.
Wheelset: Ritchey Carbon Apex, 38mm rims, tubeless ready.
Tires: Ritchey's WCS Shield, 700c x 35mm.
Saddle: Ritchey WCS Carbon.
Seatpost: Ritchey WCS Aluminium, 25mm setback.
Bottle Cages: Specialized Zee Carbon (left side mount).
If you own a unique gravel bike you'd like to see featured on Gravel Cyclist, please contact us.