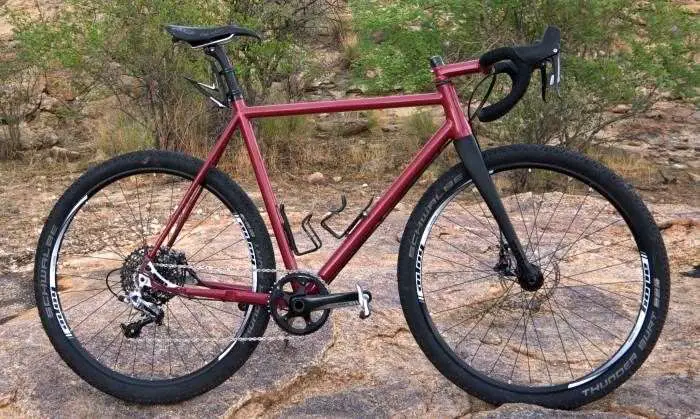 From the website of Saffron Frameworks in London, UK – "Saffron Frameworks creates custom bicycles that are as beautiful as they are functional. Each Saffron frame is unique and every one is hand-crafted especially for you. By first understanding what you want from your bicycle, together we design a frame matching your geometry and cycling goals. Then, after some measuring, cutting, brazing, aligning, polishing and painting I turn that design into your perfect travelling partner on two wheels. We build just a few frames each year, and we treat each one with the same love and care – Matthew Sowter".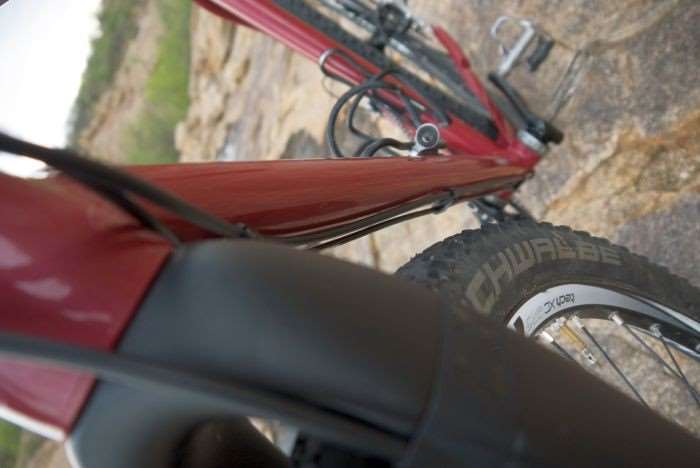 This bike isn't a pure Saffron Frameworks creation, rather a Saffron / Pangolin collaboration – Pangolin being Dan Craven, who spent many hours working on this bike.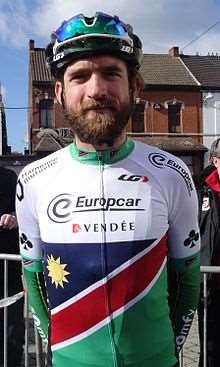 Just who is Dan Craven? Answer – European-based professional cyclist, member of the Team Europcar squad from July 2014 to end of the 2015 season. Before Europcar, Dan rode with the well-known Rapha Condor team out of the UK.
It isn't everyday you hear about a real-deal professional cyclist who is passionate about riding dirt and gravel roads – aboard a custom Monster rig!
You can read more about the story behind Dan's frame HERE.
During the 2015 season, Dan was crowned the Namibian national road race champion, seen pictured at right.
Future exploits for Dan and his Saffron Frameworks, Columbus steel tubing Monster CX rig include a trip to Namibia similar to Lachlan Morton's whereabouts. Then, there is the Namibian race called the Desert Dash – 370 kilometres (231 miles) through the oldest desert in the world with a 24 hour cutoff time. In Dan's words, "Absolutely AMAZING race".
Dan, we wish you luck!
You can read more about Dan Craven courtesy of Wikipedia.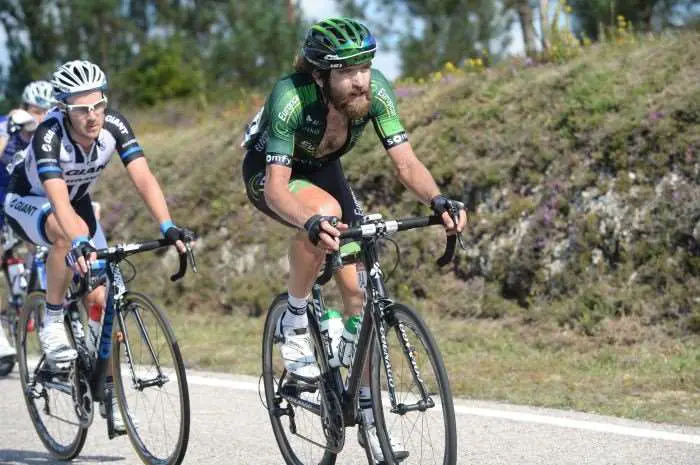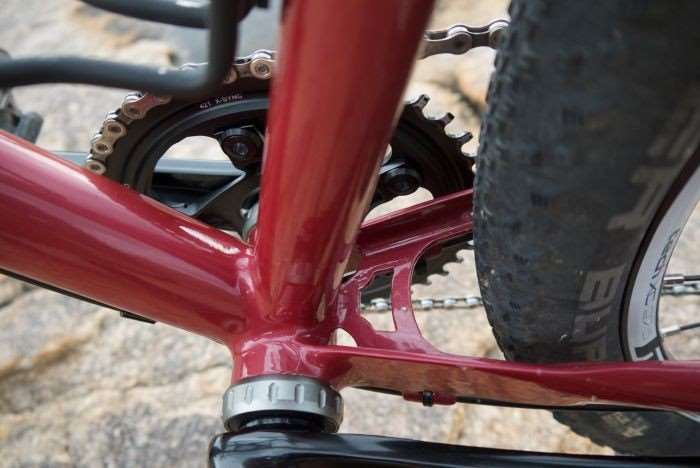 Dan's bike is similar to our very own Dr. Pain's Monster CX rig, in that the frame features a road width bottom bracket, and the ability to fit 650B MTB sized tires (tyres). Dan's bike also features thru axles front and rear, with the rear measuring at 142mm. Effectively, this is a road bike with traditional style frame geometry and the ability to go anywhere.
Gravel bike manufacturers take note!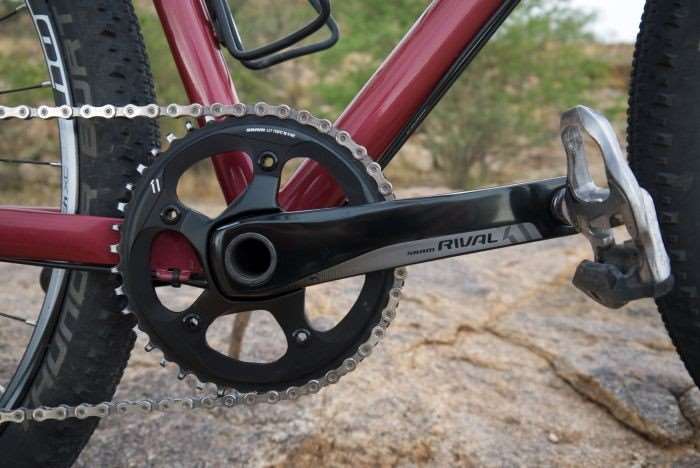 Dan's drivetrain of choice is a SRAM 1 x 11 configuration with 42 tooth ring on the crankset, and a wide range cassette shifted by a SRAM Rival rear derailleur. Braking is an all hydraulic affair, courtesy of SRAM's hydraulic calipers mated to the company's mechanical / hydraulic brake levers / shifters.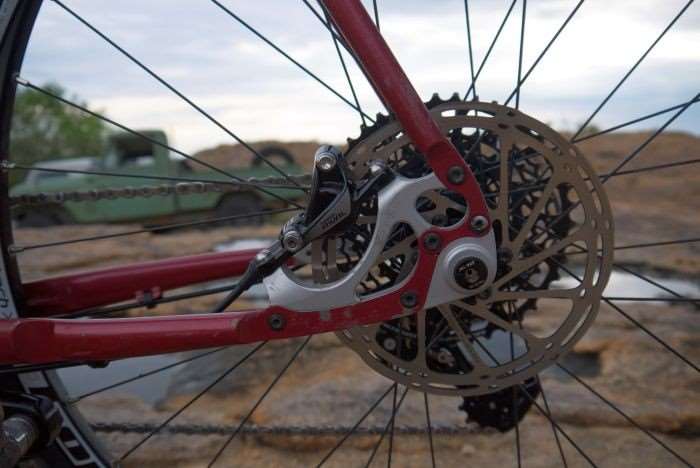 For ease of maintenance, all cables are routed externally. Anyone who works on their own bike will appreciate this.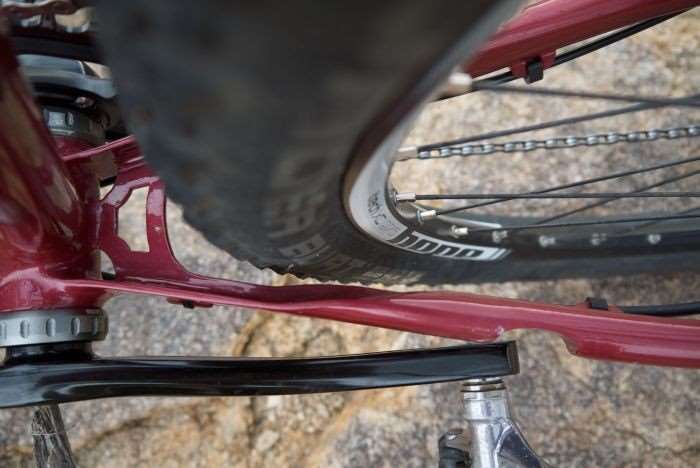 As these photos highlight, there is plenty of clearance with MTB 650B size tires (tyres) fitted. However, crank clearance is tight, with a recess built into the custom stays to accommodate. As 650B wheelsets continue to make in-roads to the world of gravel cycling, so the availability of more and better tire selections become available.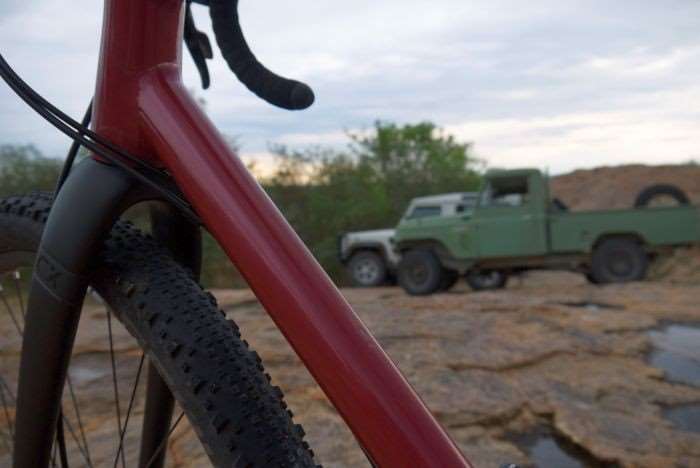 Dan Craven's Saffron Frameworks Monster CX Rig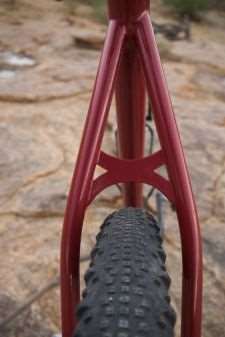 Frame: Saffron Frameworks Steel (Columbus tubing).
Fork: Enve Carbon CX fork.
Headset: Ritchey 1 1/8″ to 1 1/4″ tapered.
Seatpost: Enve carbon.
Saddle: Selle SMP Stratos.
Wheelset: Hope Tech XC wheelset, 650B
Tyres: Schwalbe Thunder Burt in 650B x 2.0″.
Handlebars: Enve carbon.
Stem: Saffron, painted to match.
Shifters: SRAM Rival 11-speed mechanical / hydraulic braking.
Derailleur: Rear only, SRAM Rival 11-speed long-cage.
Crankset: SRAM Rival 1 x 11 fitted with 42 tooth chainring.
Bottom Bracket: SRAM GXP external 68mm.
Pedals: Shimano Dura-Ace road.
Cassette: SRAM 10-42 11-speed.
Brakes: SRAM Rival hydraulic calipers.
Bottle Cages: Brand X Alumin(i)um.
Saffron Cycles Website – Facebook Page
All photos provided by Dan Craven.