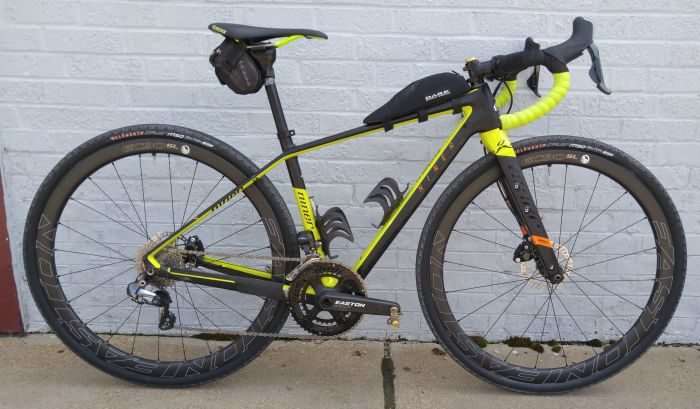 A little about Niner:
It's more than just a name. It's our passion. The 29" wheeled bike isn't just a token in our line-up. It is our one and only love, our heart and soul out there on the trail. It's 100% commitment to a wheel size we believe in, to impeccable designs & exquisite ride quality. It's a dedication we want to share with you on every ride.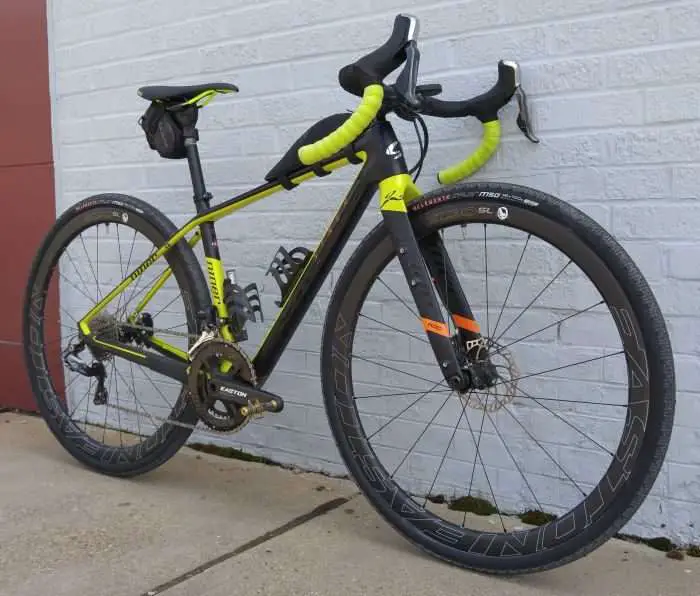 The 2017 Niner RLT 9 RDO (Road Less Traveled) claims to redefine what a gravel bike can be. More than just a flat-out race bike, the RLT 9 RDO can tackle the long distances – or keep it slow and steady – for when you need to pick a careful line, enjoy an easy cruise, or a bit of bikepacking.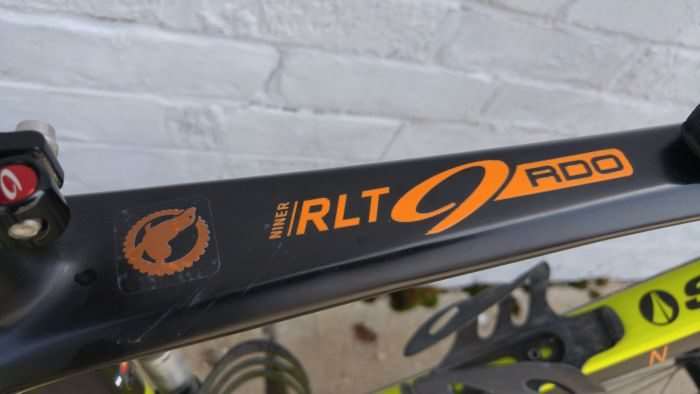 Niner have designed this frame to be pushed hard. Their Carbon Compaction process claims a 10% weight saving sans flex in the the wrong places. Aside from the RLT's performance factor, the new frame is designed to deliver all day comfort. The company designs all of their frames to meet the rigorous mountain bike industry standards for strength. Road bike standards are not as stringent.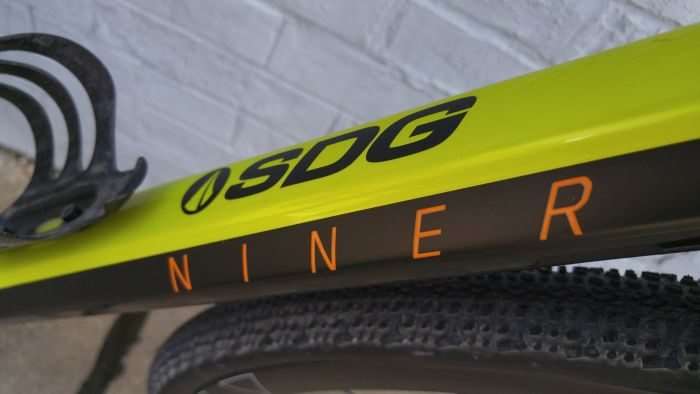 Strength and comfort are huge virtues in the world of gravel cycling, particularly at an event such as Dirty Kanza 200. For an idea of what Dirty Kanza 200 is all about, check out JOM's 2017 Dirty Kanza 200 race report.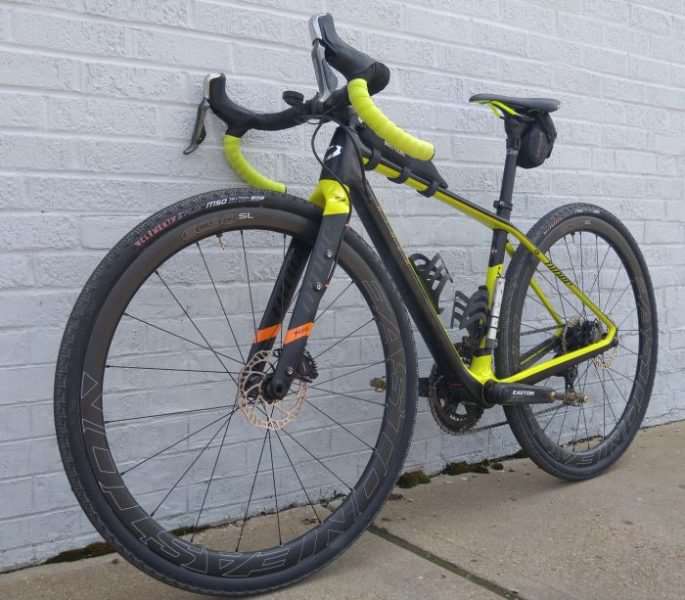 This example of the Niner RLT 9 RDO belongs to Amanda "Panda" Nauman. She doesn't really need much of an introduction. A two time women's winner at the Dirty Kanza 200 in 2015 and 2016, second place in 2017, and a win across the Atlantic at the 2017 Dirty Reiver, the UK's premier gravel event. Amanda has many other wins and placings on her palmares, but listing them all would consume much of this bike feature!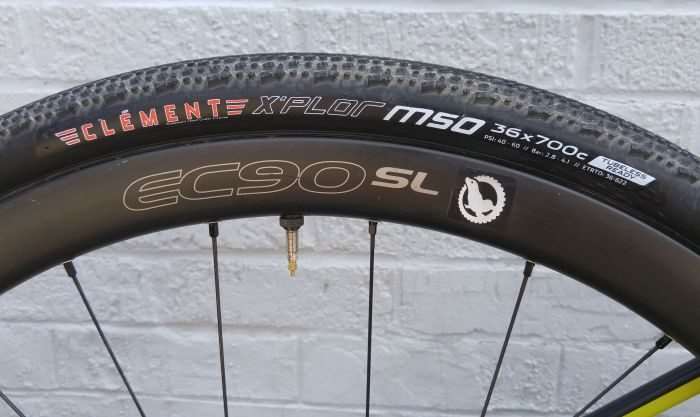 Easton is one of the component sponsors for the SDG Factory Team, providing wheels, stems, handlebars, seatposts and power measuring cranksets to riders such as Amanda. The EC90 SL carbon wheelset pictured above is a personal favorite of Amanda's. It features a wide rim that handles well in cross winds, quite the norm at a race like Dirty Kanza 200. Clement's venerable X'Plor MSO tyre has been around for a long time, but the 36mm wide version only came to market within the last year and a half. Naturally, with a sealant sponsor such as Orange Seal, Amanda runs a completely tubeless tyre setup.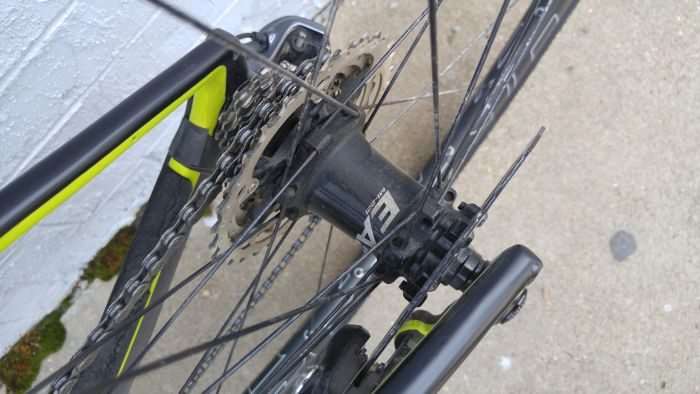 The EC90 SL wheelset features straight pull spokes, and relies on the older 6-bolt system for mounting brake rotors.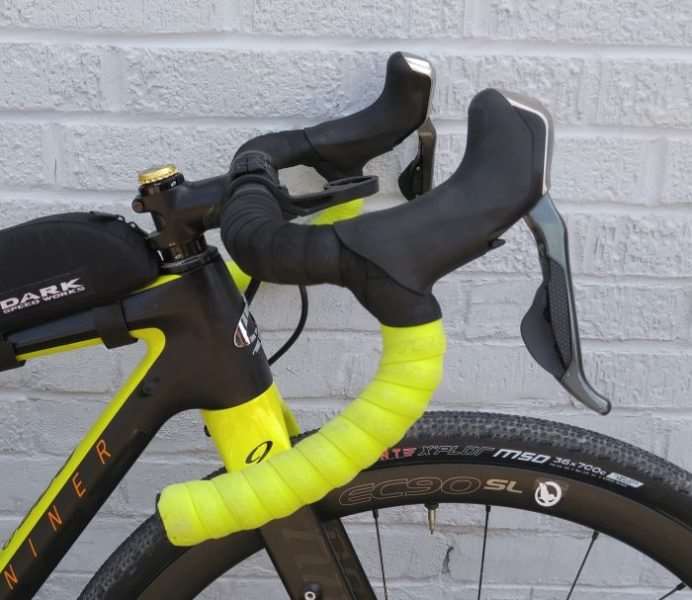 Pictured above is Easton's EC70 AX series carbon handlebar (part of the company's line of AX adventure components). At the hoods, Amanda's handlebar measures 40cm center to center, but at the drops, a flare of 16 degrees adds 68mm of width at the drops.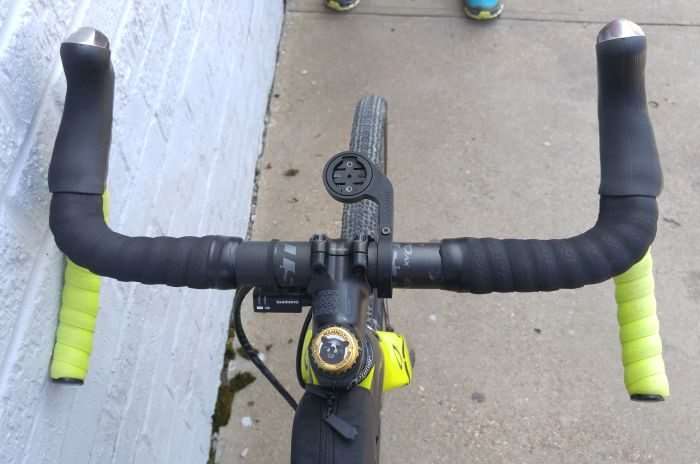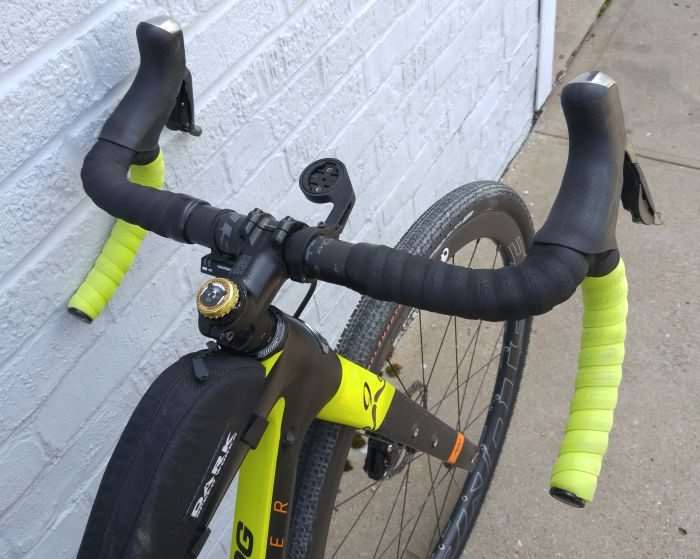 The flared drop can be seen a little better in the photo above.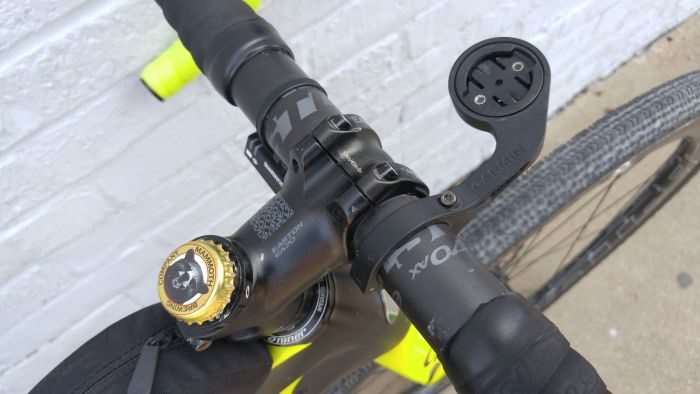 Easton EA70 stem in 70mm.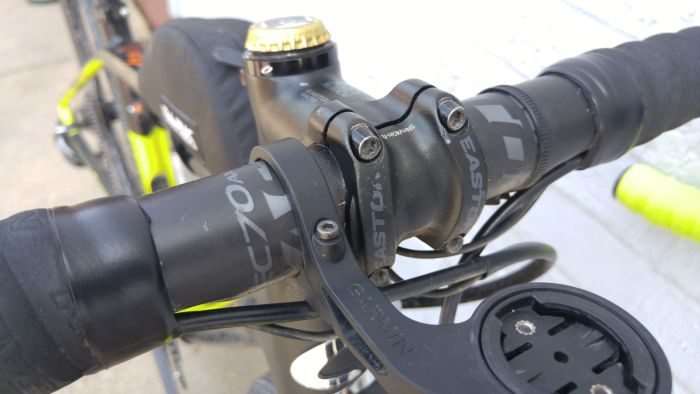 Even that Amanda Panda lady relies on a Garmin to supply her with statistics during her races. The calorie calculation function, tied in with her power meter, provides a reliable measure for Amanda to consume an appropriate amount of food and drink during the race.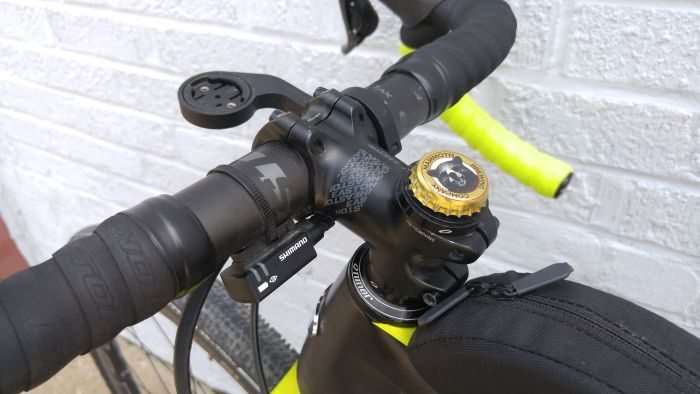 Because the stem on Amanda's bike is short, Dave (Amanda's mechanic) has gotten creative, mounting the Shimano Di2 Junction A box sideways, beneath the handlebar. Amanda's Di2 setup is the perfect candidate for the company's new Junction A box, which resides inside a handlebar end plug – very nifty! Not available to regular consumers just yet, the part number is EW-RS910.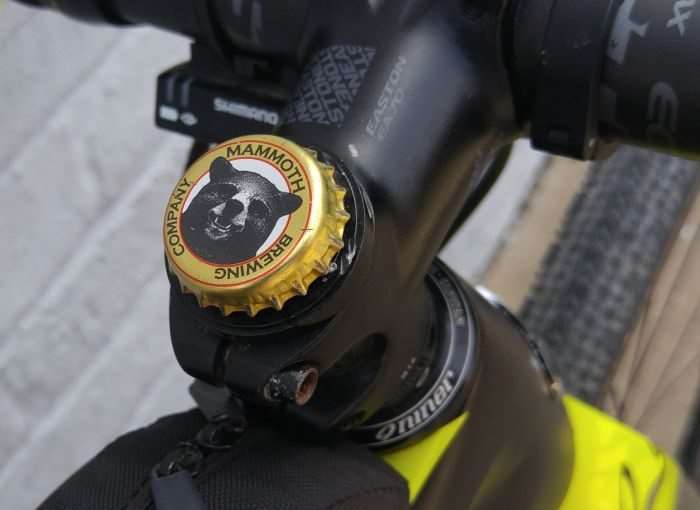 The Niner YAWYD turns any bottle cap into a headset cap and works on any bike.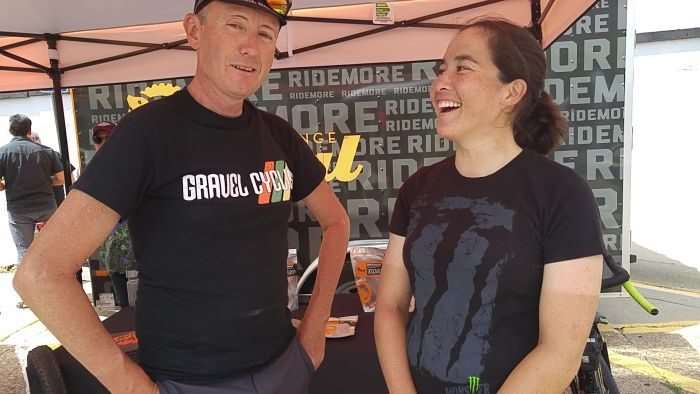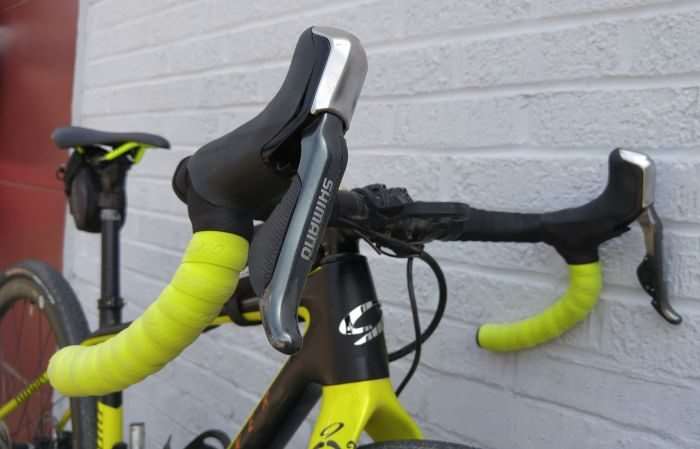 Shimano is also a sponsor, and they provide their marvelous hydraulic brakes to slow down the Panda one. We expect to see these levers change in future, once supplies of Shimano's new 8000 series components begin hitting the market.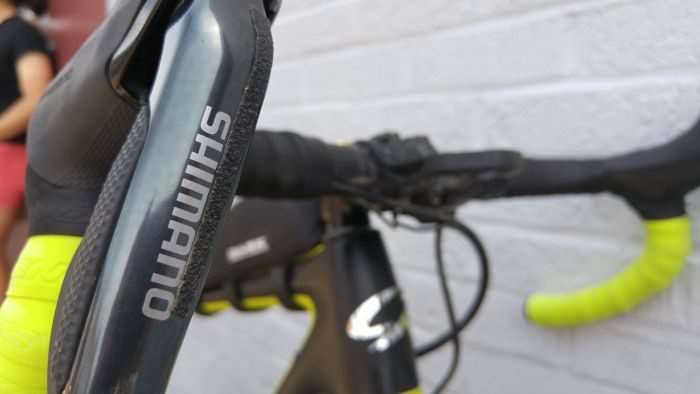 Note the grip tape applied to the inside of the hydraulic brake lever – this is mostly a remnant from Amanda's cyclocross season, where a secure grip is needed for potentially wet and dodgy situations. Sounds like an average day on a long gravel ride, doesn't it!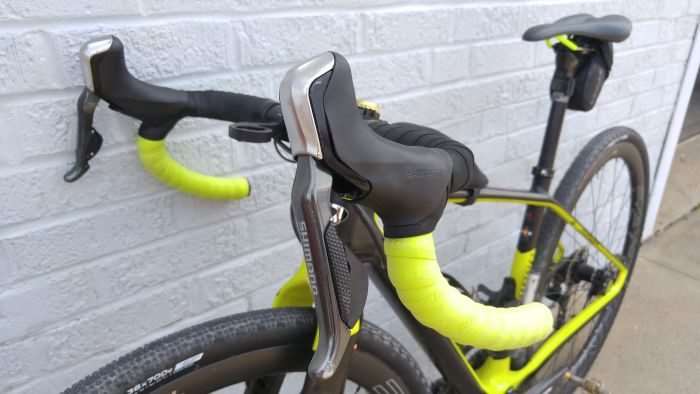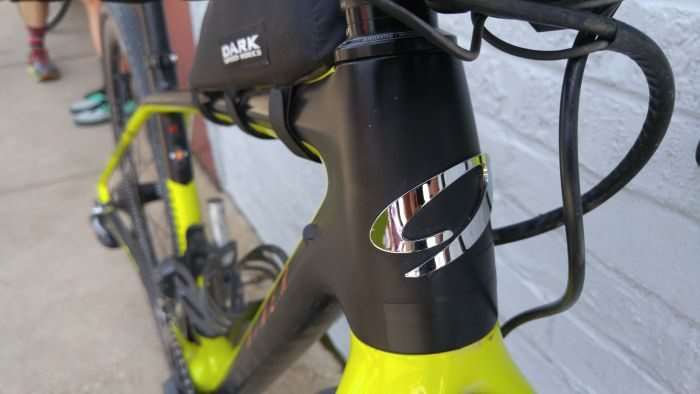 Amanda's Niner has a very clean front end. Note: Dave has applied the European pro mechanic trick of routing the Di2 Junction A to Junction B cable with the rear brake cable.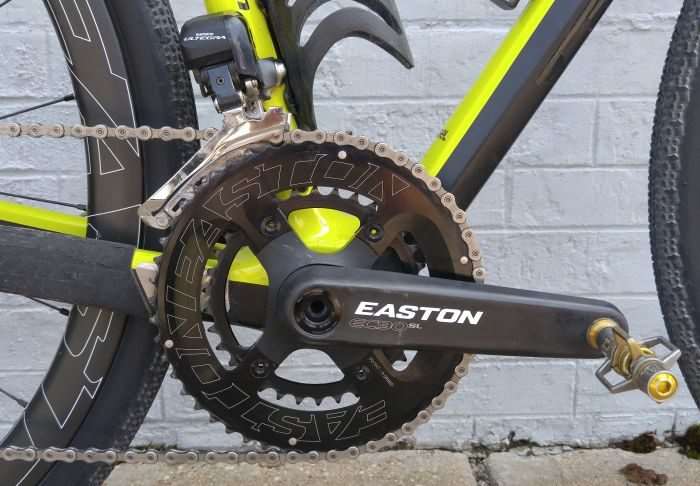 The Easton EC90 SL carbon crankset features the company's Cinch system. "The Cinch system allows the crankset to quickly adapt between various ring sizes, or even convert between single and double ring configuration. Using the Cinch system makes switching rings a quick process requiring only undoing the crank bolt and Cinch lock ring. Racers without a pro mechanic can ride a course or plan their weekend adventure and easily adjust their gearing accordingly."
During my interview with Dave about Amanda's bike, he revealed they had a plan if the 2017 Dirty Kanza 200 was a muddy one. Her bike would be converted to 1X and the rear derailleur swapped to an XTR Di2 unit (features a clutch).
Note from JOM to Shimano: Please unlock the Di2 firmware so we can pair a Di2 road front derailleur to your marvelous XT or XTR Di2 rear derailleurs! The clutch mechanism is super handy in disgusting conditions.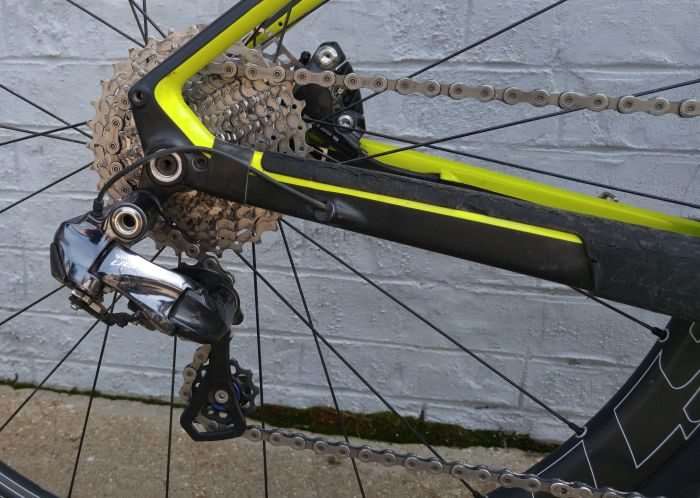 Shimano Ultegra Di2 rear derailleur, except with the added performance of Kogel ceramic pulleys. Cassette is an Ultegra 6800 11-32.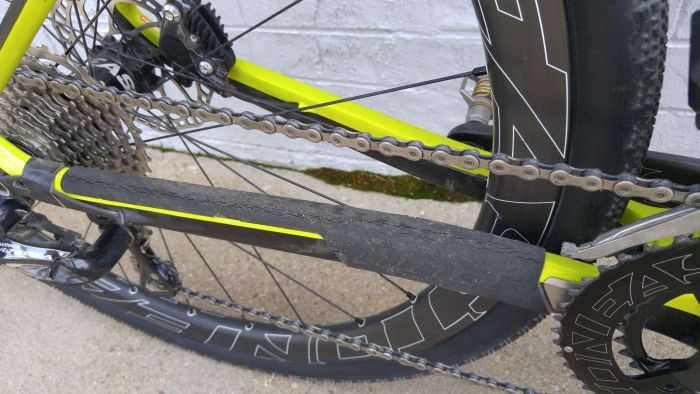 For carbon bicycles – or any bicycle really, a beefy chainstay protector helps ease the pain of rock strikes.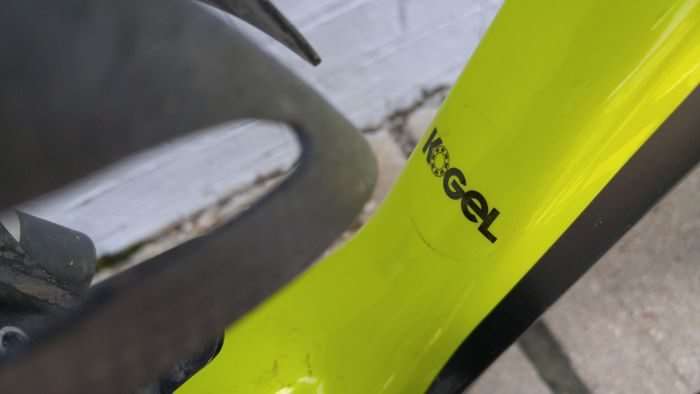 Kogel Bearings inside.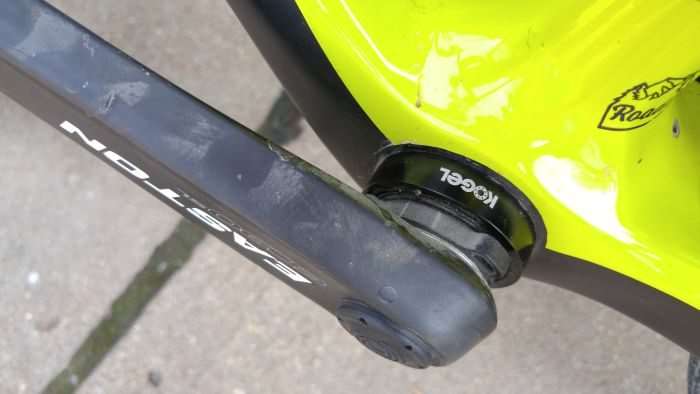 Kogel PF30-386 bottom bracket. The company designs these units to fit any frame sans adapters, which is always a source of clicks and groans. Additionally, the bearings are spaced as far apart as possible on long spindle, 30mm cranks. Amanda has been using Kogel products for the past two seasons. They have provided bullet proof performance for her cyclocross seasons, training rides, Dirty Kanza and the Belgian Waffle Ride.
The Niner RLT 9 RDO features a bottom bracket window accessed from underneath (not pictured) that allows for easy wire / cable installation. If you assemble your own bikes, you'll understand what a nice feature this is. The Niner can also be converted to single speed, provided the company's Biocentric II eccentric bottom bracket has been installed.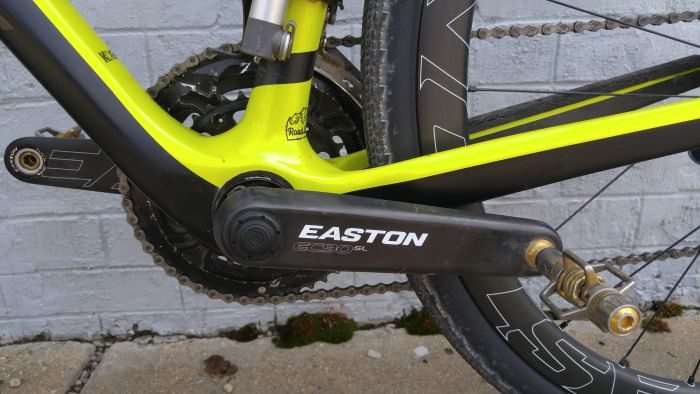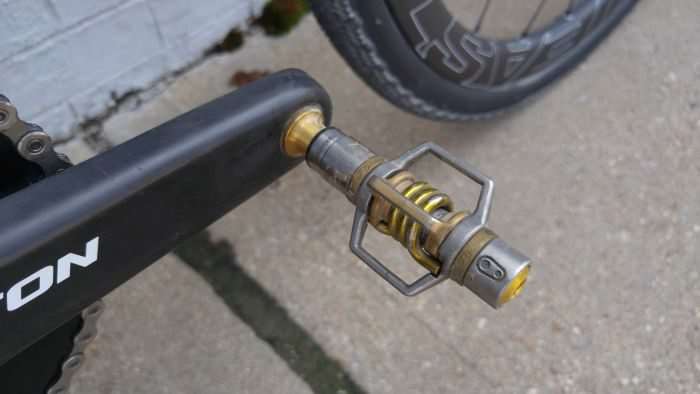 The Crank Brothers Eggbeater 11 – the company's top offering, which features Titanium spindle, body and wing components.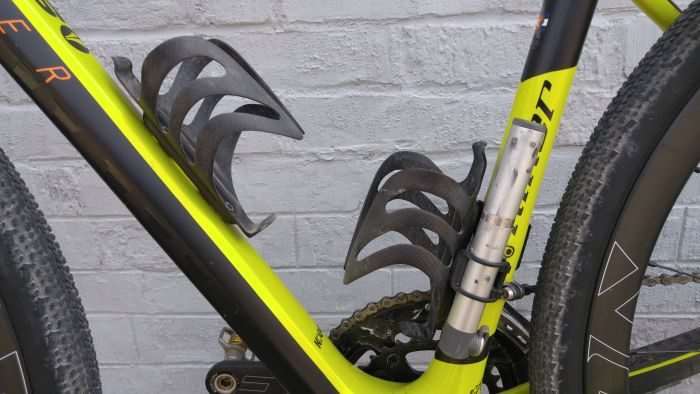 The frame mounted mini-pump is super handy, should one experience an issue with a Co2 cartridge. Bottle cages are X-Lab carbon.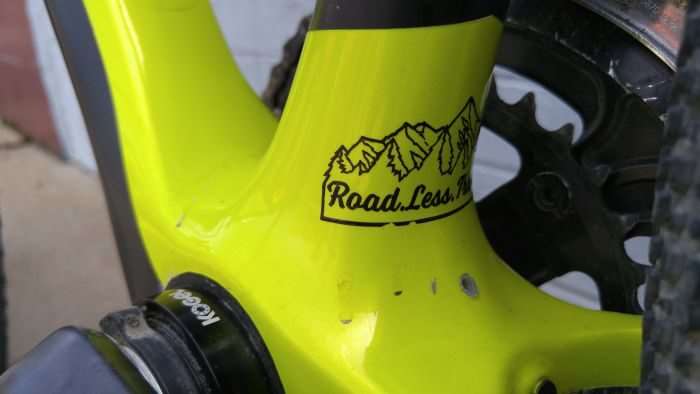 Dirty Kanza is indeed the Road Less Traveled.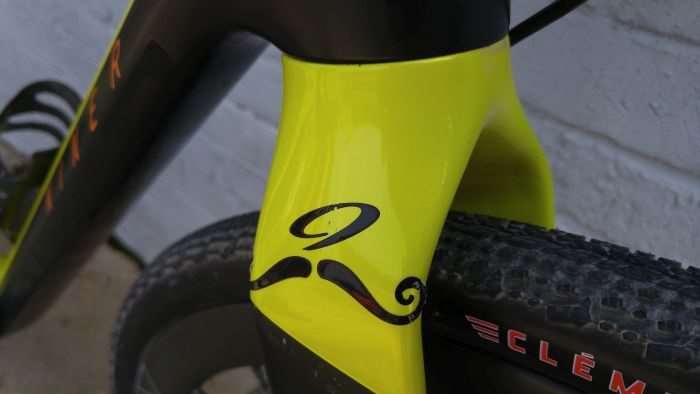 A little personal touch to the Niner's all carbon RDO fork, which also includes rack mounts; for those times when you're commuting or bike packing.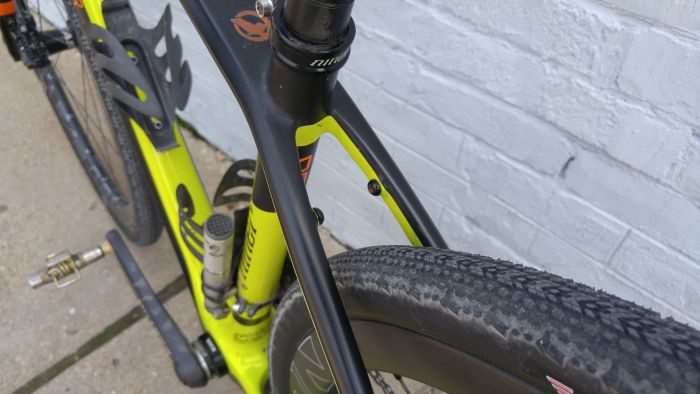 Rack mounts on the rear of the Niner.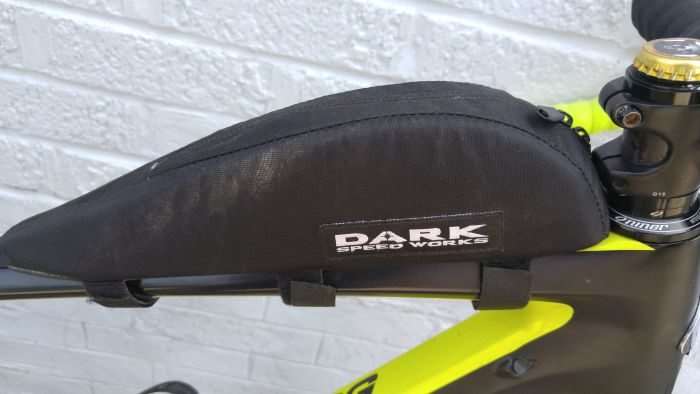 Dark Speed Works 483 – where Amanda stores her race food. The 483's low-profile strap system, ensures the bag doesn't slide around or require attachment around the steerer tube, like so many other top tube bags. It doesn't hurt that the 483 looks super aero.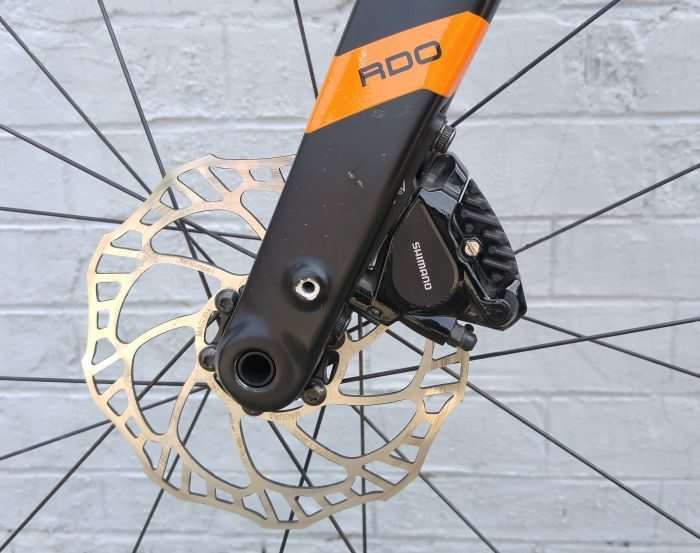 Shimano BR-RS805 flat-mount disc brake caliper with Magura 140mm disc brake rotors, front and rear. The Niner's fork supports the 15mm thru-axle standard, one we at Gravel Cyclist love, and wish would be adopted across the board on every new gravel bike.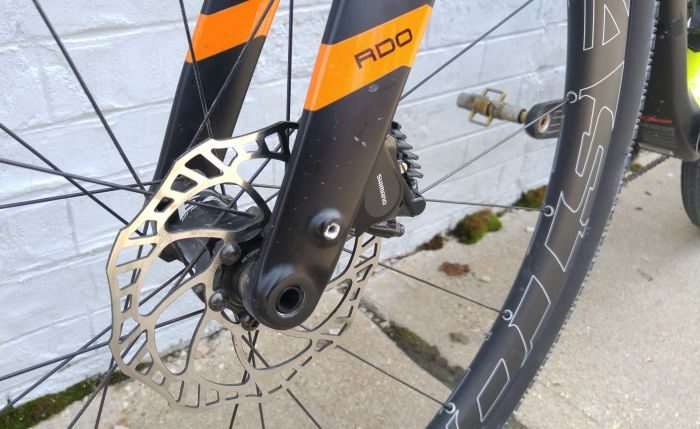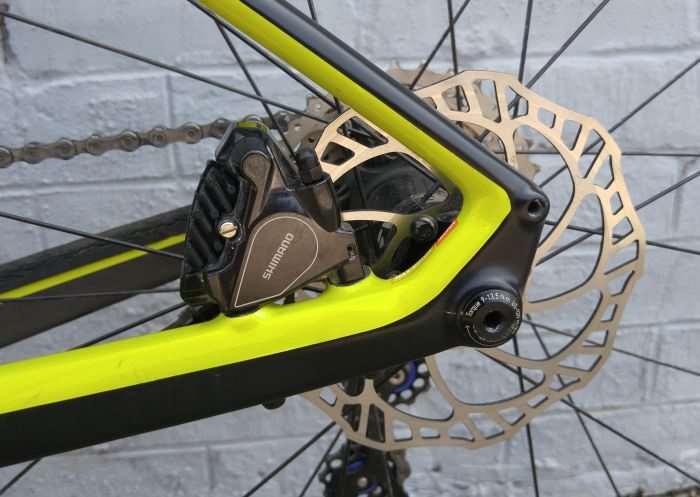 The rear flat-mount caliper is tucked nicely inside the rear triangle. The rear wheel is held in place with a 12mm x 142mm thru-axle. Note the integrated rack mount.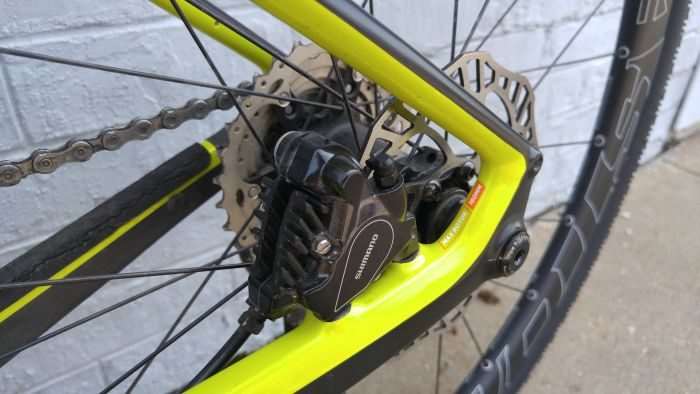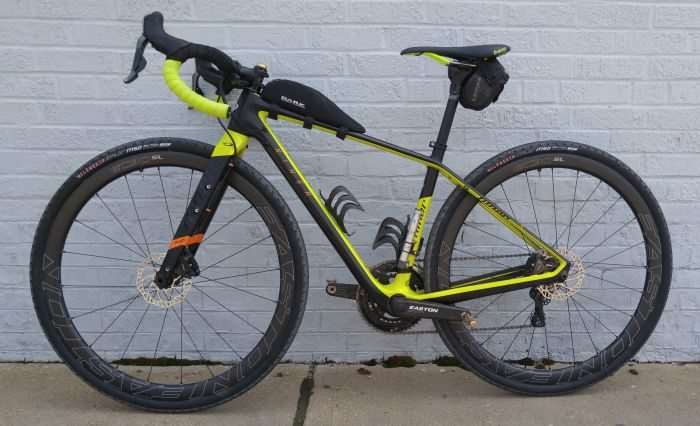 In this photo, you can see the three mounting points on the Niner's fork, for a variety of applications; rack or additional bottle cages.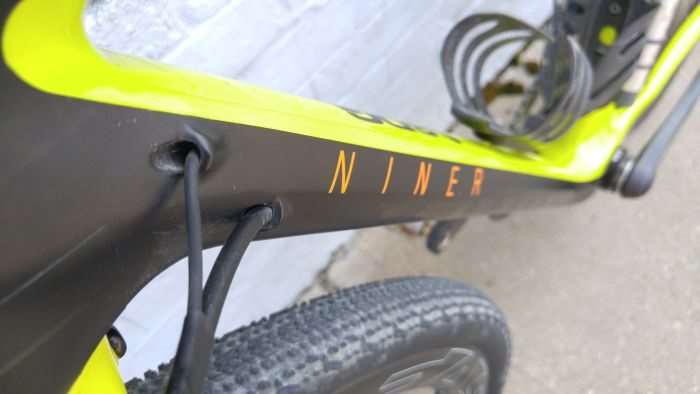 Niner does a stellar job with their internal cable routing. At top, the Di2 cable that connects Junction A to Junction B, bottom, the brake housing for the rear hydraulic brake.
SDG Circuit Mountain saddle atop a zero setback, Easton EC90 carbon seatpost. A Lezyne saddle bag holds Amanda's essential spares.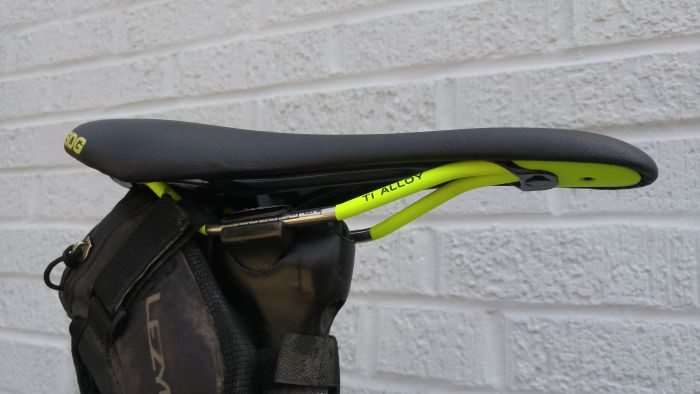 This saddle differs a little from current production models, in that Amanda is testing some different padding.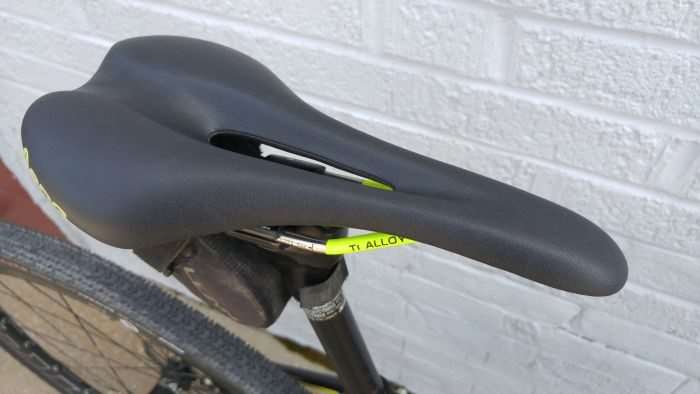 Amanda "Panda" Nauman's Niner RLT 9 RDO Specifications:
Frame: Niner RLT 9 RDO, size 47 (51cm top tube center to center), 12mm thru-axle.
Fork: Niner Carbon RDO with rack mounts, 15mm thru-axle.
Headset: Niner Integrated.
Stem: Easton EA70, 70mm.
Handlebar: EC70 AX series carbon, 40cm center to center.
Bar Tape: Easton.
Brakes: Shimano BR-RS805 flat-mount disc brake.
Brake Rotors: Magura, 140mm.
Brake levers: Shimano ST-R785 hydraulic Di2.
Front derailleur: Shimano Ultegra 6870 Di2 11-speed.
Rear derailleur: Shimano Ultegra 6870 Di2 11-speed fitted with Kogel ceramic bearing pulleys.
Cassette: Shimano Ultegra 6800 11-speed 11-32.
Chain: Shimano CN-6800 11-speed.
Crankset: Easton EC90 SL fitted with 50/34 chainrings.
Bottom bracket: Kogel PF30-386 with ceramic bearings.
Pedals: Crank Brothers Eggbeater 11.
Wheelset: Easton EC90 SL carbon, tubeless.
Tires: Clement X'Plor MSO 700c x 36mm, filled with Orange Seal Endurance Formula.
Saddle: SDG Circuit Mountain, prototype.
Seatpost: Easton EC90 carbon, zero setback.
Bottle cages: X-lab carbon.