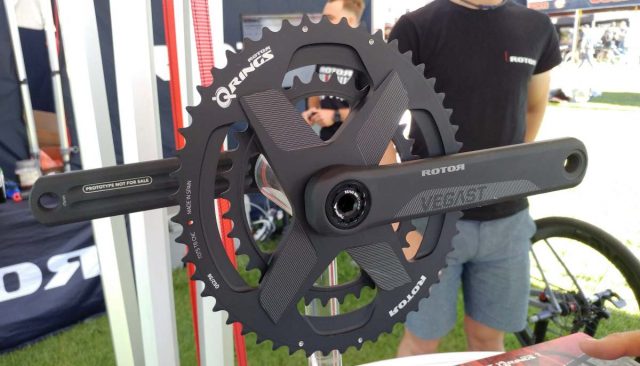 "Rotor was founded in 1994 by two friends and cycling enthusiasts, who believed they could eliminate dead spots in the pedal stroke. Pablo Carrasco, an aeronautical engineer, and Ignacio Estellés, a lawyer, had a vision that it would be possible to revolutionize cycling technology. Their challenge was to develop a more natural way of pedaling, which would consequently eliminate the dead spot and make more efficient use of the force applied to the pedals."
Since that time, the company has gained a reputation for producing beautiful CNC'd components, ranging from cranksets to an innovative hydraulic shifting and braking groupset, Rotor Uno. Click this link for Gravel Cyclist's review of Uno.
High quality generally comes at a high price, but Rotor released some new and more affordable options at the recent Sea Otter show.
Rotor VEGAST Crankset and Direct-Mount Chainrings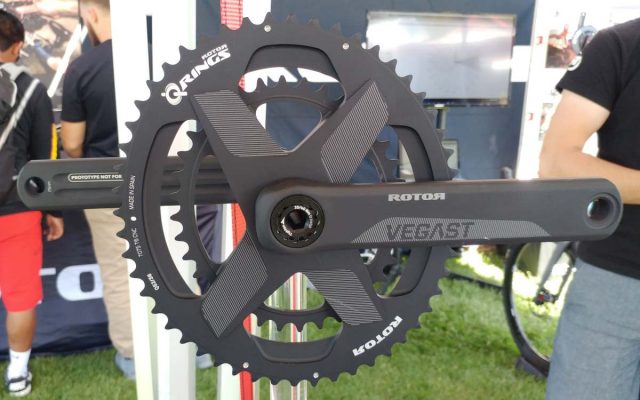 Pictured above is the new Rotor VEGAST crankset, which gets its name from the highest climbs at three grand tour victories (Tour de France 2008, Vuelta España 2011 and Giro d'Italia 2012), won by riders on Rotor products. The climbs are VEleta – GAlibier – STelvio. The crankarms are forged AL6082 to help keep costs down, but the inside of the arms are still milled away using the company's Trinity machining process.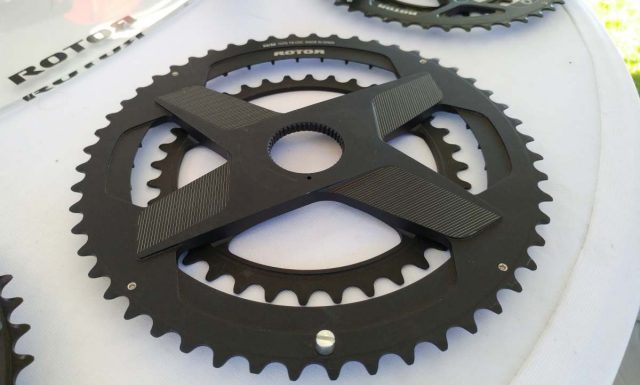 The VEGAST crank uses Rotor's Direct Mount chainring technology. Pictured above, a one-piece Direct Mount double chainring pair, CNC machined from a single block of aluminium. Compared to bolting individual chainrings to a spider, these one-piece double chainrings tout increased stiffness. The one-piece double chainrings are available in round and oval variants.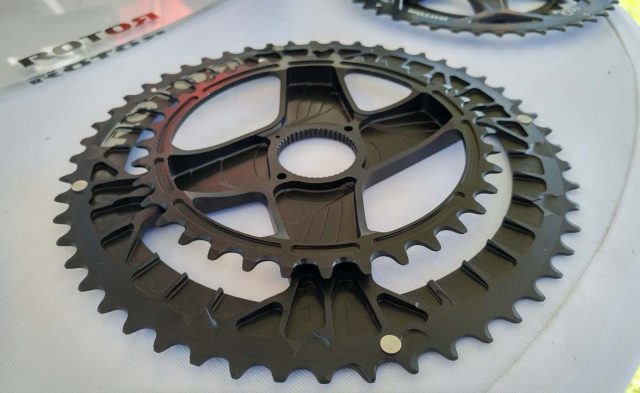 The VEGAST crankset is designed primarily with the road in mind; a 50/34 Direct Mount double pairing is available, for those Gravel Cyclist types who prefer to push a bigger chainring. The ovalized version of the double one-piece chainrings can be adjusted in one-degree increments, by rotating the chainring on the crank's direct mount spline interface.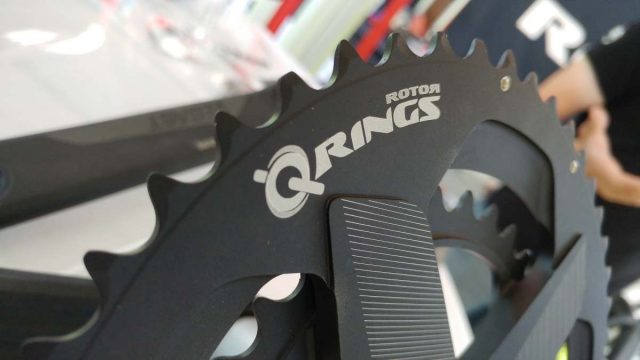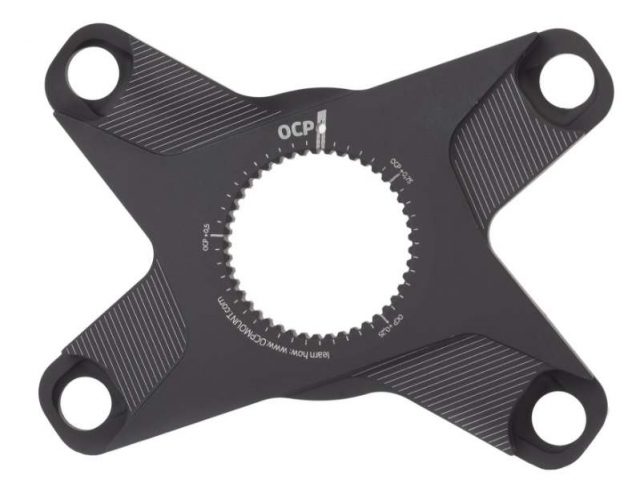 Pictured above is the VEGAST spider for 110bcd 4-bolt (Shimano compatible). For those not interested in Rotor's Direct Mount, one-piece double chainrings, this option is for you. The VEGAST spider still uses Rotor's Direct Mount technology to mount to the VEGAST crankset, but you are free to choose your double chainring pairings.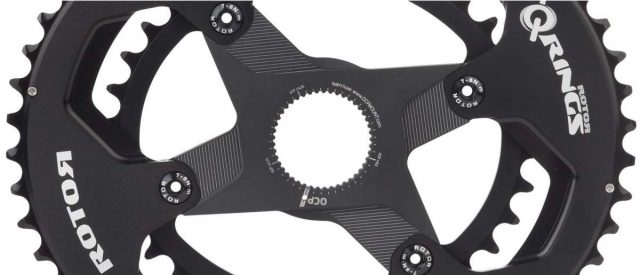 At the time of writing, Rotor is offering individual round and oval chainrings in 34, 36, 39, 50, 52 and 53. I expect we'll see a 46T big chainring added to the range in the near future. Incidentally, this line of Rotor's chainrings are 100% compatible with Shimano's 110bcd 4-bolt standard, and will pair nicely with Shimano cranks.
Rotor 2INpower and INpower Power Meters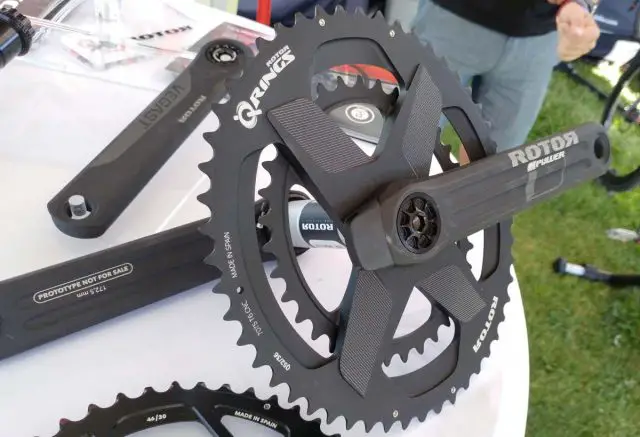 Pictured above is the Rotor INpower single-sided power meter system. This new design utilizes Rotor's newest Direct Mount chainrings as seen earlier in this article. The INpower crankset takes power measurements from one's left leg using two strain gauges inside the crank spindle.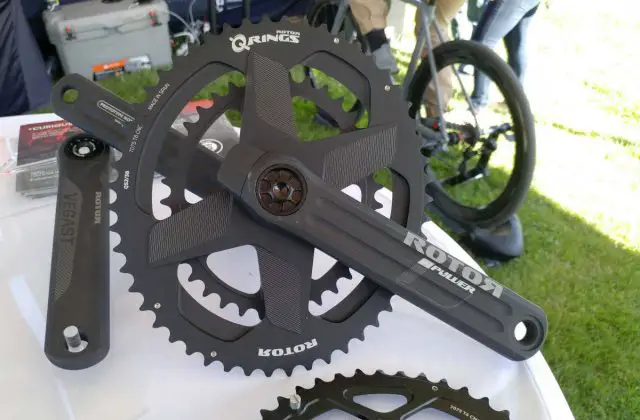 The electronics for the INpower system reside on the right crank arm, which is a change from earlier versions of this crank. This design change made the INpower crank compatible with Rotor's new Direct Mount chainrings, which creates a universal standard across Rotor's range of Direct Mount cranks, power meter or otherwise.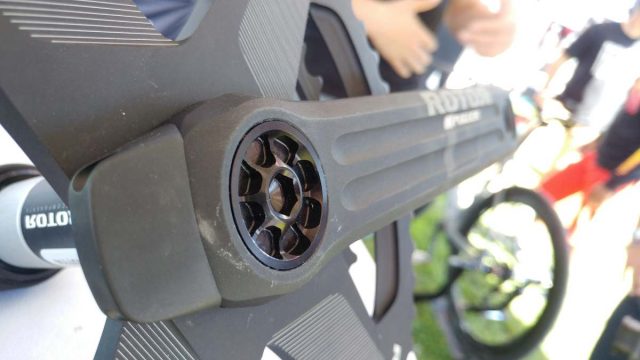 The 2INpower crankset (not pictured) measures power from left and right crankarms, and receives the same Direct Mount chainring update as the INpower crankset. Additionally, four strain gauges are located inside the axle, and four more inside the right, drive-side arm. For those interested in capturing data, the Rotor 2INpower system can capture up to 200 data points per second.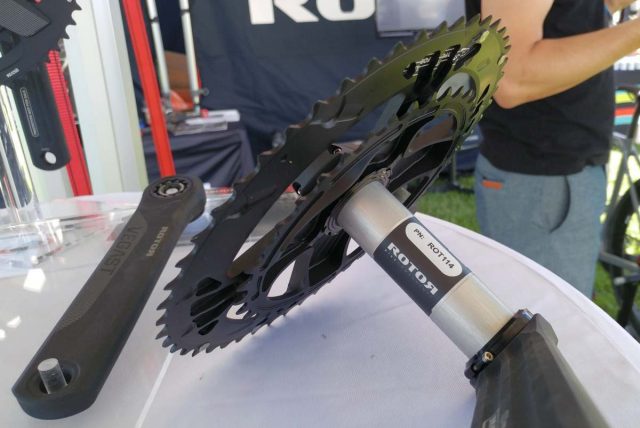 For further details on Rotor's entire product line, please click the link at the bottom of this article.
Inside all of that Rotor CNC Machining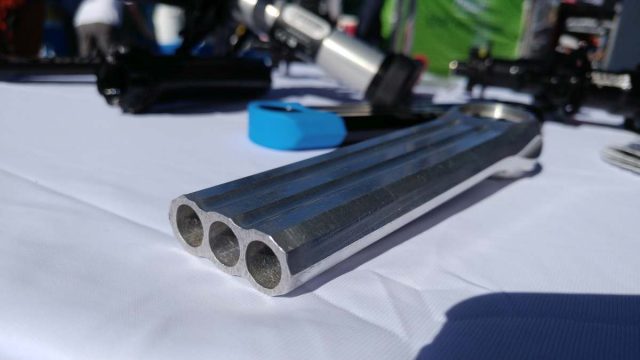 Rotor's CNC machine work involves time and effort, but the company doesn't take shortcuts.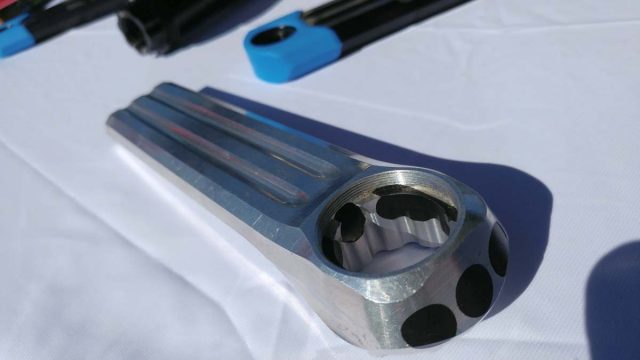 Above, a cutaway example of a typical Rotor crankset. The inside of the crankset is hollowed out, but not at the expense of durability and strength.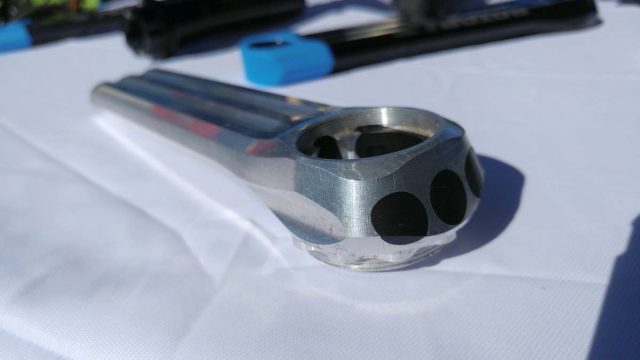 Rotor's Trinity machining process is responsible for the hollowing of Rotor's crank arms.