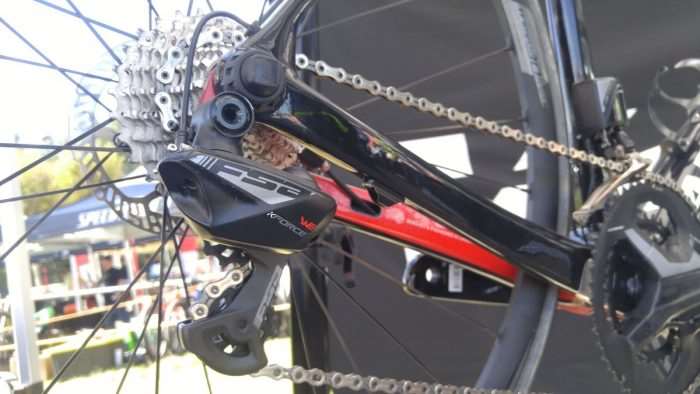 "FSA presents its first drivetrain: after years of study and development, K-Force WE is ready to ride. K-Force WE is a high-tech electronic groupset with an elegant design. A unique product that will make you change the way you ride your bike. Long battery life, different size levers and wireless technology at the shifters for smooth, quiet and precise shifting."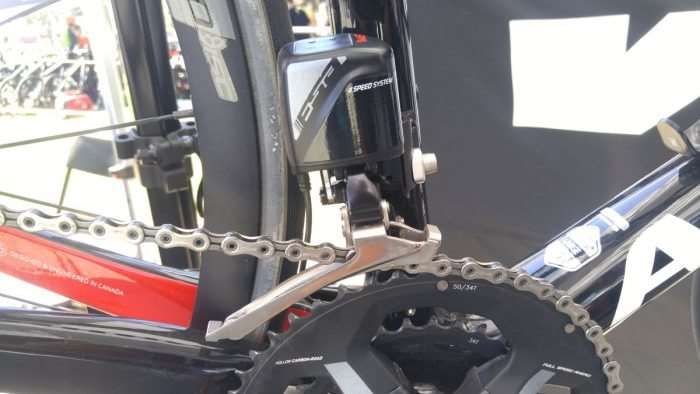 If you didn't catch it, FSA has been working away quietly on their "WE" electronic drivetrain for some time. It was spotted in various iterations on Euro pro roadie bikes during 2015 and earlier, but finally made an "official" appearance at the 2016 Eurobike and Interbike trade shows.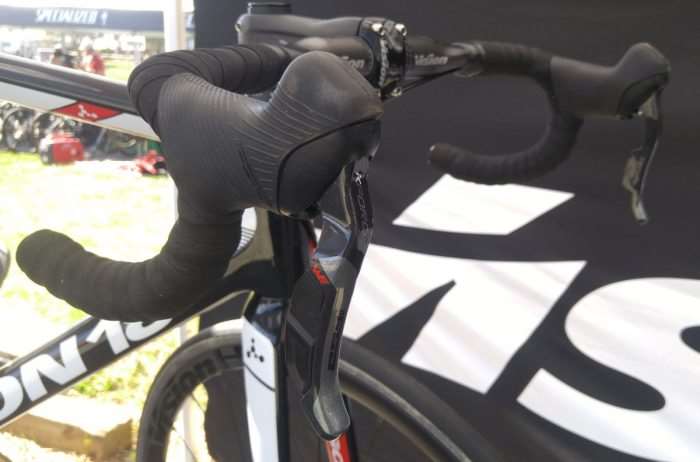 One year later, FSA's WE group still isn't available for retail purchase, but a reliable source has told me "very soon". Since that time, the designers and engineers at FSA haven't exactly been sitting around on their hands. FSA has developed a hydraulic brake version of the FSA WE groupset, which I got hands-on with at the recent Cyclofest event in Charlotte, North Carolina. For the number crunchers out there, this would make the fourth electronic groupset to be released by a big-name manufacturer – electronic shifting is here to stay.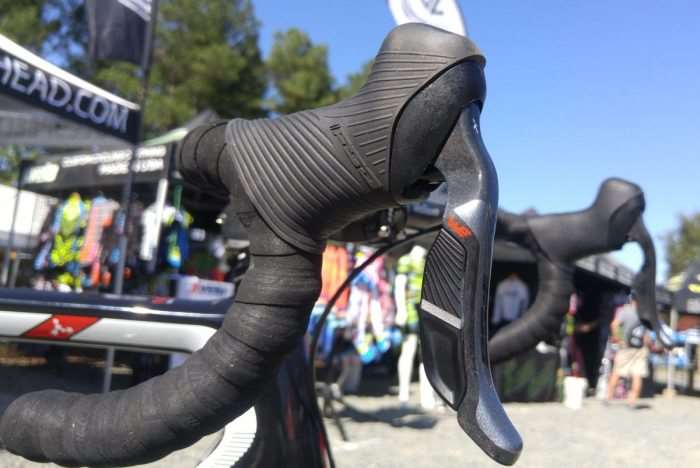 FSA's WE system works as follows. Pictured above, you have the hydraulic brake / shifter levers which resemble most ordinary brake levers. They are similar in design and function to Shimano's Di2 brake / shifter levers.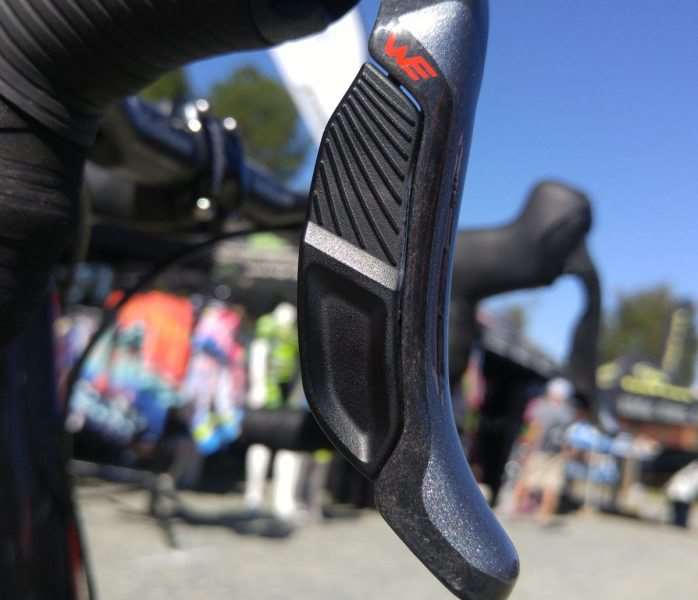 On the right shifter, a toggle switch controls shifting up and down the cassette. The top portion of the switch shifts up the cassette, to an easier gear, and the bottom to a harder gear. This design is very simple to operate with or without full finger gloves – there is almost no chance of getting a shift wrong. The same shifting functionality applies to the left shifter, albeit for switching between chainrings with the front derailleur.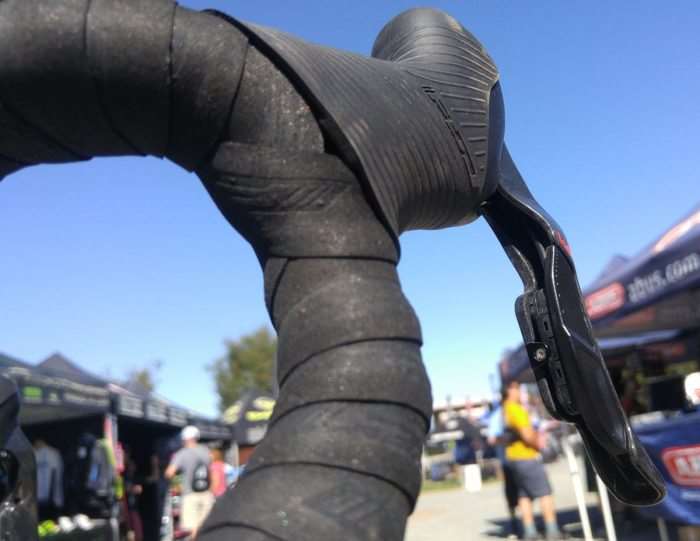 Unless the weather is cold and miserable, I ride sans gloves. The hood and lever shape are extremely comfortable and bode well for big miles / kilometres in the saddle.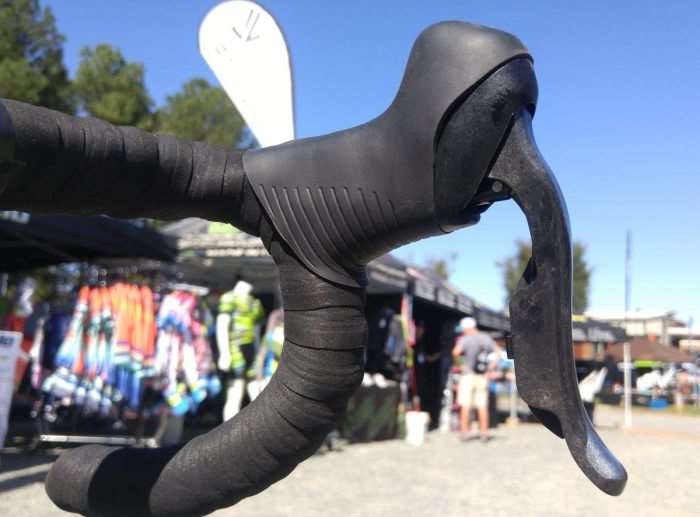 Carbon fiber is used extensively in the construction of FSA's WE shift / brake levers. FSA is making two lever sizes available – regular and compact.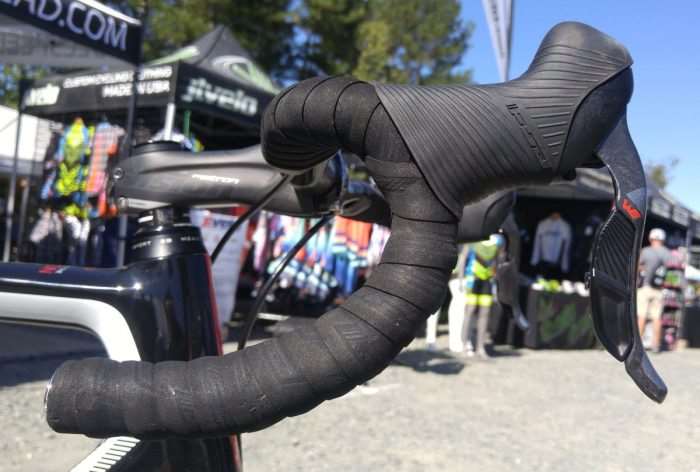 Hidden from view is the CR2032 coin cell battery that resides inside each shifter. These commonly available but diminutive batteries provide power to the shifters, allowing them to wirelessly communicate with the derailleurs. Claimed weight is 308 grams for the pair (mechanical brake version).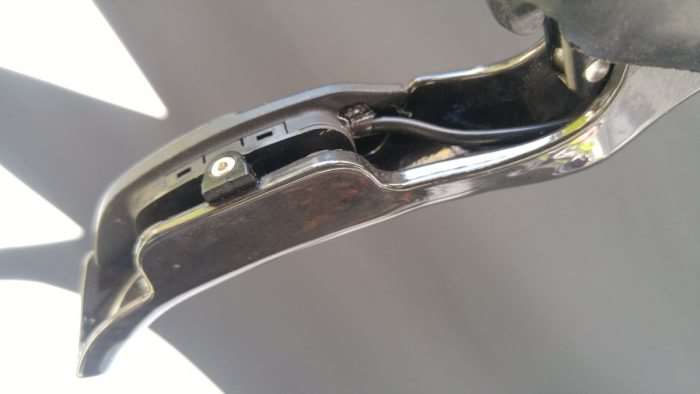 Close up details of the shifter switches.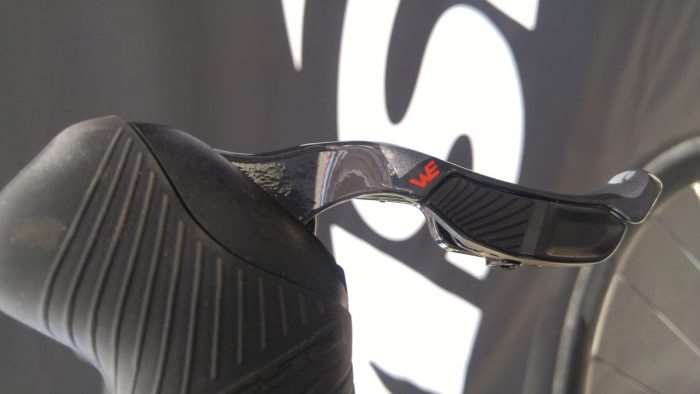 This angle shows off the brake lever shape.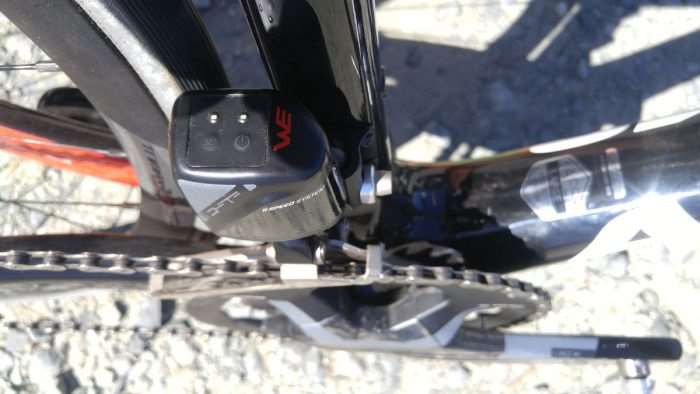 The front derailleur is the brains of FSA's WE groupset and uses the ANT, ANT+ and Bluetooth protocols for communication. At the time of writing, I assume ANT+ is the one used for shifter commands, and I am doubly assuming it is encoded to prevent interference from other WE systems, or the potential of a naughty hacker.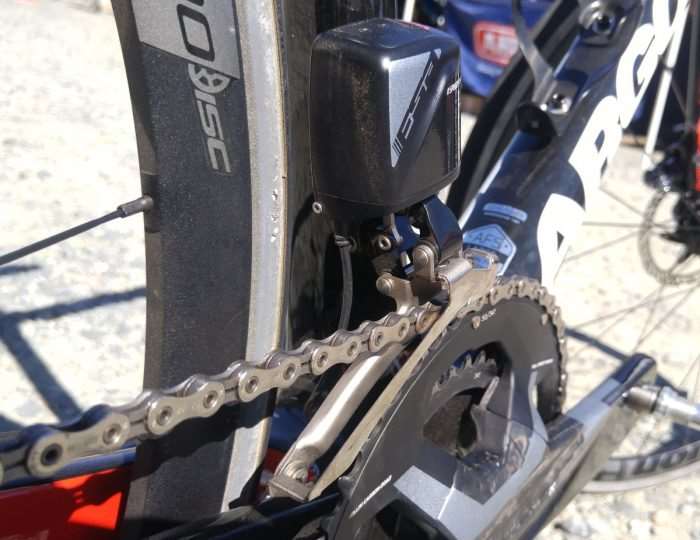 The derailleur is the braze-on type, supports at 16 tooth difference between chainrings and tips the scales at 162 grams. Note the important part I mentioned earlier – the front derailleur is the brains of FSA's WE operation. That means if you're looking to build a 1X drivetrain, you'll have to look elsewhere.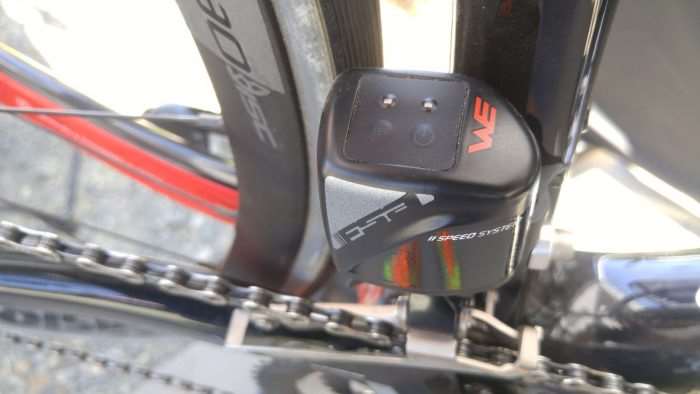 The front derailleur has various buttons and LED lights which are used to configure the system. According to the FSA marketing representative on-hand at the time (sorry guv, I don't have your business card handy), the system is extremely simple to set up – less than five minutes for most people. A big plus for making it easy! Additionally, the front derailleur automatically adjusts its trim, ala Di2.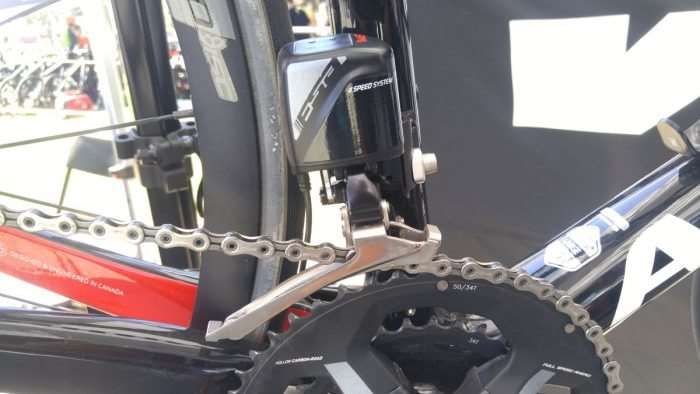 The FSA WE derailleur is a compact and tidy unit.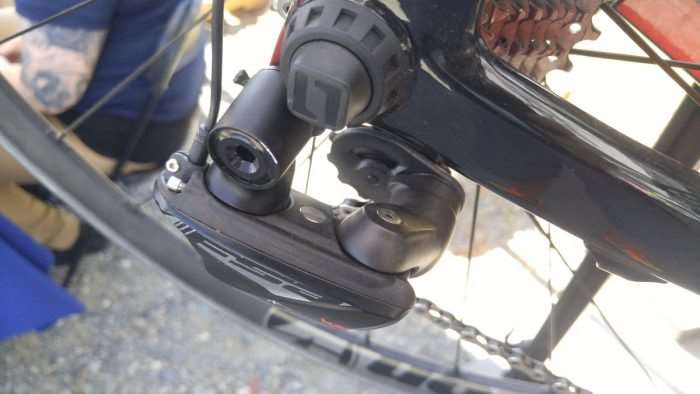 FSA's WE rear derailleur has a maximum tooth capacity of 32 teeth and features "energy saving compositite pulleys". In fact, much of the derailleur appears to be manufactured from composite / carbon fiber materials. The derailleur weighs in at 216 grams.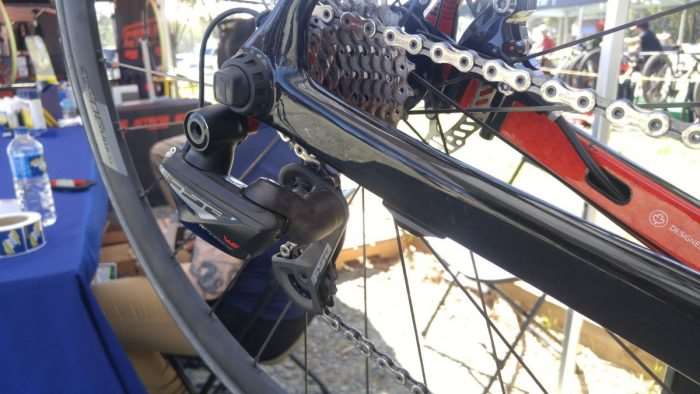 Now, this is the interesting part about the FSA WE system. It is a hybrid electronic drivetrain. Huh? How does that work? yLike a Toyota Prius that features an electric motor, battery and gasoline engine, only half of the FSA WE system is wireless. The front and rear derailleurs are joined together by a wire, which in turn is connected to a decently sized battery, hidden from view inside the seatpost (sorry, no photos of that).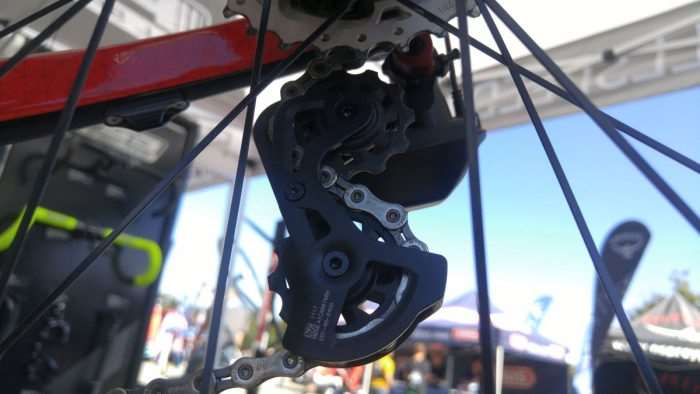 The shifters communicate wirelessly to the derailleurs, thus forming a hybridized electronic drivetrain.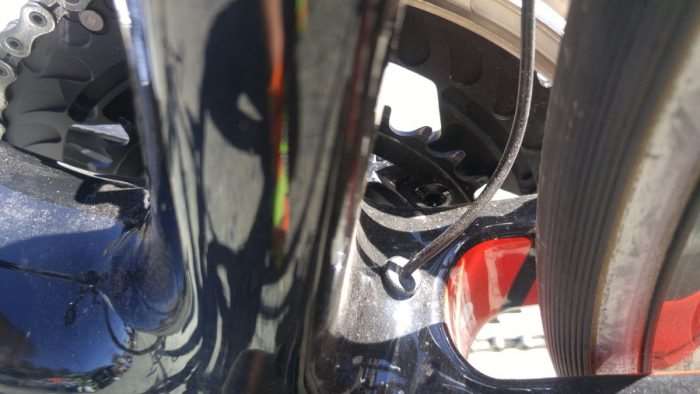 The big advantage is battery life. As a long-time user of SRAM's eTap system, I've been disappointed by eTap's battery life (I really need to produce my part two video about eTap… as it relates to gravel). With eTap, each derailleur has its own battery. Not so with FSA's WE system.
The single battery and derailleurs are all linked together by wire(s). The battery is physically much larger than SRAM's eTap ever could be. SRAM's eTap does a great job functionally, but those tiny, individual batteries that power the eTap system cannot get any larger without affecting the form of their derailleurs.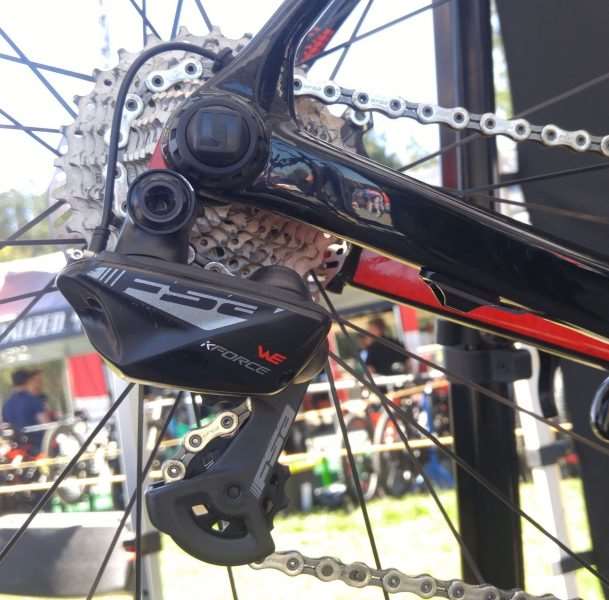 Rather than having three points of wireless communication, you only have two. Even though these systems enter a sleep mode of sorts, they are still burning energy waiting for a signal to fire into operation. That is best explained as follows:
SRAM eTap
Shifters: I'm sleeping. I think our owner went to bed.
Front Derailleur: Yeah, I'm knackered, time to sleep.
Rear Derailleur: Ditto, good night!
Shifters: I'm awake, our owner pressed my buttons.
Front Derailleur: OK, guess I'd better wake up then.
Rear Derailleur: Bollocks, I need coffee and my battery is dead. All of that sitting around for a month doing nothing kinda drained me.
FSA WE
Shifters: Time for a nap.
Front Derailleur: Good idea.
Rear Derailleur: Hey front derailleur, we're joined at the hip. You sleep, I sleep, and our mate, the battery, he's also connected to us.
Battery: I'm connected like an umbilical cord to you guys.
Shifters: Time to wake up.
Front Derailleur: Bloody alarm went off. Yo rear derailleur, chop chop. Feel me tugging on the cable that connects us?
Rear Derailleur: Hey, I'm rested and ready to shift. And, I've got plenty of power, thanks to my pal, the connected battery!
Battery: I'm so radiant.
So, that's FSA WE in a nutshell. But, this article wouldn't be any good unless I included an embedded video of the system in operation, right?!
Brakes and everything else in the WE groupset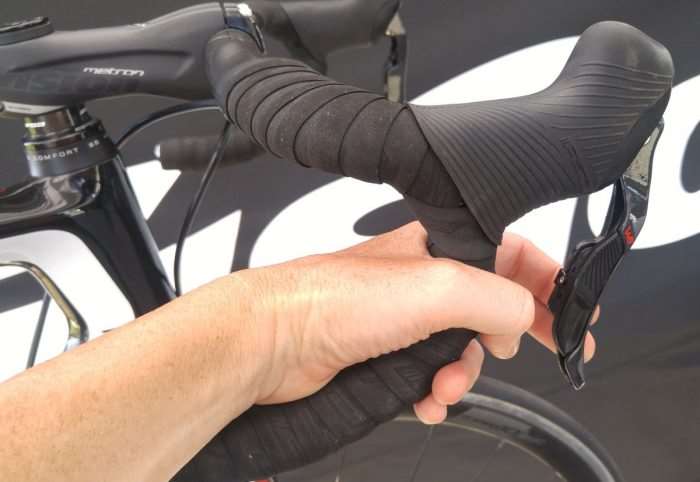 Above is a photo of my left hand operating the right shifter. That's not how you do it, but the right hand was busy taking the photo. The lever is pulled as far as it will go – brake pads are hard up against the brake rotor. Brake feel is superb, akin to a well-dialed rim brake. Shimano's ST-785 shifters have a lot of lever throw before you feel brake – not the case with FSA WE. Chapeau!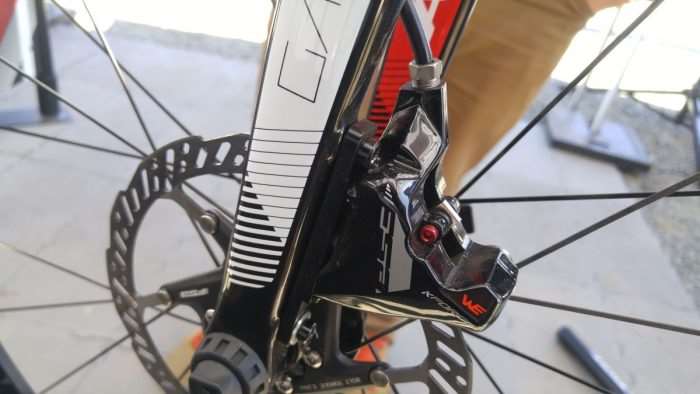 Pictured above is the FSA WE front hydraulic brake caliper. I didn't get a chance to ride the demo bike, but I would expect FSA has done their homework with these fine looking calipers.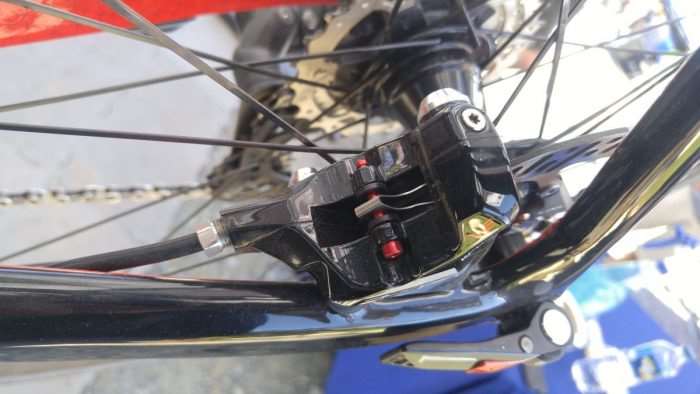 Like the front, the rear caliper is the flat-mount style. I expect FSA won't produce a post-mount compatible brake – rather, you'll have to rely on a suitable adapter.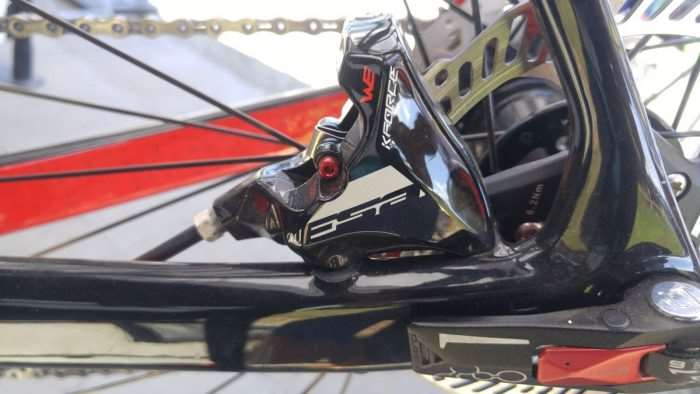 FSA's logos won't appeal to everyone, but the calipers are compact and look good, IMHO.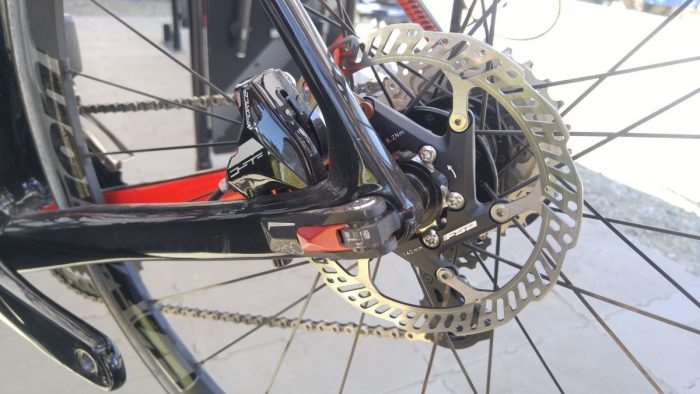 FSA has also developed their own brake rotors in the 6-bolt style. No word on the availability of center lock at this time.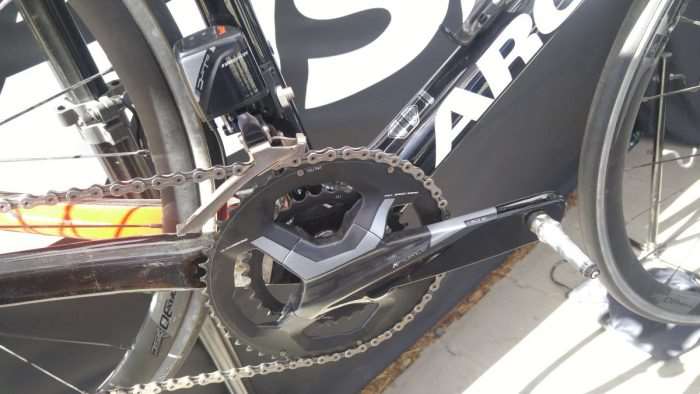 Naturally, a crankset is part of a groupset, and FSA has plenty of these to choose from. The K-Force unit pictured above goes down to 50 / 34 chainrings, which is more suited to road use. I'll have an article coming soon with more of FSA's gravel friendly cranksets, and a review a little later of the company's sweet, FSA SL-K Carbon Adventure crankset with 46/30 chainrings – a crankset I used at the 2017 Dirty Kanza 200 and fitted to the Orbea Terra review bike.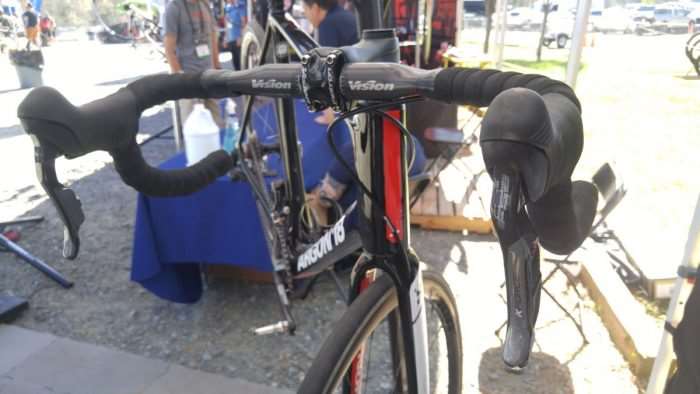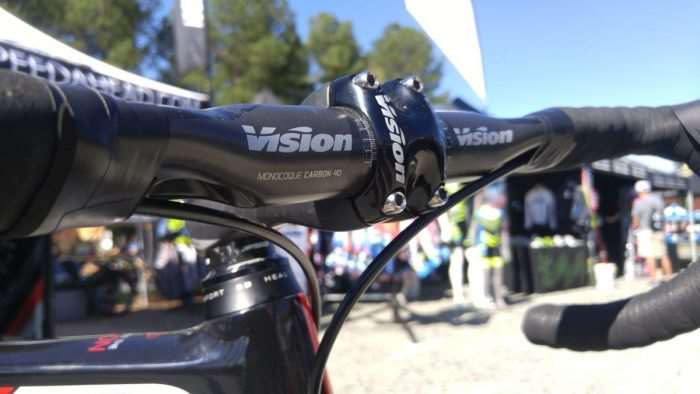 A prominent component manufacturer such as FSA also produces handlebars and stems. Their sister company Vision, produces some of the company's higher-end offerings.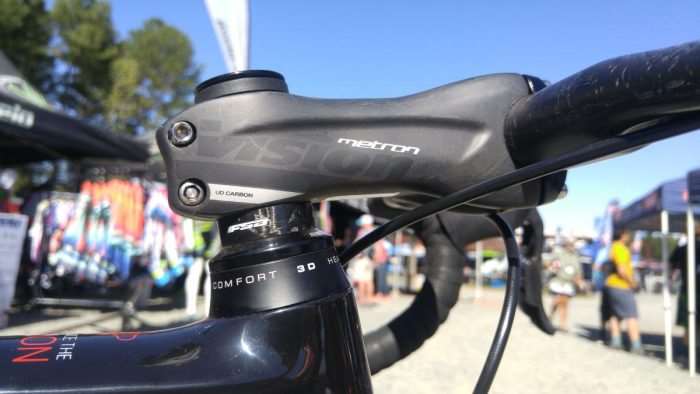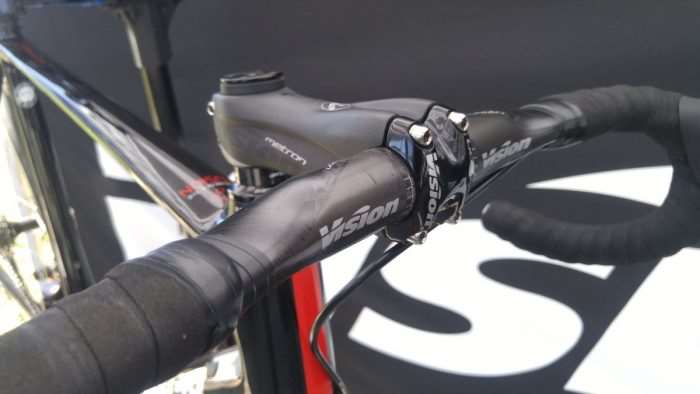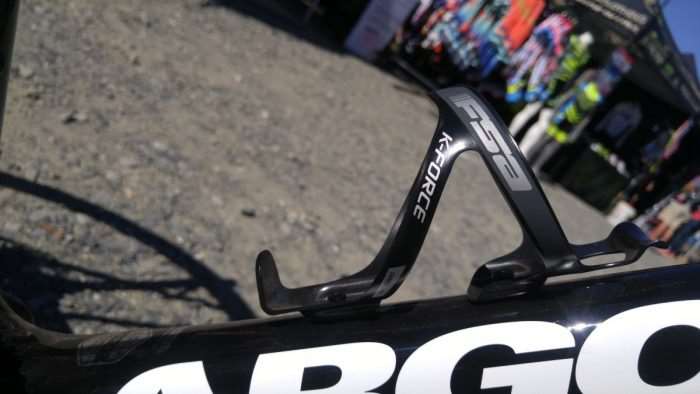 Above, FSA K-Force carbon fiber bottle cages.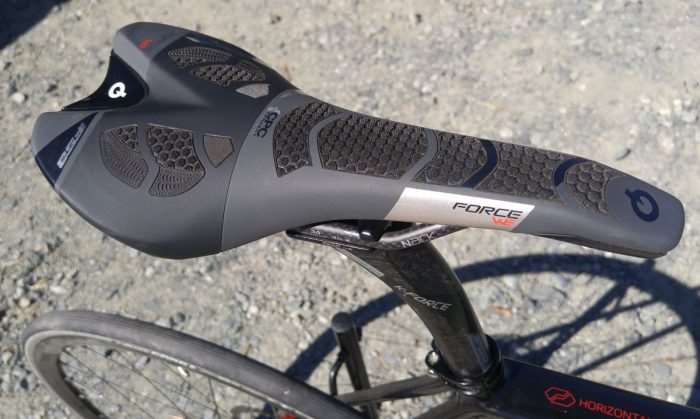 FSA has commissioned Prologo to manufacture a special version of their Nack carbon-railed saddle, complete with the company's CPC anti-slip treatment.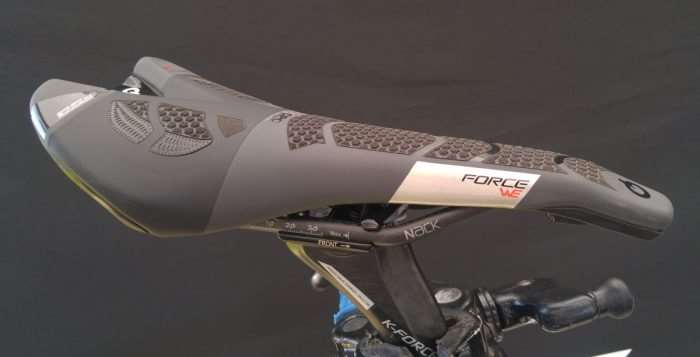 FSA also produces a line of wheels, but they aren't the focus of this article.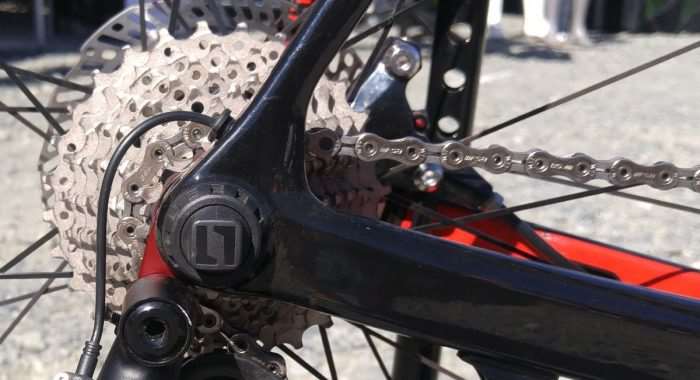 A FSA Titanium / Steel 11-speed cassette is available with the groupset, in 11-25, 11-28 and 11-32, along with FSA's own nickel-plated chain.
Finally, a few more photos of the FSA WE derailleurs.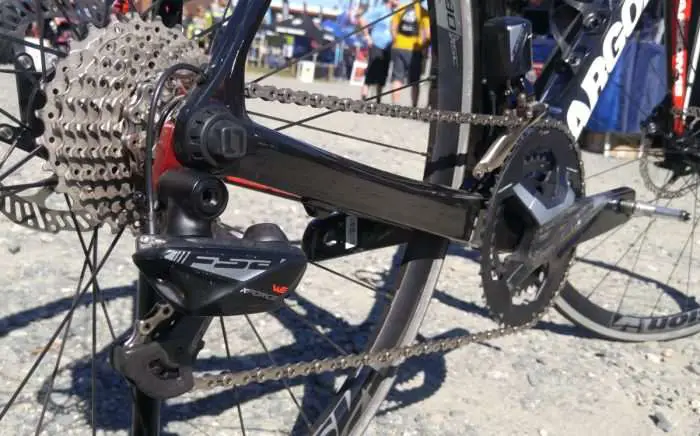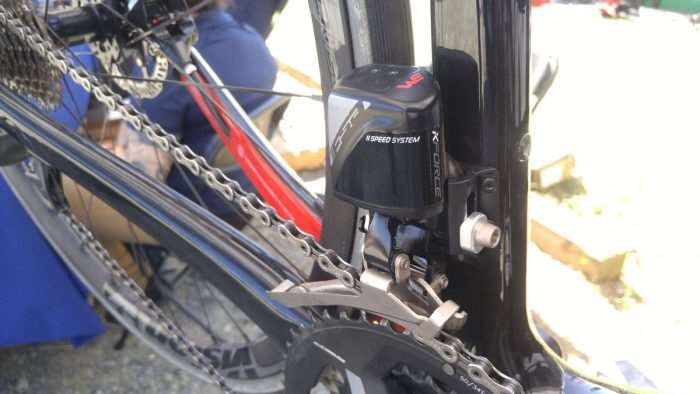 FSA anticipate the hydraulic brake version of the WE drivetrain will begin trickling out commencing April of 2018.
Thanks for reading!