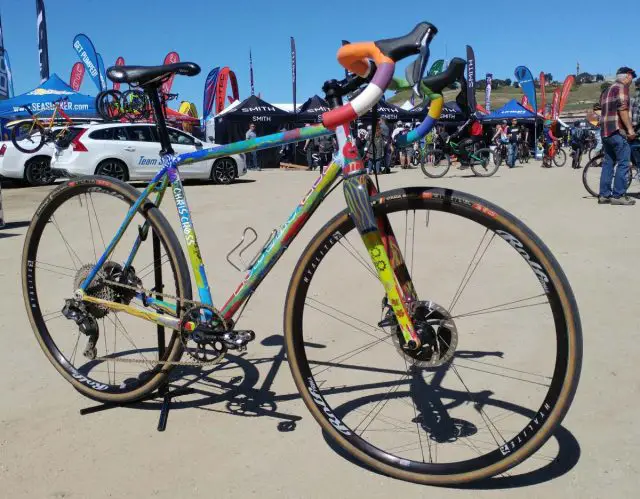 Quote from a 1993 Fat City Cycles Catalog:
"Who are these Fat City people, and why should I ride one of their bikes, anyway?"
"Well, there are 32 of us here at our shop in Somerville, Massachusetts. And we all share a common mission: to produce the finest bicycles human hands can build, to back them with the best possible customer service, and to temper our enthusiasm for our sport with a genuine respect for the planet."
Then, Fat City Cycles disappeared for a while…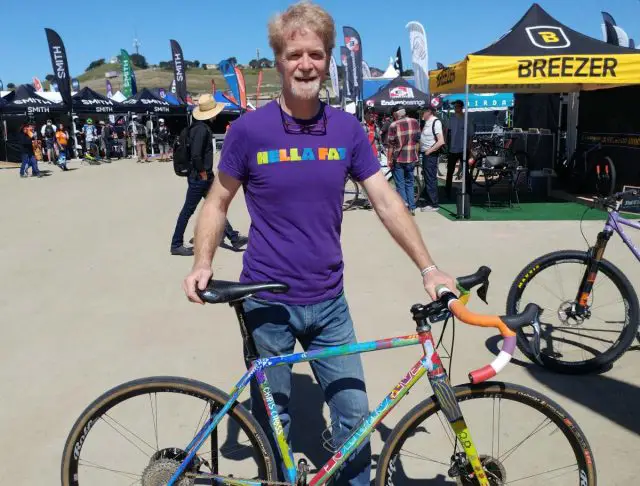 "After a 15 year hiatus, I am excited to announce that I am back in the bike building business and resurrecting Fat Chance Bicycles. Fat Chance has always been a small company with an unwavering commitment to quality and innovation. Our frames were made by hand in the USA by people who love to ride. As Fat Chance Bicycles grows, we will continue to produce the highest quality and best-built frames on the market."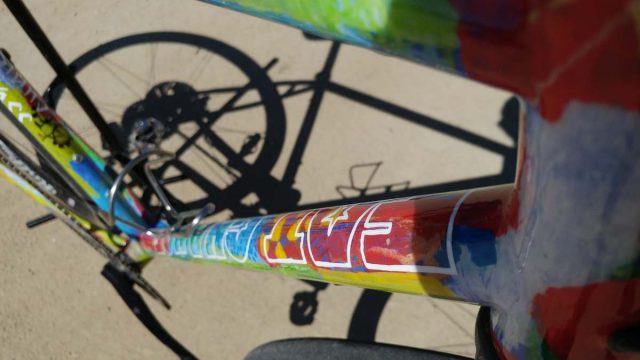 "Following a successful KickStarter campaign we are in the process of ramping up production and I am turning to you, the riders who love and appreciate Fat Chance Bicycles, to continue to support this project. My goal is to continue making great bikes and to find new ways we can enhance the experience of riding them."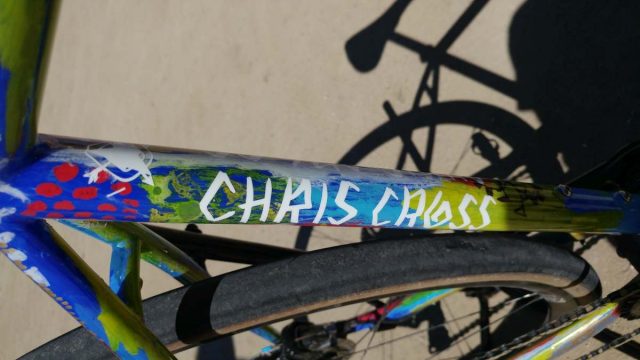 Pictured above is the Chris Cross, owned by an employee of Fat Chance Bikes. Its paint livery deviates just a wee bit from the stock offerings.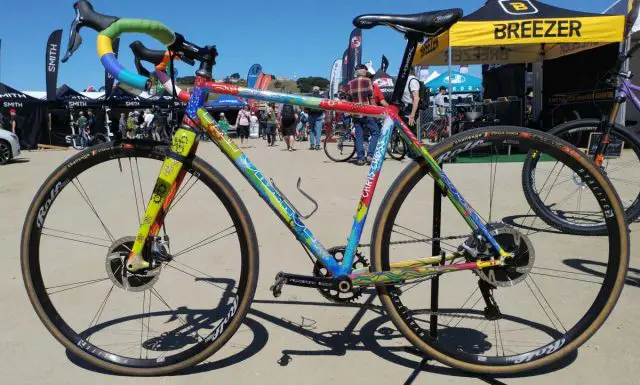 "We built the new Chris Cross to be an incredibly versatile machine, equally capable of crushing your local CX race, tackling long summer gravel rides and bike packing trips, or fitting fenders for mixed terrain winter training. Adaptable and lightweight, with Chris Chance's signature lively handling it's designed to keep you smiling whatever terrain you throw at it."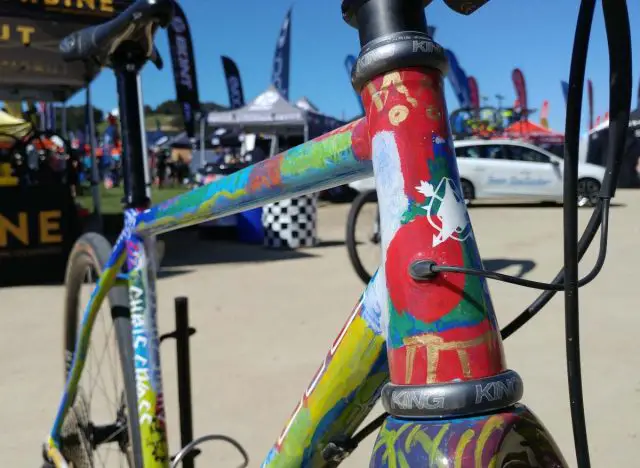 "The new Chris Cross is handcrafted here in the USA, from a mix of Columbus and Reynolds 853 tubing. It features a custom tapered 34/44 head tube to fit a variety of fork sizes including the Ritchey WCS Carbon fork as standard.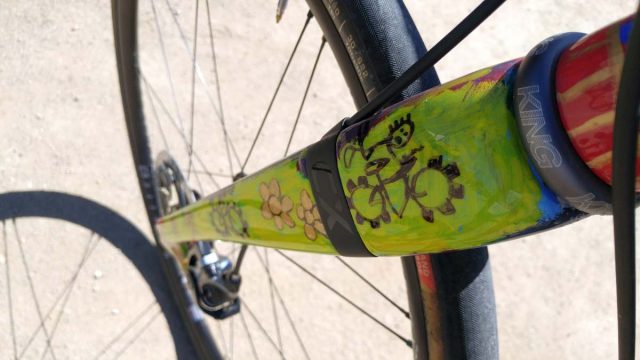 "Fork upgrade options include the 1 1/2″ tapered ENVE CX fork, TRP Carbon fork (with fender mounts) and the Yo CX fork."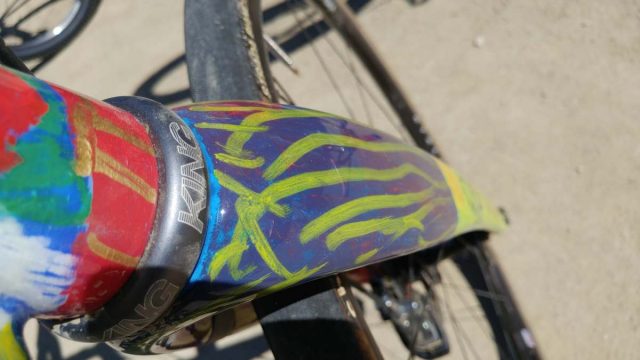 "Built by Chris Igleheart, and based on the design of the legendary Yo Eddy mountain bike fork, the Yo CX fork comes equipped with a host of braze ons for additional water bottles, front porteur rack or fenders."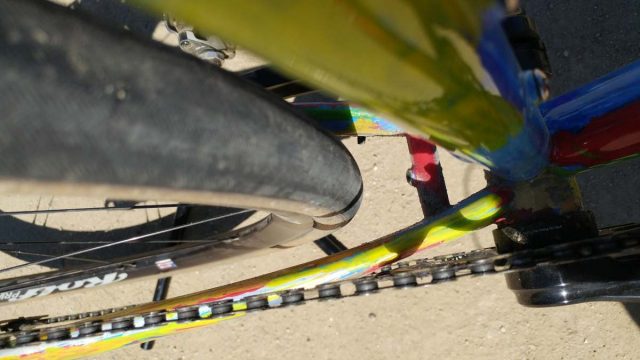 "Ovalized chainstays and curved seat stays give the Chris Cross some big tire clearance for 700x40c through to 650b x 2.1″ mountain bike tires (using the ENVE fork). We use the same modular downtube cable routing that we use on the Yo Eddy to give flexibility to run 2 or 3 cables depending on whether you use a 1x or 2x set up."
Note, the latest version of the Chris Cross will accept a 700c x 44mm tyre, or 650b x 2.1″ (requires an ENVE fork).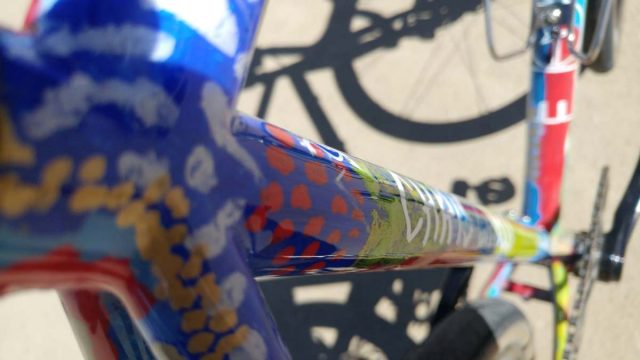 "A custom 3D printed bottom bracket cable stop is provided for 2x use (together with a band on front mech). Our rear dropouts are equipped with 2 different alloy inserts, one with fender mounts, one without. Combined with the subtle chainstay and seat stay bridge fender mounts we wanted to ensure easy fender mounting, while keeping the frame lines super clean and simple without them."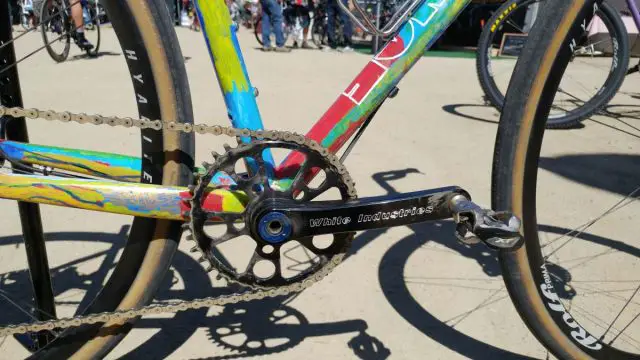 Above, a White Industries crankset configured for 1x / single chainring duty. Be sure to check our review of the White Industries MR30 crankset.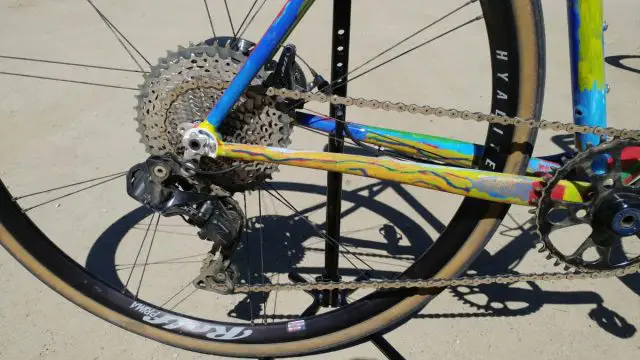 This example of the Chris Cross is configured for serious cyclocross action, but the bike doubles well on dirt or gravel roads. Shimano's superb XTR / XT Di2 rear derailleurs feature a clutch, perfect for the rigours of cyclocross or gravel mud.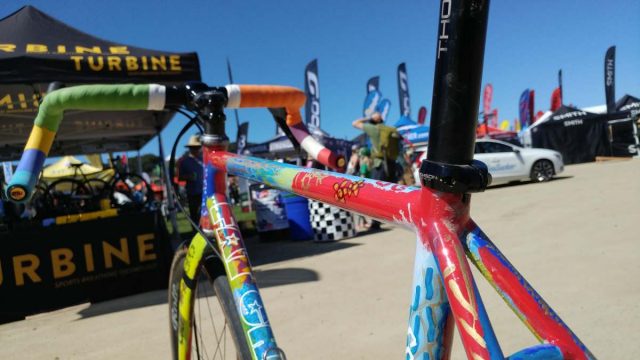 Essentials of the Chris Cross:
Handmade, designed, welded & painted in the USA using Chris' special blend of Columbus & Reynolds tubing.
Available as a frame, Ritchey carbon fork and Ritchey headset package for $2195 (with single color paint).
Complete bikes from $US 3,500.00.
3 new single color options, 1 team fade option, plus all of our usual paint options.
Fork upgrades available for; ENVE Carbon (for 650×2.1″ clearance), Yo CX Steel and TRP Carbon (with fender mounts).
Painted ENVE stem and Chris King headset upgrades.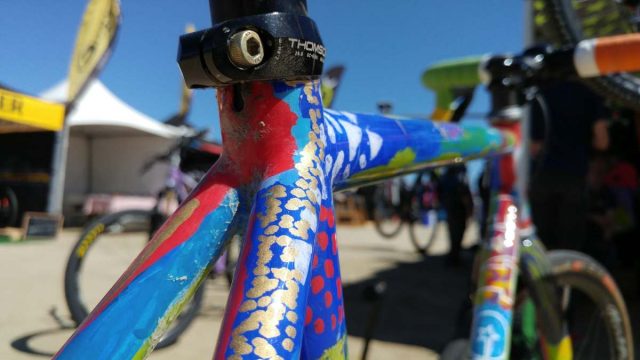 Above, keeping the American-made theme going with a Thomson seatpost and matching clamp.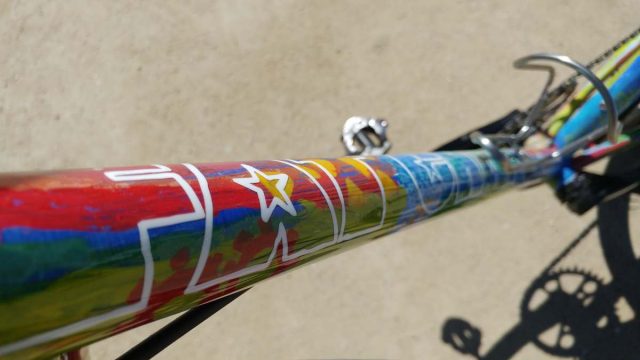 This Chris Cross needs to be seen in person to be fully appreciated. I didn't catch the artist's name, but a serious number of hours were spent on this bike's paint.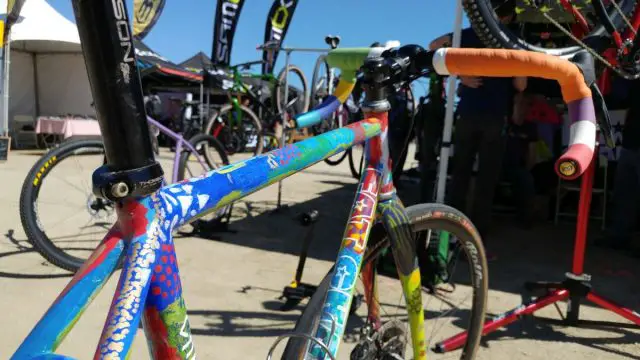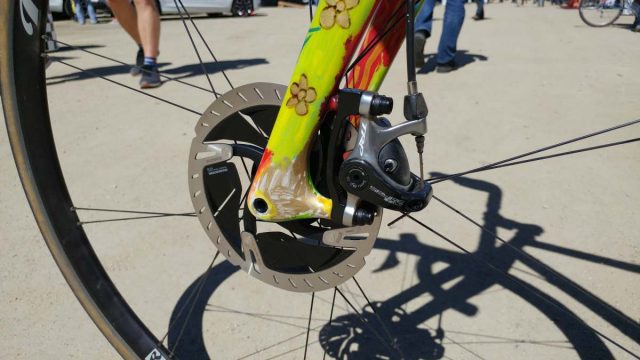 Above, a post-mount, TRP Spyre mechanical disc brake caliper, paired to a Shimano Dura-Ace RT900 disc rotor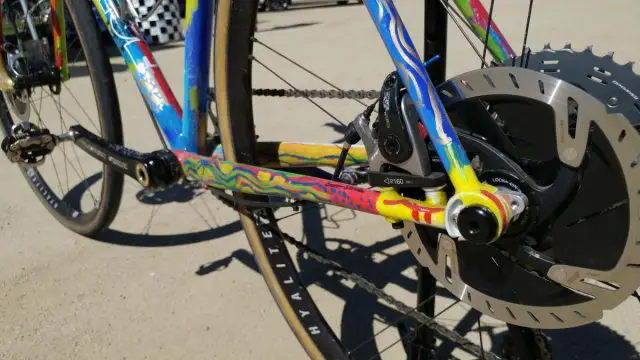 And, the same brake caliper and rotor spec on the rear, although direct-mount this time.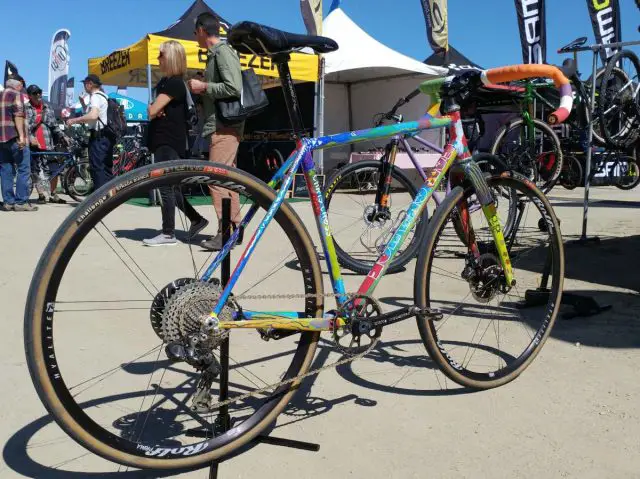 Fat Chance Bikes offer a ton of different build options on the Chris Cross, and the rest of their range. Thus, it is recommended you check that out for yourself, by visiting the link at the bottom of this article.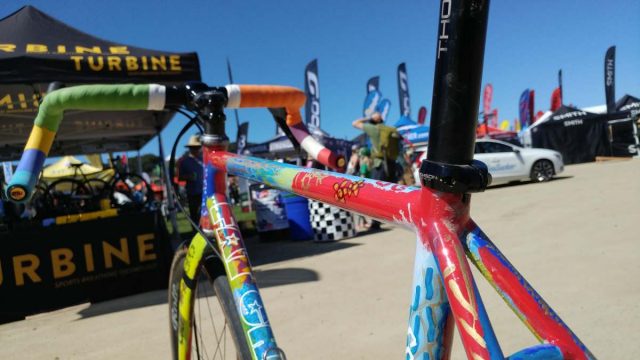 Thanks for reading, still more to come from Sea Otter 2018!