Recently, I had the opportunity to tour inside American Classic's North American Headquarters, in Tampa, Florida.  I've been using the company's wheels for many years, on several of my personal gravel, limerock and road bikes.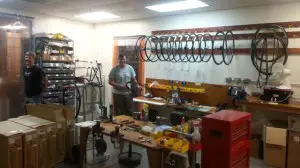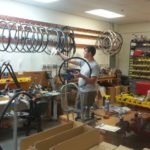 During my brief visit, the American Classic staff were busily preparing for the upcoming Interbike trade show (visit them at booth 8091).  In the event you haven't heard of Interbike, it's the USA's biggest cycling related trade show, primarily intended for those in the cycling industry.  Nowadays, the last day of the show is open to the Public.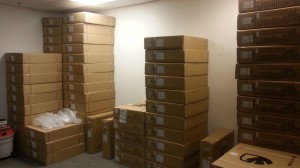 It was pretty obvious during my visit, American Classic had a good season of summer sales.  While there was a good amount of product in stock, some of the hotter items were low on stock, or out altogether.  A good problem to have!
Sneak Peeks
No visit to a manufacturer could ever go without a sneak peak into some of their new product for the upcoming model year.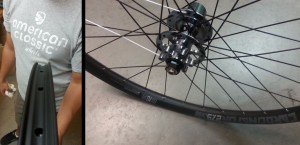 As such, I snapped these "spy" photos of some of the new gear.
At right is the new "Carbonator" wheelset, which comes in 27.5″ and 29″ variants.  The 29″ option is of real interest for gravel road racing.  Take a gander at the width of that rim bed, and the hookless bead profile.  Very cool stuff.  The wheelset is flexible in that you could install cyclocross specific tires (tyres), or go wider again with a narrower MTB tire, such as an 1.8″ option.  Either way, you will gain some freebie millimetres of additional tire width, because of how these wider rims seat the tire.
American Classic is also re-inventing their venerable Sprint 350 wheel.  For 2015, the rim has been widened and made tubeless compatible.  Anyone who knows about my wheelset choices, knows I am a huge fan of the American Classic Hurricane wheelset, disc or rim brake, for gravel road usage, on my cyclocross bikes.  I am thinking to myself… hmmm… the revised Sprint 350 could be a good choice for a lighter weight cyclist on gravel roads, with the appropriate tires (tyres).  In the future, I hope to find out, and post a review.
The Head Honcho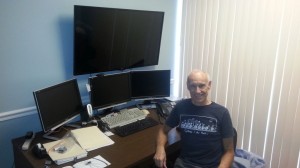 This is the man behind American Classic, Mr Bill Shook.  Bill's wife, Ellen, is also a key part of the business operation.  I forgot to photograph her, or she was purposely avoiding my camera 🙂  Rather than typing up a bunch of text that may do a horrible job of representing Mr Shook's history, I swiped a blurb from American Classic's company page.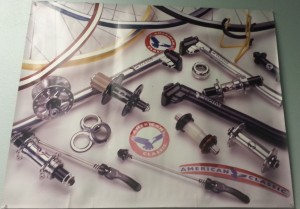 "Bill Shook, the founder and engineer of American Classic leaves the beaten path to seek new and innovative ways to improve bicycle technology with the single-minded purpose of making bicycle sport enjoyable for all who want to ride and race. We remain true to that chosen path. We strive for excellence and pave the way for a successful tomorrow with big picture creative thinking with you, the cyclist, in mind. Bill started riding at the age of 14. He trained hard and became a champion road and track cyclist, earning a place on the US National Team. While racing, Bill started his design career building his projects in his Dad's garage. In 1974, he created and fabricated the first large tube aluminum bicycle in the world and raced it all over the country. While racing professionally, Bill strove to find the best equipment, the lightest tires and rims. In the 1970's in the US, fine equipment was hard to find and that is what sparked the idea of American Classic — a place where Bill could design and distribute high performance components for riders every where. After retiring from a successful racing career, Bill received a master's degree in mechanical engineering from Ohio State University. Now he had the engineering expertise and everything was in place for American Classic to become a reality. In 1982, the first products were new concepts, the lightweight water bottle cage and the revolutionary lightweight adjustable seatpost. The rest is history. American Classic now has two facilities including our own testing and quality control center, rim factory and wheel building and assembly plant. American Classic has a broad variety of unique designs in all disciplines including road, track, triathlon, cyclocross, trekking, cross country, all mountain, downhill and handcycling. All this, because Bill couldn't find the right wheels to race in the 70's."
Customer Service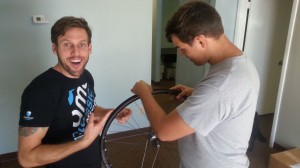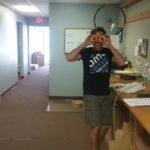 If you call American Classic's hotline phone number, you'll likely be speaking with one of three individuals.  Clay, Cody or Ryan.  All three are knowledgeable, helpful and super friendly.  There is also the warranty and wheel rebuild whiz, Bradley.  Sometimes, on rare occasions, Bill himself may answer the phone.  Just don't get into a technical discussion with Bill.  He's meant to be designing bike parts, not gasbagging on the phone for an hour.  I know, I've wasted his time before 🙂
Most people would love to have a job with this company.  I mean, how many jobs can you come into the office, talk about bicycle wheels and parts all day in a relaxed dress code, and bring your dog to work!  Sweet!
Product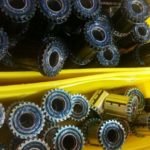 One of the things I like about American Classic's wheelset range, is the fact that simple items, like spokes are not specific to the brand.  There is nothing more infuriating that busting a proprietary spoke on a Brand X wheelset, when you're in the middle of nowhere with little to no bike shop support.  A regular J-Bend spoke can easily remedy situations like this, and these items are carried by most local bike shops.
Some of the other products the company manufactures include seatposts, tubeless conversion kits with their own valve design, and wheelbags.  I will review the company's wheelbags at a future time, but for now I will say; the American Classic wheelbag solves a problem that bugs me about transporting 29'er wheels with tires (tyres) installed for my Monster Cross bike.  As in, a regular wheelbag can't contain them properly!  FIRST WORLD PROBLEMS around here.
Wheels for Gravel Racing
People often ask me what wheels am I using on my cyclocross bike or monster cross bikes.
Here is the breakdown:
Cyclocross bike with disc brakes – Hurricane Disc, Tubeless
Cyclocross bike with rim brakes – Hurricane Non-Disc, Tubeless
Monster Cross bike with disc brakes – Race 29'er, Tubeless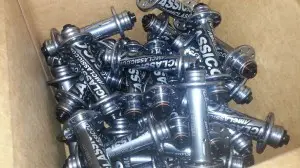 I'm a bit of a bike preparation nut, which means I leave very little to chance.  I am fortunate to own two pairs of each of the above wheels, each mounted with a different tire (tyre), ready to roll.  'Tis always good to have choices in life.
All of these wheels and the entire American Classic range, are available from their dealer network, or direct from American Classic's Online Store.
Future
Soon, I hope to post long-term reviews of the company's 29'er and Hurricane rim brake wheelsets.  You can expect other gear to be reviewed too.  Stay tuned!
Thanks to everybody at American Classic for their time.