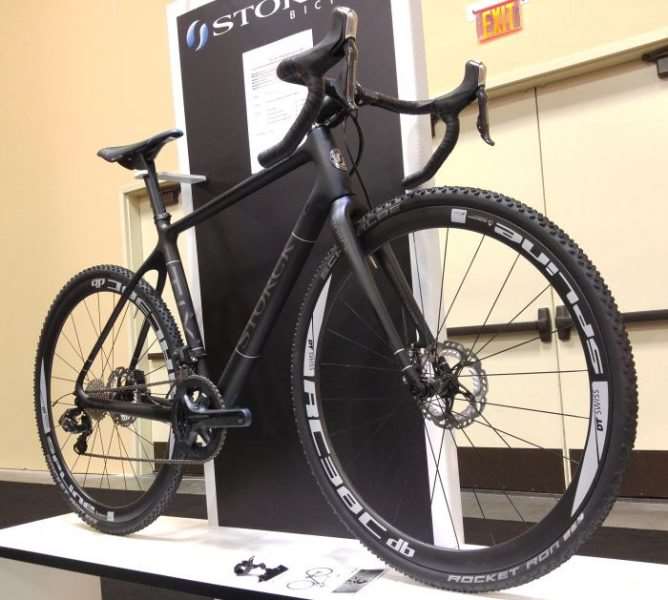 "Since 1995 our business philosophy has been focused on the production of innovative, pioneering, and timeless products. Countless test wins and design awards speak for themselves. As a true trendsetter, Storck regularly develops highlights that keep marking milestones in frame and component engineering, as well as in cycling gear. Continuous further development of existing technologies, utilization of leading-edge materials, and excellence in design are Storck's hallmarks. Many innovations that today are state of the art were developed, patented, and turned into marketable products by Storck."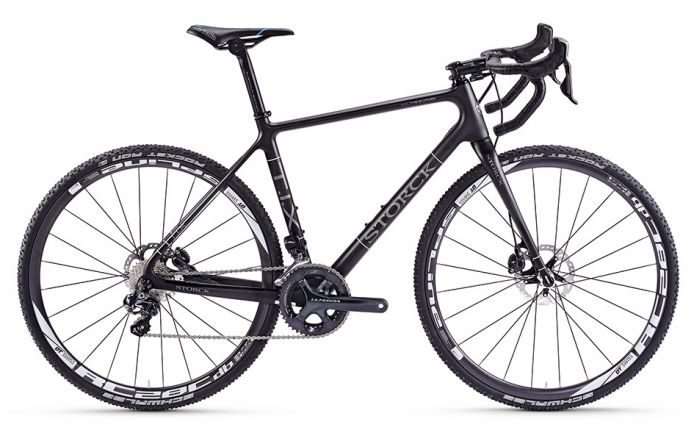 "A Storck for any terrain. The T.I.X. is a cross frame in a class of its own".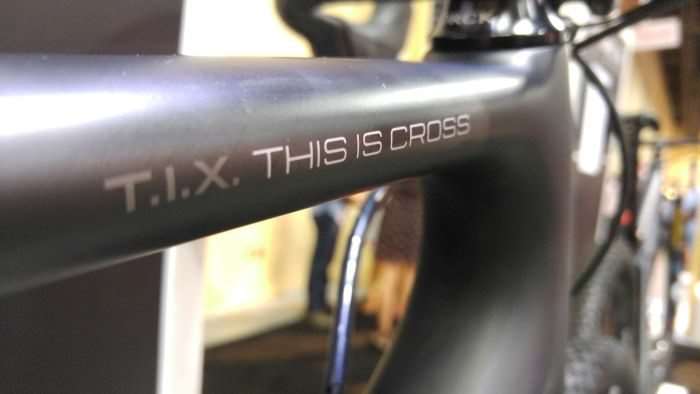 T.I.X. – This is Cross – The Storck T.I.X. may be marketed as a cyclocross frame, it will do perfectly fine on your local gravel road – or gravel race. The bike offers plenty of tyre clearance – we believe the frame will accept 700c x 40mm tyres without any clearance worries.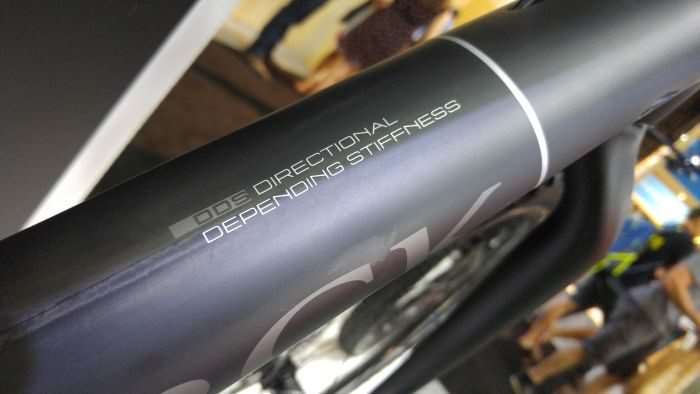 Storck utilizes their DDS technology on the T.I.X. – "Directional Depending Stiffness" – which in a nutshell means no matter the size of T.I.X. frame, consistence performance is guaranteed through Storck's purposely constructed carbon frame tubes.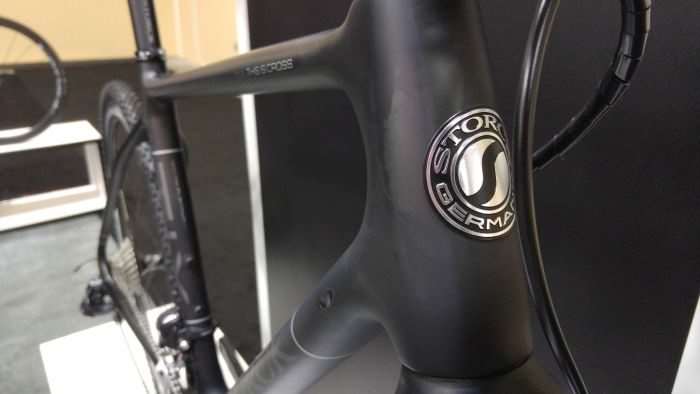 Almost standard equipment on new gravel bikes these days, the T.I.X. headtube features a 1 1/8″ to 1 1/2″ taper – albeit a little bigger from the 1 1/4″ bottom heatset bearing that has been prevalent the last couple of years.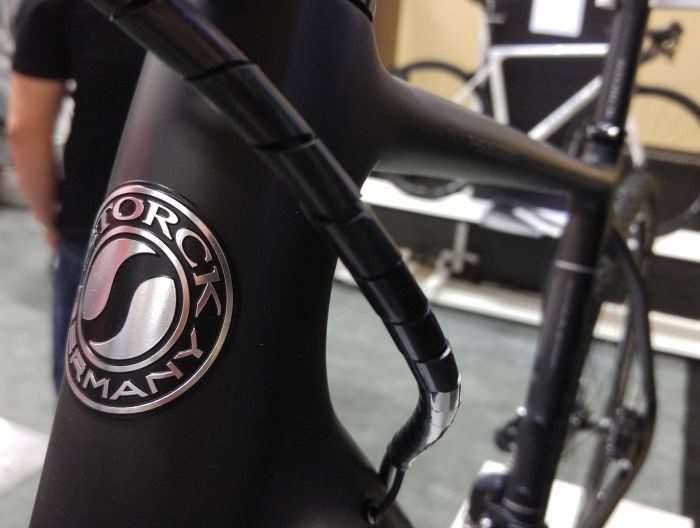 All brake and derailleur cables are internalized on the Storck T.I.X., no matter if you're using mechanical or electronic drivetrains.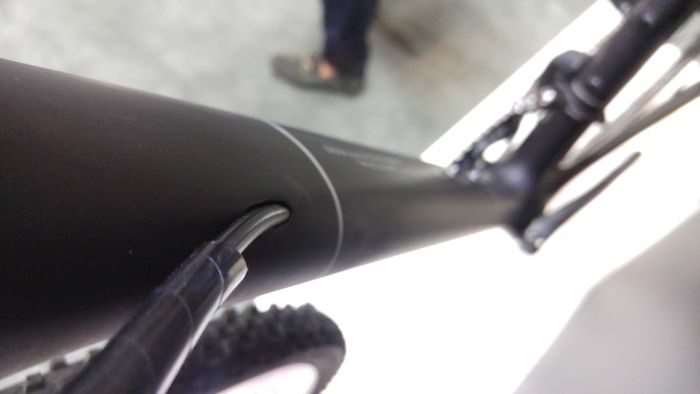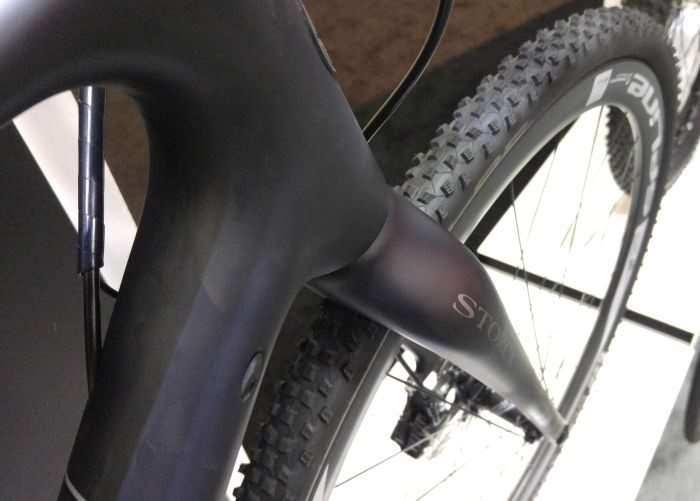 The straight leg Storck T.I.X. Platinum fork features thru-axles front and rear.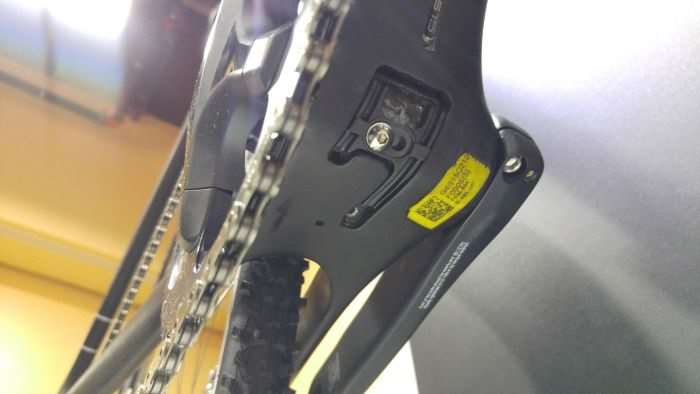 The handy port cover doubles as a cable guide for mechanical shifting and keeps electronic cables hidden inside the frame, safe from mud and prying eyes. The crankset rolls on a PF30 bottom bracket.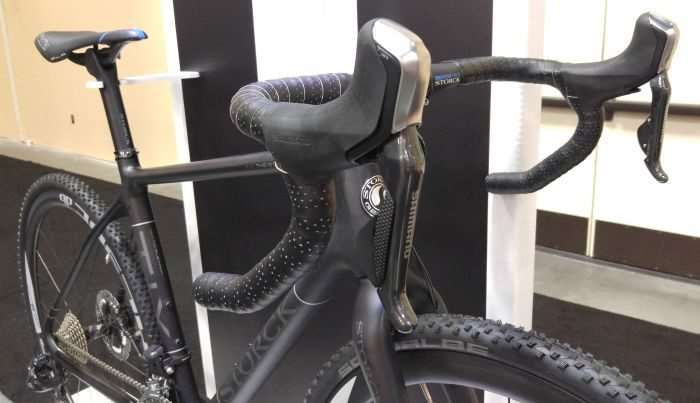 Storck offer three build kits with the T.I.X. – the Interbike show sample was kitted out with Shimano's Ultegra Di2 11-speed 6870 electronic / hydraulic disc brake groupset.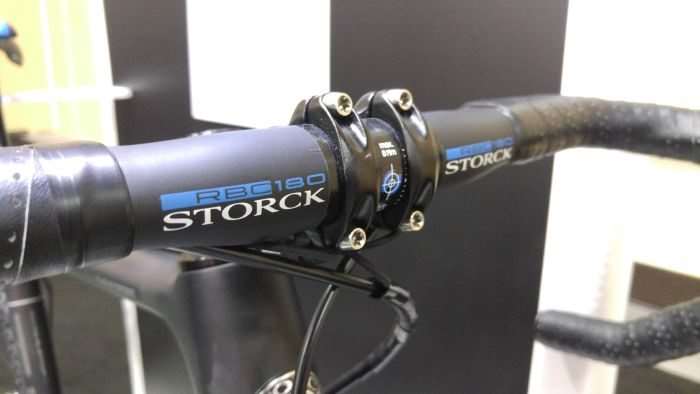 Storck's RBC 180 handlebar features carbon fiber construction and very low weight, starting from 180 grams for the 40cm center to center bar. Clamp width is 31.8mm with a design emphasizing "compact and comfort".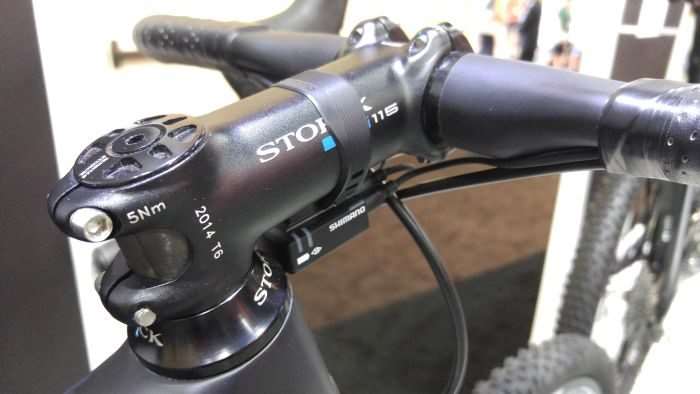 The Storck ST115 anodized aluminium stem is available in lengths from 80mm to 120mm, starting at 115 grams. Weight weenies could drop the weight by substituting the stock bolts for titanium…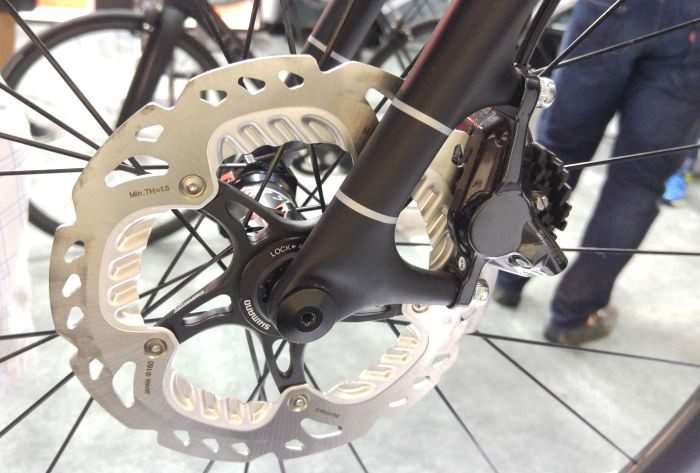 Post-mount disc brakes aren't the latest and greatest standard, but they won't hamper your braking force any. Storck spec Shimano's 160mm centerlock Icetech rotors at both ends of the bike.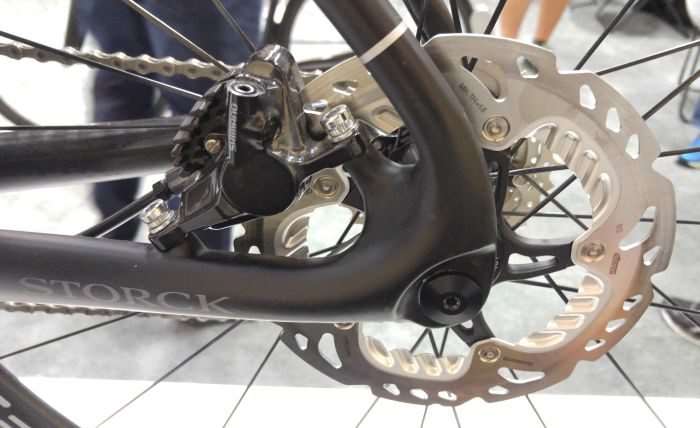 The graceful, curved rear stays of the T.I.X. feature a 142mm x 12mm thru-axle and post-mounting for the rear hydraulic brake.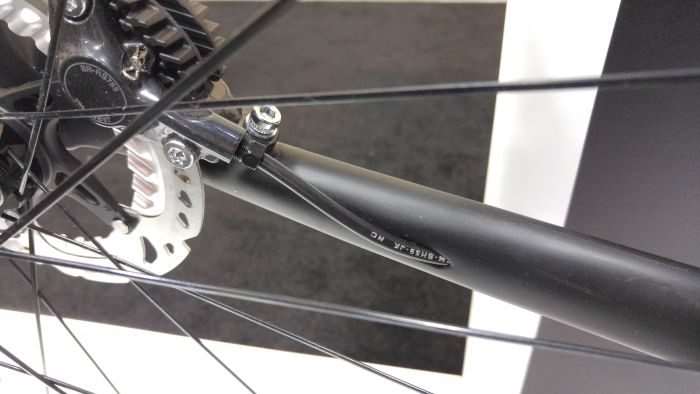 Brake cable routing is clean and discreet.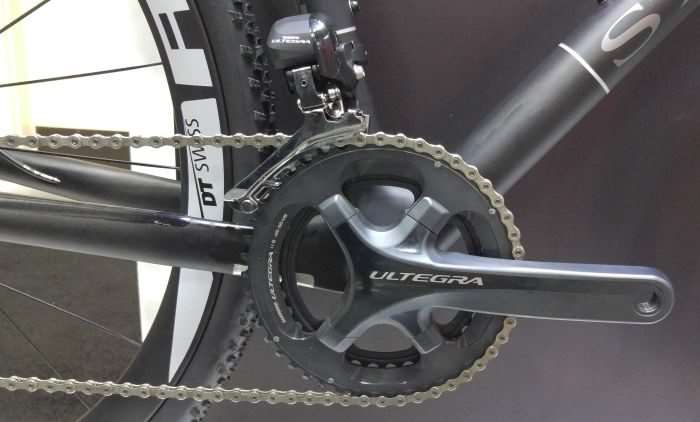 Storck fit the T.I.X. with 46 / 36 rings, which are great for cyclocross but even better for gravel cycling.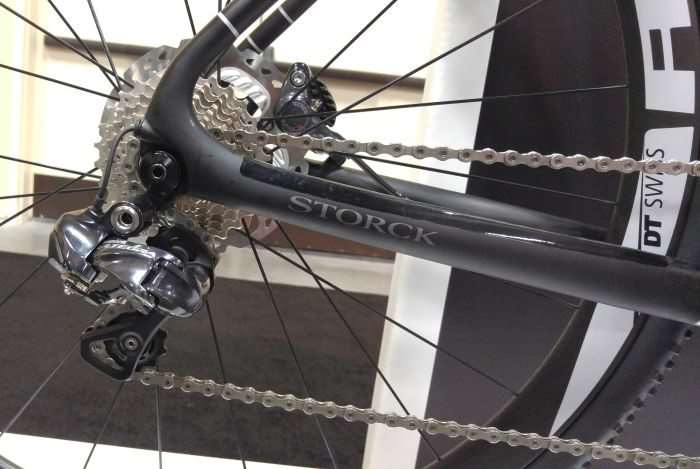 Shimano's longer cage Ultegra Di2 GS derailleur pictured above. This derailleur can easily shift a 36 tooth rear cog, provided the B-screw is turned in enough. Fitted with Lindaret's Roadlink, it will shift an 11-40 cassette without issue.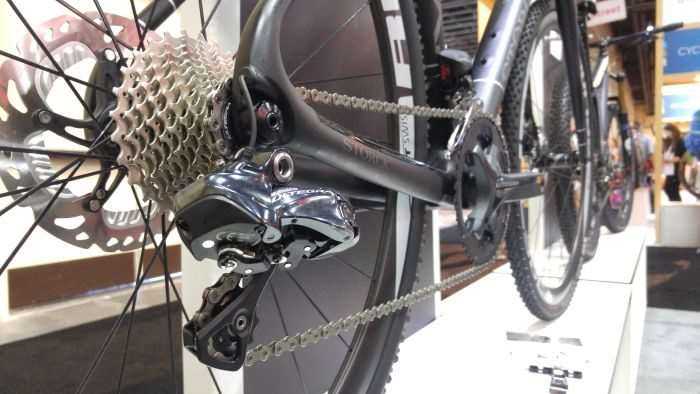 Above is a Shimano 11-28 11-speed cassette on a DT Swiss Spline rear wheel. An 11-32 cassette would be a much nicer choice for the average gravel cyclist.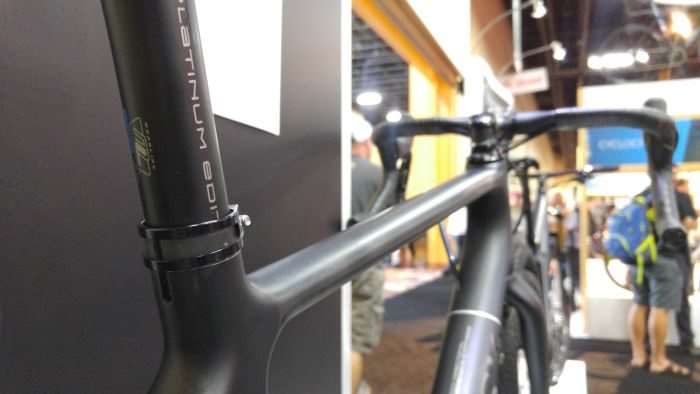 The Storck Platinum Edition seatpost measures 31.6mm wide x 400mm long in a claimed weight of 135 grams! – we assume sans hardware. The matt finish post supports regular saddles and those designed for the Monolink system. Note the lightweight and svelte seatpost clamp.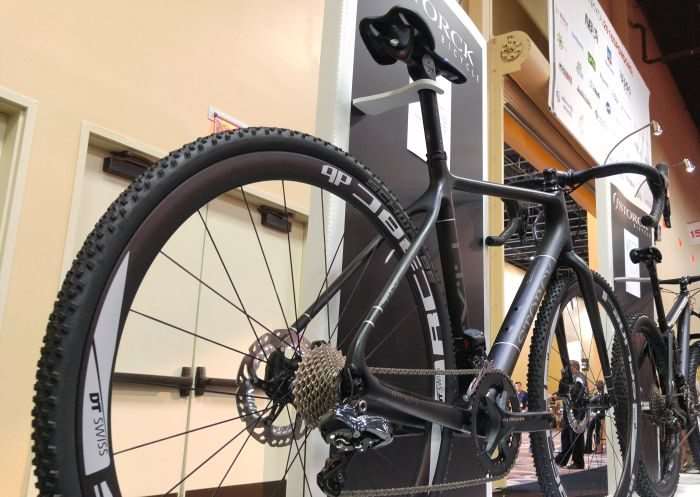 The Storck T.I.X. Platinum G1 is available in five sizes, from X-Small to X-Large with effective top tubes beginning at 504mm (XS) and ending at 585mm (XL). Frames weigh a claimed 890 grams / forks at 400 grams.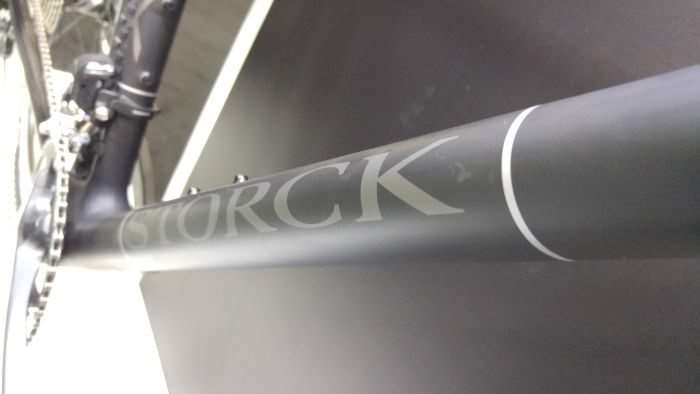 As pictured, the Interbike show sample weighs 7.3 kilograms / 16.093 lbs.
Prices:
Frame and Fork – $US 3,799.00
With Shimano 105 Mechanical – $US 5,398.00
With Shimano Ultegra Mechanical – $US 6,198.00
With Shimano Ultegra Di2 Electronic – $US 7,148.00