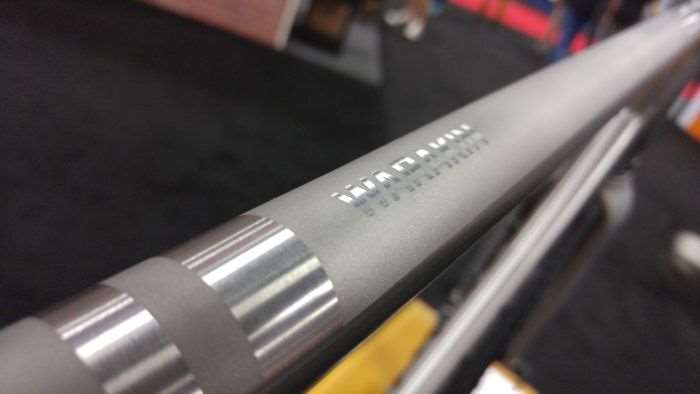 Warakin™ – A versatile drop-bar bike for any road and any weather
"Native American folklore tells of a mythical wolf-like creature, the Shunka Warakin. Fierce and elusive, the Warakin evoked both fear and awe in those who encountered it. Like the legendary creature, our Warakin™ bike can take on many different forms. It can be a fierce CX competitor or a relaxed gravel adventure bike and everything in between. A beautiful and durable stainless steel frame combined with our patent-pending Tuning Chip™ system makes for the ultimate all road bike. Legendary stainless steel ride quality with modern features like carbon fiber fork, disc brakes and through axles combine for the perfect ride on any surface."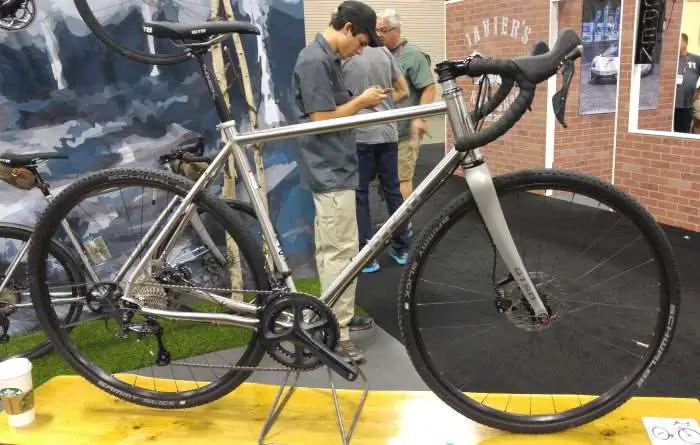 Otso's description of their any-road bike sounds pretty tasty, but just who is Otso Cycles?
Tired of wanting and desiring bikes that didn't exist, Otso is the prodigy of the engineering crew at Wolf Tooth Components – we've reviewed their simple but awesome Road Link gadget in the past. Most people in cycling land have to dream about their perfect bike, while Wolf Tooth / Otso did something about it.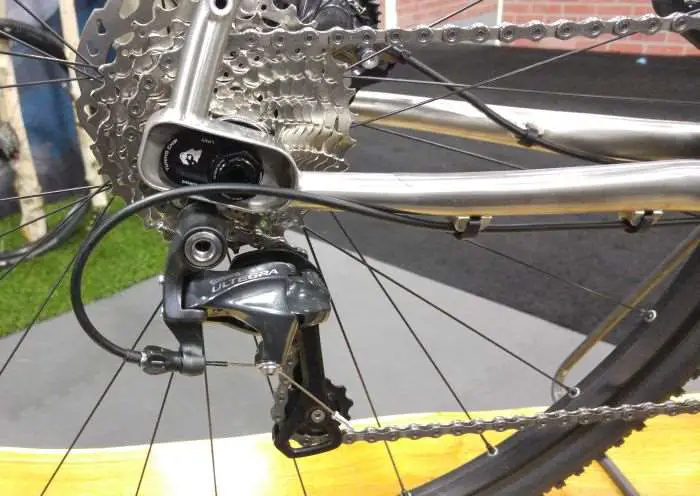 "Otso's patent pending Tuning Chip™ system developed by Wolf Tooth Components provides 20 mm of chainstay length adjustment and subtle changes to the bottom bracket drop and head tube angle."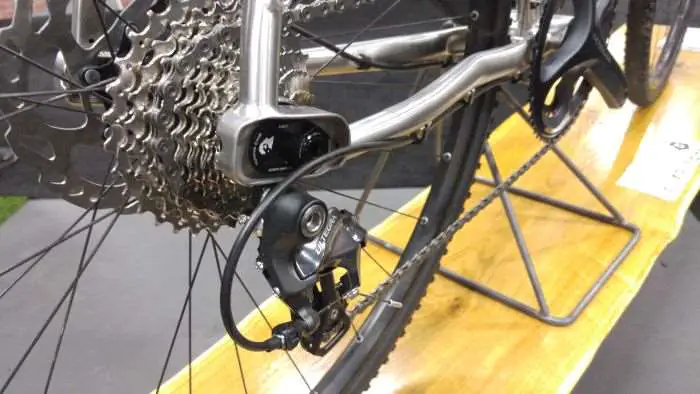 "Choose a shorter-higher-steeper 420mm position for a fun and nimble cyclocross feel or a longer-lower-slacker 440mm position for fast and stable touring or gravel grinding handling."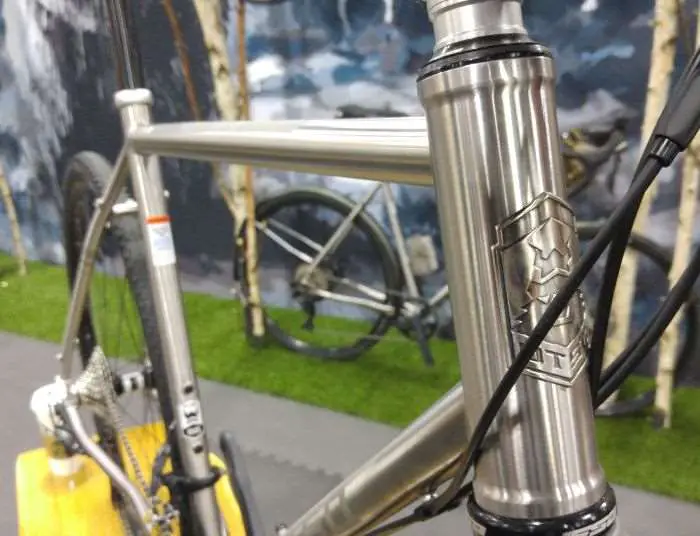 "A middle position chip is also available. Swapping between the two positions is very simple and can be done in about 2 minutes."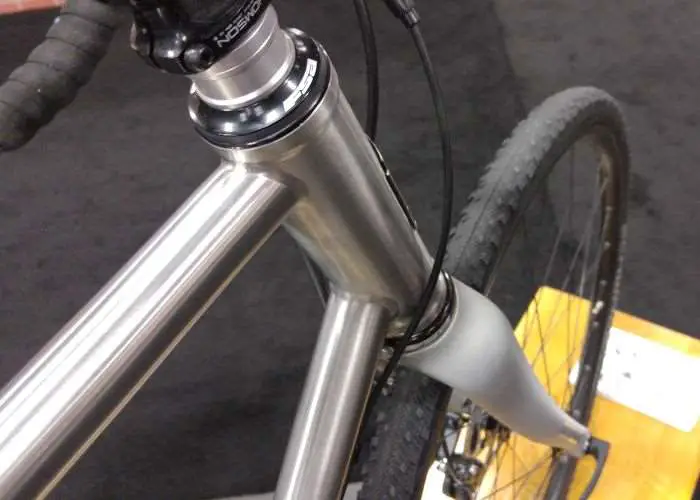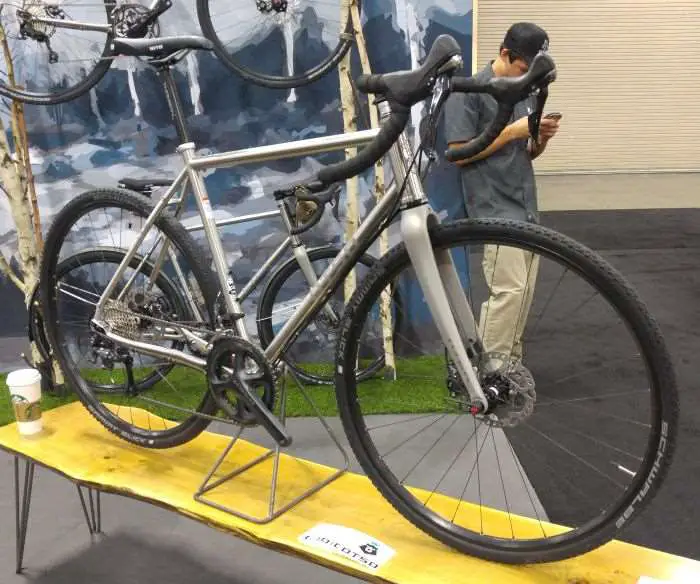 One of the other standout features of the Otso Warakin is its brushed stainless steel finish with bead-blasted logos. A classy look complimented by the all carbon fork, painted matte silver with accents to match those on the frame.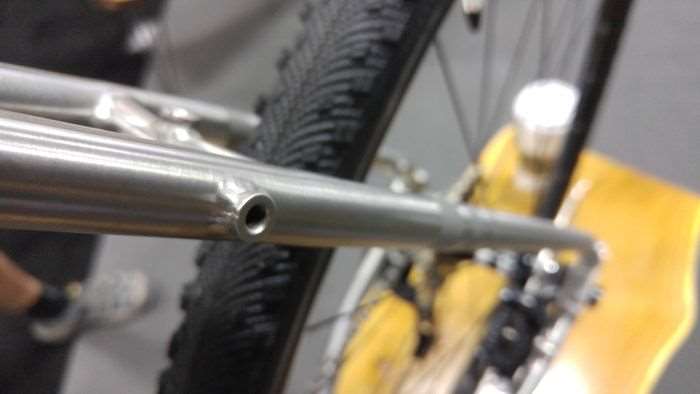 The Otso Warakin features numerous braze-ons to accommodate cable routing clamps, 3 x water bottle mounts, fenders, racks, frame bags, etc.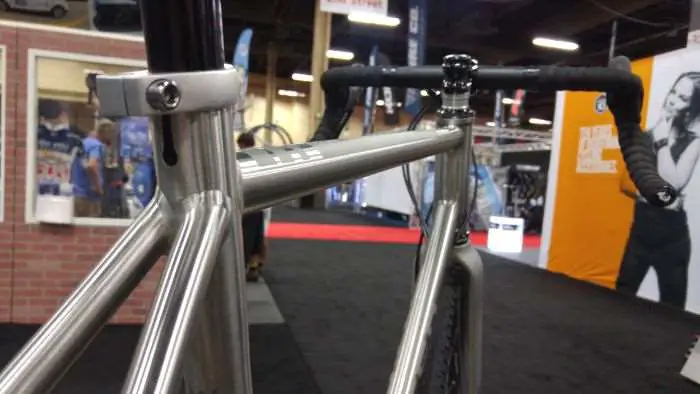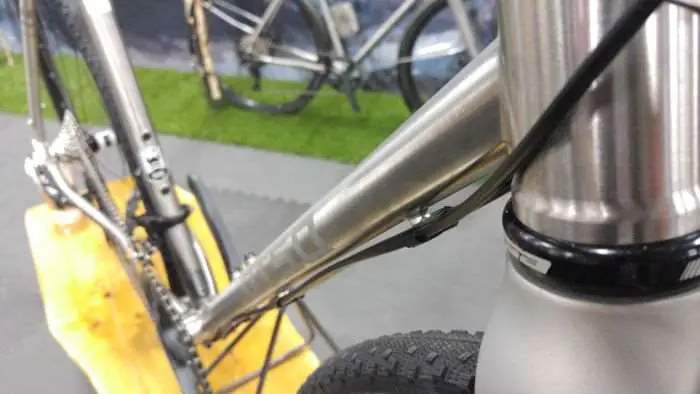 Full-length cable housing keeps everything running smoothly, even in the foulest of weather conditions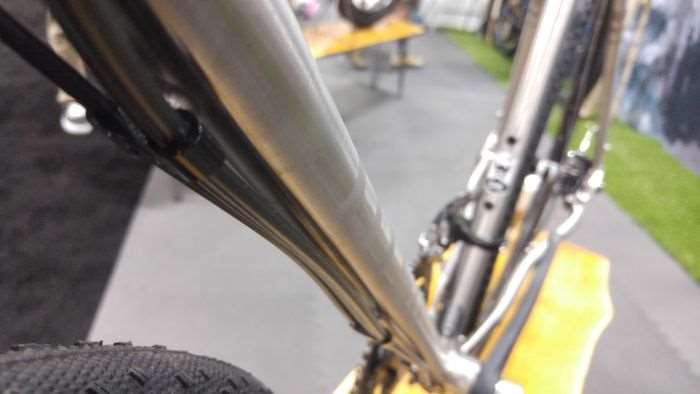 External cables are also easy to maintain, which is a boon for those who like to tinker on their own bikes.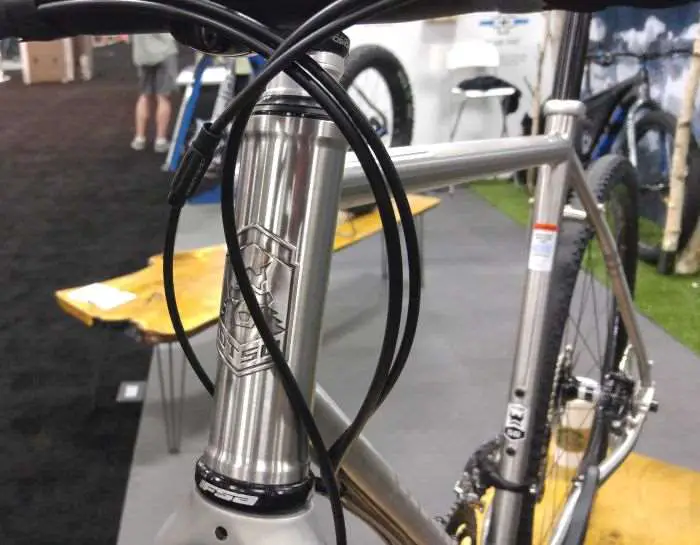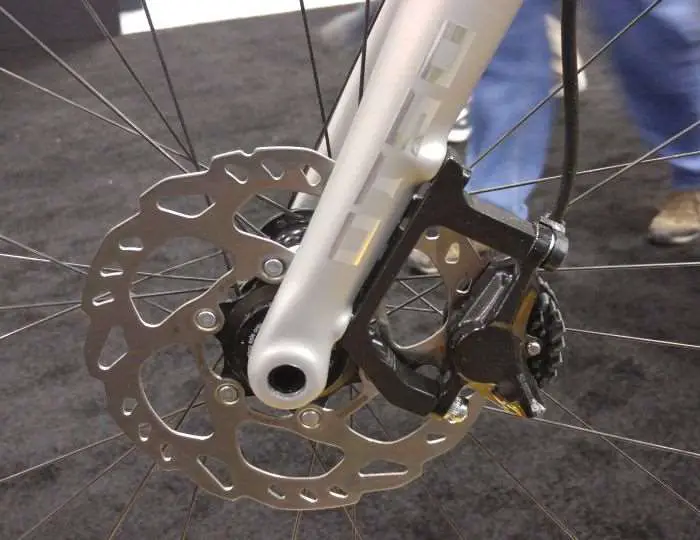 Flat-mount disc brake on the Warakin's all-carbon fork with thru-axle.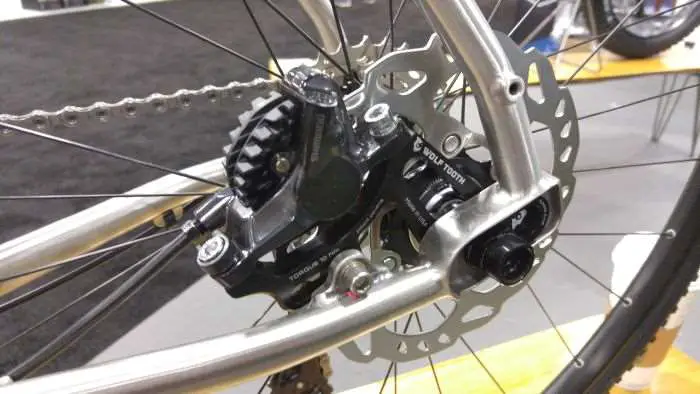 Post-mount brake for the rear – and rack mount on the stay.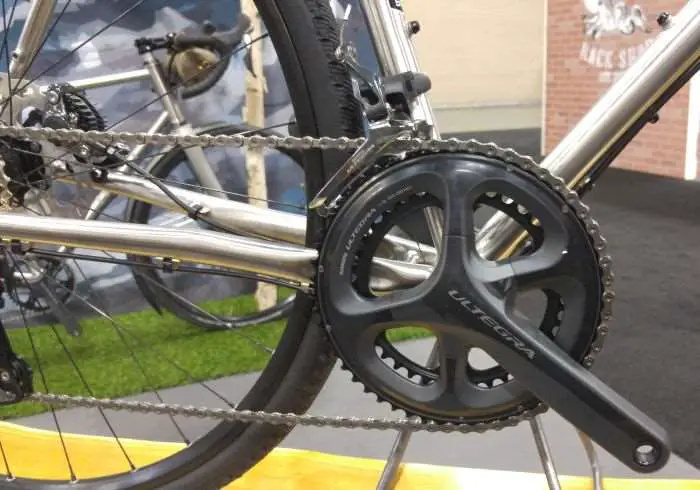 Shimano's venerable Ultegra groupset is one of several component groups available for complete builds of the Otso Warakin.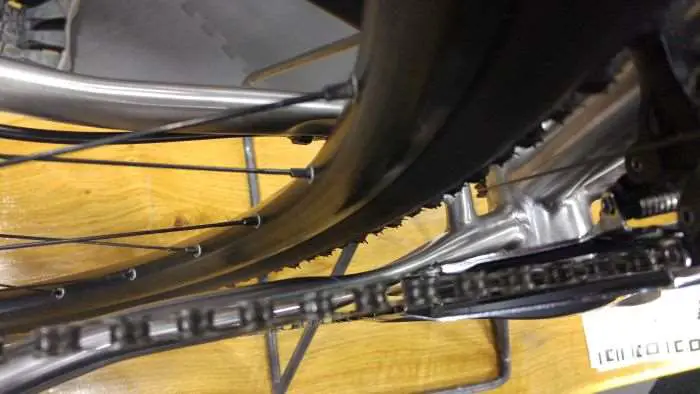 Otso / Wolftooth report the Warakin has clearance for tyres measuring at least 40mm in width.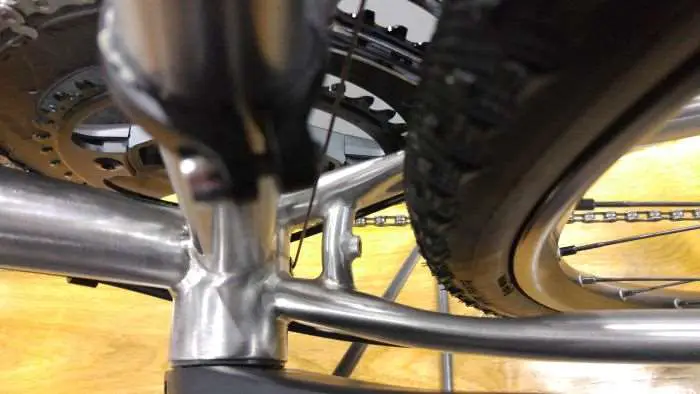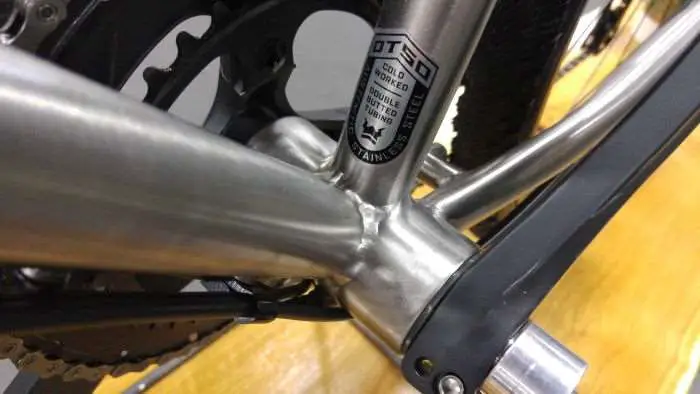 This show sample / early build of the Warakin features a BB30 bottom bracket. However, the production run, beginning later this year and shipping in December, will feature a 68mm English thread bottom bracket shell.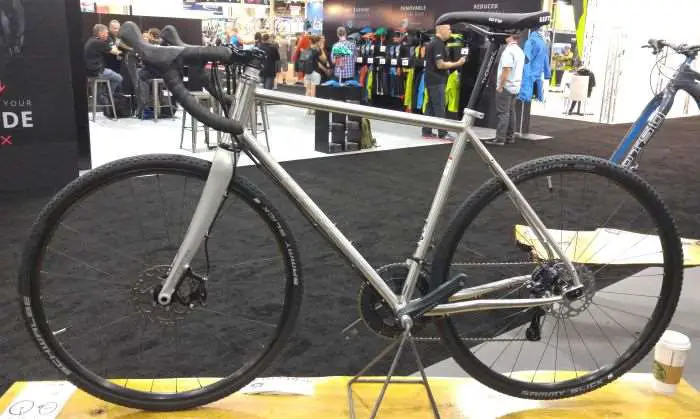 A lot of good engineering has gone into the Otso Warakin, with manufacturing handled by one of Taiwan's top steel frame fabricators. Frames are TIG welded and just like titanium, stainless steel doesn't rust!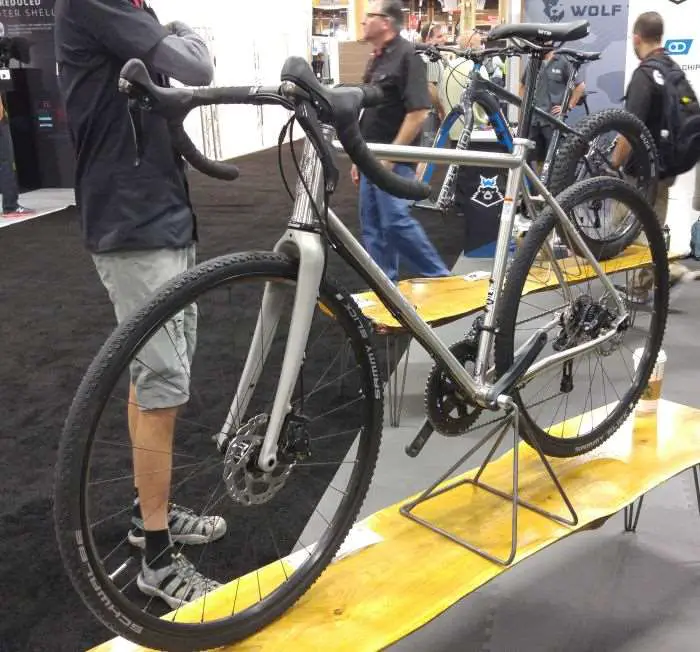 All frames are inspected and assembled at Otso's headquarters in Minneapolis, Minnesota, USA before shipment to customers.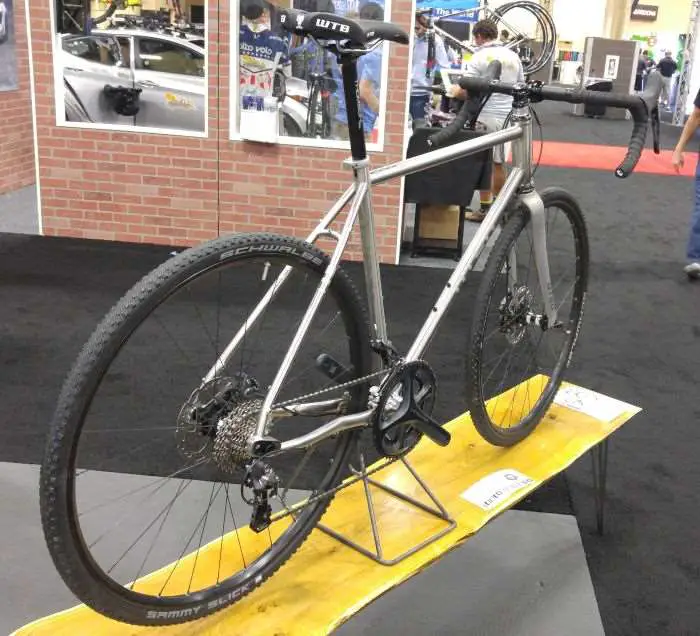 The Otso Warrakin stainless steel frame and all-carbon fork retail for $US 1,799.00 with free shipping. Complete bikes start at $US 3,199.00, again with free shipping.