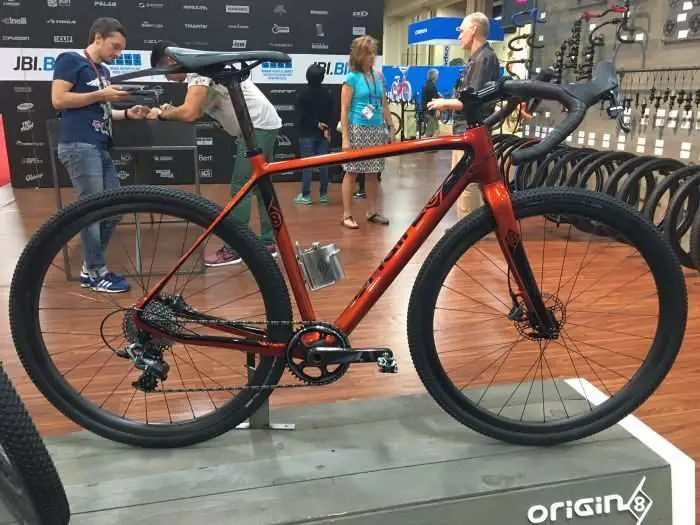 "After more than thirty years working in all areas of the production and supply of a bike from development to distribution, our team got together and started the Origin8 brand from scratch."
The team referred to in that quote is Origin8's parent company, J&B Importers. J&B are a global wholesale distributor located in the United States, servicing independent retailers and distributors around the world.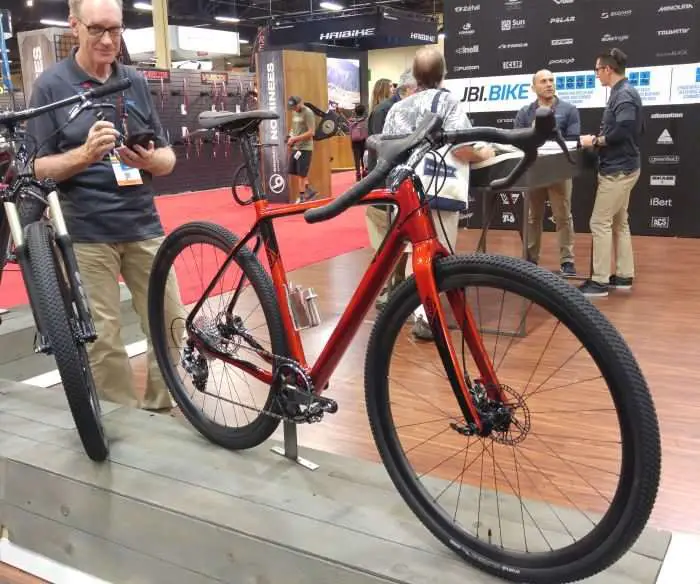 "If you walk into a top bicycle shop anywhere in America, there's a good chance you'll find frames, carbon forks, fixed gear cranks, pedals or any number of other parts made by Origin8. That's because we deliver a high quality technical product at a great price. It might not sound like the sexiest marketing line you've ever heard, but it's exactly what you want when you're making decisions about buying or building a bike – whether it is an urban bike, a mountain bike, a fixie or a racing bike. We make products that look great but the attention to detail we put into our technical features create a balanced trifecta of quality, price and superb design."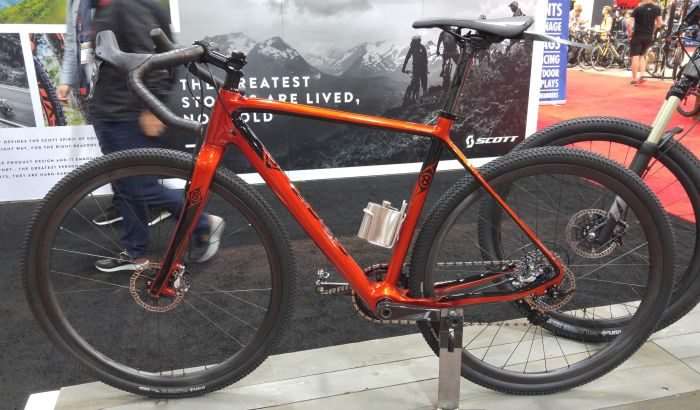 New for 2017 is Origin8's Hellcat gravel bike, featuring a full carbon frame with geometry optimized for gravel / cyclocross / road – but the Hellcat's geometry is more race oriented than adventure.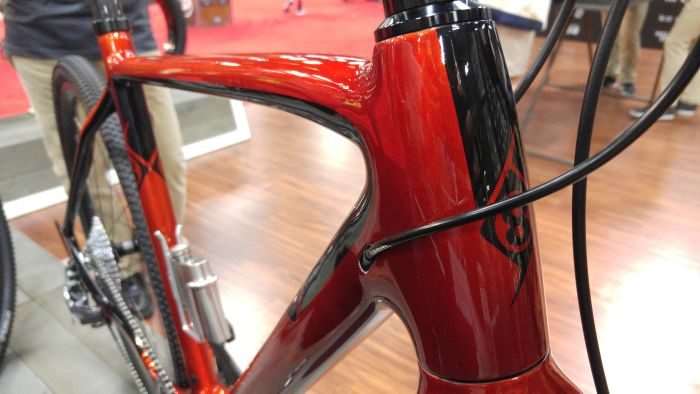 The Hellcat's frame is constructed from T700 UD carbon fiber and tips the scales at around 1180 grams for the 53cm bike, as shown here. All brake and derailleur cables are internally routed with support for mechanical or wired electronic drivetrains.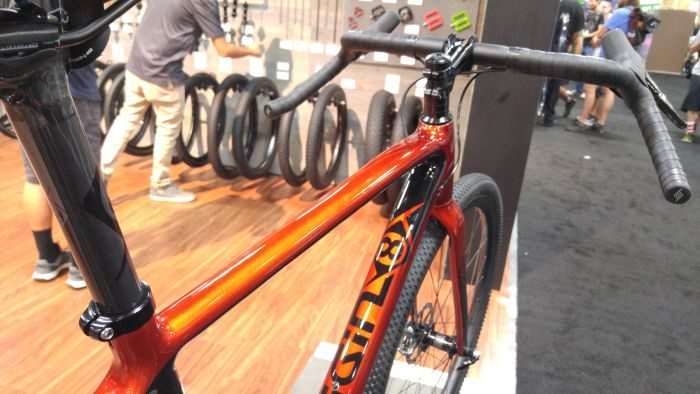 The all-carbon tapered 1 1/8″ to 1 1/2″ fork is manufactured from the same T700 UD material as the frame, and tips the scales at about 445 grams with support for a 15mm thru-axle. Great to see Origin8 sticking to a 15mm thru-axle on the fork; the crew at Gravel Cyclist feel this should be the standard going forward. Keen eyed readers will notice the sample bike is fitted with Origin8's flared Gary handlebars – Gary himself is pictured above and is the promoter of the southern most gravel grinder in the US of A – the 4G Great Gator Gravel Grinder. Check out our interview of Gary HERE.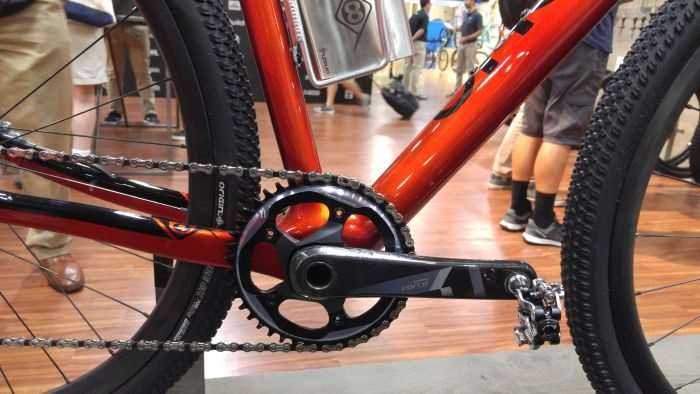 Despite the Interbike show sample being fitted with a single chainring drivetrain, the Hellcat supports a double chainring setup – bottom pull type front derailleur and 34.9mm frame clamp. Origin8 have chosen the PF30 bottom bracket standard for the Hellcat.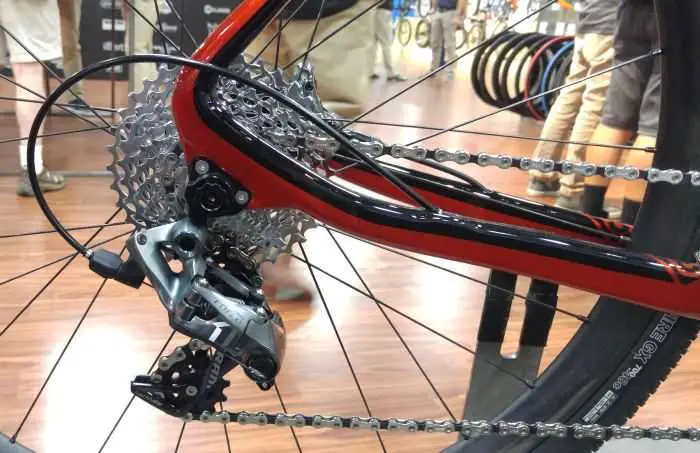 The rear dropouts of the Hellcat are interchangeable between 12mm x 142mm thru-axle (this is how the frame ships) or 10mm x 135mm quick release.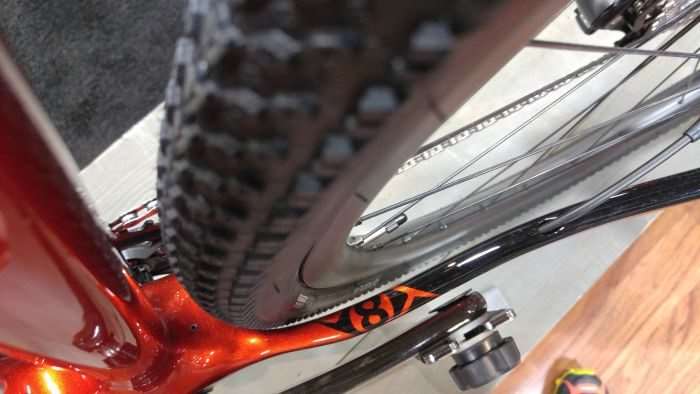 Fitted with Origin8's Wildfire CX 700c x 40mm tyre on the Origin8 Bolt carbon / gravel monstercross rim (pictured), which features an internal width of 21mm, clearance appears tight in this photo. Remember, wider rims = free increase of tyre width. However, the Hellcat will clear 700c x 44mm tyres. For the record, the 40mm tyre pictured above grew to 45mm when fitted to the Origin8 Bolt carbon rims!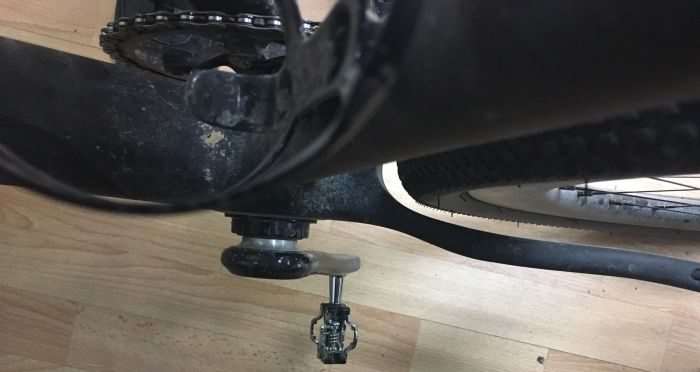 In the photo above is the original Hellcat prototype fitted with a 700c x 40mm tyre on a rim with an internal width of 18mm. Rim width makes a huge difference – but there is plenty of clearance for 40mm tyres.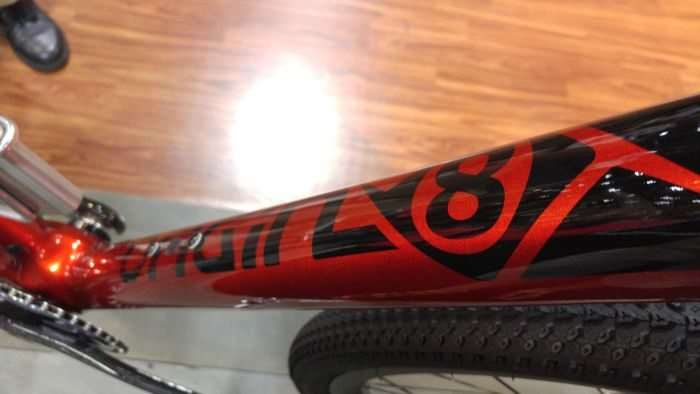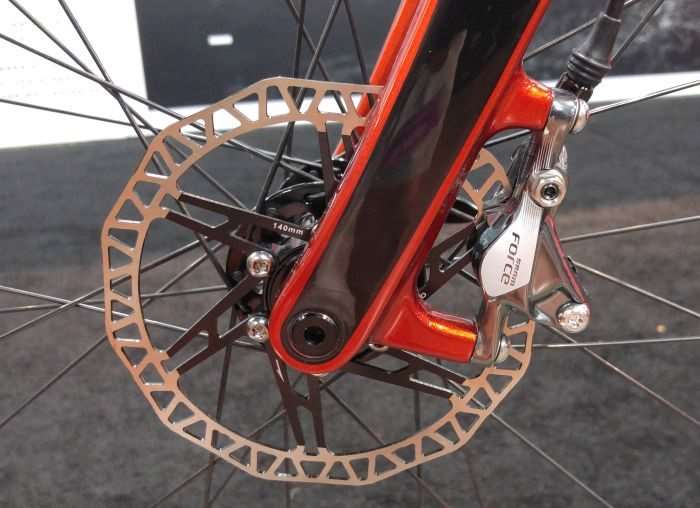 Origin8 stick with the well-proven post mount standard for mounting disc brakes to the all carbon fork, with support for 140mm or 160mm rotors.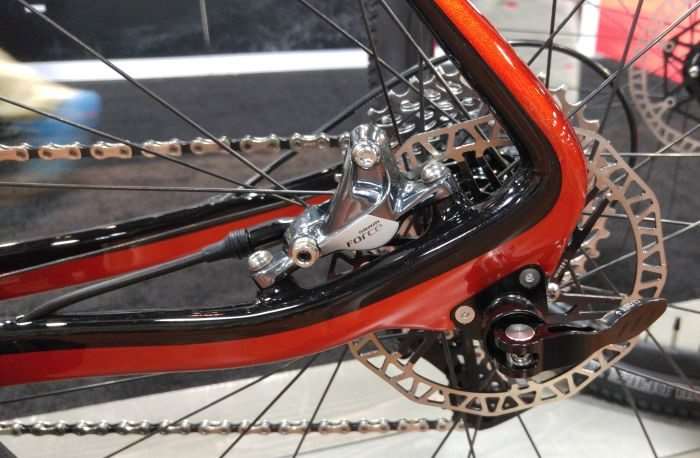 Post mount for the rear brake – this photo angle also provides a good view of the interchangeable rear dropouts. Support for 140mm or 160mm disc brake rotors.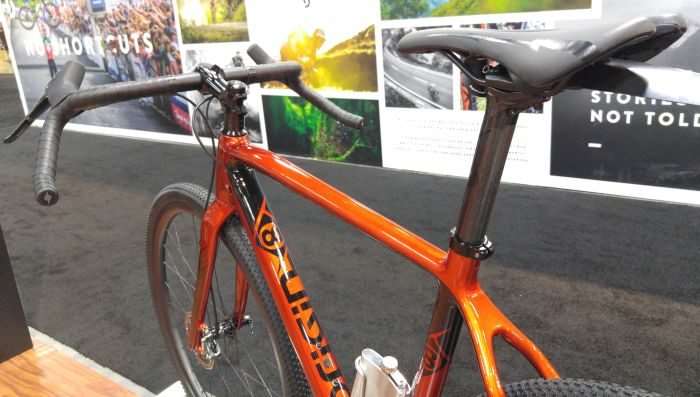 Wider 31.6mm seatpost for the Origin8 Hellcat.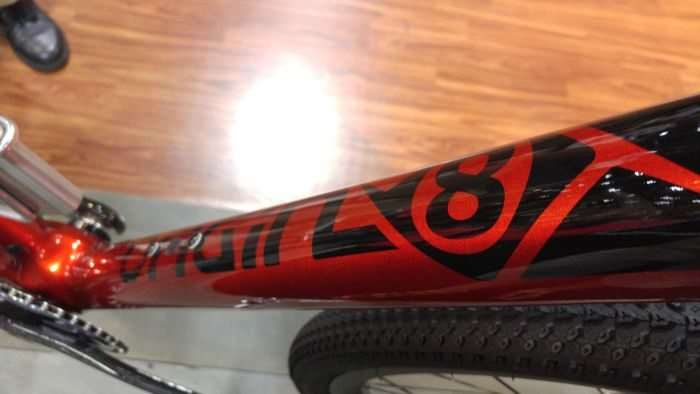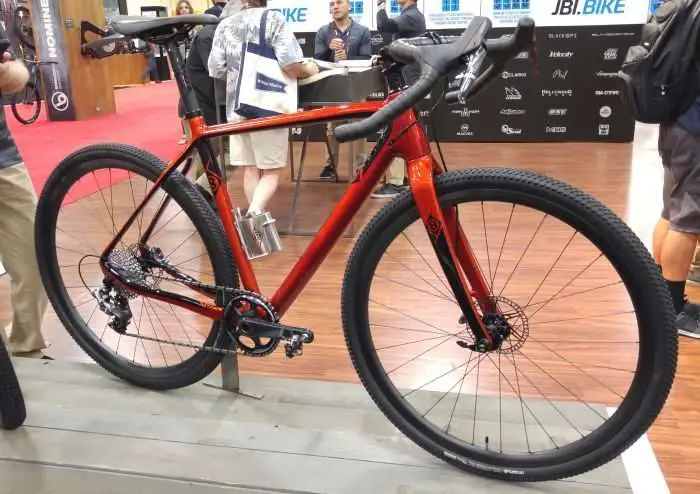 If you like Heavy Burnt Orange paint and Black graphics, you're in luck! The Hellcat comes in just one color, and it's pretty sharp.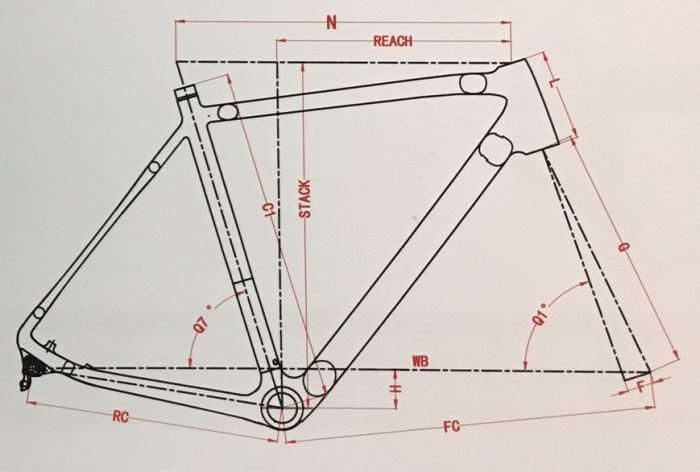 The Origin8 Hellcat is available in four sizes, with top tubes beginning at 525mm on the 50cm frame, ending at 585mm on the 59cm frame.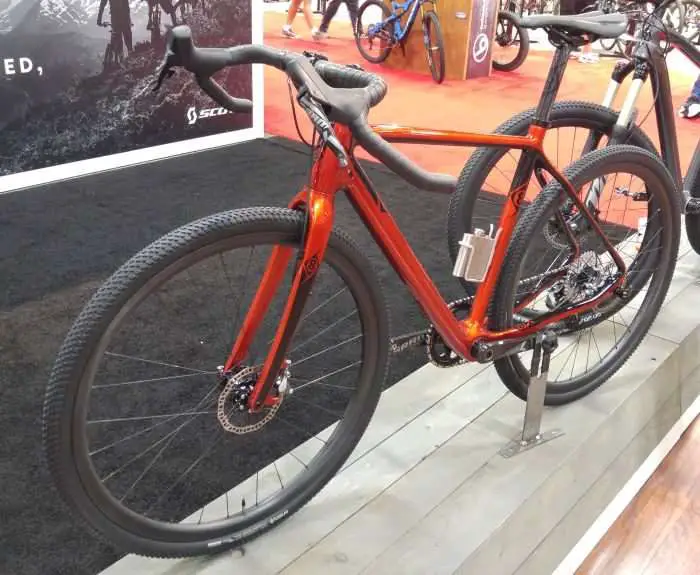 The Origin8 Hellcat frameset includes front and rear thru-axles, seatpost clamp, sealed bearing headset and fork expander with top cap, convertible rear dropouts (TA / QR), Di2 plugs, internal cable routing liners, 3-in-1 inserts for internal routing holes and all black hardware.
Pricing and availability on the Hellcat is to be determined.