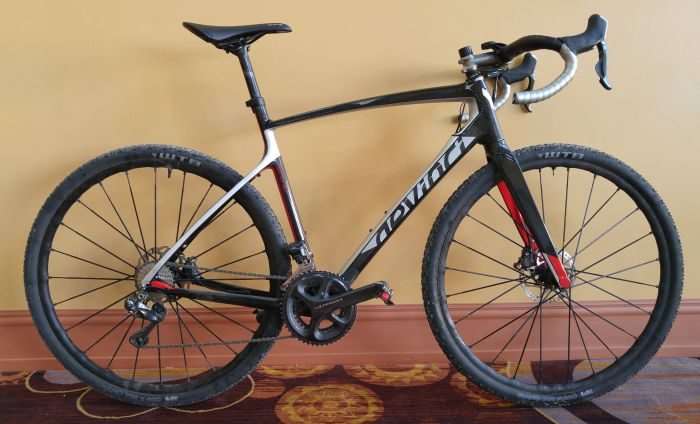 Devinci Bikes, well known in Quebec and the rest of the Great White North, aka Canada, is a brand not-so-well known south of the border in Mainland USA. Devinci was founded in 1987 as Da Vinca – as in Leonardo – the vision of two engineering students local to Chicoutimi, Quebec. A couple of years later, road cycling entrepreneur, Felix Gauthier got involved with the company. By 1990 he had purchased half the company, changed the name around a little and Da Vinca became Devinci Bikes – Cycles Devinci.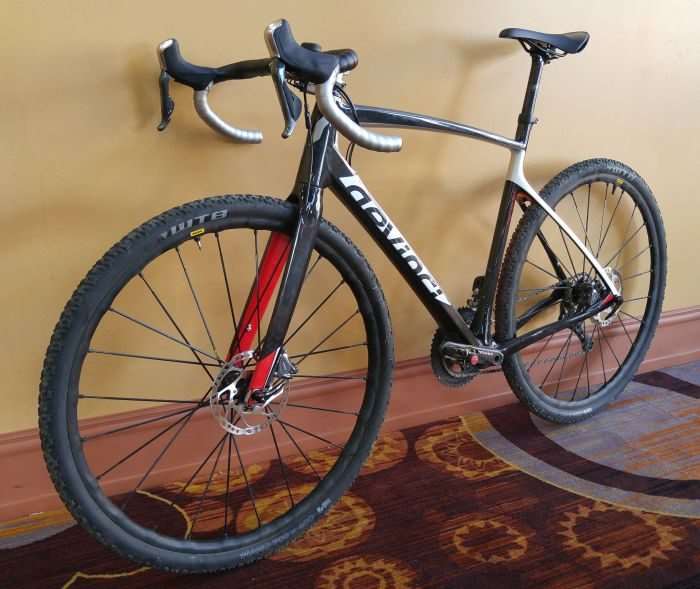 At 2016 Interbike, we had an impromptu meeting with David Veilleux, Road Brand Manager for Devinci in the outside halls of Interbike. David's Devinci Hatchet Carbon bike wasn't in showroom pristine condition, covered in dirt and grime from it's showing at Interbike's yearly cyclocross race – Cross Vegas – namely the version for industry folks. A bit of dirt and dust aside, we appreciated meeting David and the opportunity to see the all-new Hatchet first-hand.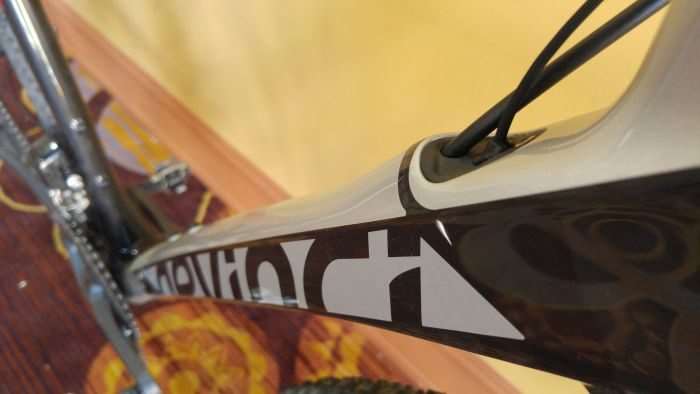 Like many carbon gravel bikes on the market, the Devinci Hatchet's cables are routed cleanly inside the frame. In the case of David's Hatchet, it was equipped with Shimano's Ultegra Di2 electronic / hydraulic brake drivetrain.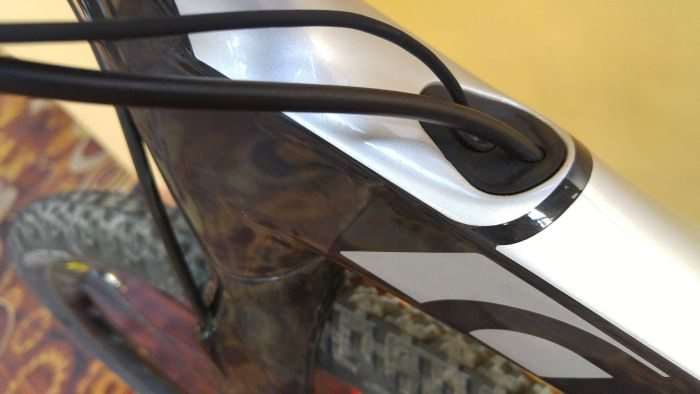 The Hatchet caters to mechanical or wired electronic shifting and features a port on the downtube for cables to enter the frame. The port cover is interchangeable depending on drivetrain configuration and dropper seatpost.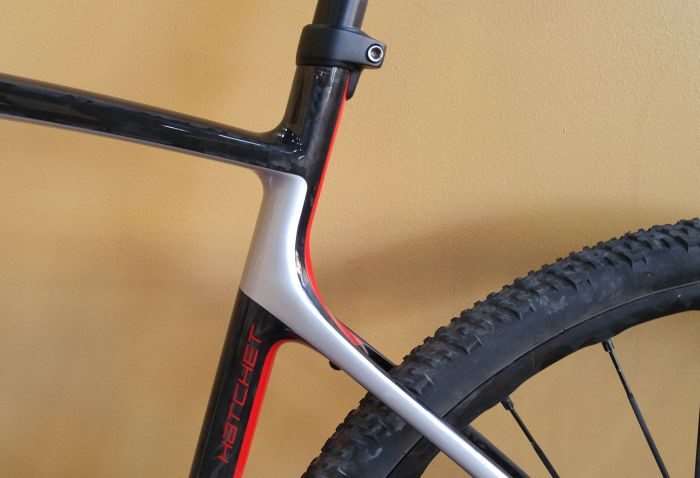 Shapely seattube / top tube / seat stay junction and dropper seatpost compatibility. The Devinci Hatchet is the second gravel bike we spotted at Interbike with this feature – we expect other manufacturers to offer dropper seatpost functionality in the future. The dropped seatstay and carbon layup give the Hatchet a little vertical flex and ability to absorb some of the vibrations so common with rolling down gravel roads.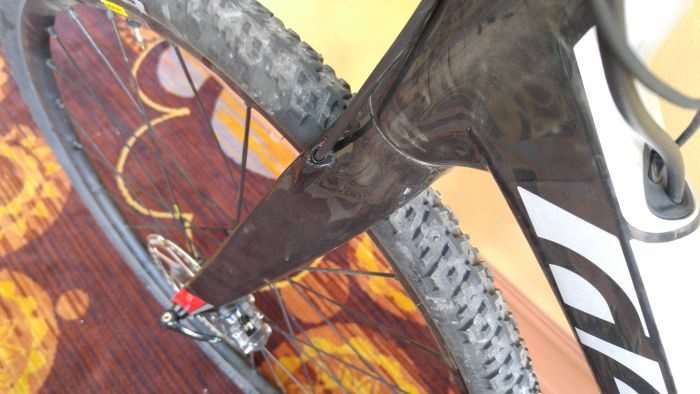 The straight blade, tapered all-carbon fork routes the brake cable internally, lending to the very clean look of this bike. 12mm thru-axles feature front and rear.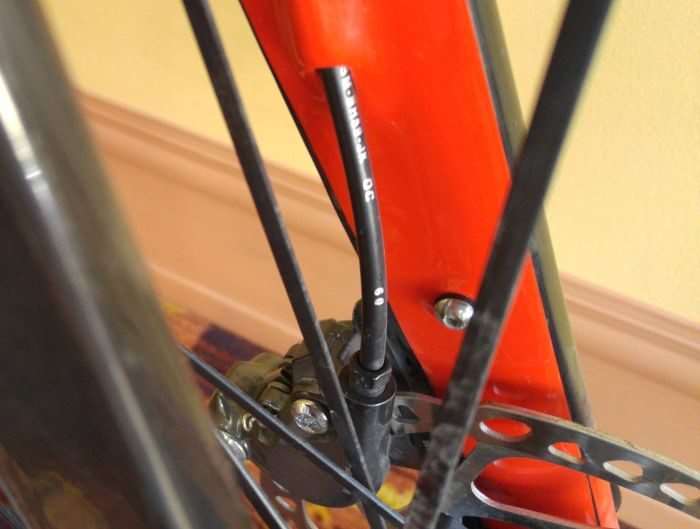 Well hidden brake routing and a very discreet mount for a front fender.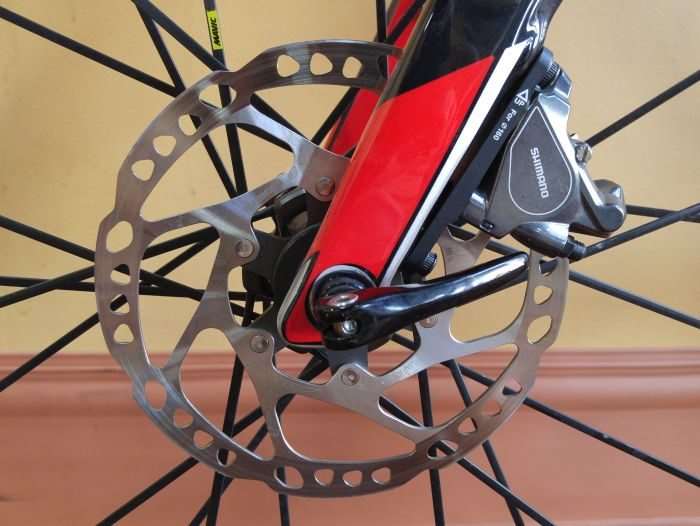 Devinci's Hatchet utilizes the latest flat mount standard for disc brakes with a 160mm rotor up front.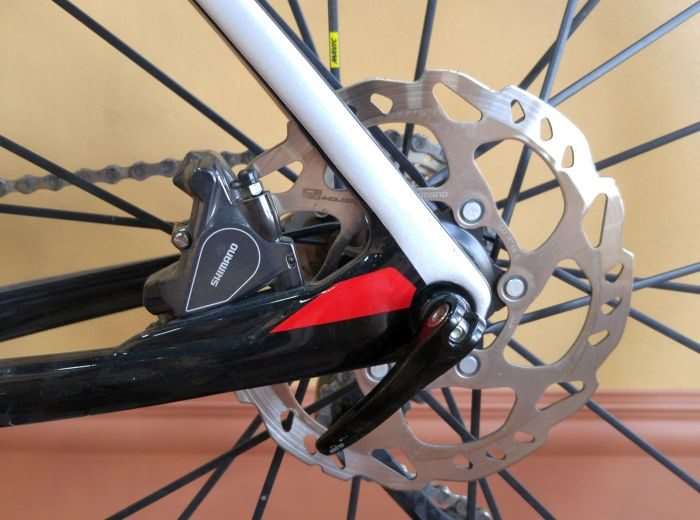 Flat mount disc brake on the rear with a 140mm rotor. In our long term testing with several different bikes, we've found rear-mounted 140mm rotors of the Shimano Icetech variety to be more than adequate for extended periods of braking in the mountains of North Carolina and beyond.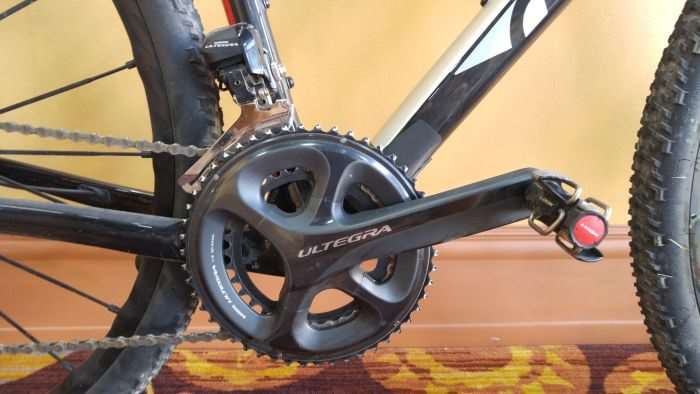 Devinci kit out the Hatchet Carbon with an Ultegra 11-speed crankset and 50/34 chainrings. We feel a 46 or 48 tooth chainring would be a better fit for gravel use – but some folks don't mind pushing bigger gears. Shimano offer a 46 tooth chainring for this crankset, along with their chainring bolt and cap set to clean up the look a little (Shimano part #Y1P498090). The Hatchet can also be built with a single chainring drivetrain.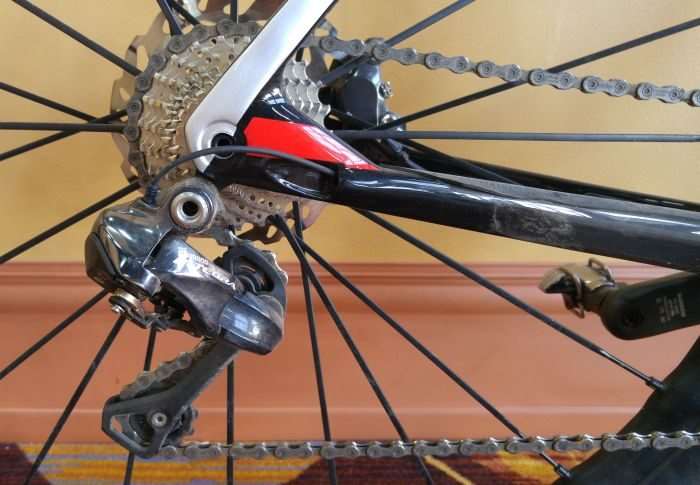 Shimano's superb Ultegra Di2 GS derailleur (longer cage) comes as part of the top-tier Devinci Hatchet. This derailleur easily handles a 32 tooth cog – we have tested it successfully with a 36T cog and even a 40T cog, when used with a Lindarets Roadlink.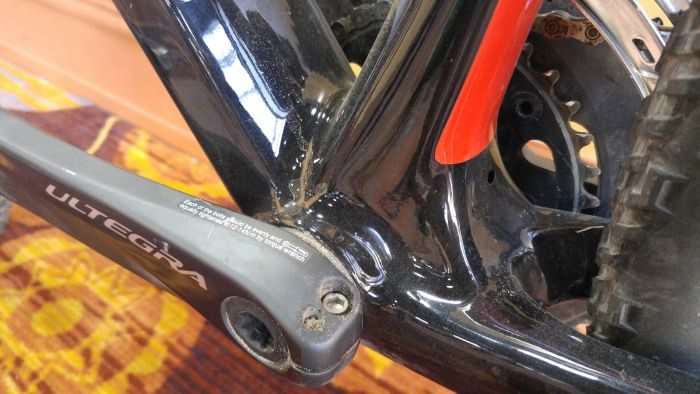 Shimano's Pressfit BB86 bottom bracket.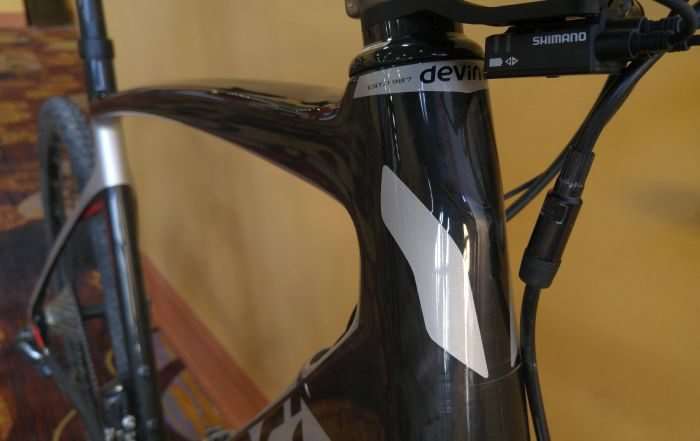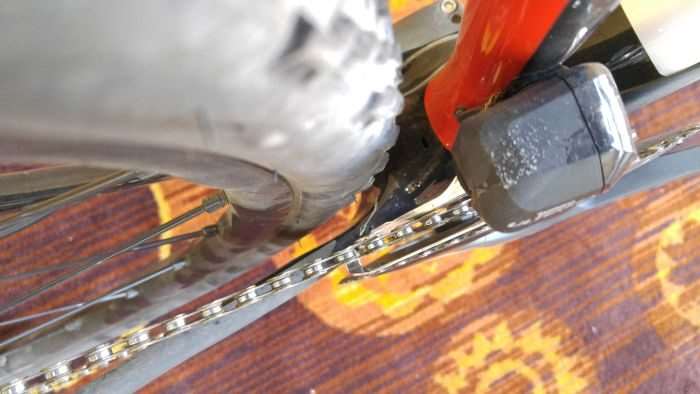 40mm of tyre clearance between those rear chainstays.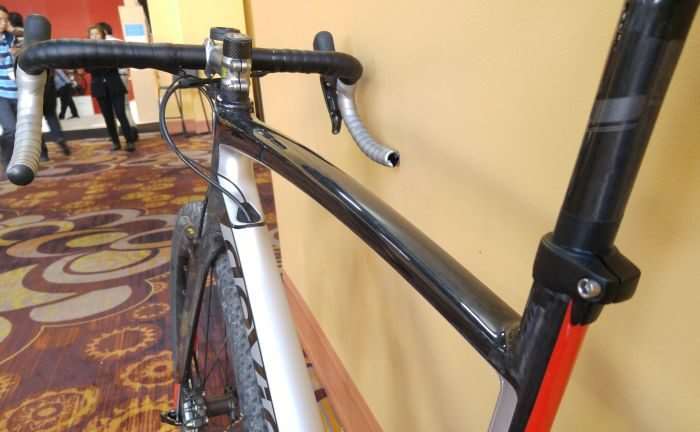 Most manufacturers have returned to 27.2mm seatposts on their gravel bikes, citing flex in the post as a valuable asset for helping with a comfortable ride.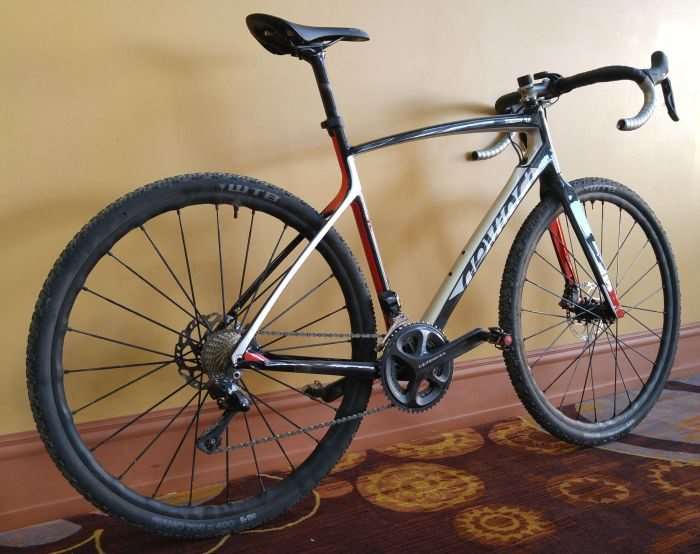 As pictured, the Devinci Hatchet Carbon sans pedals tips the scales at 8.7kg / 19.18 pounds.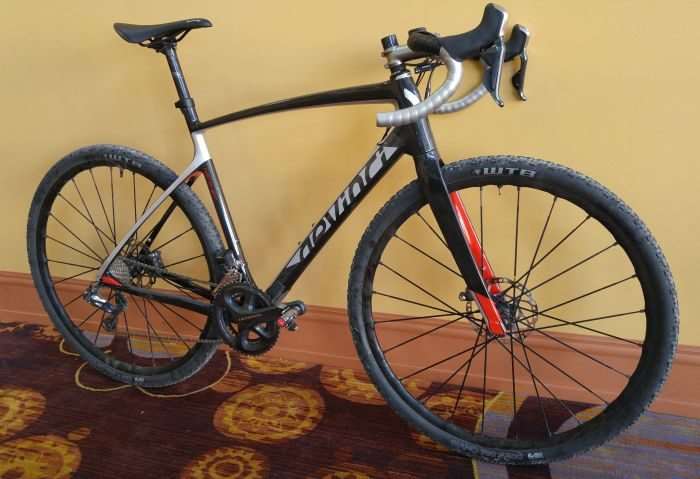 The Devinci Hatchet Carbon is part of the the company's "Open Road Carbon" series of bikes and is offered in four build kits.
Hatchet Carbon Shimano Ultegra Di2
Hatchet Carbon Shimano Ultegra Mechanical
Hatchet Carbon Shimano 105
Hatchet Carbon SRAM Rival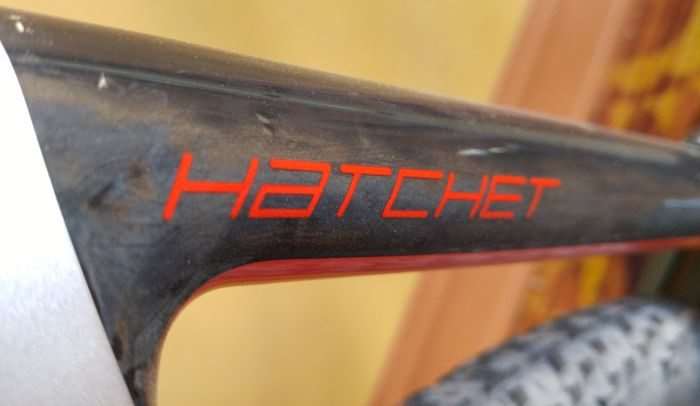 Frames are available in five sizes starting at 51.5cm on the top tube on the X-Small, and 600mm on the X-Large.
Pricing is unavailable at this time, but please check the official Devinci website below for more details.