SRAM Force eTap AXS WIDE – Wider and lower gearing choices for adventuring and touring – and racing, IMHO. SRAM realized there was a serious hole in their drivetrain lineup, particularly with their offerings for 2x drivetrains.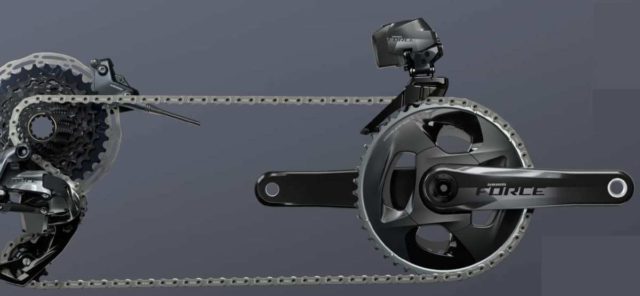 SRAM has listened to the pundits, and extensive improvements and changes have been made. SRAM claim Force eTap AXS Wide will "never run out of gears and always find a comfortable cadence." More than that, the drivetrain now accommodates wider tyres (700c x 45mm and 27.5″/650b x 2.1″), thanks to changes in the crank spacing / chainline and front derailleur, especially with the battery placement. Let's not mess about, onto the changes!
Video
Force 43/30T Wide Crankset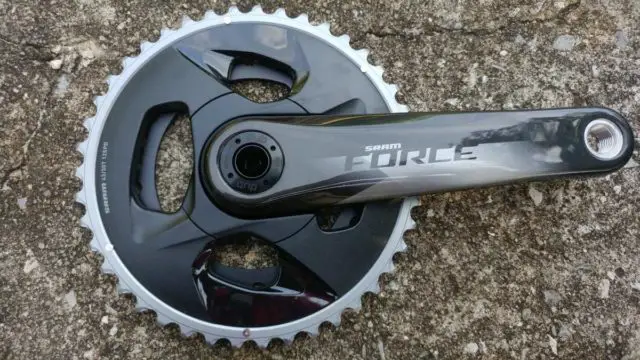 Featuring 43/30 chainrings and a wider Q-factor of 2.5mm each side, making for 5mm total, which is all due to the crankset's wider spindle. Because of this change, the chainline of the crankset was adjusted by 2.5mm. These changes ultimately provide better tyre clearance.
"X-Range gearing technology gives you more range and a smoother gear progression, so you're always in the right gear" – SRAM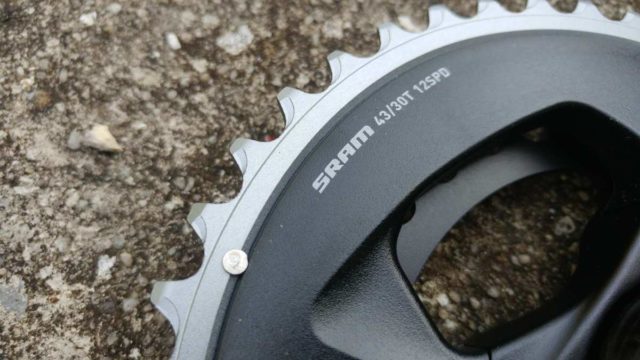 Above and below, closeup detail of the chainrings from the front and the rear side.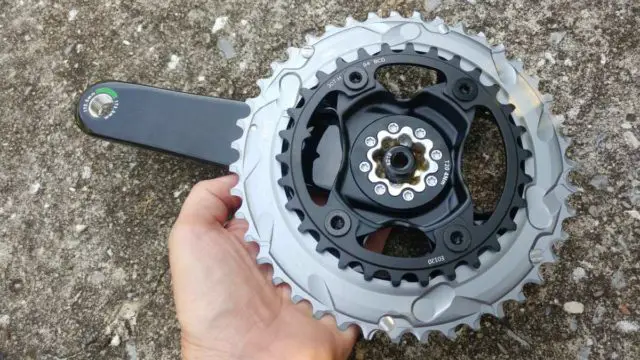 It's easy to see the extensive machine work for shifting ramps and pins. Incidentally, the chainring spider uses a 94mm bolt circle diameter. This crankset can handle 68mm or 73mm bottom bracket shells, the latter will require spacers.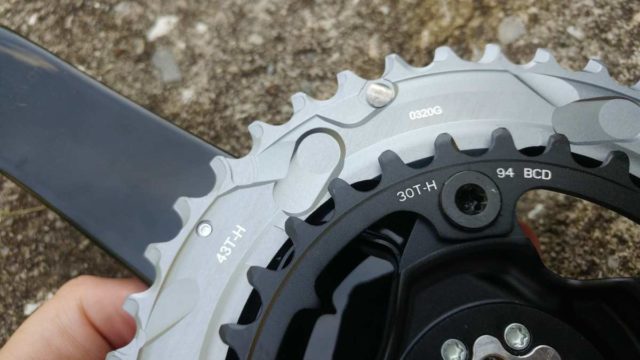 If you're concerned about the increased Q-factor, there is a component manufacturer who offers a shorter axle version of their pedals (52mm) that are SPD compatible, which brings your feet inward by 3mm each side.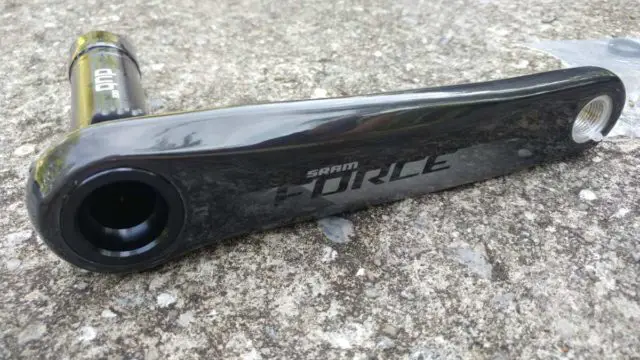 Also noteworthy is SRAM's new gloss finish, which features across the entire Force range.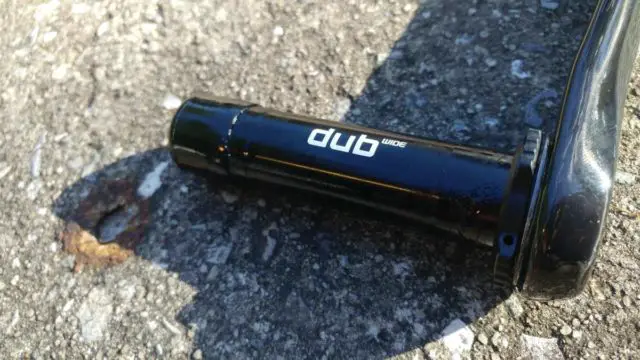 The video above demonstrates me weighing all of the parts live, but the crankset tips the scales at 698 grams. Available in 165mm to 177.5mm in 2.5mm increments.
Bottom Bracket
For the purposes of my future project build involving this groupset, I have selected an English thread BSA 68mm bottom bracket, but the crankset is compatible with just about every bottom bracket standard, provided they use a dub bottom bracket bearing.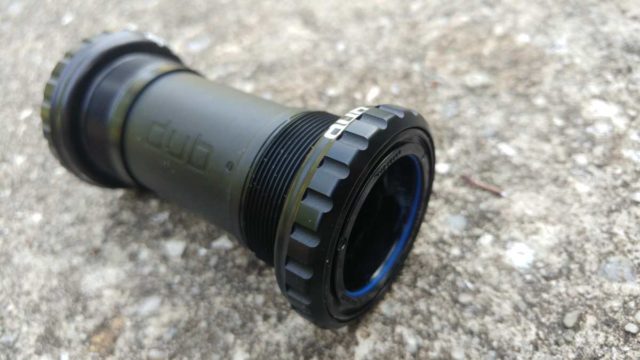 BSA 68mm, PF86.5, BB30 68, BB30 73-A (Cannondale), PF30 68, BB386, PF30 79-A (BBRight), PF30 73-A (Cannondale), T47 85,5, BSA 73mm, BB30 73 and PF30 73 are compatible.
The bottom bracket supports 68mm or 73mm bottom bracket shells, the latter will require spacers. Weight is 77 grams with the 73mm spacers.
Force eTap AXS Wide Front Derailleur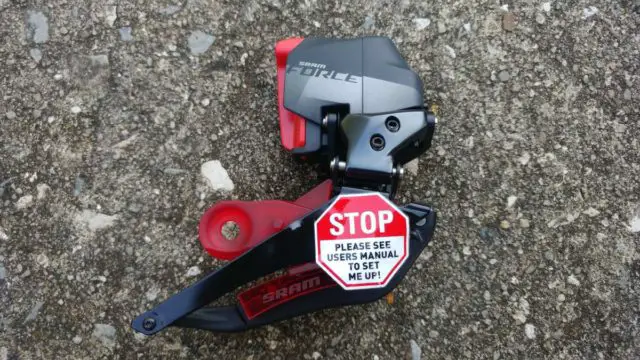 Due to the wider spacing of the crankset, that means a revised derailleur, which also clears bigger tyres. This has been an issue with previous generations of the eTap front derailleur when the battery was installed.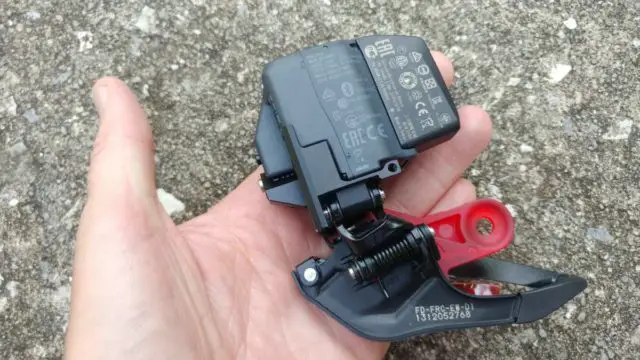 As alluded to earlier, the eTap system will now clear tyres measuring 700c x 45mm and 650b x 2.1″. The derailleur features "SRAM Yaw trimless cage technology with an optimized cage profile for new chainring combinations".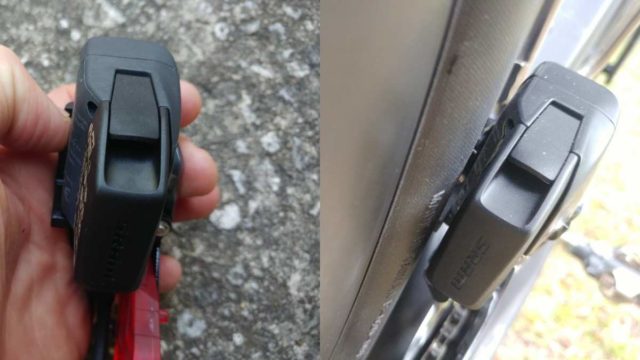 My project frame for this groupset is unavailable at the time of this article, but the photo above demonstrates the slimmer profile of the revised eTap Force AXS Wide front derailleur vs the Red eTap AXS front derailleur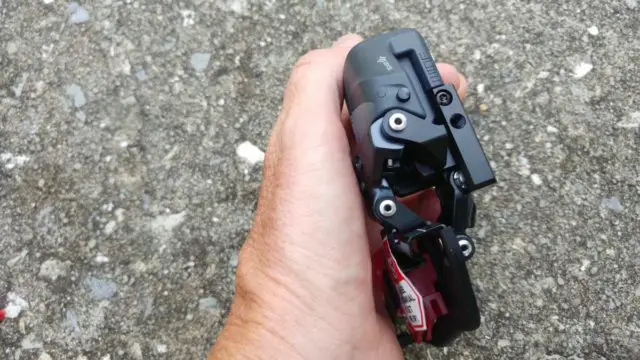 Weight is approximately 170 grams.
Force 12-Speed XG-1270 Cassette, 10-36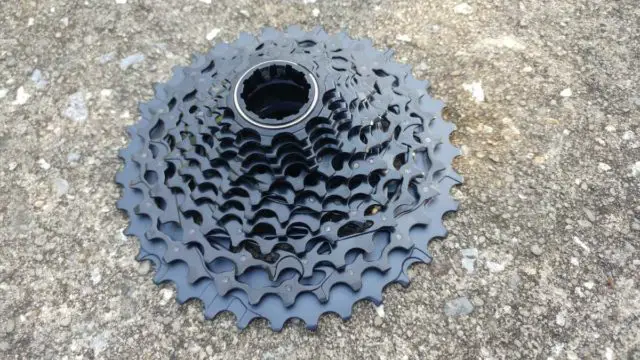 The wider ratio 10 -36 Force level cassette features 10-11-12-13-15-17-19-21-24-28-32-36 cogs. It won't be as light as a SRAM Red equivalent cassette, but it is a lot cheaper. When this cassette is paired to the 43/30 chainrings, you're looking at a high gear ratio of 4.3, a low gear ratio of .83 and a range of 516%, all without the crazy annoyances of big cassette gaps like you have on a 1x – IMHO. Some people love 1x, some don't, I fall into 2x preferred camp. With that said, this cassette opens up a new 1x option that is quite interesting, more information below!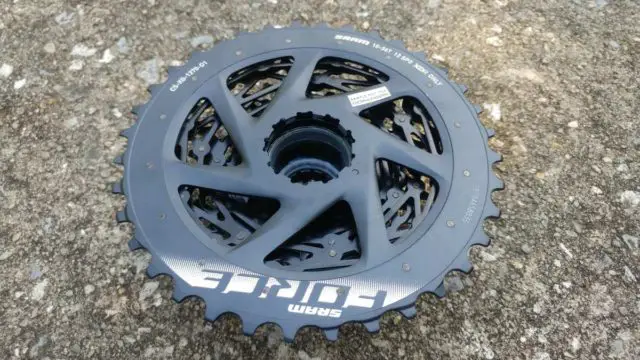 SRAM XDR compatible only, weight is 303 grams.
Force eTap AXS Wide Rear Derailleur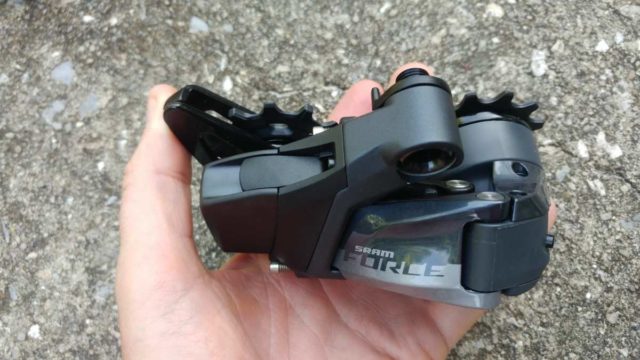 Just like its shorter cage brother, the new variant features SRAM's Orbit Fluid Damper, which functions just like a clutch, but relies on fluid friction vs mechanical parts. The derailleur cage is a little longer and designed to handle a 36 tooth cog.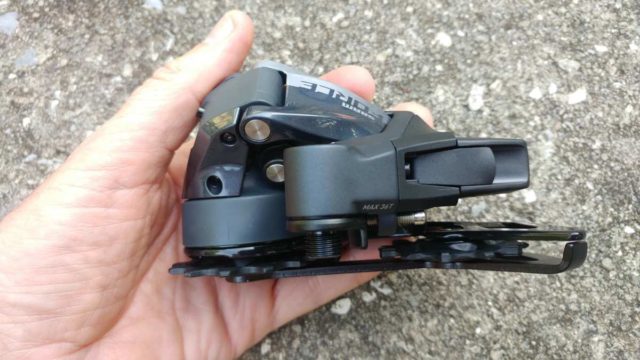 I am expecting tinkers to see they can push the limits of the derailleur with bigger cogs in the future (one such manufacturer produces an 11-39 12-speed cassette).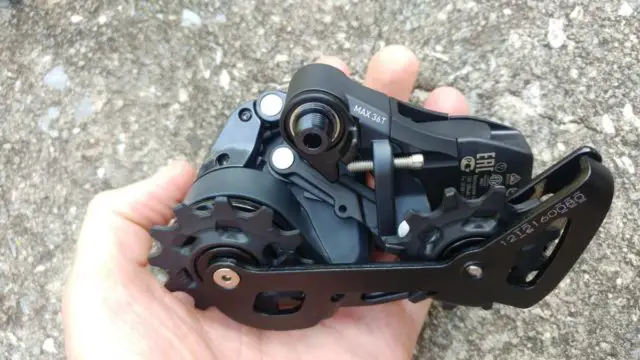 SRAM's newest derailleur will handle the other SRAM road AXS cassettes in the range, 10-28 and 10-33. Above, you can clearly see the derailleur is intended to max out at a 36 tooth cog. "The derailleur also capitalizes on large X-SYNC bearing-equipped pulleys for outstanding durability and efficiency" – SRAM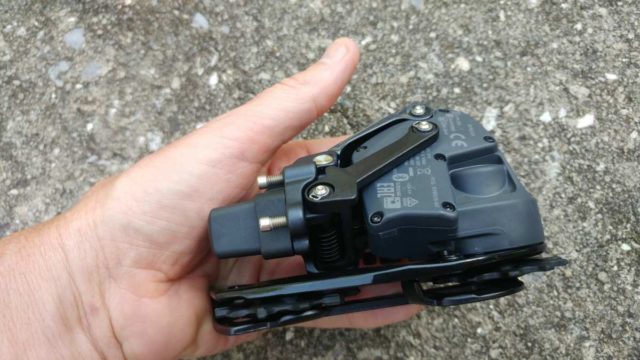 There are some interesting possibilities with this derailleur. Whilst I have a 2x crankset in my possession, you could run a 1x Force crankset fitted with a 36 tooth ring, and pair it to this rear derailleur and the new 10-36 cassette. This will guarantee a nice tight gear range and a low gear of 1 to 1, which would be a killer setup for cyclocross, or a 1x gravel bike where you don't have super low gearing requirements. I've found the 1 to 1 gear ratio is good enough for climbs maxing out at 10 to 12 percent. Beyond that, you'll be struggling unless you're very strong.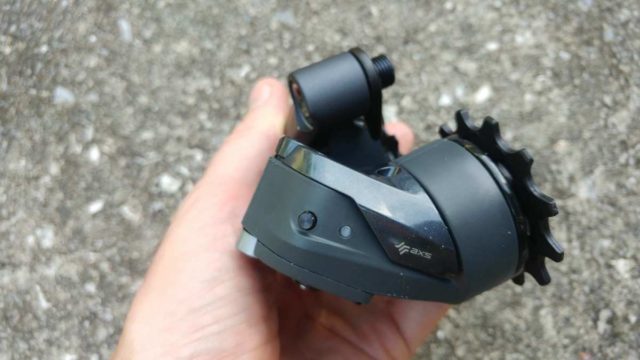 Weight is 326 grams with the battery fitted.
Force eTap AXS Wide Gear Ratios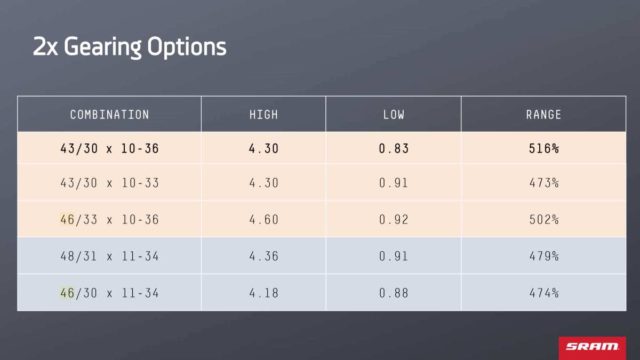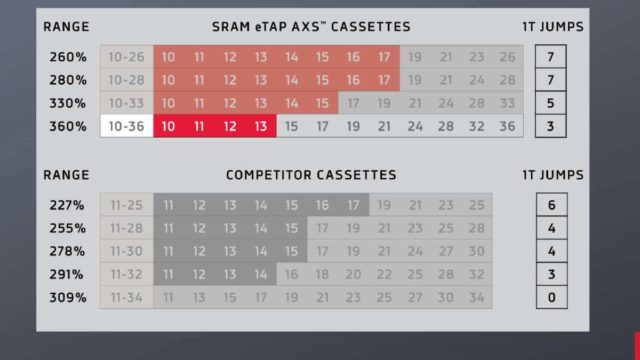 Chain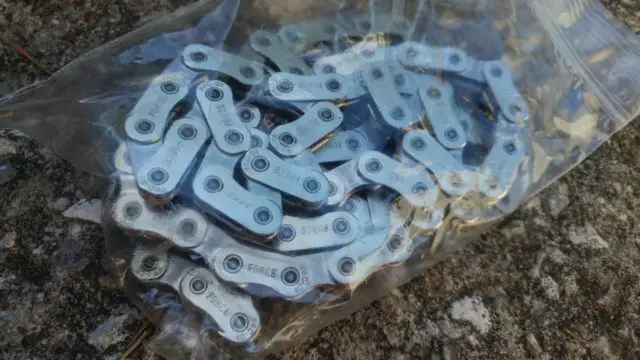 No changes, weight is 275 grams uncut including the master link.
Paceline & CLX-R Brake Rotors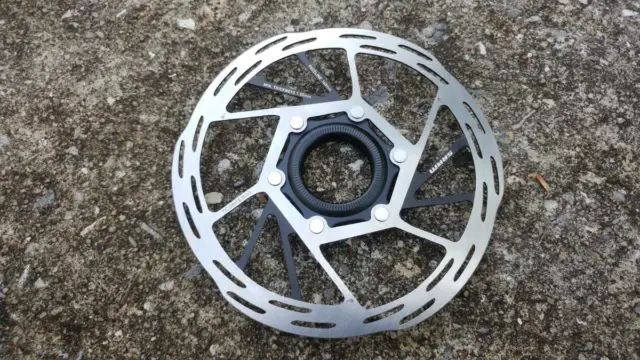 The newest version of SRAM's Paceline road rotor, which works just fine on gravel, features a new brake track. The new design is intended for smooth and quiet braking performance. The sample pair is 160mm and Centerlock compatible. 140mm is available as are 6-bolt.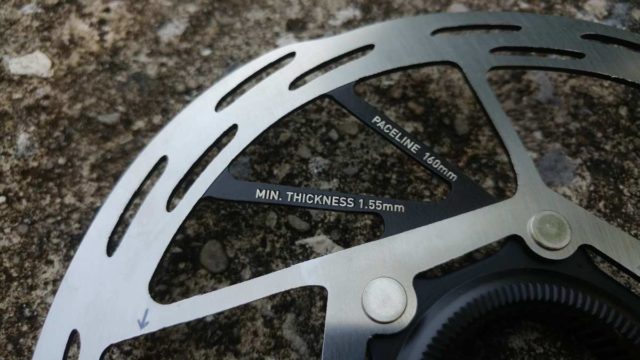 Weight is 315 grams for the pair.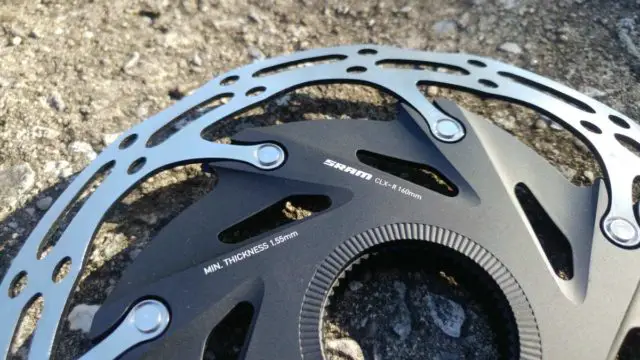 SRAM kindly sent along a pair of CLX-R brake rotors, which are the lightest of SRAM's offerings at 216 grams for the pair. IMHO, a very sharp looking pair of brake rotors.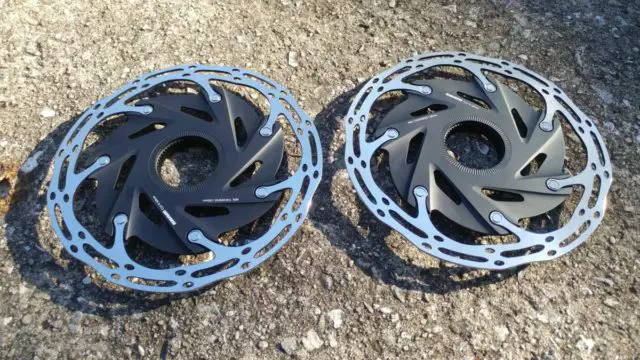 Weight on these beauties is 216 grams per pair.
Force eTap AXS Shifters / Brake Levers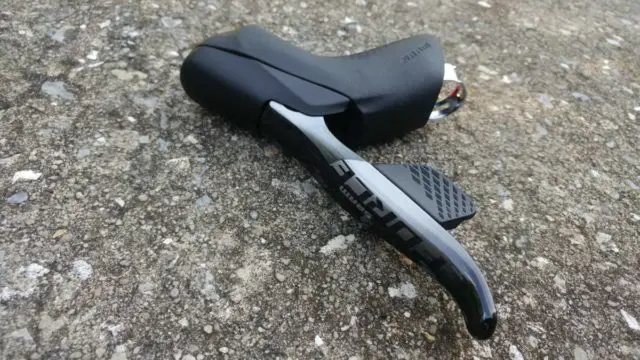 These items remain unchanged, aside from a new Gloss finish, which I alluded to earlier. Left shifter, that I'll be configuring European style, where the left side actuates the front disc brake.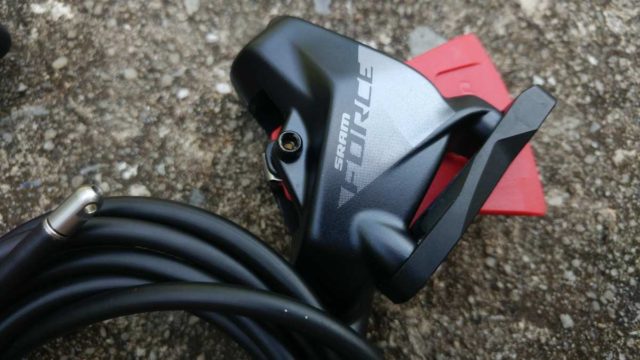 Weight is 407 grams with shifter, caliper and hydraulic brake hose.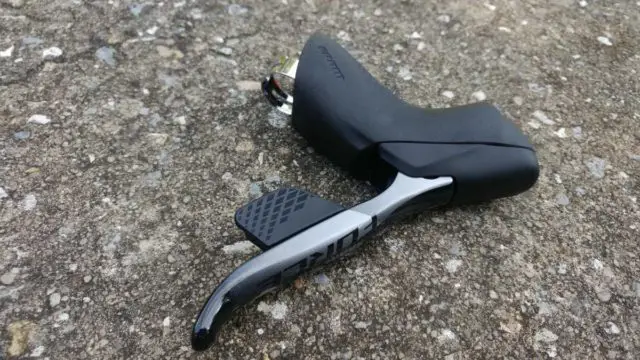 Right shifter, that I'll be configuring European style, where the right side actuates the front disc brake. Motorcycle style where the brake setup is reversed, is quite popular in Australia.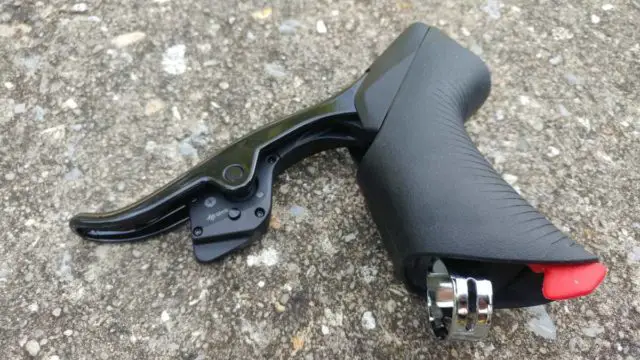 Weight is 420 grams with shifter, caliper and hydraulic brake hose.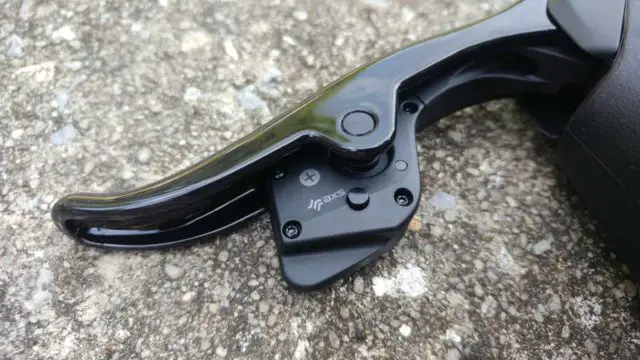 It blows my mind how small these items have become. When I first sighted photos of early prototype designs of hydraulic drop bar levers, they were big and bulbous. Nowadays, you've got a hydraulic reservoir and electronics for wireless shifting tucked away inside.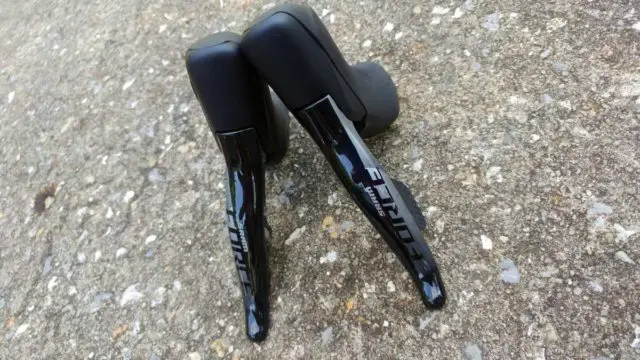 If you missed it, each of the shifters requires a CR2032 battery, that lasts an incredibly long time. I am still using the same shifter batteries on my original 11-speed eTap system, that I purchased over three years ago!
Pricing
Cassette XG-1270 D1 12 Speed 10-36 – $US 185, €190, £170

Rear Derailleur Force eTap AXS D1 12-Speed Medium Cage (Battery Not Included) – $US 490, €465, £415

Front Derailleur Force Wide eTap AXS D1 Braze-on (Battery Not Included) – $US 350, €325, £290

Crankset Force Wide D1 DUB 43-30 (BB not included) – $US 420, €435, £390

Rotor Paceline 6-Bolt, 140mm & 160mm (includes Steel rotor bolts) Rounded – $US 40, €45, £40

Rotor Paceline CenterLock, 140mm & 160mm Rounded (does not include lockring) – $US 50, €55, £50
Combined Weights
All up, the components required to build a functional Force eTap AXS wide groupset, assuming a 172.5mm crankset and CLX-R Rotors, is approximately 2,892 grams.
Project Bike / Long-Term Review
This wouldn't be Gravel Cyclist without an interesting build project to accompany SRAM's sweet new groupset. Watch this space for details of the frame and more!
Links of Interest:
Don't forget to Like the Gravel Cyclist Facebook page, follow G.C. on Instagram and subscribe to our Youtube Channel. We are also on Twitter!