"The Dream of a Perfect Bike: A small town boy, Michael Moureček had to overcome many obstacles on his way to becoming first, a professional track racer and later, a road cyclist. Intelligent and naturally curious, he took as much interest in the tools of his cycling trade as in the actual riding itself. An early opportunity to observe the work of an Italian master bike-fitter deepened his understanding of what makes the symbiosis of a bicycle and a rider work." – Festka.com
"After a four-year break from cycling following an early end to his pro career, his interest in bicycles was rekindled when his family presented him with money to buy a new bike for his birthday. Michael's close friend Ondřej Novotný was there when the offer was made, and being a keen hobby cyclist himself, he decided to accompany Michael on his quest to find his next bike."
"Michael rode custom-made steeds most of his pro career, so factory-produced bikes were out of the question. However, a year-long search brought no results. None of the builders were capable or willing to accommodate Michael's demanding requests. They were too complacent in their belief that they were doing their best, and that Michael was unreasonable, too picky or possibly mad."
"If you know what you want and can't find someone to make it, then you have to make it yourself. And that's how Festka was born! First, the company was a garage operation, producing bespoke frames made of steel and aluminium and experimenting with carbon. A team change and a daring pre-sell project later saw Festka make two hundred carbon frames of ZERO – the first model of their own design made as a production run. However, the tragic loss of a key team member sparked an impulse to start yet again on an entirely new level – that of a vanguard among the producers of hand made bicycles."
"The Festka of today is a company on the sharp edge of bicycle development. Under the management of its founders, Michael and Ondřej, Festka partners with top manufacturers of advanced materials and leading researchers in the field of engineering and technology. Having all stages of production under its full control makes Festka unique even in the boutique bike segment of the industry. Everything that Festka does is driven by one desire – to build extraordinary bicycles. FESTKA bicycles."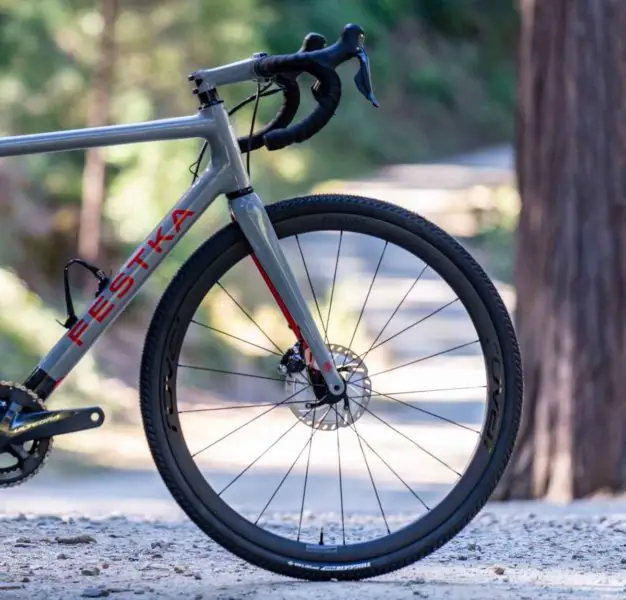 Festka Rover
"Blurring the boundaries between road and gravel bikes, ROVER can be your no-compromise only bike."
"Two in One: If you want to have one bike for tarmac and gravel this is it. Instead of creating a clunky SUV we made a rally machine. Fast and nimble, light and handling impeccably."
"A Perfect Hybrid: Crossing parts that work brilliantly elsewhere, Rover's main triangle is composed of tubes designed for our Spectre and Scalatore models. The chainstays are specific to this model as this part must cope with extra pressure on rougher surfaces."
This beautiful bike was part of the 2019 launch of Roval Component's Terra CLX and CLX EVO line-up of carbon gravel wheels. The bike was suppled by Mike from Blacksmith Cycle of Toronto, Canada.
Blacksmith Cycle – Roval Components – Festka
Cover photo by Billy Sinkford of Echos Communication
Thanks for watching!
Don't forget to Like the Gravel Cyclist Facebook page, follow G.C. on Instagram and subscribe to our Youtube Channel. We are also on Twitter!