When Specialized released the original Diverge a few years ago, they set themselves a lofty goal, meaning, let's make a bike that can handle pavement, flowy singletrack, gravelly roads and everything in between. Huh? I'm not an engineer but I do have enough cycling experience to understand that a "do-it-all" bike usually has a trade-off or two somewhere. I'm the sort of bloke who would rather have a bicycle perfect for one job, vs a jack and jill of all trades, because I don't like making compromises.
With that said, having ridden Diverge 1.0 on a few occasions, I can attest that Specialized did a pretty fine job of checking / ticking all of those "do-it-all" boxes. That bike even went as far as to incorporate suspension beneath the stem, aka Future Shock 1.0, that didn't cost a ton of weight, or have the rider bobbing all over the place and diving forward whilst braking.
Specialized had the moniker "Innovate or Die" floating around a few years ago, and considering how fast bike designs for the road less traveled have progressed lately, it doesn't pay to sit around on one's hands.
Little known fact, especially those newer to cycling. Specialized is not new to gravel riding, they released a bike way back in 1989 that was a mix of a mountain bike and road bike known as the Rock Combo. It was essentially a 26″ wheeled mountain bike with a flared drop handlebar, 7-speed bar-end shifters and hardpack tyres, a precursor to much of what we see today. You can see a little of that bike in the video I've put together below.
Moving forward to 2020, Specialized thought now was a good time to innovate and returned to the drawing board for Version 2 of the Diverge. Quite a lot has changed…
Specialized Diverge Carbon with Future Shock 2.0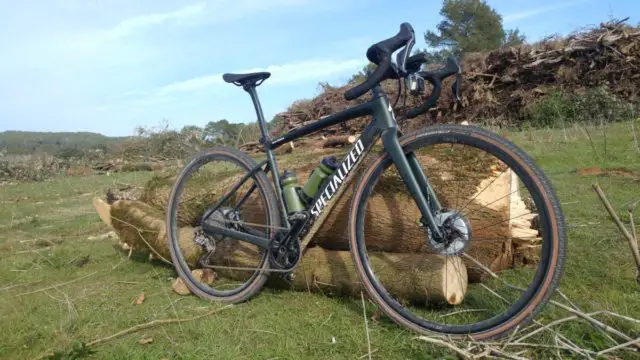 Specialized is committed to suspending the rider and has been doing this since the early 1990's with their first full-suspension FSR mountain bike design. They believe suspension provides benefits such as enhanced control, traction, performance, rider comfort and so on, principles we've all seen applied in high-performance motorsports.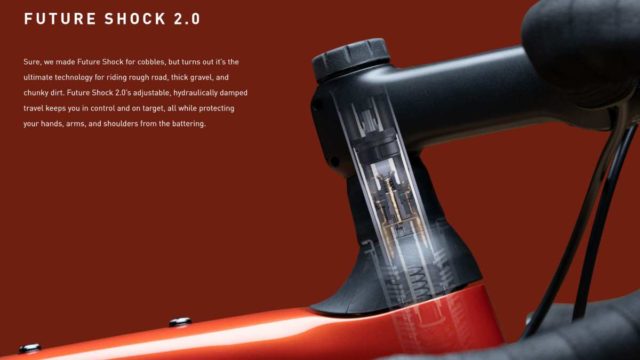 First up, we see Version 2 of the Future Shock at the front of the bike, an axial compliance suspension design, that places the suspension at the top of the headtube, beneath the stem. Specialized believes this design is the most efficient because it is unaffected by pedaling, versus suspension positioned beneath the headtube. Specialized put Version 1 of Future Shock into production around 2016, originally designed to tame the cobblestones of Paris Roubaix.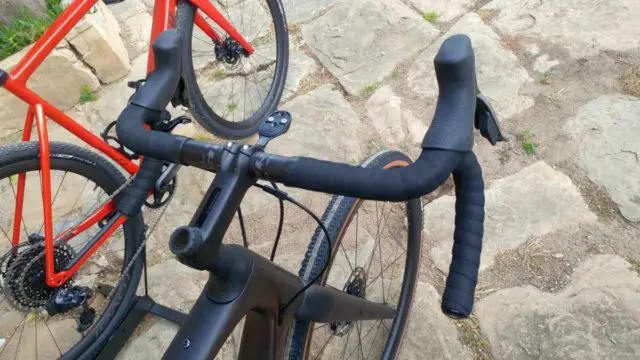 For Future Shock 2.0, Specialized worked with their sponsored road teams to add more control over the suspension, and got it up and running in prototype form in 2017, which ultimately was seen on Peter Sagan's Paris Roubaix bike that year. They made changes related to tuning, adjustability and spring rate, and later realized how well the technology could work on gravel. The hydraulic damping of Future Shock 2.0 is super easy to adjust on the fly courtesy of the dial atop the stem.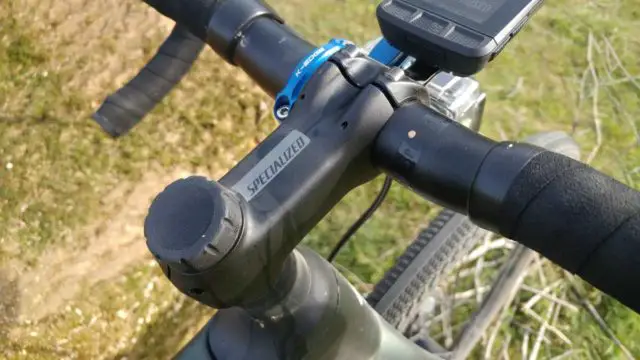 Ride quality has been improved thanks to big changes to the diverge's geometry. They've effectively made the bike longer and slacker. Slightly slacker headtube, a slightly different fork offset, longer reach and a shorter cockpit. In a 56cm example, reach has been increased by about 13 to 14mm, and the stem reduced to 90mm. That extended the front of the bike by about 30mm.
Video
More tech info below!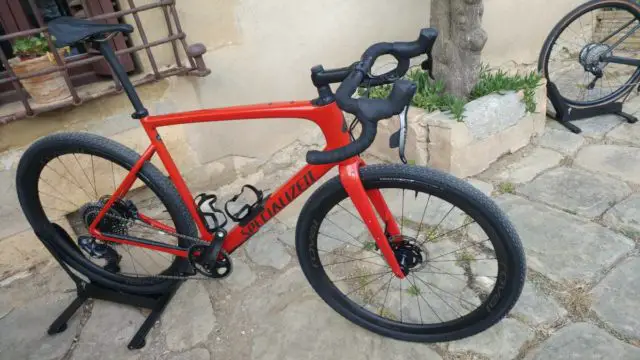 The total wheelbase has increased by about 35mm but the chainstays are still short at 425mm. Shorter in that department usually results in less tyre clearance, but Specialized got around this hurdle with a driveside chainstay that is a narrow, 15mm solid beam of carbon between the tyre and chainrings. Finally, they increased bottom bracket clearance by 6mm over the original Diverge.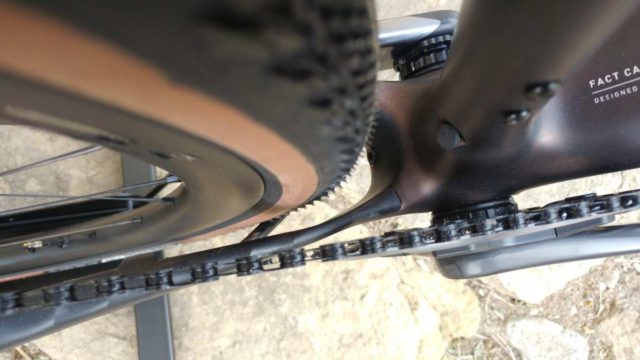 Tyre clearance is up to 700c x 47mm with generous clearance at all sides, and 650b x 2.1″. All of this development happened inside Specialized's Morgan Hill carbon lab facility, which is pretty handy for prototyping.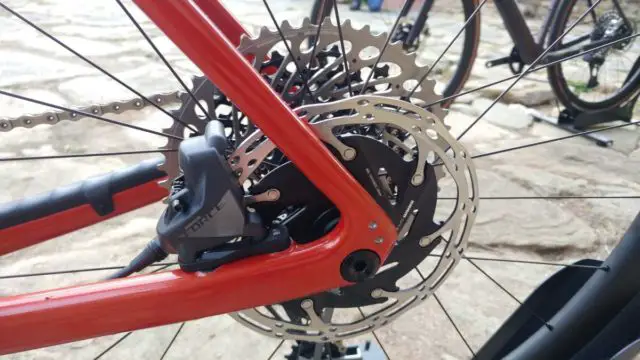 Mounting points have been improved on the frame and fork, and beneath the downtube, making for five mounts total. There are discreet rack and fender mounts, and when the rear fender bridge is mounted (sorry, I have no photos of this), you're looking at clearance front and rear for 42mm tyres with fenders.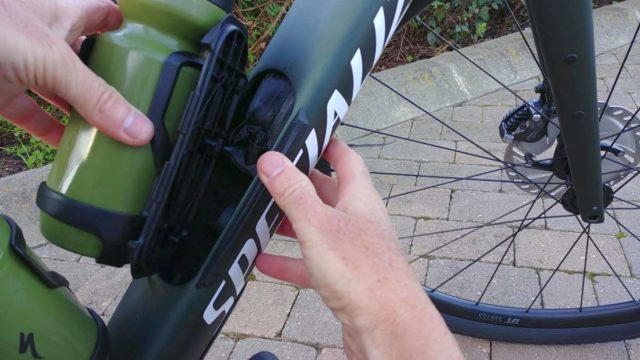 Further innovation includes the S.W.A.T. system, Storage, Water, Air and Tools, that sees storage move to inside the frame, no more external toolboxes sitting above the bottom bracket.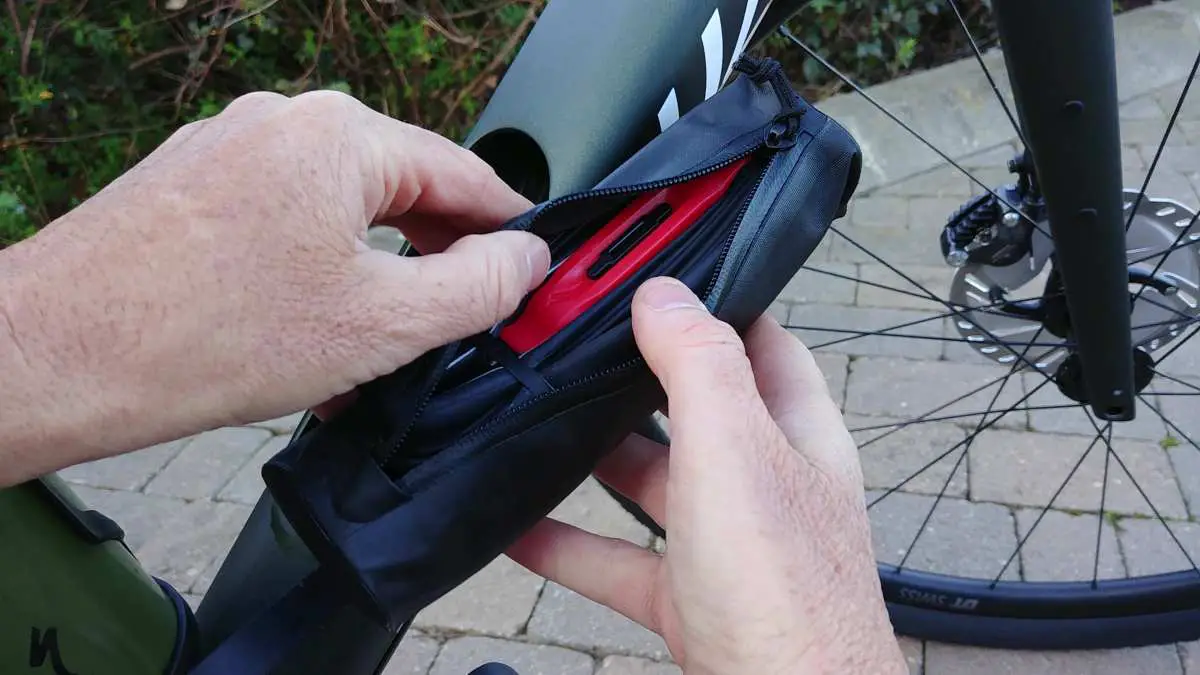 Specialized enlarged the downtube to cater to the massive hole now found in the downtube, along with special carbon layups.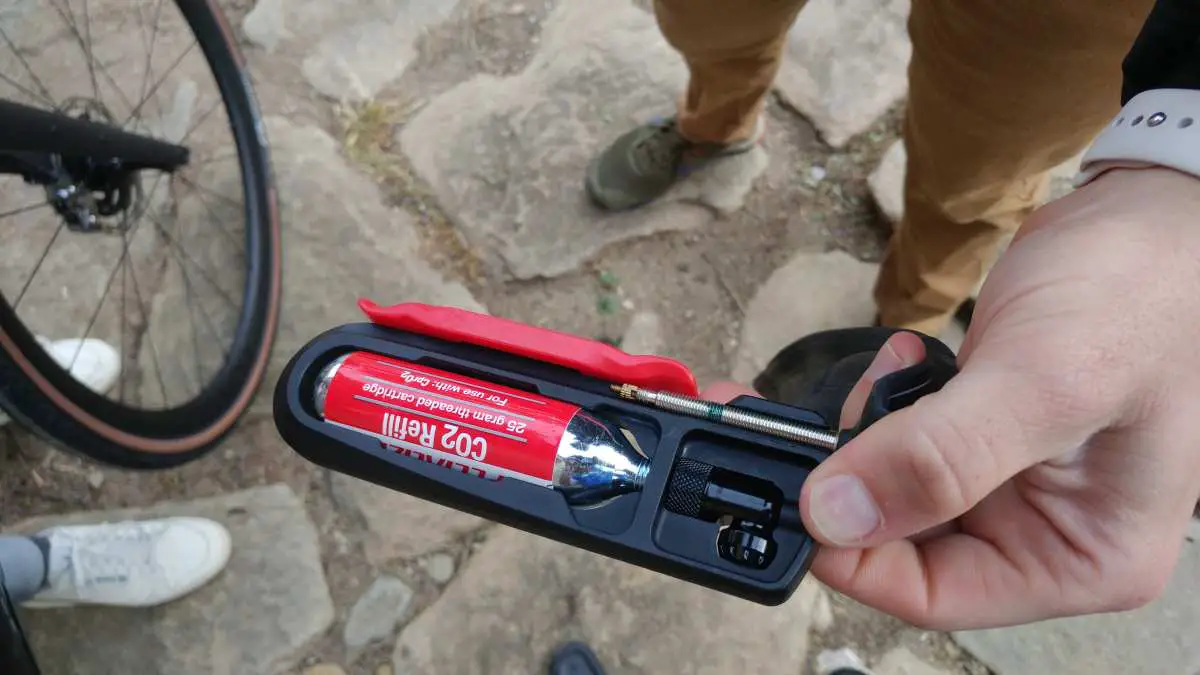 The average painted frame weighs in at around 950 grams. The S.W.A.T. system is unavailable on some of the lower-end Diverge models.
Specialized Diverge EVO E5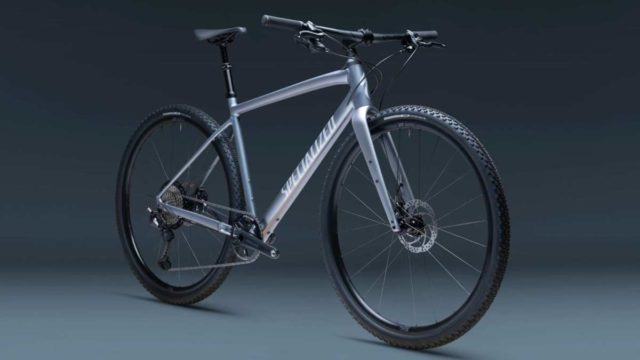 Flat bars are quite popular with some folks who ride gravel, and Specialized have recognized that. This variant of the Diverge is known as EVO E5. The bike is designed completely around flat bars, meaning Specialized has lengthed the top tube and reach more than the drop-bar Diverge, 30mm more to be exact. The stem has been reduced to 70mm, headtube angle has adjusted by a degree, and the bottom bracket has been lowered a few mm. Finally, the frame is 1x specific.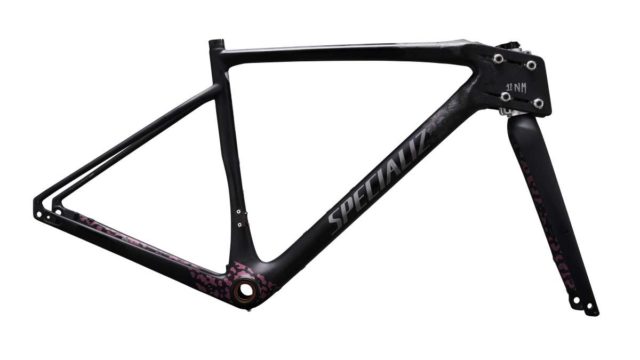 Specialized's engineers rigged up this special frame to figure out the headtube angles, reach an so on. The Diverge EVO is available in Aluminium E5 only, and three sizes.
Diverge Carbon Builds