With "regular" cross, at least in my limited experience (two races), you are absolutely red-lined from the start.  Typically my race would begin with royally screwing up clipping into the pedals, causing a blockade to those riders behind me, while the lead racers are already 30 meters up the course.  "Hole shotting" aka getting a great start, is a pretty big deal in "regular" cyclocross.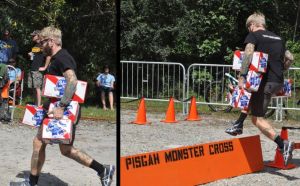 Unlike "regular" cyclocross racing, where competitors hammer themselves around a short course for multiple laps, for an hour at worse, Ultra CX goes beyond that.  Ultra CX competitors typically face an open road type course, featuring paved roads, gravel roads, sludge pits and hike-a-bike sections.  The shortest race is usually around three and a half hours in length, with some events such as the Dirty Kanza, stretching to over 12 hours for most competitors, with 200 miles of terrain to traverse.
Strategies employed in "regular" cross, don't work in Ultra CX.  A good start is always essential, but winning the "hole shot" on a 70 mile course, with 11,000 feet of climbing doesn't help anybody… unless you want to look great in the start photo for your mum.
Bottle cages, you need those too.
I seldom bother to warm up before an Ultra CX race, I feel its energy wasted for the long haul ahead.  A simple strategy for Ultra CX, as employed by myself and K-Dogg, is to hang as long as possible with the front group, while trying to avoid taking a single turn on the front.  K-Dogg is much better at this, because he climbs better, and nobody believes a 59yo dude can climb very well.  In my case, I'm seldom capable of taking a turn on the front, as someone is typically jacking the tempo hard on a 10%, five mile long climb, while I cling desperately to the wheel in front of me.  At some point, my lurking will cease, and I will be separated from the group.  Then, I take a drink from my bottle cage.
This is when the fun starts.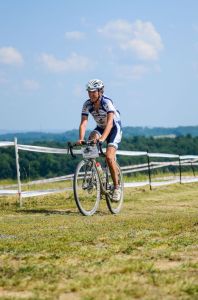 And Your Own Personal Time Trial Begins.  You look down at your bicycle computer, and the news isn't good.  Fifty five miles of a seventy mile course remain, with a $hitload of climbing ahead.  Your heart rate was in the 180's sitting on that pack, but there's no way you can maintain that effort for the next four hours.  So, you relent, settle in like you're about to read a book for the evening, and tap out a personal time trial tempo that you can maintain for the next four hours.  In Dr Pain's case, he'll be on his personal Gran Fondo.
Whatever you call it, your mindset shifts to conservation mode, regulating the effort so you don't crack early, but keep enough petrol in the tank to finish strong.  Riders may whiz by you on the climbs, they are best ignored.  When you reside in Florida, there isn't a lot of elevation change to practice on, so you do what you can.  In my case, you ride a lot of base miles, do some hard group rides, and hope that training pans out for slogging five hours of Ultra CX.  I have no clue what a power meter is.
Your Own Personal Time Trial is made more difficult if you don't have Tribal Knowledge.  Tribal Knowledge is having course knowledge that is gained from pre-riding the entire course; driving the course in a car isn't helpful.  You cannot feel the climb, or get a feel for the road surface with your bum inside the car.  And, Tribal Knowledge is not something you should attain, the DAY BEFORE a race.
Its the simple things that matter
The next aid station is something to look forward to.  Everyone loves the volunteers smiling faces, cheers of encouragement, and the food goodies.  The next descent, another thing to look forward to.  What goes up, just come down.  And my favourite, the beer at the finish line.  I use whatever motivation I can concoct, while riding my own personal time trial.
Sometimes, you are fortunate and end up riding with another racer, at least for a short time.  You break into conversation, generally inquiring how each of you is doing, while listening to the birds chirp, the wind blowing, and the labored breathing over one's conversation.
There are some people who break into song, or yell motivational quotes at other riders, to keep everyone going.  Cite, Boone Roubaix 2013 (my 2013 race video).  I was trundling along (suffering), after being unceremoniously jettisoned from the pack during mile one of the "neutral" rollout.  That neutral was some horseshite.  Cutting a long story short, I eventually bridged across after about 15 miles of chasing.  My one and only bridge companion, a very fit looking fellow, regularly yelled out "yeeeehaaaaa!", and "are we having fun yet boys"?  I don't know if I was having fun, but I know I could barely speak.  Sadly, that country lad, and the rest of the bunch left me for dead a short while later.
When a Song Infects your Head
Listening to tunes while racing isn't my bag, its a pretty dumb idea anyway.  But, you internalize, and get that repetitive song going in your head, and base your climbing tempo off its rhythm.  In my case, I've sometimes recalled a particularly horrible song that was originally a reference during the Monkeys song, "Zilch".  A bunch of dudes in the early 1990's known as "Del Tha Funky Homosapien", took the reference to "Mr. Dobbolina, Mr. Bob Dobbolina", and turned it into "Mista Dobalina".  This song will infect your head.  In fact, I infected a fellow racer at Southern Cross 2012, by outwardly projecting my song verbally as we climbed Winding Stair – I am a pretty bad vocalist, but his day was immediately ruined.  He was now infected by Mista Dobalina.  K-Dogg, he's another aficionado of Mista Dobalina.
Navigational Help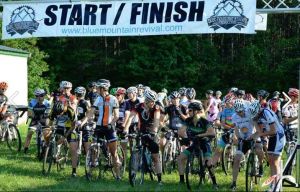 The Garmin 800 is my friend and helper during Ultra CX races.  I pace off current speed, and how many kilometres (or miles if you prefer) are remaining on the course I loaded.  Its a moment of internal berserking, when the kilometres remaining reads forty.  Usually my legs are wide awake at this point, and feeling pretty good.
My personal time trial tempo can be lifted.
Its time to blow everything out of the tank, and finish strong.  If I have Tribal Knowledge, I may be able to go harder, earlier.  But generally, the last hour is very motivating.  The car is at the finish line, and you think of getting out of these crusty bike shorts, and throwing the bike into the back, because you don't want to see it for a while.
The End
One's Personal Time Trial is extra fulfilling, when you beat down your time from the last time you raced the course.  Or, if you didn't crash.  Or, if you just had a blast, and look forward to the next Ultra CX.
Ultra CX – personal time trialling where the fun begins at hour four.