The Great White North
This was my first trip to Canada.  What better way to do it, than drive across the US / Canadian border from Northern Vermont, into the province of Quebec.  Having a .00001% grasp of the French language, what could go wrong?  Thankfully, I had my little smart phone, with the Google Translator application installed, and the French language saved offline.  No data plan for outside of the USA means I had to think ahead a little bit.
Riding Around
I found a fantastic 65 kilometre urban route around Montreal, courtesy of a nice gentleman who shared his ride details on the ridewithgps.com website.  The route profile was very flat, perfect recovery considering I pre-rode the entire Dirty 40 course in Vermont yesterday.  I researched where to park the car, and chose a grocery store parking lot.  Thank you Google Street View!
Kilometres and metric are very appropriate in this posting, considering Canada does everything in metric.  USA, please take note.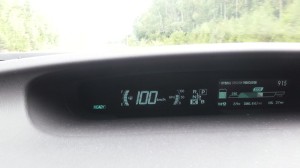 Thankfully, the dashboard gauges of my little Toyota Prius switch between miles and kilometres at the flick of a button.
Montreal is amazingly bike friendly.  There are bike lanes everywhere, and many of them are segregated.  I had two interactions with local drivers in the city, both of which were very positive.  Maybe they were amused by my Google French?  Regardless, all of the motorists around me seemed cognizant of cyclists, a vast departure from a lot of cities in the USA.
Virtually all of the bike trails were paved, but there were a few kilometres of hard packed, fine dirt like surface.  Win!  If you're ever in Montreal, consider seeing it by bicycle.  You will jam much more into four hours of sightseeing by bicycle versus four hours of driving around and parking the car.
Speak the Language
Many of the local Montrealians speak English, but it's always polite to attempt to speak French, even Google French.  If you don't have a smart phone, grab a phrase book.  Visa and Mastercard are accepted in most stores, so no worries about converting money to Canadian dollars, if you're crossing the border for a short trip.  Finally, Montreal had a distinct European feel to it, which I really liked.  I plan to visit again in the future.  Montreal, thanks for having me!
Heaps of Photos