It was a lovely Tuesday evening, about 80 degrees fahrenheit, low humidity and temperatures forecast to drop into the high fifties overnight.
Perfect conditions really, for an ad-hoc limerock / dirt / gravel ride here in Gainesville, Florida.  Typically, the night time limerock road CX Winterval / Hammerfests / whatever you want to call them, begin when the time changes in November.   However, my organizational power (or lack of) has been usurped by Dr Pain and others, so these rides have been kicking off a little earlier than usual.
Rather than blow off the evening and sit around on my arse, I figured I'd get out for a ride with the lads.  In all, five people turned up.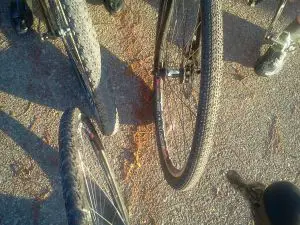 Observations:
Everyone had wider tyres on their bicycles than the Michelin Jets I was running.  Granted, the Jets are the fastest tyre on limerock and paved roads, but their narrow width means they stink in sandy conditions.
K-Dogg and I were running the oldest and possibly heaviest bikes – we're both fans of Titanium.  Dr Pain will dispute this, but he has Schwalbe Furious Freds on his bike, aka 2.0″ fast as $hite tyres.
My home built light formerly ruled the universe, but now, it looks like a dodgy piece of Skylab.  Everyone else is running uber cheapo lights with 5,000+ Chinese lumens.
Things that happened:
One of the lads had a crankset fail.  By that I mean, the retaining bolt holding everything together disappeared into the wild somewhere, and his ride was over.  Important to note here, Scott assembles all of his bikes himself.  I (JOM) do the same thing, but I'm mostly running Campy square taper mmmm.  Scott trundled home slowly, hanging his head in shame, all the way to the parking lot.  The moral of this story?  Have the local bike shop assemble your bike so you can blame them when something goes wrong.  Or, don't F it up in the first place.
10/22/2014, addendum to above.  "The crankset fiasco from last night was not the crankset at all.   To quote my son "… you do know that the BB30 crankset retaining bolt is on the drive side, don't you?"  The clicking noise, was actually the front derailleur hitting the crank arm.  None of the bolts are loose so I'm not sure what happened.  Will have Bike Shop Mechanic X look at it today during lunch to make sure I'm not missing something."
Matt and I, we sunk into the sand.  Multiple times.  Those bastards running wider tyres didn't wait for us.  Rather, they gave it full gas when we encountered said sand.  How dare they.  Schwalbe Furious Fred, I hate you.

One of the few paved sections.

I (JOM) left my Monster CX rig with the big anti-sand tyres at home.  Primarily because I'm too lazy to fart arse around switching lights over to it, and I've got a few Michelin Jet tyres I need to burn through.  It is all good training is what I keep telling myself.
I (JOM) sat up a couple of times.  Or, I didn't want to ride the tempo being set by the gentleman ahead of me.  You could say I was dropped, but really, I wasn't.  Maybe.
In Closing: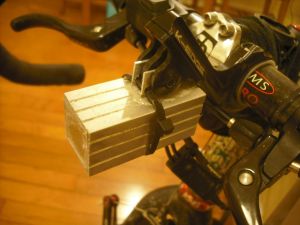 Regardless of these activities and transgressions, it was a fun training ride.  My hope is to retain enough form to race three more times in November, then hang up the bike for a little bit.
The legs are bit toast right now, and my training ride friends are fully exploiting that.  Bastards.