Baker's Dozen Plus One
Fourteen, the number of cyclists who appeared at tonight's Gainesville World's GCX ride.  We'd be lucky to have fourteen cyclists on our average weekend daylight road rides!
Riders from most of the teams in Gainesville were represented; 352 / Bikes and More, Cycle Logic / Bike Works, Super Cool / Super Cool Bike Shop and Gator Cycle.
Orders Usurped
Tonight was the first running of the long route – 42 miles in all, 70% limerock, dirt, etc.  K-Dogg attempted to wrestle control of the ride early, by announcing the group should ride a strong tempo, no attacks.  The Dogg wasn't letting on that his legs felt like wood, meaning, he wanted to ride easy.
The group was having none of his demands.  Fourteen riders on the road is like herding cats, but fourteen riders on dirt, limerock, sand and gravel is total pandemonium.
Team Teen Spirit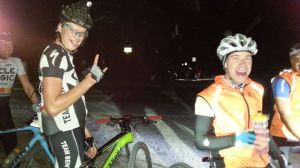 Pfaff Junior and Alex (Team Teen Spirit – 18yo and 20yo young lads) hit it hard as soon as the group entered limerock sector #1.  I (JOM) didn't look behind me, rather I was concentrating on holding the wheel ahead of me, and whatever potholes, sand patches and other bollocks lay in my wheel's path.  To make the first sector that bit harder, Pfaff Daddy, Pfaff Junior's dad, joined in the pain train and was working mano o mano with Team Teen Spirit.
Sector Two
The longest and straightest sector of the ride, but also the least technical.  A pleasant calm settled over the group, as everyone temporarily heeded the words of the whining K-Dogg, and kept it chilled for at least five minutes.  After a brief cease fire, Alex of Team Teen Spirit lit it up again, and strung the 14 person group into one long line of suffering, and LED lights.  From a distance, the group probably resembled a spanky Christmas ornament.
Calm Before the Storm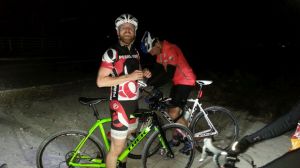 Tempo on the third sector was relatively pleasant, around 23mph most of the way.  A few of the riders in the train were sandbagging for the Queen sector, Bellamy Road.  Jimbo's seatpost happened to slip on his new bike along this road, and JOM took the opportunity to snap a few piccies.
Bedlam on Bellamy
Bellamy Road features the FLAppalachians, a distant extension of the Appalachian mountain chain.  Namely, it comprises of three notable lumps, which are rather painful when some jerk rides them full tilt.
Team Teen Spirit went to the front again, and bumped the tempo hard.  Experienced veterans of limerock such as Dr Pain (just returned from illness), JOM and the Nature Boy (Rob), were all close behind.
Cresting Lump #1, things were relatively intact.  Lump #2, things would change.  The Fraulein, aka the German Lady, and the only woman on the ride, put EVERYONE into the hurt bin, with her massive display of power and finesse.  I (JOM) again didn't look behind me, but was working overtime to hold the five metre gap to The Fraulein and Dr Pain, as these two drilled it over Lump #2 and Lump #3.
Synopsis – The Fraulein is a force to be reckoned with.  Dr Pain, out with a shocker of a flu the past 10 days, is well recovered.
A Wee Bit of Sand
The sixth sector is always a fight.  A fight to be at the front to:
Avoid a face full of water, mud, sludge and spooge from the water (spring?) that is always laying around on this sector.
Reach the sandpit first, so when your momentum completely dies, everyone behind you also dies in the sand.
Once the invariable sufferfest took place over the spring sludge spot, and the following sandpit, things settled down a bit.  A temporary truce if you will.  A few of the lesser experienced riders (sand n00bs) suffered miserably, when all of their momentum was destroyed, by the logjam that happened in the sandpit.  The group was sort of nice and sort of waited for them.
This ride always regroups at the end of each dirt / gravel / limerock sector – this encourages people to smash themselves, without fear of being left for dead.  We really are nice people 🙂
Summary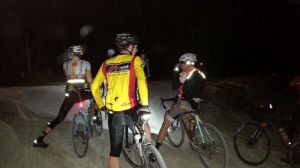 A fabulous training ride.  Without doubt, the best, hardest and most fun training ride in Gainesville, Florida, during the Fall and Winter months.  We may not get any snow here in Gainesville, and it doesn't always get too cold (we've had low 30's Fahrenheit on these rides), but it's a great way to stay in shape!  As our friend from Gator Cycle, Mr Lintz said; "I really need to get out and do these rides ALL the time".
K-Dogg shot some video.  Whether it's useful or not is another matter, as the Dogg has a history of recording 1% of any ride / race he attends.  Fingers crossed.
See you next Tuesday.