Hi everyone,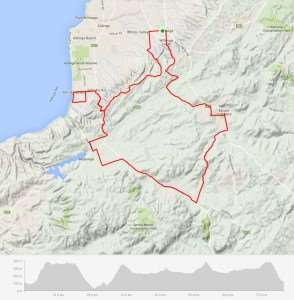 Another fabulous day of gravel riding took place on Monday, January 19, 2015, here in South Australia.  On the other side of the world, many folks in the USA are enjoying the Martin Luther King holiday at the time of this posting.  As a reminder, yours truly is currently in a timezone that is 15 1/2 hours ahead.  Unfortunately, I cannot help anybody with their lotto numbers… bummer.
Monday's route departed the town of Willunga (which features the Willunga Hill climb in the Tour Down Under), to Sellicks Beach, Mount Compass and returning to Willunga.  With all of the gravel riding I've done on this trip, this one could be the winner for scenery if you enjoy coastal views.
My ride took a bit longer than planned, considering how many photos I took (condensed to 29 for this posting), and the video I shot – coming later.  There was a Kangaroo sighting, which I captured on video!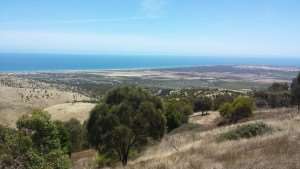 The route was shorter at 77.6 kilometres (47.8 miles) of the route, with 1,310+ metres (over 4,300 feet) of elevation.  Weather was bright and sunny, with the high temperature around 32 degrees Celcius, or 89 degrees Fahrenheit.  Consequently, hydration, calorie intake and sun protection during this ride was important.
Willunga
If you follow professional road cycling, you will have heard of this little town.  It is known for Willunga Hill, a shortish climb with some sections at 10% that the pro's hammer during the Tour Down Under.  But, I wasn't climbing Willunga Hill today.  Rather, I was off on a loop towards the beach, and back inland.
Sellicks Beach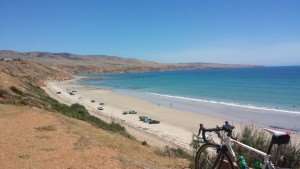 Is a small little town, with a deli and post office at its centre.  As this town came early in my ride, I had to load up on hydration at the deli and make it last until my next stop at Mount Compass.
The distance between the two towns on my route is only 40 kilometres (25 miles), but with all of the climbing and heat of the day, I would be conserving.  The coastal views and beach are amazing.  This beach is similar to Daytona Beach, Florida, in that you can drive your vehicle along it; free to residents, a fee for visitors.
Please enjoy today's photos.
Gallery – Click a thumbnail image to see full size (hosted by Flickr).
[alpine-phototile-for-flickr src="set" uid="126879102@N04″ sid="72157648048309073″ imgl="flickr" style="gallery" row="15″ grwidth="800″ grheight="600″ size="240″ num="29″ shadow="1″ highlight="1″ curve="1″ align="center" max="100″]