Hey everybody, this is part three of MY ROAD TO TRANSCONTINENTAL 2020!
Like I told you last time, I would like to give you some insights into my point to point training camp from the beginning of March. So, enjoy a coffee and sit down. Here we go:
Escaping from daily business and getting some good base miles for my upcoming races like the Dirty Reiver or the famous Transcontinental Race No. 8 (note: in the meantime, both races are postponed due to the worldwide Coronavirus pandemic) is challenging. Very important is the testing of my equipment for the TCR (aka Transcontinental Race), so starting an adventure from Faro, Portugal as part of my training would help. This would be my second bike packing trip and point to point training camp by myself ever since I became enamored with this kind of adventure on two wheels.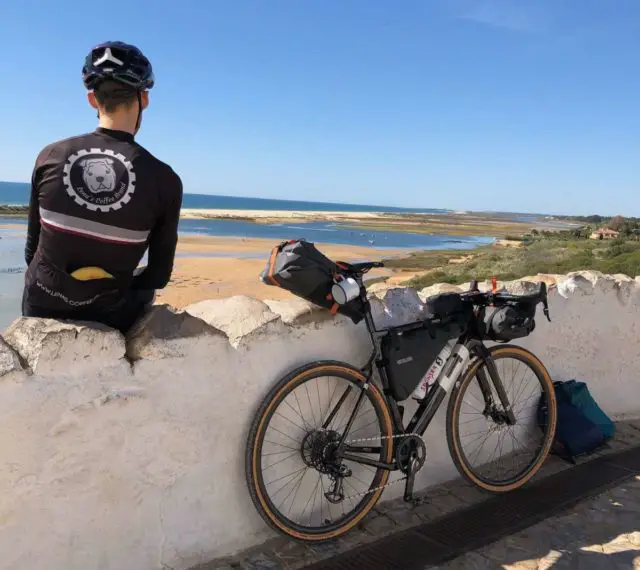 Being alone means a lot to me. For sure, I love my girlfriend, I love my job and I am addicted to coffee rides with my friends at home. But sometimes, especially after a long winter, it is good to break free and enjoy the silence of the Portuguese and Spanish landscape without all the daily stresses of home.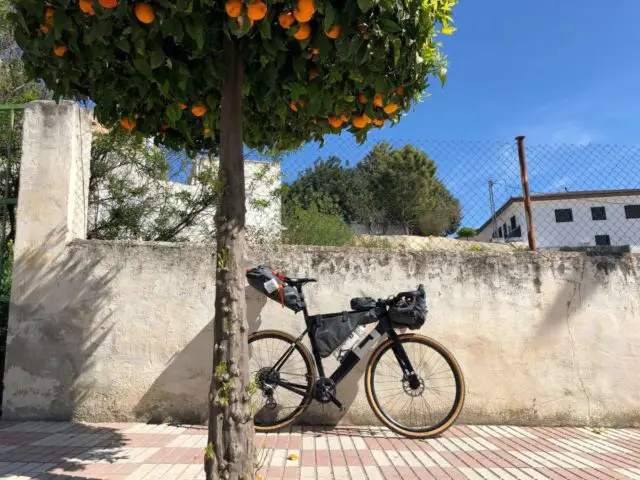 I arrived at the town of Faro, Portugal, where I feel my heart often belongs. I enjoyed a pizza with my friend Marco and his wife before starting the next morning my week-long voyage to Murcia, Spain. Like every bike packing tour, the first kilometers are the most difficult. The bags on the bike usually need adjusting, and you realize you forgot some stuff or you just eat too much. I was also riding uphill to the highest point of the Algarve, the southernmost region of continental Portugal. Riding through an orange plantation, the sun shining and a tailwind, it takes only a few minutes to relax and into my cycling rhythm.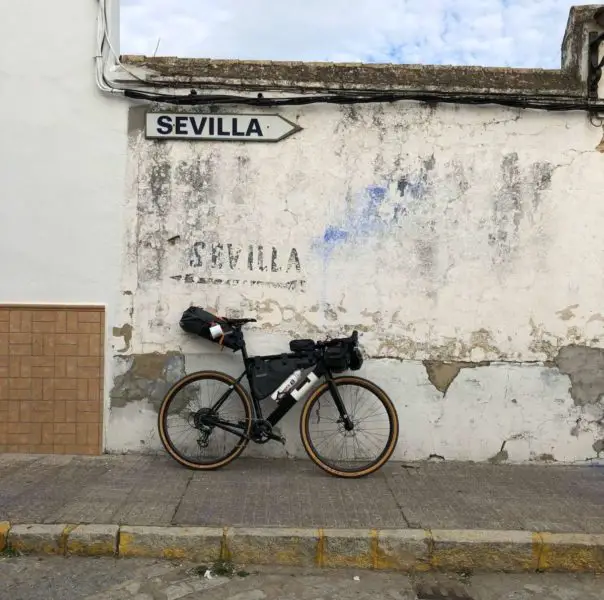 The first stages of the ride took me alongside the coast to the Spanish border and directly to Seville. Seville is worthy of a visit, but for sure it´s not a place where cycling is a special experience. Seville is a metropolis and a tourism hotspot. But if you know where to ride and how to ride, you could reach some beautiful places like Plaza de Espagna or a small coffee bar called Jester. If you ever plan to go to Seville, visit Jester! An amazing place to have breakfast or lunch. I am a big fan of cinnamon buns because it relates to my own coffee business with Lena's Coffee Brand, I am ALWAYS looking for a place like Jester. Fair prices and outstanding quality.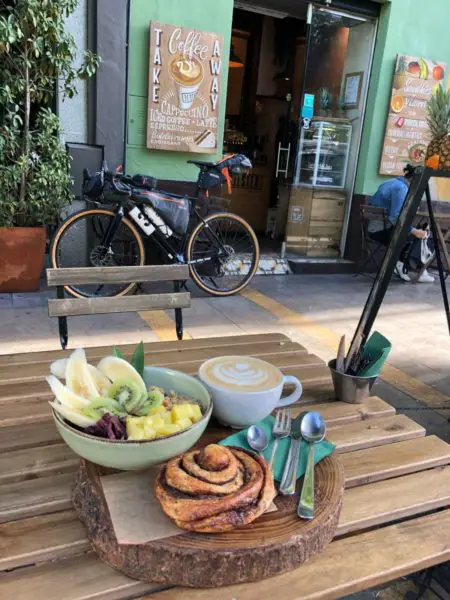 Starting the day with a breakfast like this was a boost for the long and rough road to the mountaintop city of Ronda, Spain. Always up and down, wind from every direction made riding a real challenge. But like most of my days of bike packing, there is always a positive ending. Sitting in the town of Ronda for a coffee, I met a group of German cyclists. They offered me a bed and breakfast in their apartment above the rooftops of Ronda. What a view and what a dinner. Big thanks to Silke, the vegan bowl was a blast!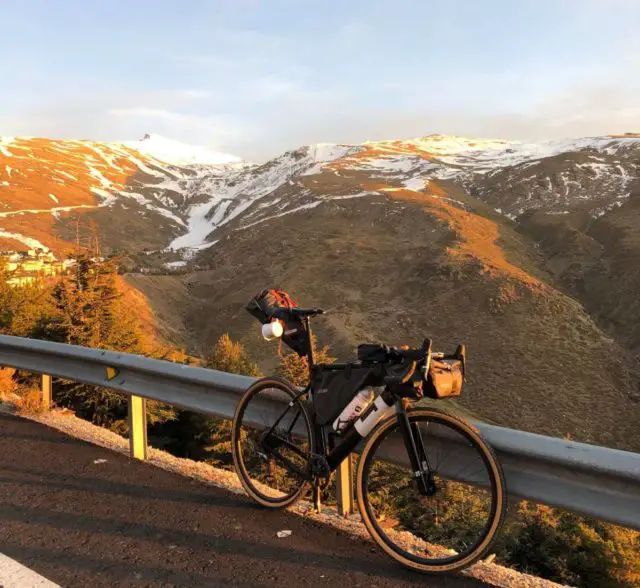 The next day's ride was 220kms with around 3,500 altitude difference to Sierra Nevada mountain range, some 2,200 meters above sea level. It was a good thing I ate a lot at dinner! With good feelings in my legs and a positive mindset, I managed to ride more than 30 kilometers an hour average to the city of Granada, which lies in the foothills of the Sierra Nevada mountains.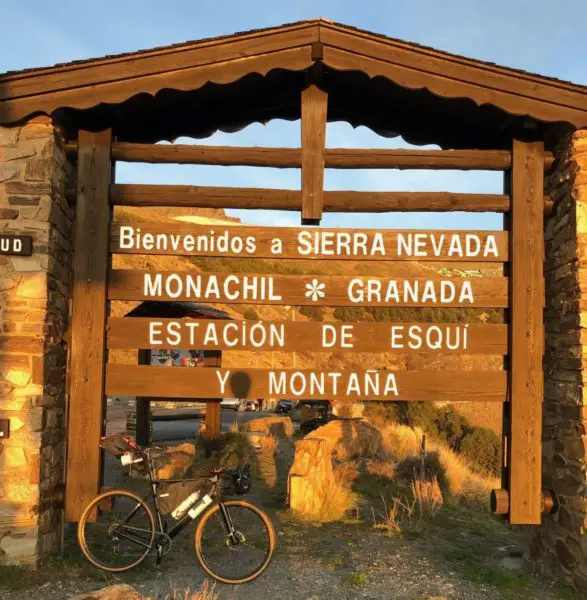 This day should be a test for my participation in Dirty Reiver, which at the time was scheduled for April. Everything went well and I reached Granada in time to ascend and conquer the Sierra Nevada climb. The small mountain village on top was covered in snow and the dinner and accommodation choices were lean, but when there aren't too many choices, you make do.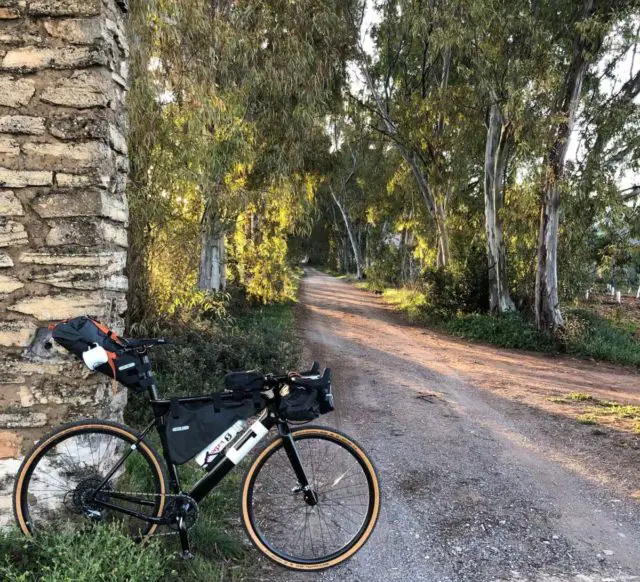 With a late start and a coffee in mind, I started day four with a long descent into the wild wild west of the Sierra dessert. After 70 kilometers of riding, the day ended in a quaint hamlet. I frequented a typical Spanish coffee bar and enjoyed the remainder of the day. Just me and my bike leaning against the wall. A perfect recovery after the previous day.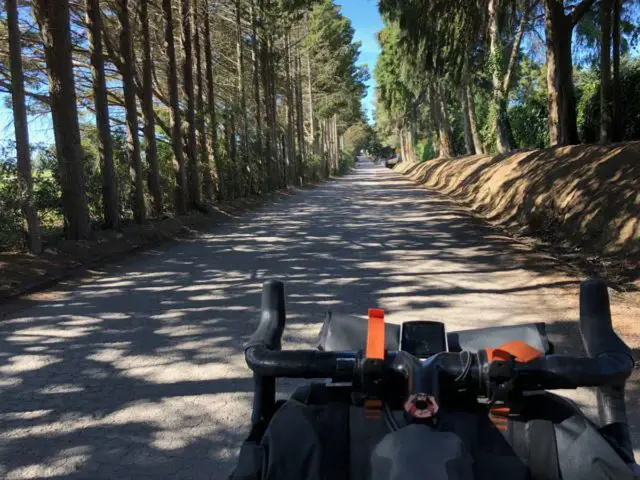 On day five, I had to ride out of the Sierra Nevada region to the Mediterranean coast with long sections of gravel roads, and my tire choice, the Schwalbe G-One Allround (700c x 40mm), was ideal. I can inform you I completed the entire trip without a puncture. The closer I rode towards the coast, the more the wind blew. The endless roads and wind made it a mental game. I was extremely hungry when I reached the last housing before reaching Murcia. It was another overnight stay at a two-star hotel alongside the road with nothing much to offer. But this is a characteristic I enjoy, I look for adventures like this. Me, my bike, no stress, and no luxury.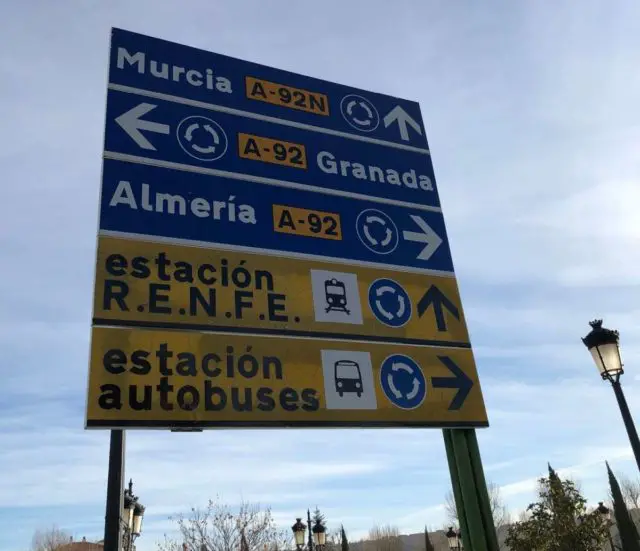 The last day riding towards Murcia was a kind of shock. While riding across Almeria near Murcia (they are about 217 kilometers apart), I discovered greenhouses full of tomatoes and other vegetables. As far as I could see, the whole landscape was full of these plantations. There was no space for real landscape or wildlife. I was looking forward to getting away from this region as quickly as possible and confirmed that buying local vegetables and fruits at a market in my hometown was still the best thing to do.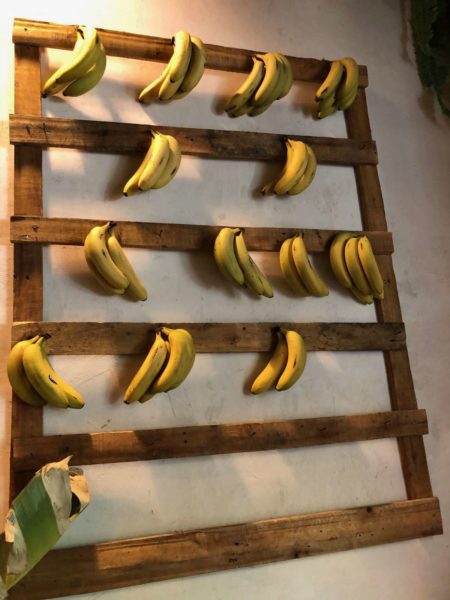 There were plenty of short but steep climbs later in the day, but I reached Murcia safe and sound. The route was about 1,000 kilometers to ride from Faro, Portugal to Murcia, Spain, and most of the time far away from hotspots and bigger cities. It was a nice way to discover Spain and its people. It was a good test for my equipment and my fitness for the upcoming races.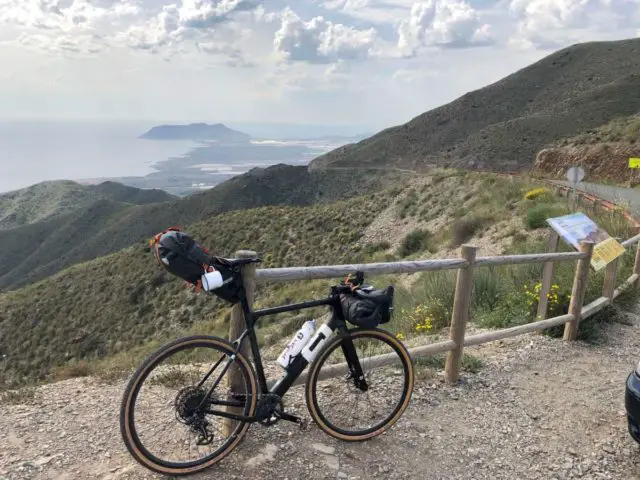 Apart from my own coffee business, I am an epicure and during all my bike packing trips, like last year's Torino-Nice rally, I am trying to find good tasting coffee and anything cinnamon! This latest experience showed me most of the Spanish coffee bars brew brilliant coffee and in combination with Tortilla Espanola (aka Spanish Tortilla / Omelette), it's one of the best things to enjoy during a long day with your bike.
Now it is time for some bad news 🙁 Normally, I would have named this trip Faro-Valencia. But due to the Coronavirus situation, I had to abandon the last two stages and board the next possible plane back home. In the meantime, the whole situation has gotten worse and worse. The cancellation or postponement of my races or events is a small thing and I hope that everybody out there is fine and healthy. I don't know will be happening four weeks from now, when I write part four of my "Road to the Transcontinental Race". Whatever happens, we have to stay strong and do our part through social distancing, staying at home, and whatever else it takes to fight the virus.
Please visit my Instagram profile (@Seb_Breuer).
Sebastian