Need a new gravel bike but don't want to deal with the hassle of selling your old bike?
The Pro's Closet, the world's largest and most trusted brand in pre-owned cycling, has announced the launch of an innovative Trade-Up program with leading online retailer Competitive Cyclist. The Trade-Up program enables Competitive Cyclist customers to receive a rebate on a new bike purchase when they successfully trade in a bike to The Pro's Closet. The Trade-Up program is available to consumers now and can be accessed through the Competitive Cyclist website.
"We've always wanted to team up with Competitive Cyclist and we're stoked we finally have the chance," remarked Nick Martin, founder of The Pro's Closet. "The biggest hurdle for consumers looking to purchase a new bike is liquidating their existing bike to generate cash. Since we started over a decade ago, we have always been focused on helping consumers by making the process of selling a used bike as efficient and friction-free as possible."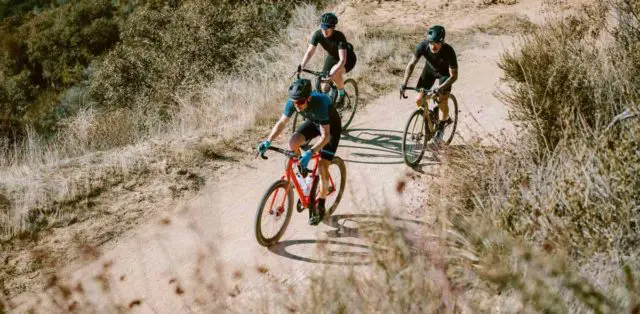 Before the advent of The Pro's Closet in 2006, selling a used bicycle was a stressful and difficult transaction. The Pro's Closet changed all that by developing a simple, easy-to-use process for determining the value of any bicycle. The Trade-Up partnership between The Pro's Closet and Competitive Cyclist allows consumers to quickly and easily turn their quality pre-owned bicycle into a rebate on a new bike purchased from Competitive Cyclist.
With The Pro's Closet's simplified trade-in process, bicycle owners upload photos and information about their bike's condition into an online form for review by experts at The Pro's Closet. A custom email quote with the fair trade-in value for the bicycle is then sent to the customer within 24 hours. After accepting the offer, the customer purchases a new bike from Competitive Cyclist and it is delivered with everything necessary to then ship their pre-owned bike to The Pro's Closet. Once The Pro's Closet receives the trade-in, the customer receives a check.
"At Competitive Cyclist, our number-one priority is removing the barriers to buying your dream bike. With more than 50 gearheads on staff and a full-service bike shop that builds and ships more than 10,000 road, gravel and mountain bikes a year, buying a bike from Competitive Cyclist is an experience that anyone looking for a new bike needs to try," commented Jacob Dudek, Director of Bike Merchandise for Competitive Cyclist. "We're thrilled to be working with The Pro's Closet to implement this Trade-Up program and make it even easier for riders to work with our expert staff to build up everything from a weekend gravel bike to a one-of-a-kind dream build."
About The Pro's Closet
The Pro's Closet Inc. (TPC) is the world's largest retailer of previously-owned bikes and cycling gear. We purchase bikes and components from manufacturers, retailers, and individuals and work alongside bike shops to help customers trade in their old bikes for a new one. What sets us apart from our competition is the care we put into our bikes before sale. Our professional mechanics clean, inspect, and tune thousands of bikes every year, ensuring our customers have the best experience when buying a bike from us; www.theproscloset.com
About Competitive Cyclist
Competitive Cyclist is an online specialty retailer of road and mountain bikes, components, apparel, and accessories. Competitive Cyclist delivers the personalized service of the best local shops, but with a dynamic, interactive experience only possible on the Web—specially designed to make you knowledgeable and confident about every product we sell. With rider-written product descriptions; zoom-in photos to exacting detail; friendly, expert customer service; built-to-spec ready to ride bike delivery service; and a 30-day return guarantee, at Competitive Cyclist, we are all about you, your bikes, and your next best ride. www.competitivecyclist.com