Greetings readers.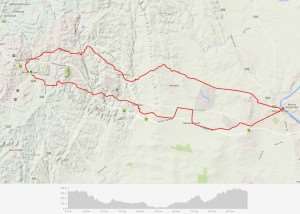 After a week or more of purely road riding, sometimes with European and Australian professional cyclists preparing for the Tour Down Under, it was time to get some gravel riding in.
Sunday's route went from the town of Mount Barker to Murray Bridge and return, via Callington, Kanmantoo and Nairne, South Australia.  The route also passed alongside the massive Kanmantoo copper mine.
As usual with this area, some amazing scenery along the 99.8 kilometres (62.3 miles) of the route, including 1,240+ metres (over 4,050 feet) of elevation.  Weather was mostly overcast all day, with the high temperature around 25 degrees Celcius, or 77 degrees Fahrenheit.  Perfect for cycling.
Mount Barker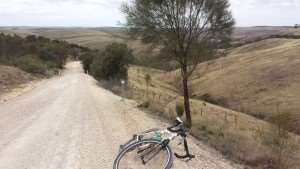 Is a nice little town, nestled in the Adelaide Hills, approximately 33 kilometres or 20 miles East of Adelaide.  The peak of Mount Barker isn't that high, but enough to hurt your legs if you're riding it by bicycle.  The area has a population of about 14,500 people living in the town, and is one of the fastest growing areas in the state of South Australia.  By Americano standards, this isn't huge growth, but relative to the area, it is.  If you're a railway buff like myself, the town is also host to the Steamranger Heritage Railway, featuring steam and diesel locomotives.  Did I mention how cool steam locomotives are?
Murray Bridge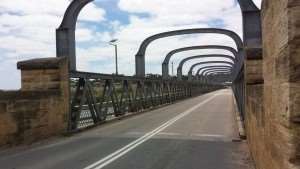 After my obligatory visit to a local bakery for refueling, I spent an hour or two exploring the bridge over the Murray, and the river front areas around the bridge.  If you like rivers, history and peace and quiet, Murray Bridge is well worth visiting.  The river itself is popular with boaters, water skiers, and those aboard paddle boats!
The Return Journey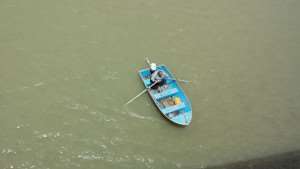 The ride from Murray Bridge was a bit of a time crunched affair.  I managed to knock out a few photographs, but was on a tight schedule in order to see the kick off stage for the Tour Down Under in Adelaide.  Not helping my cause was the block headwind with nobody to help shelter from the wind.  Thankfully, my legs were feeling pretty good considering the thrashing they've had lately with all of the climbing.  If you see the route profile above,  there was a lot of elevation in the last quarter of the route.  First world problems… in end end, I made the start of the race with a sweet vantage point.  Fab!