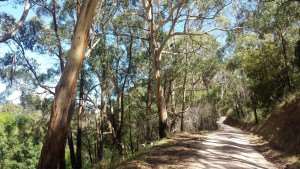 Unlike every cyclist riding to watch the 3rd Stage of the 2015 Tour Down Under in person, I was riding off the beaten track to the race, thanks in part to suggestions by local lads Don and Johnny.
Blockers Road and others between Norton Summit and Lenswood were on the menu today.
Blockers Road is tough, not made any easier by a 20% section towards the crest.  However, the scenery, lack of vehicular traffic, and great workout you'll get ascending this road makes it all worthwhile.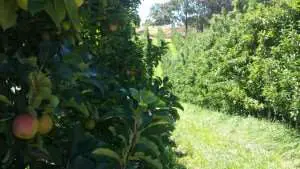 In fact, I encountered only two cars during my time on the gravel, which is another reason to get off the beaten path.
As is typical with the Adelaide Hills, you'll hear the sounds of local wildlife, and sometimes see signs of bushfires past.
H'eroica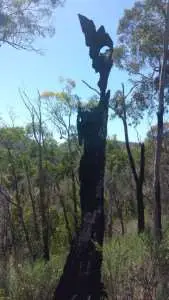 Courtesy of Gus who chimed in to the blog recently, I learned of a yearly event held on dirt and gravel roads in the hills of Adelaide; H'eroica.  I hope to ride the H'eroica route on my CX bike, before I depart my home town of Adelaide in a few days time.
I am pleased to learn there ARE people in Adelaide riding dirt and gravel roads.  I sincerely hope I can join the H'eroica ride in the future.
Paging H'eroica Riders!
If there are photo, stories, or anything relating to this past event, I would love to share them on the Gravel Cyclist blog.
In the meantime, please enjoy the gallery of photos I took during this fantastic ride.
Gallery – Click a thumbnail image to see full size (hosted by Flickr).
[alpine-phototile-for-flickr src="set" uid="[email protected]″ sid="72157650446331781″ imgl="flickr" style="gallery" row="10″ grwidth="800″ grheight="600″ size="240″ num="20″ shadow="1″ highlight="1″ curve="1″ align="center" max="100″]