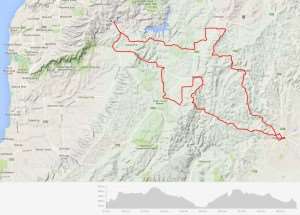 Greetings trendsetters, another day of awesome gravel / dirt road riding here my home state of South Australia.  This time around, I figured out a route from the town of Clarendon to Strathalbyn and return, via Macclesfield and Meadows.
There was some absolutely stunning scenery along the 98.4 kilometres (61.5 miles) of the route, including 1,500 metres (almost 5,000 feet) of elevation.  I've ridden a huge array of gravel and dirt roads, these are in the top 1%.
Adding to the awesomeness of the route was the perfect weather, and the almost vehicle free roads (nine cars and one semi trailer were spotted).
I captured a lot of video footage during the ride, and hope to have that produced very soon.
Continuing the positive trend, my legs and body have finally come around, after suffering from jetlag for what seemed like an eternity.
The Locals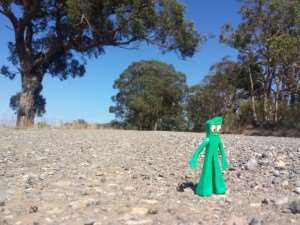 One Koala sighting yesterday, but the little bugger was too far up the gum tree to be photographed.  Spotted or heard plenty of local birds such as Magpies, Piping Shrikes, Galahs / Cockatoos and Kookaburras.  If any of the readers get the chance to visit Australia, expect to see and hear a lot of new and wonderful things.
Railway Stuff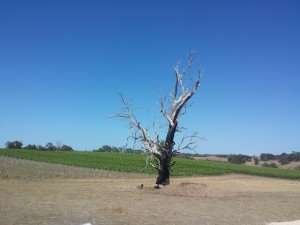 If nobody has figured it out yet, yours truly (JOM) is a bit of railway nut.  The town of Strathalbyn has a rich history with the now defunct South Australian Railways (merged into TransAdelaide), but these railway lines are still used and maintained by the SteamRanger Heritage Railway.  Consequently, I took a lot of photos of the Strathalbyn railway station, steam water refill tower and rolling stock laying about the place.
I also visited the Strathalbyn Bakery.  I love Australian bakeries, they are a fantastic calorific reward after busting one's arse on a bike for a few hours.  Just ask K-Dogg; he and Mrs K-Dogg accompanied me on a trip to Australia in 2011 and ate way too much… yum.
Heaps of Photos – Two Galleries Worth
Gallery One – Click a thumbnail image to see full size (hosted by Flickr).
[alpine-phototile-for-flickr src="set" uid="[email protected]″ sid="72157650078439556″ imgl="flickr" style="gallery" row="15″ grwidth="800″ grheight="600″ size="240″ num="30″ shadow="1″ highlight="1″ curve="1″ align="center" max="100″]
Gallery Two – Click a thumbnail image to see full size (hosted by Flickr).
Garry (Gazza) the Galah says, Please Don't Burn My Home This Summer!
[alpine-phototile-for-flickr src="set" uid="[email protected]″ sid="72157650135488521″ imgl="flickr" style="gallery" row="12″ grwidth="800″ grheight="600″ size="240″ num="30″ shadow="1″ highlight="1″ curve="1″ align="center" max="100″]